Best WooCommerce Inventory Management Plugins to manage inventory of items sold from multiple channels including Amazon India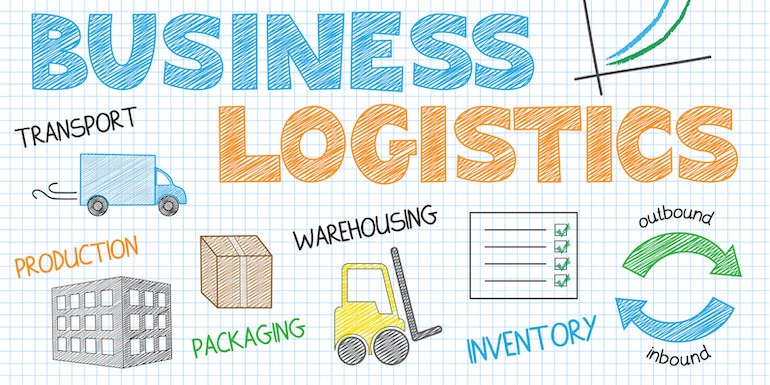 Inventory management on your WooCommerce store is easy than ever before with plugins. The choice of plugins has been made in such a way that they not only make inventory management quick but also less stressful and painful.
The process I like is to have an excel file to manage inventory. Moreover, if the excel file is compatible with Amazon / Flipkart, it makes the life of an online seller a breeze.
Common WooCommerce Inventory Management Issues
Managing product inventory in WooCommerce without the right tool can be cumbersome. You need to edit each product available quantity individually now and then. Under those circumstances, imagine if you have thousands of products. Managing hundreds and thousands of products is even more painful.
I have listed some major pain points of eCommerce sellers.
Human Errors – If you want to create product variations or set product prices, you need to visit each product to tweak changes. It becomes a stressful job altogether if you have a large number of products.
Requires a lot of Time – To make changes in your existing product line, you will have to invest valuable time.
Inconvenience in Handling Huge Product Database – When you're dealing with a wide variety of products, it's obvious there could be errors. Rectifying those errors adds further loss of time. In short, instead of selling products, you end up correcting errors.
Non Product Updates – It's not that only your product inventory only needs an update. There are orders, coupons, discounts, and other things that need an upgrade in bulk. Doing one-by-one can be hectic.
Other Problems – Managing multiple warehouses, inventory, diverse product lines, bulk stock, inventory reports, and a lot more. You will have to control all these alongside while still operating your business.
All of the above tasks are simply undoable without plugins.
Therefore, keeping the above points in mind, I have hand-picked some popular tools to help you out.
Best WooCommerce Inventory Management Plugins
These are the best WooCommerce inventory management plugins. Some of these plugins are also SaaS-based.

Smart Manager is one of the better WooCommerce inventory management plugins from StoreApps. Sellers can efficiently manage products, customers, and orders.
You can start with the free version available on the WordPress repository. Besides, a single site license comes at $149 per year.
Key Features
Bulk update your entire store in seconds
Manage automatic calculations from a single dashboard
Single spreadsheet-like interface to manage items
Extremely responsive item browsing and filtering
Intelligent search

WooCommerce Stock Manager offers a single-screen interface to manage all operations. Sellers can look into their entire catalog in one go. One can set different parameters for individual products and their variations. The plugin's free version is available at the WordPress repository.
Key Features
View and manage stock report
Product filtering by type, category, or stock status.
Products sorting by name or SKU
Import / Export stock data with CSV file

TradeGecko is a successful multichannel inventory management and order management tool. Not only WooCommerce, but you can also integrate it with other platforms.
There's a 14-day free trial offer to test the tool. Once you are familiar, you can opt for a subscription-based on the number of users, orders/month, and warehouses.
Key Features
Filters to view and organize the entire product catalog
Track on-hand inventory, sales orders, locations, etc.
Multiple warehouse inventory management
Auto addition and deletion of the stock
Inventory optimization & demand forecasting
Buy and sell in various currencies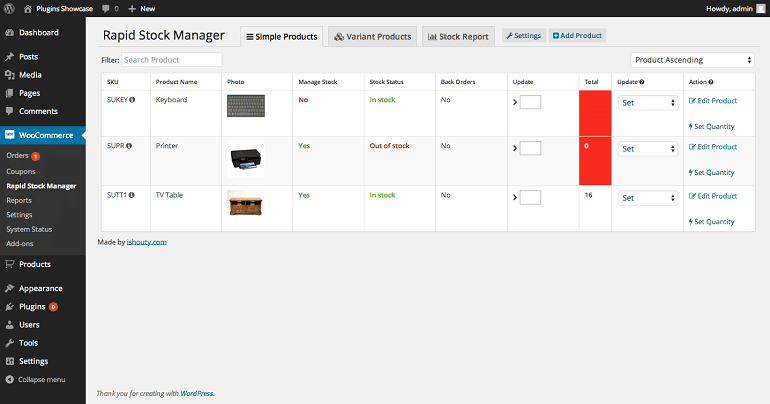 WooCommerce Rapid Stock Manager is available on CodeCanyon. It allows sellers to update their inventory along with variant sizes quickly. You can auto-update the stock inventory without reloading the page. The interface is friendly, allowing you to access and update your stock with ease. All these and many more features are available in this tool. I have listed some of them for you below. The pricing is $39 for a regular license.
Key Features
You can batch update single and variable products
View stock report in just one click
Multiple warehouse management
Instant update without loading page
Quick and easy stock inventory update
The search filter to find products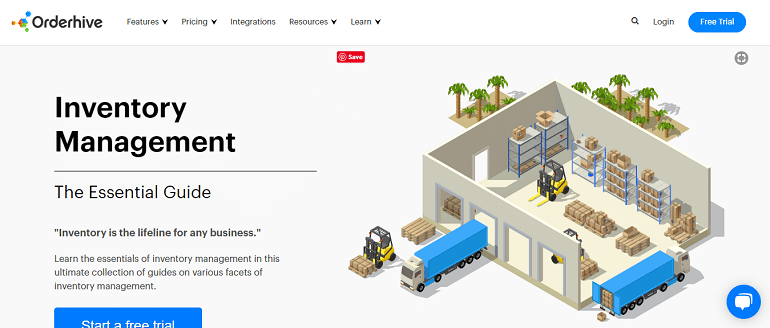 Orderhive is a SaaS-based inventory management software. It can be integrated with WooCommerce for multichannel online sellers. There's a warehouse management feature that enables the handling of multiple warehouses. The tool also offers 15 days free trial. Let me show you what's the pricing.
Starter package – $49.99/month
Professional – 149.99/month
Growth – $299.99/month
Key Features
Simplified product management
Single virtual storage dashboard
Complete product catalog management
Bulk import and export product info
Generate and print product barcodes
Manage location inventory
Sharp monitoring on incoming and outgoing inventory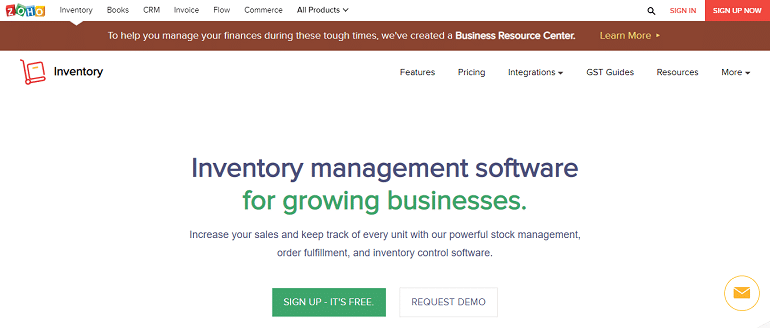 Zoho is a cloud-based inventory management plugin. Users can sync all their WooCommerce orders with this plugin. The best part about Zoho is it has partnered with third-party shipping carriers around the world. This way, you get an all-in-one platform to pick-pack and deliver orders in one shot. The plugin provides four pricing plans. Select the plan that best suits your number of orders, shipments, warehouses, and others. Here's a brief detail on pricing:
Basic – $49/month
Standard – $99/month
Professional – $249/month
Key features
Centralized inventory management
Auto inventory quantities update
Automatic re-ordering
Barcode inventory management
Serial number tracking
Apart from monthly subscription Zoho also offers a free plan as well.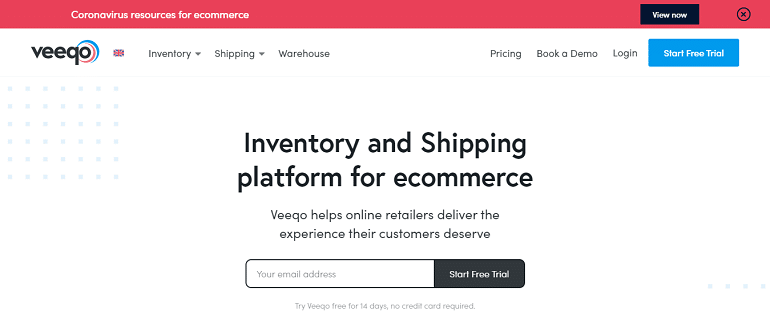 Veeqo is not only an inventory management system. It also helps retailers manage orders and ship to customers—sync inventory across multiple sales channels alongside WooCommerce. You can analyze detailed reports and control warehouse activities in real-time. The good thing is Veeqo directly integrates with the world's most popular retail applications. Moreover, it includes eCommerce platforms, marketplaces, shipping carriers, POS systems, and more.
Key Features
Real-time inventory synchronization
Forecast demand and manage end-to-end purchasing
Automate everyday tasks on autopilot using rules
Bulk print shipping labels, invoices, and packing slips
Branded shipment tracking to update customers
Shipping rules to automate repetitive daily tasks
The auto-update order status on WooCommerce and other sales channels
Find orders with live search and advanced filter options
Veeqo is not entirely free. Although it gives you a 14-day trial, there are four premium subscription options. They start at $120/month.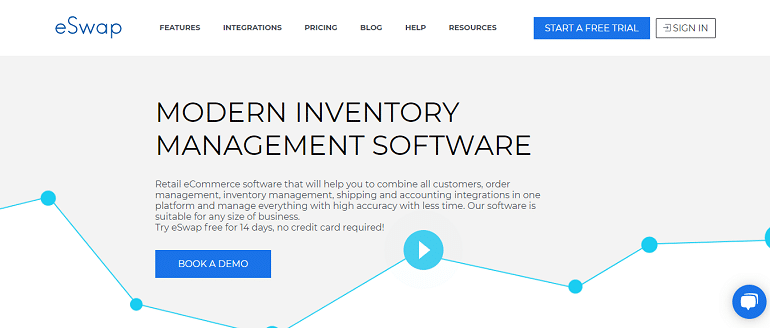 The easy synchronization of data from different platforms and merging it into one main platform makes this tool a pure breeze. eSwap is an easy to use retail eCommerce system. You can combine all customers, orders, inventory, shipping, and accounting integrations in one place. Manage online sales with high accuracy and with less time.
Key Features
One-screen inventory management
Product sorting using custom tags
View individual warehouse stock
Import and export products using CSV
Sync inventory from eSwap to connected channels
Multi-variant products inventory management
eSwap is suitable for any size of business. Additionally, you get eSwap free for 14 days. Subscription starts from $39/month.