I know why your Upwork proposals are getting rejected and help you write proposals with much better response from clients now.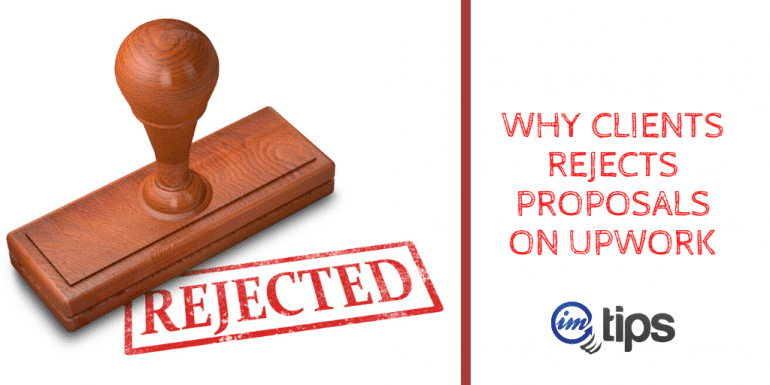 You send a proposal to clients on upwork doing everything correctly. Understand client requirements, crafting a custom proposal for each client. However, there seems to be no response from clients, and your proposals are rejected by clients on Upwork more often than not.
You even feel you are wasting time writing those custom proposals as no one is responding to them. You also doubt if your proposals are being read.
I know why, and I will let you know. More likely that you are making these five potential mistakes with your proposals that can lead to such dismal performance on Upwork.
1. Poor English
One of the primary reasons why Upwork proposals don't get a client response and gets rejected is the problem in communication.
If English is not your first language, you may have difficulty in conveying what you want to say in your proposals. It could be one of the primary reasons for a meager response to your proposal on Upwork.
To identify if your proposals don't convey what you mean. Grab the requirement as well as the proposal you have written for a job.
Let a friend or someone you know read the complete requirement and your proposal. Ask him what he understands out of your proposal. See if it is in line with what you wish to convey.
I have seen time, and again many Indians have issues conveying in English what they wish to say. Even if you're not a writer, you need to have the right communication skill along with good command over the English language to communicate with the client.
I agree, Grammarly can help, but it can't help you write, it can only help you fix those errors in the writing.
2. Desperate Price
Not the right price can make the proposal look cheap and desperate.
If your proposal looks desperate and not convincing, if you can get the job done on time, you are by no means going to get the job no matter how low you price it.
Apart from that, if you are quoting extra cheaper pricing, it could also mean you may not provide value.
I always share this example with freelancers who argue on price. Let's say you want to purchase a phone. What will you do?
Get into a shop and ask for the least expensive phone.
Get into a shop and ask for a phone within your budget and has more or less what you want.
More likely, it is the second choice. Clients are also doing the same on Upwork. They aren't on the site to hire the cheapest freelancer. They have a budget and want to get the maximum done within that budget.
So never include words like please allow me to work on your… job. It can sound you are desperate but instead use it if you allow me to work on your job…
If you are not sure, let me help you price your proposals better.
3. Missing Samples
Clients on Upwork don't hire in their expertise. What I mean is programmers aren't hiring programmers on Upwork. Neither is designers hiring designers.
Clients don't have specific expertise and are looking to get those things done. So every client wants to see some samples similar to what they want to build confidence in awarding you the job.
If you don't have samples that can be verified and attributed to you, it will become tough for you to get any work in the freelancing world. You may get random some cheap client's job here and there but nothing on an ongoing basis.
Even if you don't have samples, you can make a few samples. I don't mean fake one. What I mean is real ones that you can showcase samples.
Without a sample, you have a very little chance your proposals will be seen by a client on Upwork and is more likely to get rejected.
They may not be work for actual clients, but you can list them as your work. It can just be a contribution to the open-source community. As an example, if you design WordPress themes, create a theme, and share it on WordPress themes directory or if you are a Magento developer, share an extension in Magento Marketplace.
Once you have those samples online, you can add them to your Upwork profile in the portfolio section as well.
4. Incomplete Profile
An incomplete profile never helps, and it will not be of much help to you if you just don't complete it. The incomplete profile shows your unprofessionalism, and it is more likely to hurt you and gets your proposals rejected.
Don't be in a hurry to apply for a job. Freelancing is not a sprint, and it is a marathon, a way of life.
It can be quite enticing to apply for a job that you think you are the best fit for it, but then doing it the right way is essential.
While completing the profile is crucial, the quality of your profile is also vital. It is not all about making your profile to reach 100% completion mark. Take a moment to complete your profile with quality.
Evaluate your profile. If possible, ask a fresh pair of eyes to look at your profile and see if it qualifies for the kind of job you would be applying for.
5. Applying to Wrong Projects
You can be an excellent developer, but if you don't have a certain level of experience with Upwork, many clients don't prefer it. Apart from that, many clients prefer to hire a team instead of individual freelancers.
You should respect that and don't apply for such jobs. You are not only wasting your time, and Upwork connects but also the client's time.
There will be projects where the client is not looking for an expert but is okay with intermediate expertise and want to get things done at a lower cost. Look for such projects.
Are you applying to jobs you are qualified for, and your profile shows your qualifications?
6. Multiple Prices
I am sure you will be surprised to see how freelancers tend to add different prices in a single proposal on Upwork, and it becomes the prime reason for the client to reject the bid.
Consider these two different proposals for developing a plugin:
The plugin will cost $500
The plugin will take 10 hours of coding, and will cost $500
When you provide hours as well as an amount, the client will check out your hourly rates, and if it is inconsistent i.e., anything other than $50 per hour, your proposal is rejected then and there.
Provide an estimated price of $500, and a delivery time instead of hours you will need to get it done. Delivery time is one day or one week, which does not say it will need 10 hours of work or 20.
If you can code very fast, or if you can do whatever it takes to complete the job very fast, avoid hourly time within the proposal.
In either case, put an hourly price or fixed price but not both.
7. Upfront Price
Many freelancers put the price as the most crucial aspect of a proposal, but believe me, and it is the least significant.
The most crucial aspect of any proposal is to ask the right questions to understand the requirements of the client. If you can deliver what the client expects in the stipulated timeframe, the price can be worked upon.
Scope of work and understanding the requirements better can be perfected with experience, but putting a price is the last thing you should consider in a proposal where you have the slightest of doubt in requirement.
Put a price, and more often, you will not hear back from clients because if others have asked questions that you haven't, the client knows for sure that those things are pretty unclear in his description. So you haven't considered those things.
8. Cheap Price
If you value your services too cheaply, you can be considered an affordable freelancer as well.
I would not like to waste my time building a social networking site with many features with a freelancer who has quoted $100 for it. It is not humanly possible no matter which side of the globe he is.
9. Low Value
Your price can be looked at as too high if your competition provides the same quality of work and provides more value.
Browse other freelancer's profile on Upwork or their website and see what kind of rates they are charging and what extra value they add.
If you are doing something very niche, you will have low to no competition, but if you are doing highly competitive work, it will have competition. So you will always have to work with clients based on competitive rates, maintaining the quality of work, and provide additional value.
Over to you
If you want to share your proposals with me, I will be more than happy to help you. You can share them in and email me using the contact form, and I will be more than happy to look and suggests.