I thought I am good in grammar, but when I checked my work against Grammarly, I found how badly I needed it. So here is my view and review of Grammarly.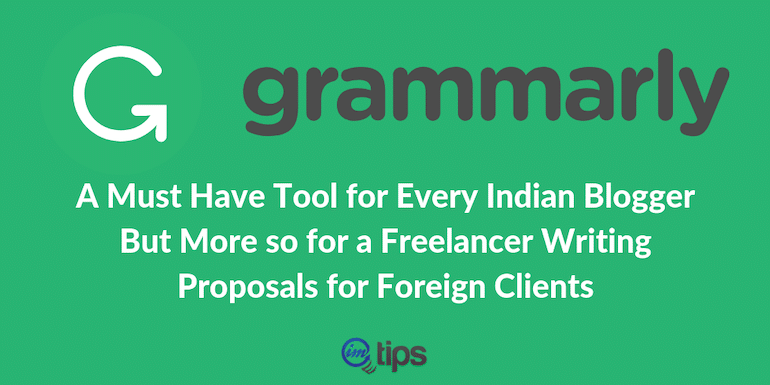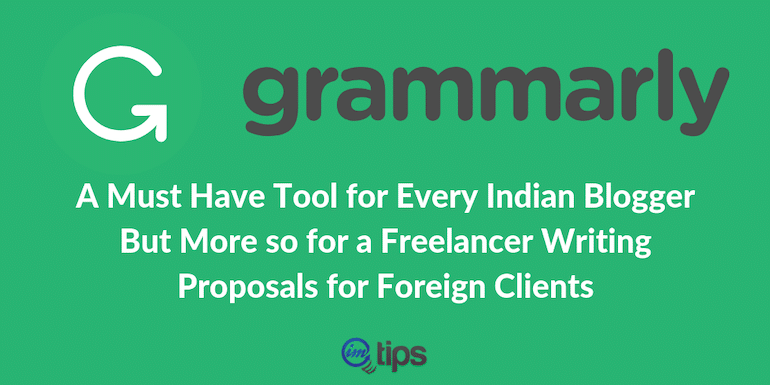 After writing for a decade, I thought I was good in grammar, but when I checked my writing against Grammarly, I found I need it badly. So here is my view and review of Grammarly after using it for almost six months now.
After using it for six months now, I must confess all my writing needs Grammarly. I intentionally used the word "writing" and not "articles" because I use it even before sending emails now. I hit the send button only if Grammarly passes it.
Grammarly has become an add-on in all my browser. So all my emails, forum replies or client proposals on Upwork or any other content I compose anywhere is checked by Grammarly now.
What is Grammarly?
Grammarly, as their website claims, is the "world's most accurate grammar checker" that can help you proofread any content on the web quickly. It is many times better solutions than Microsoft Word's built-in spelling and grammar check and way above all its competition.
Grammarly points out Grammar issues and punctuations. However, more importantly, it offers solutions, unlike Microsoft Word, where you can't get rid of the red zig-zag line.
My most common mistake is a missing comma, but that is not the only mistake that I see.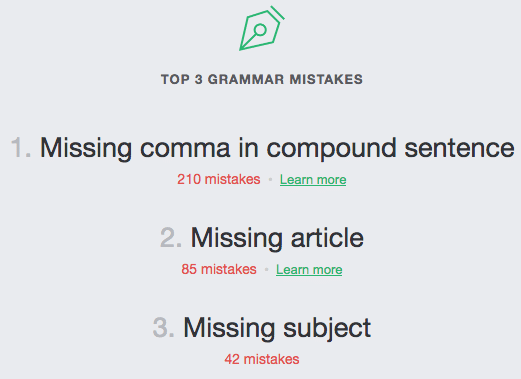 I was so amazed by its ease of use that I checked many of my old articles with Grammarly. Almost 14k Words checked in the first week of March 2017.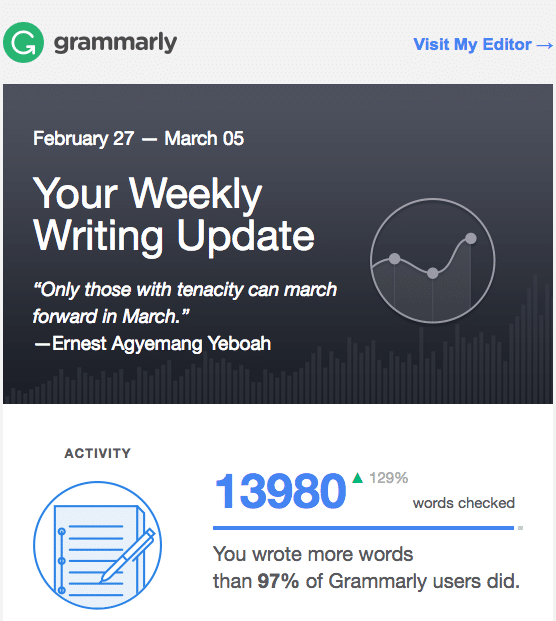 Grammarly checks Grammatical errors as well as offers a vocabulary enhancement tool. Moreover, it allows adding your own words to the vocabulary. The best part is the content for plagiarism. A must-have if you have a team of writers and want to check their work against copied content.
How to Use Grammarly?
Though Grammarly offers premium plans, the best thing is they offer a lot more in the free plan. Till date, I am still using their free plan.
Using Grammarly is as simple as
1. Sign up (for a free plan).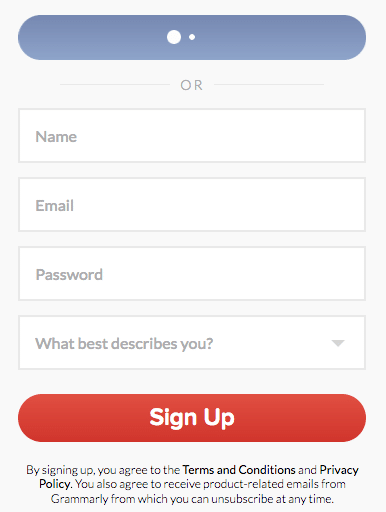 2. Download the browser extension (available for Internet Explorer 11+, Chrome, Firefox, and Safari).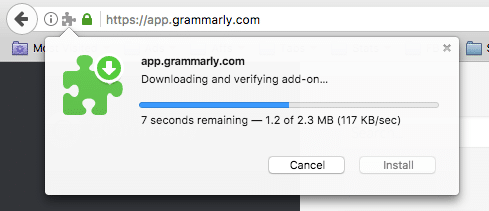 And you are all set to correct all your grammatical errors.
Because Grammarly offers a browser extension, it becomes effortless to use and fix errors on any website.
Grammarly Browser Extension Review: How it works?
Here is how it works in Gmail, where I composed a sample email, and Grammarly instantly points out my issues.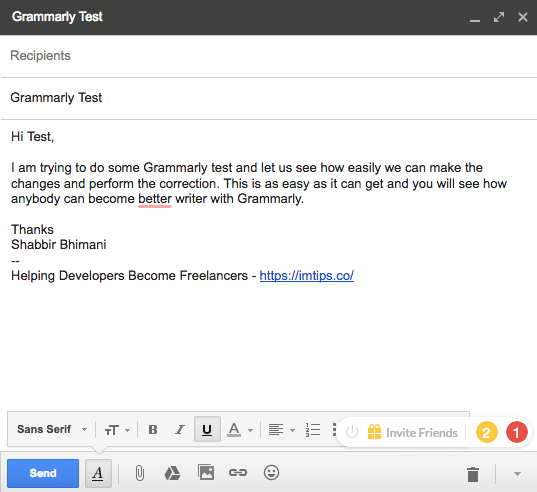 Hovering over points out what is the issue and also offers a solution, unlike Microsoft Words, where it always pointed out the problem but didn't provide any solution.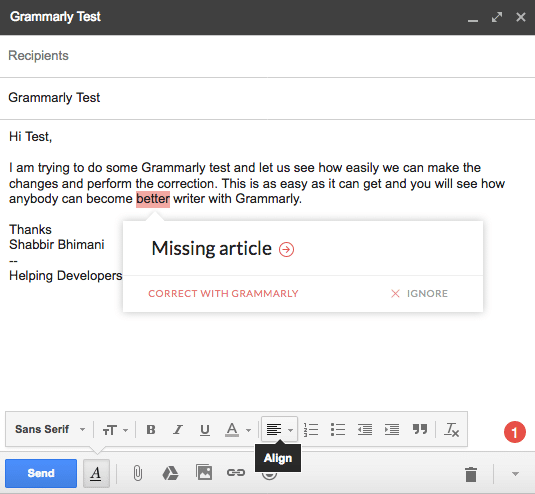 Once I click "CORRECT WITH GRAMMARLY," it opens up a screen explaining the potential issue and possible solutions.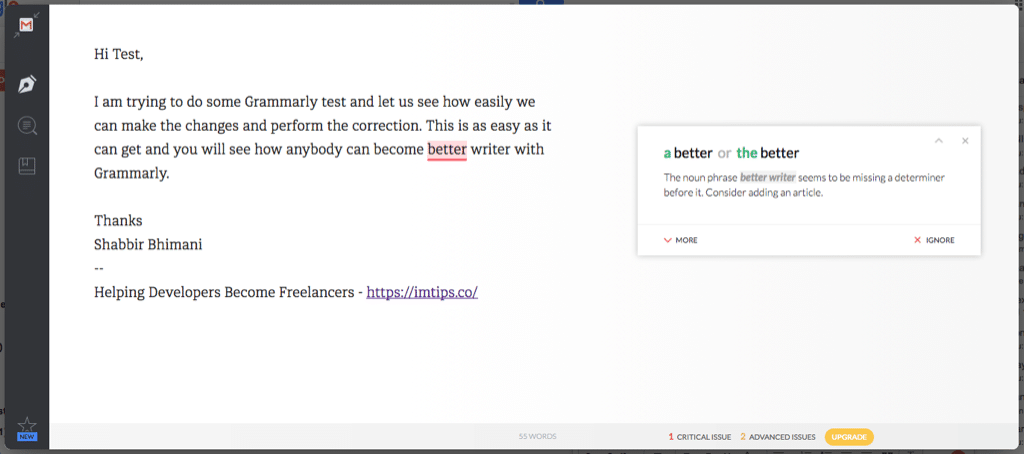 And if you wish to know even more detail about the issue and want to improve your writing, you can click that more button.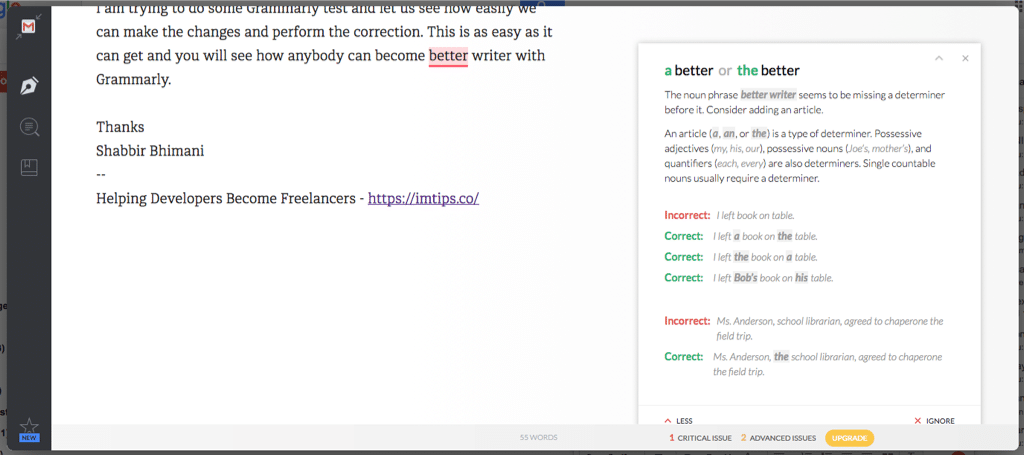 The same process can be applied to any website as I did it on a Facebook status update.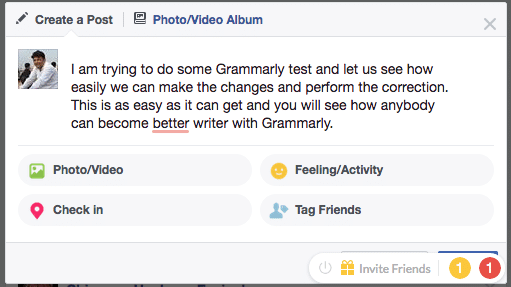 Note that Grammarly doesn't work on Twitter and anyways you don't want to be doing the right grammar within the limit of 140 characters.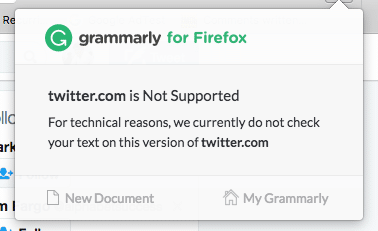 Grammarly Dashboard Review: How it works?
The only thing I see as missing in Grammarly is, it doesn't support app extension for Pages or OpenOffice in Mac. So I have to use Grammarly's dashboard to upload the whole document as a text file and then scan for issues.

Once you upload the document, it can be proofread to find any errors within the document.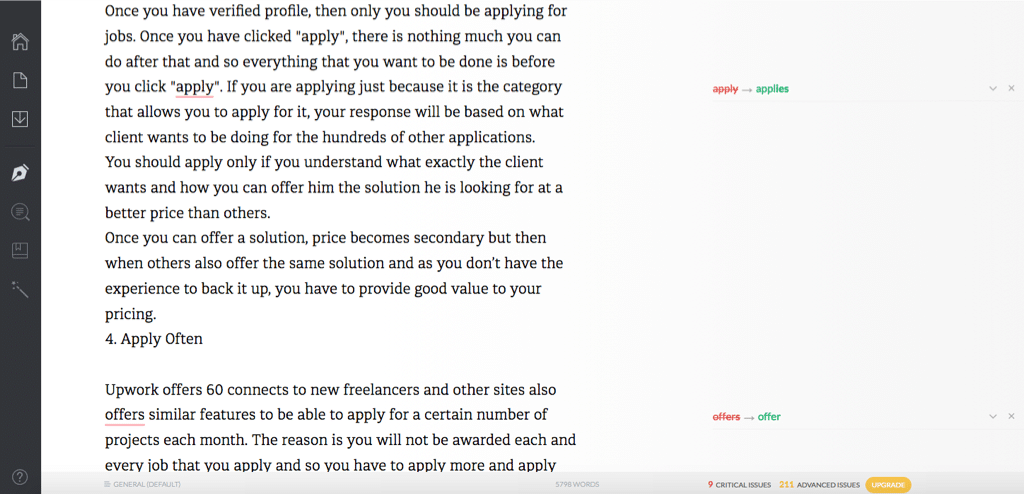 My "How to be a Freelancer eBook" is scanned through Grammarly.
Grammarly Price Review – Free vs. Premium
Back then, I always thought Microsoft Office is a way to write grammatically correct articles. So when I moved over to MAC in 2011, I was looking for a solution to enhance my writing. I tried a few like 1stChecker before Grammarly.
I am using the premium version of Grammarly, but I started with the free version, and I recommend the same to everybody when they start. With time you can move to the premium version.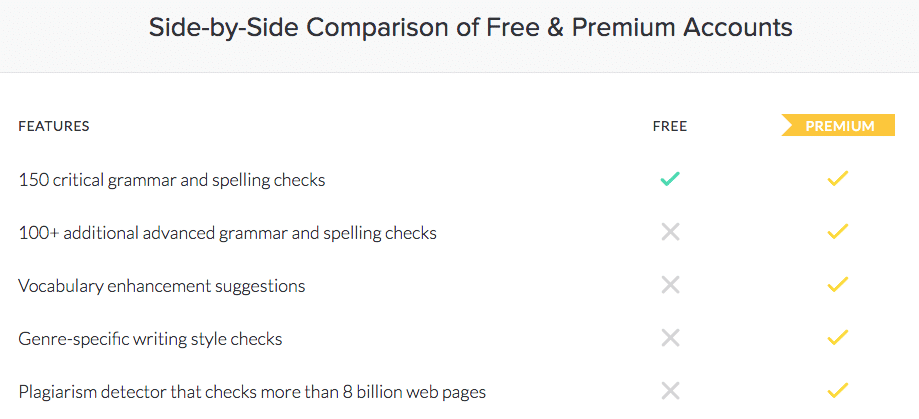 Grammarly offers so much more with the premium plans, especially the plagiarism detector.
Final Thoughts
Grammarly is an excellent grammar checker, and the claim that they are "world's most accurate grammar checker" is so valid.
If English isn't your first language like me, Grammarly can help you immensely. Correct grammar, spelling errors, punctuations, as well as recommend many alternatives words to increase vocabulary.