Let me share how I am able to remain the Top-Rated Freelancer on Upwork for almost a decade with one simple yet very effective tip.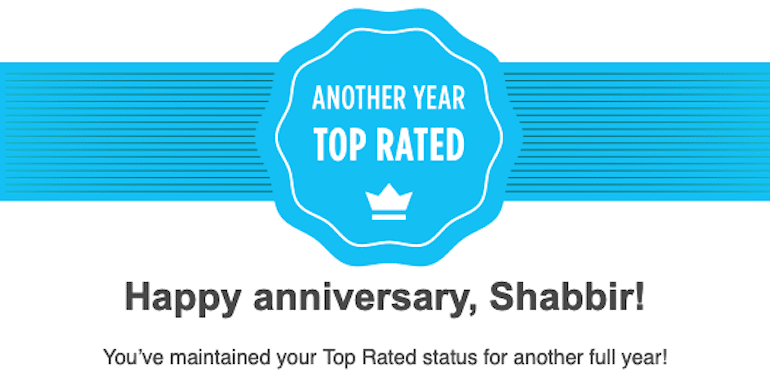 I am an Upwork top-rated freelancer for quite some time now. Recently I got an email that said that only 10% of all freelancers earn this distinction.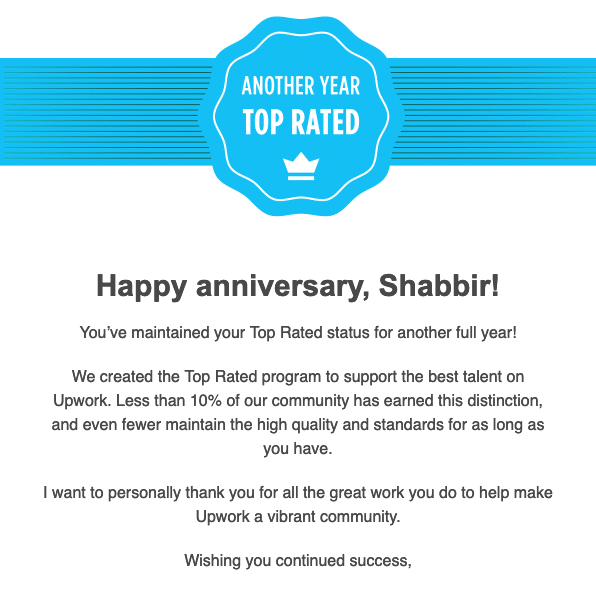 I was positively surprised by the stats because I always thought it was quite easy to become a top-rated freelancer on Upwork.
When I interacted with my blog subscribers as well as other freelancers on Upwork, I found it not that easy to be a top-rated freelancer on Upwork.
So I will share the things I do to become and remain for Top-Rated freelancer on Upwork.
What is Upwork's Top-Rated Freelancer Program?
Upwork is rating freelancers based on their freelancing activity. So if you go the extra mile to satisfy the clients and if they prefer to keep using Upwork over and over again, then Upwork rewards, such freelancers, with the top-rated badge.
How to be an Upwork's Top-Rated Freelancer?
The article is not about how one can get top-rated status only, but being able to maintain it for as long as humanly possible is even more critical.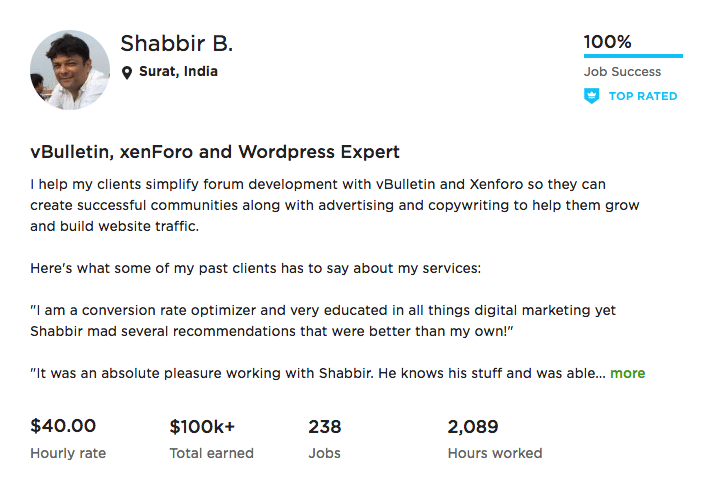 So when we look at the official documentation for points to consider to become a top-rated Upwork freelancer, it boils down to the following
A 100% Complete Profile
The complete and approved profile is the first step to be able to apply for projects on Upwork. With an incomplete profile, there is nothing that one can do on Upwork.
A complete profile is the first step on Upwork. So is the case with being a top-rated freelancer on Upwork.
Moreover, don't rush into getting the profile completed. Make sure you add all the minute details. As an example, spend some time crafting a perfect profile overview. If you don't have a professional headshot, get one.
12-month earnings of at least $1,000
Earning a thousand dollars on Upwork in 12 months is not difficult for a developer. It is less than $100 per month.
I am sure in other niches it shouldn't be too tough to earn close to $100 per month either.
So, my view is, it is easy for anyone serious on Upwork to be able to earn at least one-thousand dollars in 12 months.
Up-to-date Availability Information
Keeping the profile information updated, especially the availability for work, isn't too difficult for anyone willing to work on Upwork.
Again, I see it as a fundamental and essential requirement to be working on Upwork and willing to be a top-rated freelancer.
Activity in the Past 90 Days
Earning as well as some activity on the site including (a proposal, respond to invites, etc.) in the past 90 days
Again, I see the requirement as reasonably easy for anyone willing to be a freelancer on Upwork.
I do agree it needs Upwork connects initially, but it also means the not-so-serious freelancers are out of the system as well.
Job Success Score of 90% or higher
The only point that I find needs working for most freelancers is to maintain rising talent status for new freelancers for at least 13 of the last 16 weeks or a job success score of at least 90%.
Again, I always prefer to under-promise and over-deliver, and so it helps me avoid bad feedback on Upwork all the time.
The reason I say it works is that in the past decade working on Upwork, for more than $100k+ for hundreds of clients, I haven't received single bad feedback.
An Account in Good Standing
If you don't share your contact information in proposals or portfolios, I don't see a reason why your account won't be in good standing and won't end up having an account holds.
Again, I follow a policy that is never to cut the person who helps me find clients.
In fact, in my early days, I was ready to offer discounts for referrals. So why not provide Upwork, the commission for clients.
Changing the perspective will change your viewpoint towards the 20% fees that Upwork charges for the first 500 dollars of earning from a client.
I remember one incidence where I was working for a client of the client. One day a client shared a project on Upwork, and I was invited for it. My proposal was selected, but after I was hired, I found I had worked on the site earlier. I emailed my other client, for which I worked on the site to let him know. He was okay with it. I also made my new client know that I was the person working for them in the backend.
Similarly, when I am using Upwork, I never ask clients to pay me outside of Upwork. It is like being a penny wise and pound foolish.
Moreover, if you keep working for the same client, the reduced Upwork fees are a much better payment option.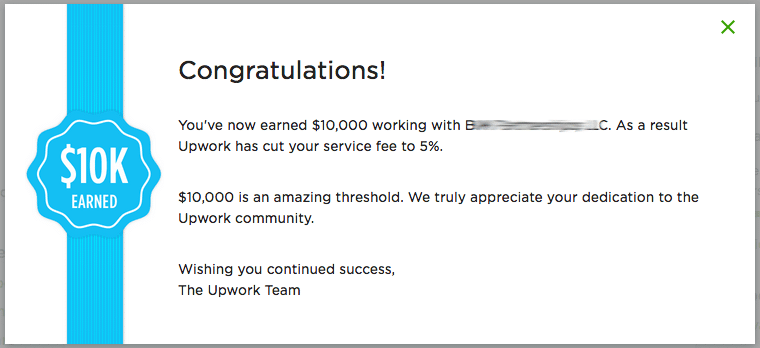 If the client prefers to pay me outside of Upwork, I am open to it, but I always tend to avoid taking clients to pay me outside of Upwork.
Why it's easy for freelancers to be Top-Rated on Upwork?
My view is, the process to be a top-rated freelancer is very status-quo on Upwork.
If you work with your heart out for clients and willingness to deliver good quality work, there is the minimal effort you need to put in to become a top-rated freelancer on Upwork.
So instead of trying to focus on being a top-rated freelancer, try to work yourself into the Upwork system, and everything should be fine.
If I can remain as a top-rated Upwork developer for all the years, I am using Upwork, and it shouldn't be too tough for sure. The only thing you should consider is to be able to use the platform so that clients are happy. Everything else will take care of itself.
Pro-Tip: Always Be Helpful to Clients
I like to under-promise and over-deliver, and I have made it a habit always to talk less and do more. The same I apply when using Upwork.
When I am responding to the client with the proposal, it is status-quo to write a custom proposal, but I go one step ahead. Even when I rejecting an invite, I try to help the client to the extent I can using the optional comment section.
I apply the same to my blog, as well. If anyone is looking for help, I am more than willing to help. Upwork where I have made a lot of money along with the freedom to work from anywhere, anytime, I think the platform deserves a lot more from me.
So any client looking for help, I am always available for them. The shift in perspective to help has helped me remain the top-rated status for such a long time. Clients are more than willing to pay me without asking, refer me to their friends as well as leave excellent feedback for me.
Final Thoughts
I see many freelancers are trying to trick the Upwork system. They are working for money, and I agree it is an essential part of the process, but don't make it the only motive to work as a freelancer.
Don't try to work for clients. Instead, work for yourself. Work to learn something new. Work to become a better freelancer at whatever you do. The clients will eventually love to work with you and eventually work for you as well.
It has been my experience working on Upwork for more than a decade as a freelancer only on Upwork.