A DIY guide to ShopClues seller registration process to get ShopClues's seller account and get brand approval to start selling.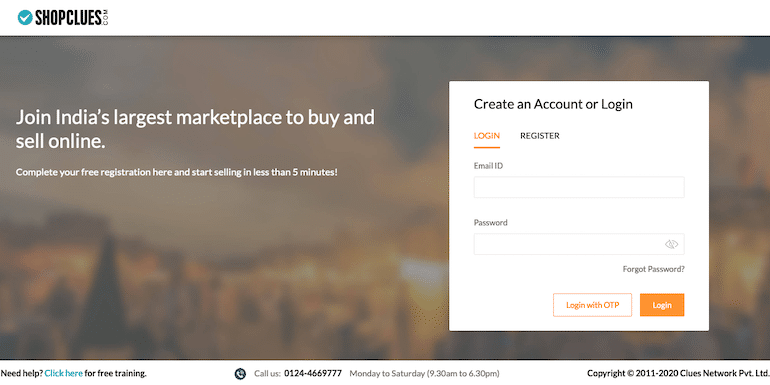 ShopClues seller registration is the first thing you should be doing when planning to sell anything online in India. I will rate the ShopClues marketplace among the top few eCommerce players in India and just after Amazon and Flipkart.
We already have Amazon India Seller Registration and Flipkart seller registration processes here on BizTips. ShopClues seller registration will be the third in the list.
As was the case with Amazon and Flipkart, after the seller registration process, there will be more to follow for ShopClues as well. Insider details about the ShopClues marketplace, including the process to upload products and more.
Let's get you started with seller registration on ShopClues.
Pre-requisites for ShopClues Seller Registration
Whether it's Amazon, Flipkart, or ShopClues, the documents required are identical. Let's formally take a look at what we need:
ShopClues store name
Store logo
Email address
Mobile number
Trade name
Business address with pin code
Canceled cheque
Digital signature specimen
PAN number
GST certificate
Business bank details
Pickup address
Brand authorization letter/Trademark certificate
Aaadhar card (Owner)
Seller's AADHAR is a new requirement here at ShopClues, and you won't find other marketplaces demanding such info. Another critical point here is to name the ShopClues store. I will advise you to keep your brand name as your ShopClues store name.
If you don't have a trademark certificate, then the brand authorization letter is sufficient to request brand approval. I will guide you on the brand approval request, but first, let's begin with the seller registration process.
ShopClues Seller Registration Process
The seller registration process at ShopClues concludes four significant steps.
Filling the registration form
Updating account details (post-registration)
Requesting brand approval
Uploading test product
Let me help you understand better with images.
Step 1 Filling the Registration Form
The first step is further bifurcated into six quick steps, where essential business details are to be filled. I have mentioned each one of them with exact screenshots. Take a look.
1. Enter Email and Mobile Number
Browse the ShopClues seller registration link in a new tab. Enter the email address and mobile number. It is the first set of details you will be submitting. Refer to the image below.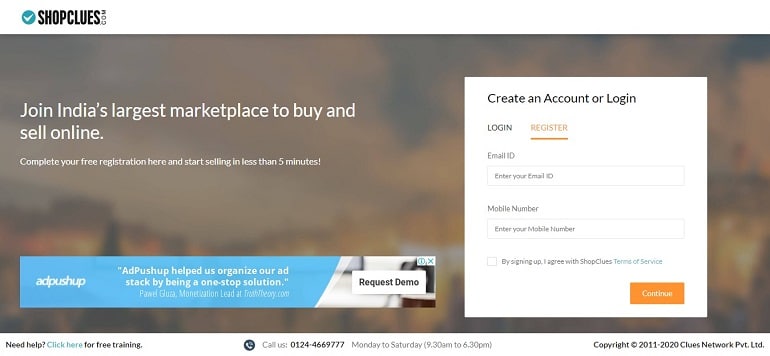 2. Mobile Verification
The system will send an OTP on the mobile number. Enter the OTP here. The OTP is valid for only 60 seconds; hence keep the mobile device with you. If you miss the 60 seconds timeline, click Resend OTP button. Doing this, you are verifying and registering your mobile number with ShopClues.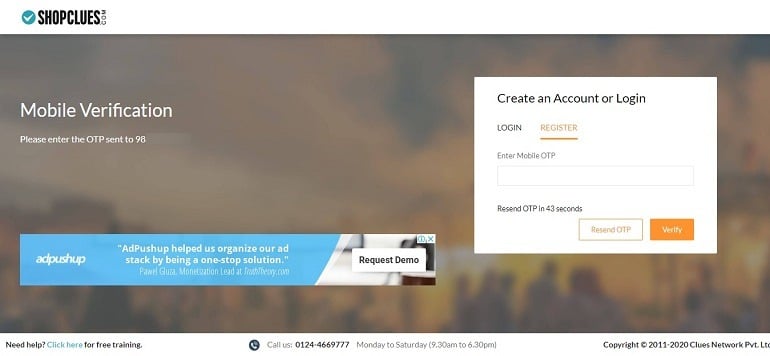 3. Set Account Password
After mobile number verification, it's time to secure your seller account. Set a password for the account and move on to the next step. The password must be strong enough with an alphanumerical combination.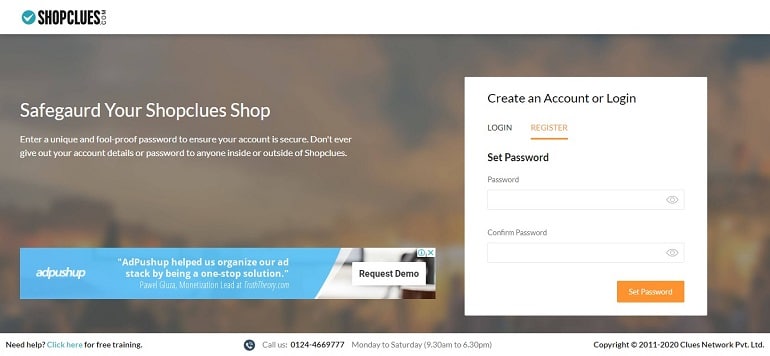 4. Unique Store Name
Name your ShopClues store to give it a unique identity. It must match your brand and business. The best is to insert the brand name here and click next simply.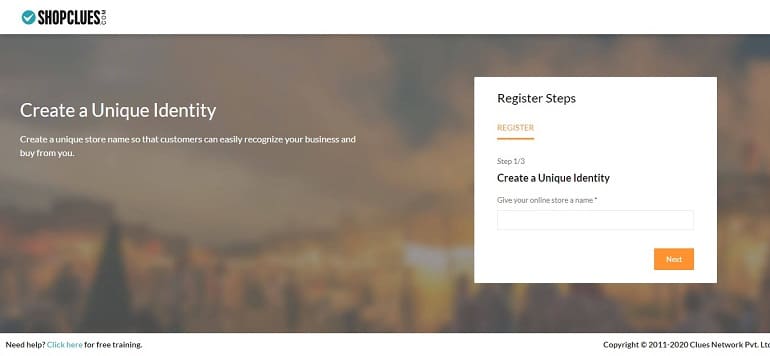 5. Pin Code Serviceability
Pincode is an important attribute when you plan to sell online. It is because the pickup services of the marketplaces need to confirm whether or not the pin code is serviceable. The term serviceable here means easy access to the seller location.
Enter your pin code and check the serviceability. If your pin code is serviceable, then click next or else enter another pin code. Sellers tend to keep registered office and warehouse locations different. This way, they have pin codes more than one. Hence, if the warehouse pin code is non-serviceable, the registered office pin code can help.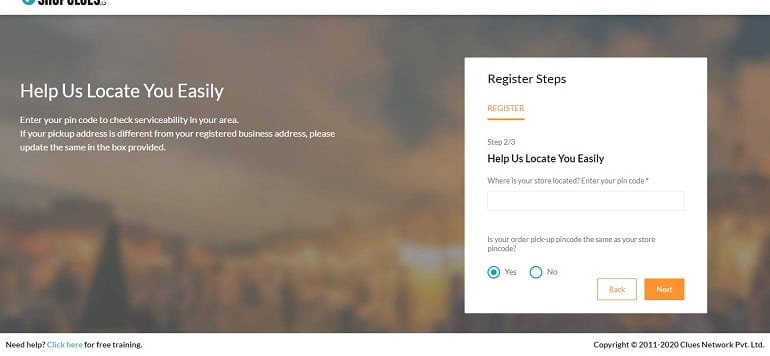 6. Taxation Details
Enter accurate taxation details for the system to assess your account. These details include GSTIN, PAN, AADHAR card, address proof, and canceled cheque image. Uploading documents in PDF file format is recommended. Don't use capital letters or special characters in the PDF file names. The system is allergic and will give unnecessary errors.
Upload government-issued license copy in the address proof section — for example, electricity bill or lease agreement copy.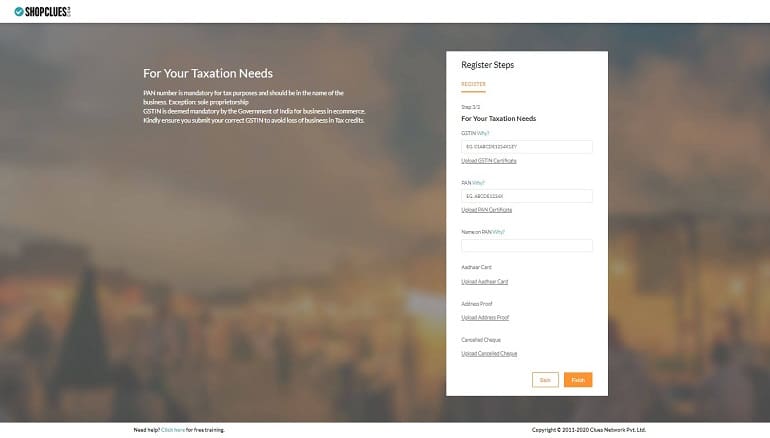 Once all taxation details are in place, the system will approve your account registration. Upon successfully registering as a seller on ShopClues, the following message is displayed.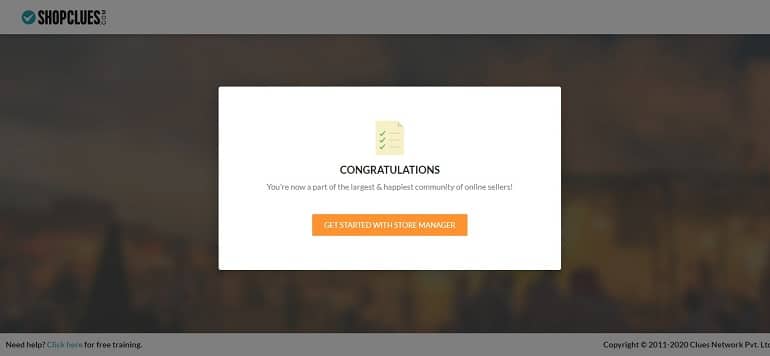 We are almost done with the registration process now. Click Get Started with ShopClues Store Manager to navigate to the seller dashboard.
ShopClues Seller Dashboard: The First Look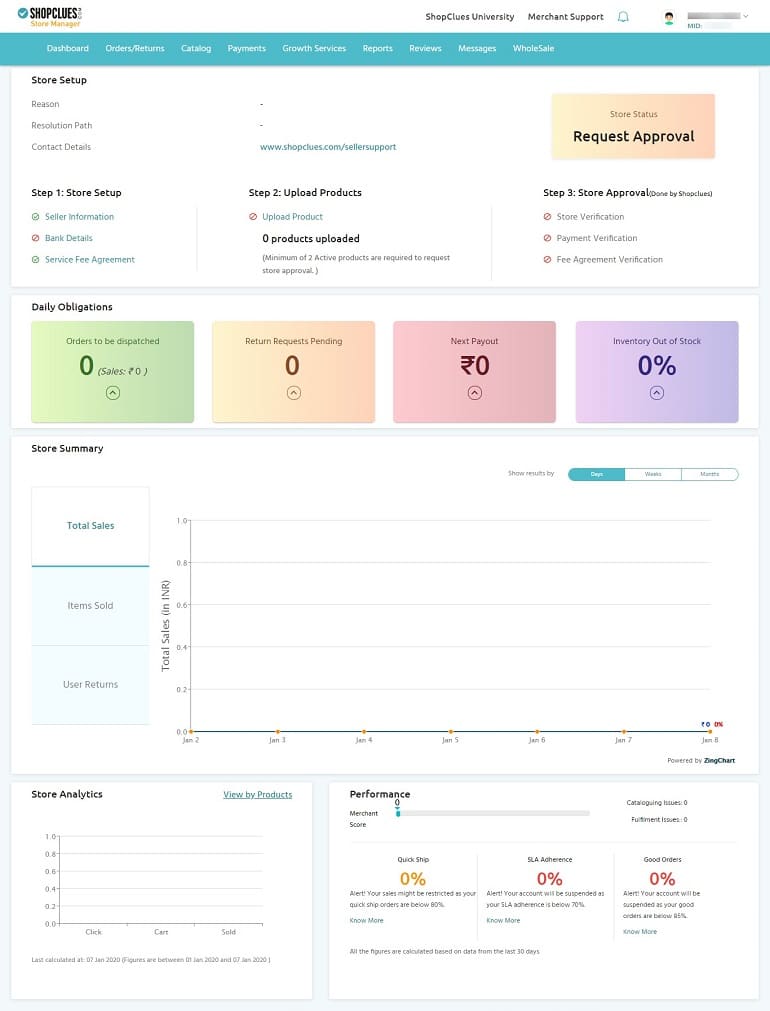 The dashboard functions are pretty straightforward. The top right corner displays store name along with a unique merchant ID, aka MID. The seller support at ShopClues will always ask MID when you contact them.
Menu items like order, returns, catalog, payment, report, reviews, messages, etc. are regular ones. Growth services are exceptional. This item includes ShopClues signature services for sellers to boost sales and branding.
Things to Do Immediately After Registration
There are two essential tasks every seller must do after the initial ShopClues seller registration process is complete. Let's find out what they are:
Adding Details – The account will be fully functional when all details are in place. For example, the pickup address. While registration, the system asks only for a Pincode. And not the physical address. Once the system accepts your Pincode, it will allow you to update the physical address. The same goes for the brand logo, bank details, and a lot more details.
Apply for brand Approval – It's an essential process, and without the marketplace's approval, you won't be able to sell. Your account will be live, products will be listed, but there'll be no orders without brand approval.
Here we will see each one of them with images.
1. Adding Account Details
#1 Online Store Info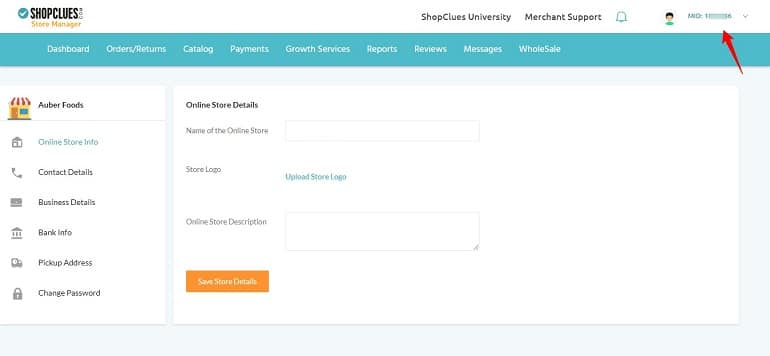 Provide an online store name once again and upload the store logo. Write a short description of the store and save details using the button below. Refer to the image.
#2 Contact Details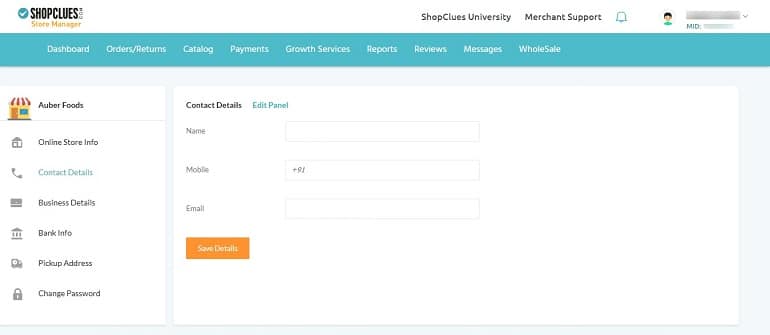 Write the name of the business owner, along with his/her mobile number and email address. Click the edit panel button to insert the details. For contact details updates, the system will ask OTP. The OTP will be sent on the mobile number used at the time of registration. Hence, keep the mobile number & device handy.
#3 Business Details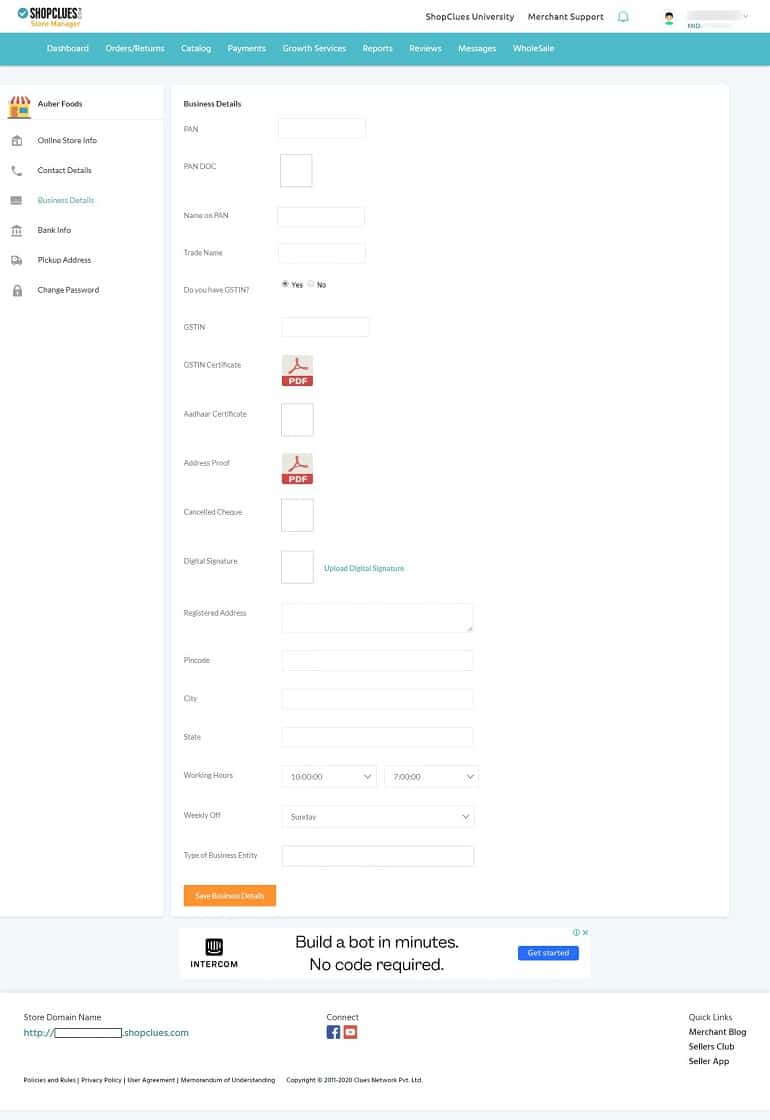 The taxation details are pre-filled. You need to upload a digital signature and add the missing information. Save business details once everything is in place.
#4 Bank Info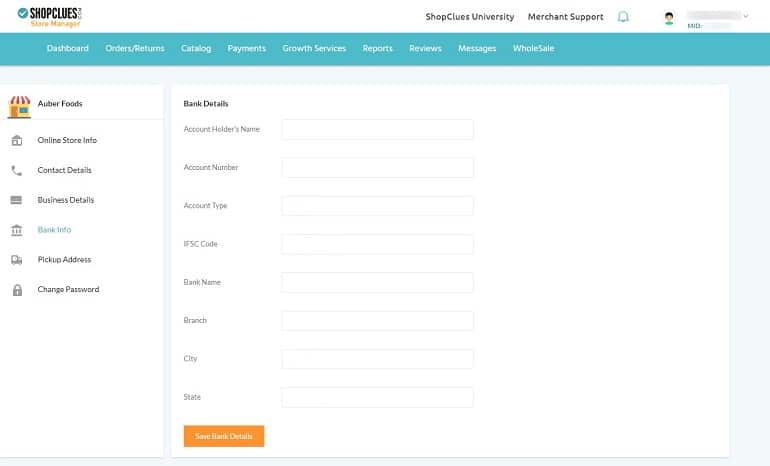 Unlike business details, the bank details space is empty. Hence fill in all the fields accurately to avoid future discrepancies. Note that you will need a current business account. If you don't have one, then consider creating it with a suitable bank first before beginning the ShopClues seller registration process. One more thing – while updating bank details, the system will ask for an OTP.
#5 Pickup Address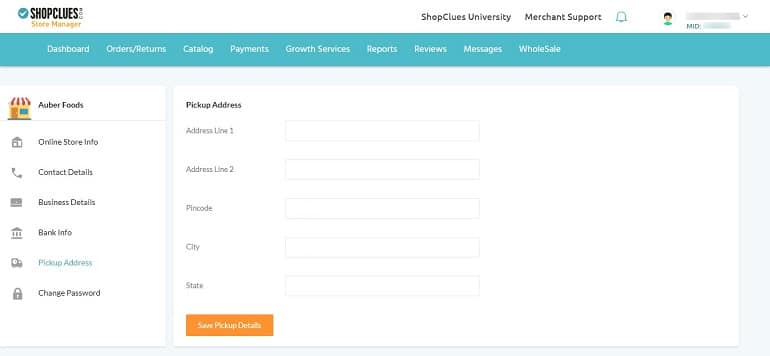 The pickup address is a dramatic component. I will tell you why. It's flexible, and you can change it as per your requirements. For example, you own or have rented a warehouse. The warehouse address is different than the registered office. Additionally, you want the order to be picked from the warehouse location.
The place where you can enter the warehouse address and later switch on to the office address.
#6 Password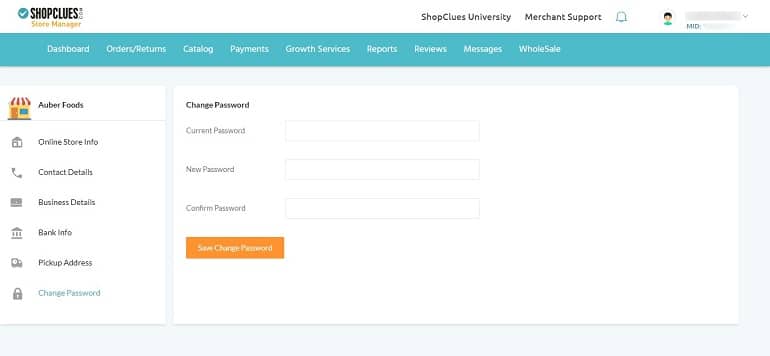 The change password feature is ubiquitous, and it acts the way it sounds. For some reason, if there's a need to change the account password, then you can do it all here.
The account mentioned above settings are crucial and need to be done as soon as the initial registration process is complete. Do not leave the account details unfurnished.
2. Apply for Brand Approval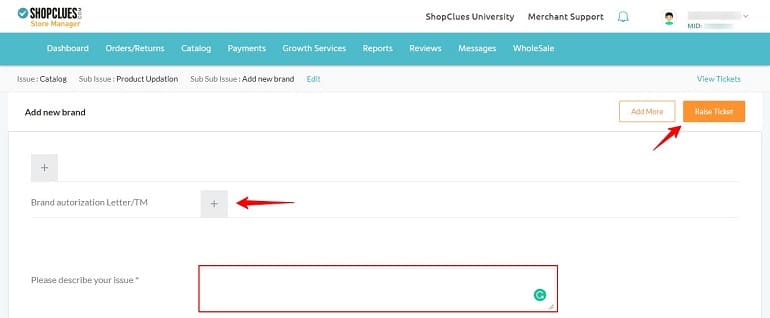 Applying for the brand approval on ShoClues is effortless. However, it's a little tricky here. There aren't upfront options or buttons to help sellers directly click and apply for the same. Let's understand what's the trick.
ShopClues Account Active But Not Live
After registration, the account is administered within 24 hours. In short, it becomes active but not live. Now there's a difference between an account being active and not live.
An active account will allow sellers to play with the seller dashboard tools and features. This way, a new seller will get accustomed to the ShopClues ecosystem. For example, a seller can make changes to his/her account details. Besides, they can add or delete products.
But the products won't be available in the marketplace. The system will show as sold-out. Products becomes available only when the brand gets approval. Keeping this in mind, let me guide how to do it.
For brand approval, a seller will need to raise a ticket. Follow the steps below:
Step 1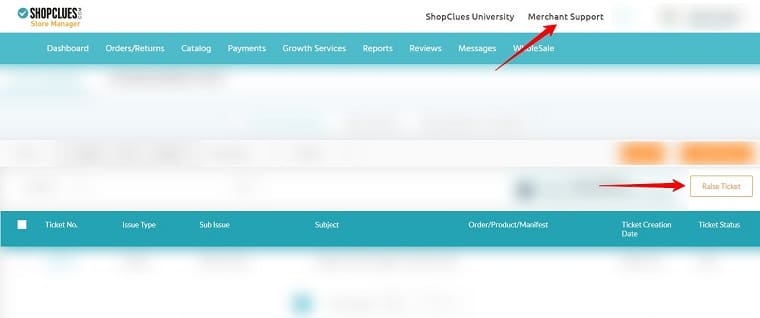 Click the merchant support link above, and after that, the raise ticket button. Doing this will take you to the category filter window.
Step 2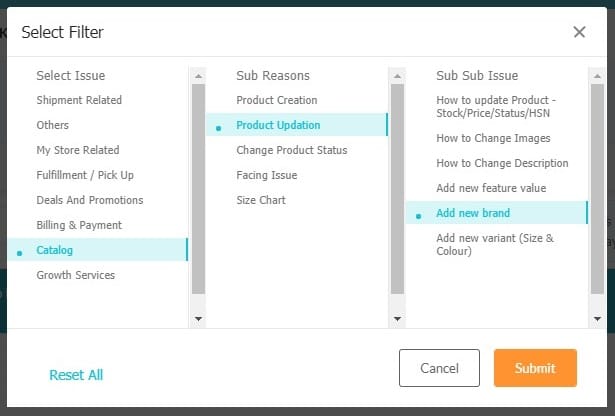 Select catalog, product update, and after that, add new brand filters, as shown in the above image. Click submit when done.
Step 3

The add new brand screen will open up. Upload the brand authorization letter or trademark certificate. Any one of them will do. To upload the documents, click the (+) sign.
Write a few sentences requesting the ShopClues support team to approve your brand. Now click the raise ticket button on the top. Refer to the image above.
To help you with the brand authorization letter, I have written a tried and tested format below. Take a look.
Sample Brand Authorization Letter Format
To Whom So Ever It May Concern

Date of Issue:
Date of Expiry:

We hereby confirm that the brand identified as (Brand Name) is the brand of (Company Name) located at (Registered Company Address with Pincode). The following details are rendered for the brand approval process at ShopClues marketplace.

Seller Name:
Seller Email & Phone Number:
Registered Business Address:
Brand Name:
Brand Owner:

Contact Person Details
(Name of the business owner & Designation)

Authorized Signature
(Signature with Stamp)
Copy and paste the above content and print it on your company letterhead. Create a PDF file of the same. While uploading documents on eCommerce marketplaces make it a habit to upload in PDF format. It looks professional.
How Long Does ShopClues Take to Approve Brand Request?
The support team at ShopClues typically replies within five working days after the brand approval request is logged into the system. Moreover, the system immediately gives an acknowledgment that the request is received.
Based on my experience, I can say that ShopClues is a bit lazy. Hence, if the support team doesn't reply after five days, then raise another ticket. Don't forget to site the old ticket number, the one through which the request is made.
Also, call them personally and request a status update of brand approval. Their merchant support contact number is 0124-4669777, and work timings are Monday to Saturday (9.30 am to 6.30 pm)
Final Thoughts
I will recommend trying ShopClues because it is easy to manage. Believe me, but product listing on ShopClues is a breeze compared to Flipkart. On the other hand, cataloging on ShopClues is sub-standard if we compare it with Amazon India. But that's a different story.
At times product listing on Flipkart becomes a tough nut to crack. It is because you need to be utmost careful while uploading and downloading excel sheets on Flipkart.
Hence, if you haven't decided to sell on ShopClues, then its time now. Bookmark this guide, collect all documents, and start the seller registration process on ShopClues.