Keeping check of the expenses and managing cost efficiently can help increase profits for freelancers. So here is 10 cost cutting measures for freelancers.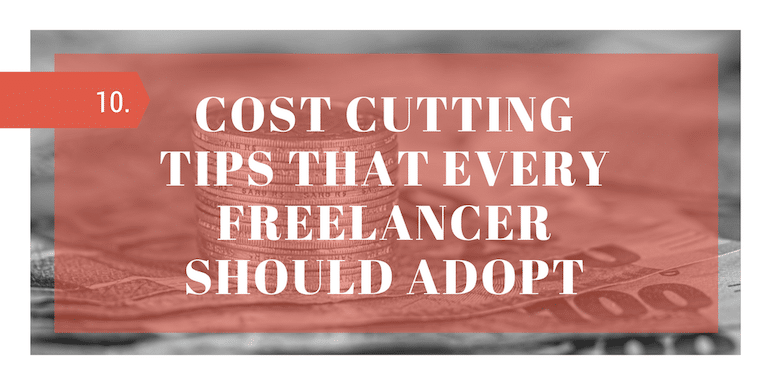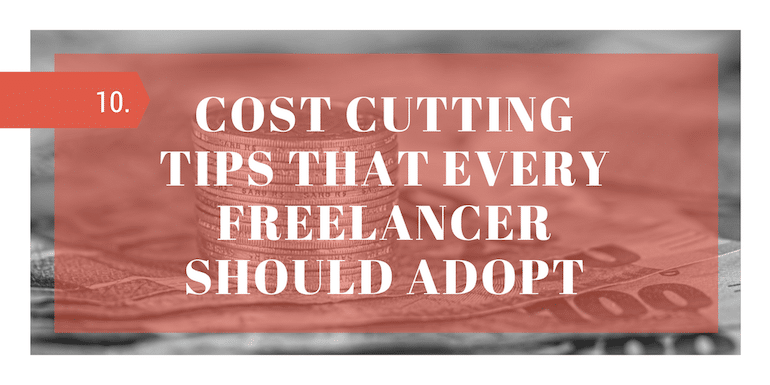 Being a freelancer for a decade, you can be rest assured I have seen it all. Believe me, cost-cutting always helps in increasing profits. So here are some of my cost-cutting ways as a freelancer to save money and increase my income.
So without much ado, let me get started on the cost-cutting measures for freelancers.
1. Outsource
Outsourcing may seem costly when compared to the salary of an individual at least here in India. However, it actually isn't if you add the other hidden expenses that come along when hiring.
Let me explain this with an example.
So you want to outsource a design job. You get a quote of $200 for a week of work.
Now considering the salary of entry-level designers, you may be able to find a full-time employee for a $200 monthly salary for sure.
A simple calculation may be that you are paying 4 times when outsourcing. I.e. for a week's work, you are paying a month's salary.
It is true only if you consider the salary. However, in reality, there are many overheads that come along when hiring an employee. One of the major expenses in India is the rent part. You need to take up office space and make the employee sit and do the work for you. Similarly, there are electricity bills, telephone bills, Internet charges, etc.
So when you outsource, the outright quote may sound a little overpriced but don't directly compare it with the salary you may be paying to similar expertise personnel. Consider these 10 points before hiring vs outsourcing.
So as a freelancer, when you have more work than you can handle, always consider outsourcing over hiring unless you want to scale up freelancing work into a full-blown service provider company.
I never wanted to do it and so I never considered hiring developers.
2. Pay Bills on Time
As a freelancer, if you are looking to cut down on the cost, see if you are paying late payment charges on the bills. Late payment charges can add up too fast too soon to increase your expenses. You work hard to earn money and there is no point in giving it away to banks for the sake of being late by a day or two.
Automate the process of all your credit card bill payments so even if you miss paying the bill, you aren't paying the late charges.
I own 6 to 7 credit cards but all my cards are on full auto payment so I never miss on any of my credit card payments.
Moreover, all my hosting and Amazon cloud bills are paid automatically from my credit cards.
Even if I forget to pay my credit card bills it is set up on auto-debited from my bank account so I avoid late payment charges. Still, I prefer to manually pay my credit card bills for the sake of tracking my expenses.
Moreover, because of such high usage of credit cards, I make a lot of reward points which helps me with a lot of cashback.
Paying bills on time and using credit cards efficiently helps me reduce expenses considerably.
3. Delay the Purchases
I have always been an instant buyer where I have very little time between when I decided to make a purchase and the final order being placed.
I had made many purchases in the past that could have been avoided provided I had given some thinking time before placing the order.
Now I follow to place an order the next day only and it helps me immensely cut the unnecessary expenses.
So if I decided to make a purchase today, I will order it tomorrow. This gives me time to sleep over the idea before making the final decision to purchase.
4. Use SaaS
Software as a Service or SaaS can save money and a lot of time as a freelancer.
Time for a freelancer is gold because if they can work more efficiently for clients, they can make a lot more money.
I prefer to use Canva for images for my blog instead of outsourcing or hiring a designer to design those beautiful images for each of my blog posts.
It not only helps me save money but also saves me a lot of time. I have to interact manually to explain what I need and iterate and interact with the designer to get it done.
Similarly, for email marketing, I prefer Moosend which helps me send emails without wasting too much time.
If you can find software that can do what you want to be doing, never try doing it manually or hire someone to get it done. As a freelancer, it is one of the most effective ways to cut the cost.
5. Track Expenses
I track my expenses using a simple excel sheet It has all the expense heads as columns so I can know my complete expenses at a glance.
When you start tracking the expenses, you will always want to make sure you reduce them as and when you can.
As of example, there are many Google Ads campaign that I keep running for each of my YouTube channels as well as for blogs. So when I am tracking the expenses, it helps me identify and stop some of the low performing campaigns.
Similarly, for hosting, I can aways club some of my servers to reduce the cost. The big picture becomes visible if and only if I am tracking expenses.
Every penny saved is every penny earned. So spend efficiently and also find areas to reduce expense as and when needed.
Again, don't read the point as freelancers shouldn't do any expenses but it is all about reducing the expenses as one becomes more efficient in managing things.
6. Open source vs Paid Software
Before making the final decision to buy a paid software look for a free or an open-source alternative.
As an example, when I was using Windows, I used MS Office. However, when I moved over to Mac, I started using OpenOffice as well as moved over to Numbers (Excel), Pages (Word), and Keynote (Presentations) which are free to use.
Similarly, I used Visual Studio and EditPlus on Windows but on MAC I switched over to Netbeans, XCode, and Bracket which are all free IDE for development.
Similarly, for my YouTube videos, I could have opted to buy Adobe Premiere but iMovie on Mac is more than enough for tabletop videography and it saves me money I need to pay on paid software.
So next time you plan on buying a paid software, look for a cheaper or free alternative one.
7. Invest in Backups
For a freelancer, an Investment as a cost-cutting measure is surprising but with a decade of experience in software development, the nightmares happen when you don't have enough backups.
What happens if
Your system doesn't start tomorrow?
The server is hacked.
Your site is compromised.
If you don't invest time and money in backups, you are working in a very risky environment. If anything can go wrong, at some point it will go wrong.
A regular backup plan is always recommended because it helps you save time and money in crucial times.
Backups can be as simple as having an external drive where you back up your computer data on a weekly or monthly basis or you can opt to store backups online on Amazon S3 or on a server.
I use iCloud and Dropbox along with Google drive to secure everything that is on my local computer.
On any given day if my Mac doesn't start, it will not be a nightmare for me.
Similarly, all my servers are backed up weekly to shared hosting.
Hosting accounts and servers should always have a regular backup plan. If you just starting out and don't want to be spending on backup plans, do a manual backup but backups are a must.
8. Save Rent
The biggest expense in India for any new business is rent.
The added advantage of work from home freelancers is the rent expense. If you are working from your home, you don't need to be paying the rent but that doesn't mean your price shouldn't include the rent portion. When I price my proposal, I always add the overhead of rent because though I am not paying it, doesn't mean I shouldn't be charging my client for the same.
Check out my article on how to calculate your hourly rates where one should always include all the fixed expenses including rent.
Moreover, if you are paying rent, always be on a hunt to reduce it. If you can't, be ready to avoid an increase in rent and move out to a different location. It can help any new business remain afloat for a very long time and become a successful venture.
Moreover, when you are looking to work at a rented place, avoid having fixed furniture that can't be easily moved over.
9. Diversify Income Stream
Having more than one source of income always helps. Even as a freelancer, one can have multiple income streams.
Make sure you invest a considerable amount of time and money to have more than one income stream.
The best way to increase your income is via Dividend payout by investing in mutual funds or stocks. I have built my stock market portfolio such that now income from dividends is a considerable chunk of my overall income. Still, the income is low but then over time as the portfolio will grow the income will increase.
Moreover, my income is well diversified with direct clients, Upwork clients, consulting clients, income from blogs through products and affiliates, ad revenue, etc.
I still prefer to diversify my income by investing in property to generate rental income.
10. Invest in Education
The online landscape has always been in flux but the most important point to note is the speed at which it changes.
Invest your time, money, and energy in educating yourself on the new technologies, new software, new services, etc.
As an example, in the recent past, eCommerce in India is on the rise and if you are up for it, you can make a fortune selling stuff online.
Similarly in the past,
Go4Expert was on vBulletin, moved over to custom solution build on vBulletin, and now has moved over to Xenforo. As a developer, I had to move my expertise from vBulletin to xenForo.
I was a trader who traded based on price action strategy but as my capital increased and I was short on time, I had to make a move to be a long term investor and build a dividend based income.
Final Thoughts
Keeping check of the expenses and managing efficiently cost can help increase profit for freelancers. So here are the 10 cost-cutting measures every freelancer should follow.