Tracking expenses is the most critial for bloggers and freelancers. Track income and expenses in an easy to use Income-Expense Google sheet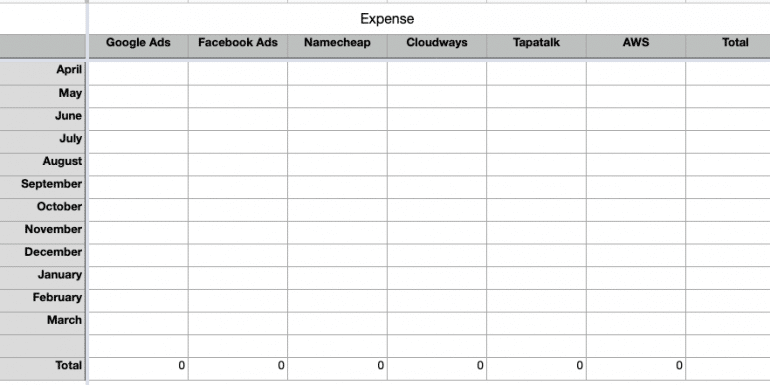 Controlling expenses is an essential part of any business, and freelancing is no different. I use the income-expense sheet, which helps me visualize my overall expenses and income at a glance.
When things are going great, freelancers avoid tracking expenses and spend as and when needed. I also used to do the same. With time I realized it is fruitful to be monitoring your overall cost to analyze where I have been spending more. Moreover, it helps me identify and cut on any unnecessary expenses to increase my comprehensive income even in good times.
As an example, when my subscribers for my Investment Blog increased, the cost of AWeber increased as well. So I moved over from Aweber to Sendy, which is a fantastic alternative to AWeber.
What is an Income-Expense Sheet?
An income-expense sheet is a simple excel sheet that has very easy added income and expenses under each of the different heads.
Tracking your income and expenses is one of the first things a freelancer and blogger should learn when managing money. However, when you search in Google, you find Income-Expense Excel sheets, but they are so overwhelming that I had to create my income-expense sheet.
I designed this sheet for a specific data entry point of view, so it doesn't require too much time when adding the details.
If you are looking for an effortless way to keep track of your income and expenses on a monthly and yearly basis, my Google sheet can help you.
Download Income-Expense Google Sheet
I maintain my expense diary in Google Sheet, where each row is a month, and each column is the expense head (or source of income like blog, clients, forums).
Create a copy of the above Google sheet and start using it. Please don't ask for edit permissions.
There are two sheets, the first one is an expense and the second one is an income sheet.
Expense Sheet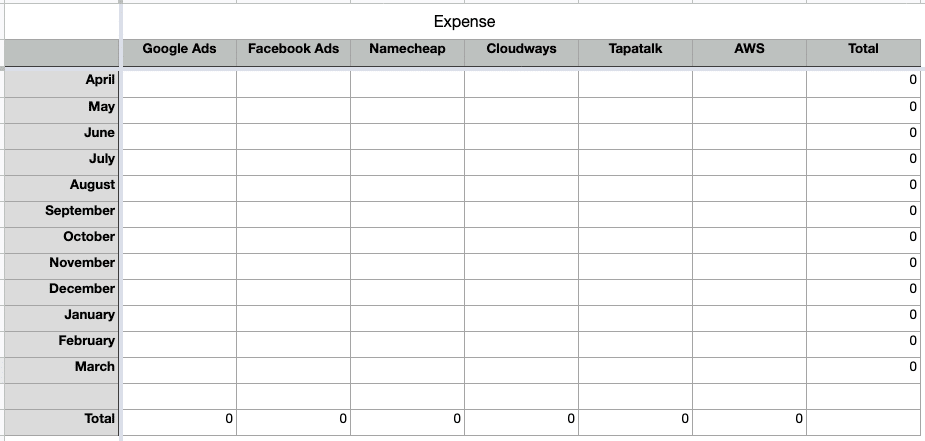 I like to keep each expense head as columns and each month in a row. The above format helps me analyze how I am spending each month and what amount I am spending on each service.
When I am trying to cut my expense, I look for an alternate service that can provide better value at the same price.
The above sheet is a much toned-down version but my actual sheet, which even contains the name of the contractor who works for me and if I can get a better deal from those who are doing more regularly for me.
Income Sheet
Similarly, I have an income sheet. Each of my earnings is a column and each month becomes a row.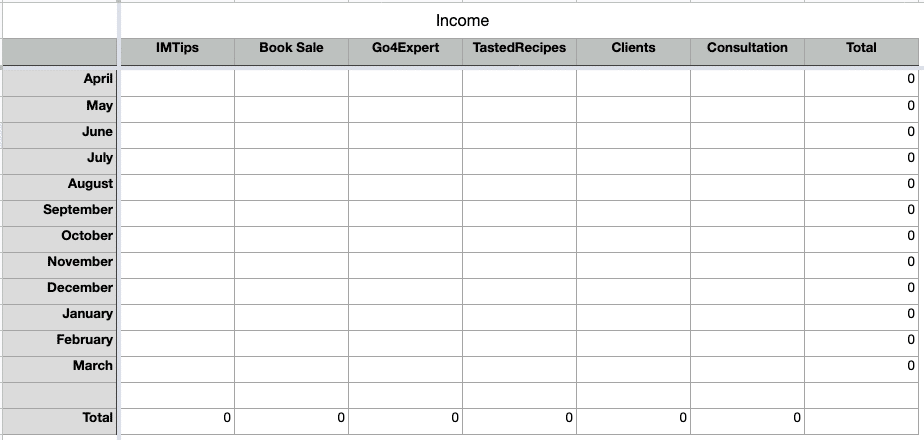 Again the above format helps me identify what the quantum of income from each of my websites, clients, and consultation service I make every month, and overall in a year is.
If any of my income sources dwindle, it helps me visualize and work on it in a much better way.
Filling Income Expense Data
Adding data to the sheets can be cumbersome and often ignored. So I like to keep the income-expense sheet as simple as it can get to enter the data. Still, for me, income sheets are often missed and underfilled, but expense sheet isn't.
Each month when paying credit card bills and other invoices, I fill up the expense sheet. When I am making the payment, I enter the data into the sheet as well.
The basic idea to add data to income reports to be able to track things that work and those that don't work and concentrate more on things that work and then rinse and repeat.
If you want to add more income or expense head, add the columns and then modify the formula for the new column's total.
For one time expenses, you can add the columns for the whole year and make an entry when you pay for it. Some of my costs are quarterly (Income tax payment) or even once a year (yearly hosting charges), and I like to have those head.