The best eCommerce CMS platforms of 2020 to help you setup reliable and scalable eCommerce business online and start selling.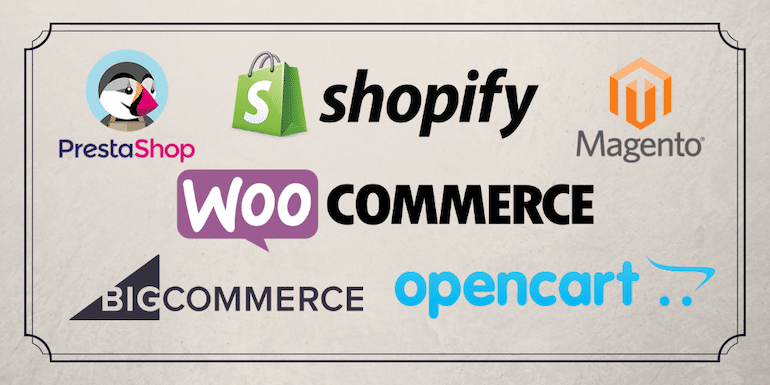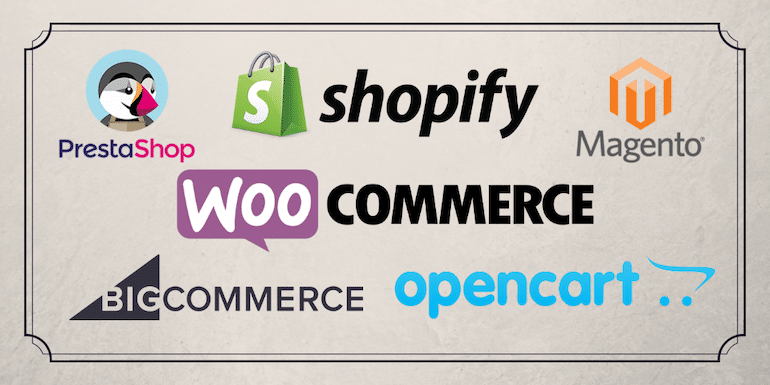 Establishing a strong online presence for a product or service is crucial to stay competitive in the current environment. And to do that, one needs a genuinely engaging eCommerce site. As of today, building an eCommerce site is easy and takes only a few clicks if one opts for the best eCommerce CMSes.
CMSes is an acronym for the content management system. So, eCommerce CMS means the content management system that helps you manage product listings, take payment and ship products in a very easy to use interface.
So let us start with the best eCommerce content management.

Shopify is the most popular multi-channel e-commerce cms. The reason is its intuitive and user-friendly interface. Moreover, with the help of built-in apps, users can enrich their e-commerce site. Furthermore, the integrated tools can help create, execute, and analyze marketing campaigns on Facebook and Google.
Check out my Step by Step Guide to Setup a Shopify Store
2. WooCommerce for WordPress as eCommerce CMS

WooCommerce is built to integrate with WordPress, which is the most powerful open source cms. WordPress is SEO Friendly, and WooCommerce has tweaks to better SEO.
From physical products and digital downloads, a user can sell anything with WooCommerce. It supports more than 400 official extensions from payments and shipping to marketing and accounting. Above all, WooCommerce is free.

BigCommerce is a leading cloud-based SAAS e-commerce platform for small, medium, and large enterprises. Users get built-in SEO-friendly web templates, custom layouts, app integration along excellent service support.
It is important to note that BigCommerce is not free. To avail, it's out of its box features users will have to pay a monthly subscription. Unlike others, BigCommerce offers limited themes for customization.
Above all, BigCommerce can be a great alternative to Shopify in paid CMSes category.

After Shopify and WooCommerce, Magento is the third most popular eCommerce platform in the market. The first version of Magento was launched in 2017 by Roy Rubin.
Multiple customization options, adaptable selling solutions, and a massive community of 360,000 active users are advantages of using Magento. However, compared to Shopify, the load time during the customization process is low and a bit complex in Magento.

OpenCart offers a wide selection of 13000+ modules and themes to start a new store. Apart from it, users can integrate social media, eBay, or Amazon into their storefronts to increase their sales.
Compared to other platforms, Opencart offers specific plugins and add-ons undoubtedly free. There are some issues that a user would face using OpenCart. A few to name are canonization for SEO, difficulty in importing the inventory list, slow checkout, and so on.

Prestashop started in 2007, and since then it has gained popularity as a full-fledged eCommerce development solution. With multiple languages and currency support, users are successfully selling across the USA, UK, India, Canada, China, Germany, and Japan.
Surprisingly, a PrestaShop site easily supports around 40 to 45 languages. Besides, users have access to 25000+ plugins to build a fully functional store. The critical advantage of Prestashop is the convenience of handling a store with a user-friendly interface.

osCommerce is an open-source eCommerce management program. Users can install it on websites using MySQL and PHP functions.  osCommerce offers three essential benefits to users viz a robust eCommerce management solution, a suite of free tools, and tremendous community support.
More than 30 osCommerce integrations are currently offered by the vendor which includes Amazon, eBay, PayPal, and Zendesk. Besides, the osCommerce community allows 7,000+ add-ons free of cost.

CubeCart is a robust e-commerce CMS for small and mid-size businesses. Since January 2015 all versions of CubeCart are available for free.
Hence, if you are planning to start an online business, then CubeCart can be your first choice.  With a wide range of features, you can attract unlimited customers and product listings.

Squarespace is an easy-to-use drag-and-drop e-commerce website builder. It's effortless to create a website that looks good. Users can generate store catalogues to showcase products using custom store templates. However, Squarespace is not free. You need to subscribe to a monthly plan.
It has been users experience that Squarespace produces better results than Wix and other website builders.

X-Cart is a PHP based eCommerce CMS that comes in a cloud-hosted version or downloadable software. Although, X-Cart is self-hosted. So users will have to install an SSL Certificate for secure checkouts.
Similar to most digital shopping carts, users can integrate their online shop with add-ons to extend functionalities in X-Cart. The X-Cart add-ons marketplace is robust. Although most of the add-ons are free, some needs an upfront paid subscription for higher-tier features.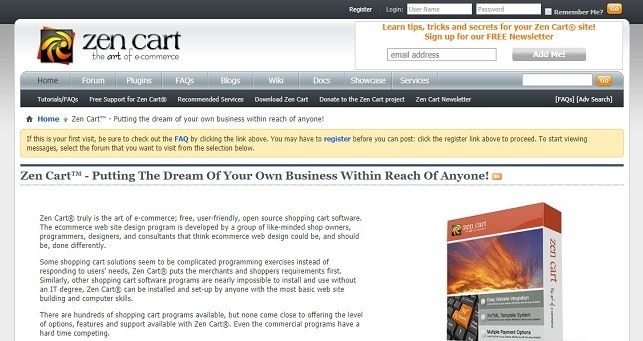 Zen Cart is an open-source eCommerce shopping cart software. It is on PHP/MySQL, fully customizable, and completely free for download. A user can either download and install it on their server or host it on a hosting platform.
Zen Cart has an easy to use WYSIWYG (What You See Is What You Get) page editor to edit & update the site content. It comes with all basic features and e-commerce cms offers. For advanced functionality, users will have to browse the active community's collection of extensions.
It isn't All About eCommerce CMS
Apart from having your eCommerce site, it makes sense to be also use the marketplaces like Amazon.