How to encourage customers to share positive reviews for Google My Business Listing and tips to handle negative reviews.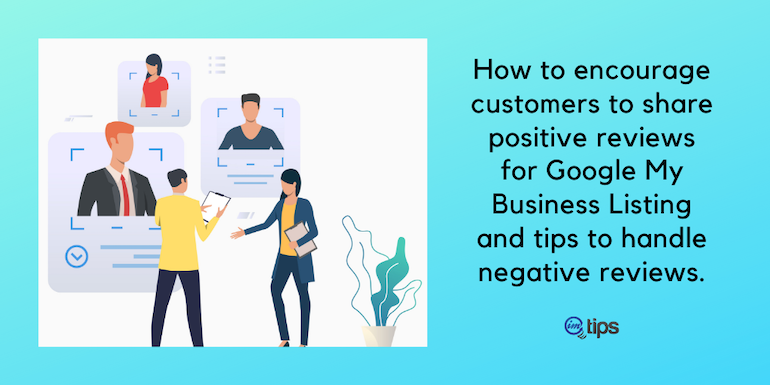 Reviews can establish social proof for a business. So let me share how to go about getting the first or next set of positive reviews from real customers for your Google My Business Listing?
The interesting part is reviews are everywhere.
In fact, the whole ecosystem of online business runs on reviews and feedback from customers to help more customers buy with confidence.
The same applies to Google my business (GMB) listings. Each GMS listing allows customers to review the products or services they use. Moreover, these reviews are publicly displayed in the listing card on Google search result pages.
Further, such a public display of review helps other customers to know more about a product or service. The major benefits of online reviews, especially in Google My Business, are:
Provide valuable information about other customers viewpoints for a business.
Reviews help a business stand out in Google maps and search results.
Genuine reviews help build trust in a brand or business.
Since reviews carry great significance why not use them to scale a business online. The next section will help you how to get reviews using the GMB listing tool.
Also read:
How to Add Services to Google My Business Listing and Display them Under the Menu Tabs in Google Maps on Mobile Devices.
Get The Link to Leave a Review on Google Business Listing
GMB offers a link for you to share with your customers so they can leave a review for the business.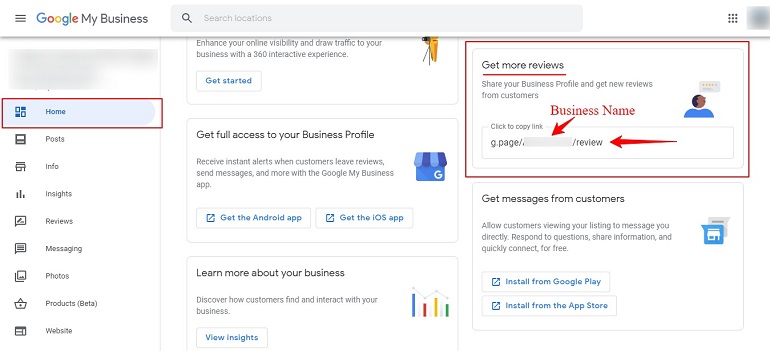 The Get More Reviews card is located on the Home tab of GMB. Log into Google my business listing and scroll down. There's a short URL specific to a business in the Get More Reviews card.
When customers will access the link a pop-up window will appear asking them to write a review. See the image below.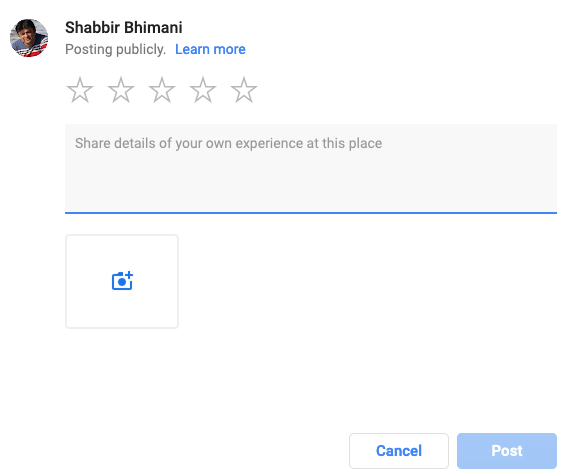 How to Get Reviews on Google Business Listing?
There are numerous ways to get reviews. Of course, one can forward the review link via email, text message or WhatsApp. Post it on social media channels and pin it on the top. So let's look at every option in detail and get good reviews for the Google business listing.
1. Ask For a Review
The first and the most important aspect of getting anything is to ask for it. If you expect your customers will leave a review without asking, it doesn't work it that way.
Be polite to request a positive and honest review about a product or service customers have ordered lately.
2. Deliver Excellent Product
Excellent reviews require excellent products. There's nothing beyond it. If a product doesn't offer value it won't sell in the first place. Moreover, the product must offer value to the customer.
In other words, the product must be useful to the customer. It must address and solve their genuine problems. The pricing should be affordable. More importantly, a customer should receive the exact item or experience they have been looking for. Anything less would simply annoy them and result in negative feedback.
A customer leaves feedback under 2 circumstances. First, if the product is genuinely good. Second, if the product is really bad. In both conditions, a customer will want to share his/her experience with others.
Also read:
How to Add Photos and Videos to Google My Business Listing along with the type of ohotos that works the best in GMB to drive organic traffic.
3. Provide Solid After Sales Services
After getting the first few sales, one must do everything to make a customer happy. Rock solid customer service is one of them. Sellers tend to forget once a product is sold & delivered to the customer. But in reality, the hard work starts after selling a product or service.
Surprisingly, after-sales service makes and breaks the chances of a positive review. The customer is not going to review your product or service immediately after ordering. He/she will get along with it for quite some time. Hence, expecting a positive review instantly is useless.
Allow some time to the customers after selling them their desired product or service. Meanwhile, provide all necessary support to the customer and make them feel happy.
At times the customer might even decide to return a product, ask for money back or raise an issue for what he/she purchased. Delivering great customer service in tough times can still earn you positive feedback.
4. Offer Discount Initially to Grab Some Sales and Reviews
A discount coupon is a common tool to get the first few customers along with reviews. The reduced price in a discount code or coupon will boost sales and therefore more reviews. Moreover, offer discounts to existing and current customers. I will show you how to do it.
Let's assume you sell through an eCommerce website. Also assuming you have email addresses of customers who have already purchased from you. Send them an email. Integrate heavy discounts on new items. Setup discount codes on items similar to the recent purchase.
Include a Google review link at the bottom of the email. This way customer can directly access the area where they can write a review.
5. Insert Promotional Flyers in Product Packaging
There's no harm in asking a review using a promotional material. One can use a printed flyer or a handbill. Print the Google review link on the promo materials. Put it with the product while packing. Don't offer a cash reward against a positive review.
In addition, don't push the customer to give positive or 5-star feedback. Keep the tone friendly and avoid being salesy in a flyer or handbill. That's not the space to convert, upsell or cross-sell anything.
Although flyers and handbills are easy I would still recommend email marketing. It is because the conversion rate of a flyer or a handbill is painfully low. On the other hand, sending an email is affordable and looks professional.
6. Use Social Media
Create a Facebook post with a Google review link. Post it on Facebook and pin it on the top. Let your customers be able to find the option to review as and when they connect with the business on social media.
The second thing I will suggest is to share a Google review link in Whatsapp messages. Along with the link write a few words on how to get started with the review process.
7. Reply to Reviews in Google My Business
Customers give their valuable feedback but business owners don't even care to acknowledge it. That sounds rude.
On the contrary, when a business owner replies to a review it makes a customer feel that their opinion/input holds a value. This, in turn, can motivate more customers to leave more positive reviews in the future.
To reply to a review a business must be verified. This is the default condition. Unless a business is verified it can't respond to reviews.
When a business owner replies to a review, the response appears exactly below the customer's review on both Google search and maps.
Moreover, it is labeled as Response from the owner. Customers on Google will see both the customer review and the owner's response. Refer to the image below.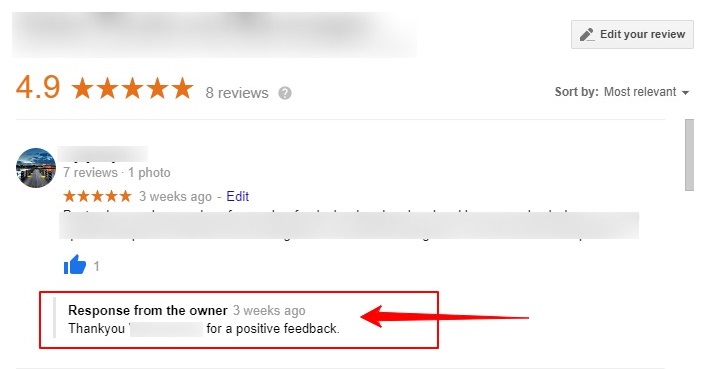 Assuming a business is verified let's see how to read and post a reply to a review.
On the GMB dashboard click reviews tab. Doing this all the reviews will show up. Here one can read, reply or flag a review as inappropriate. Refer to the example image below.

Click the reply button in blue. As soon as you do that the owner's reply space opens up. Type in a reply and hit the post reply button.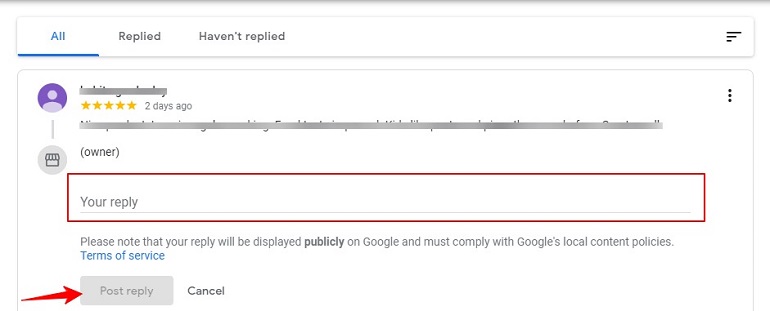 In the middle of all these don't forget that the owner's reply will be displayed publicly on Google. Hence, all replies must comply with Google's local content policies.
A business owner can reply to a review from Google my business tool, maps, and search. I recommend you to follow an official guide from Google my business help. This guide will help you learn Google reviews standard practices.
Also read:
The 7 Key benefits of getting your business listed with Google My Business listing and why I think every local business should consider it.
Dealing with Negative Reviews on Google My Business Listing?
Negative reviews have always been a nightmare for online businesses. However, they aren't a sign of bad products. A customer who shares a negative review may be because of late delivery, mismatch product, wrong expectation, etc. There could be unprecedented reasons behind negative feedback.
Above all negative reviews are inevitable. But there's a way to deal with it. There's a simple solution in Google my business tool to encounter bad reviews.
Flag a negative review as inappropriate.
Click those three dots and select the option Flag as inappropriate. It's that simple. But wait.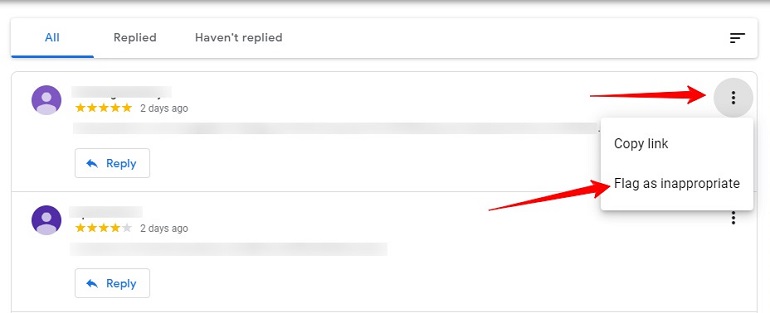 Although, flagging a review as inappropriate won't immediately remove it. It takes several days for a review to be assessed which is flagged. A business owner can't flag a review just because he/she disagrees with the customer.
Even Google doesn't involve between the owner and customers when they have a difference of opinions.
It is because there's no authentic process to find out whether the owner or the customer is right. In short, business owners are on their own when it comes to negative reviews.
Take the negative review as an opportunity to improve. The best way to tackle negative reviews is to respond to them positively. This will help identify how to improve a customer's experience. Check out my article on how to handle negative reviews.
If you ask me, a negative review works as a torchbearer in improving customer experience. But only if a business owner is genuinely interested. Otherwise, he/she will be stuck in the backwaters of arguing with customers over negative feedback.