How to verify a business listing in Google My Business. If the business is not verified, it won't show in Google Search Results.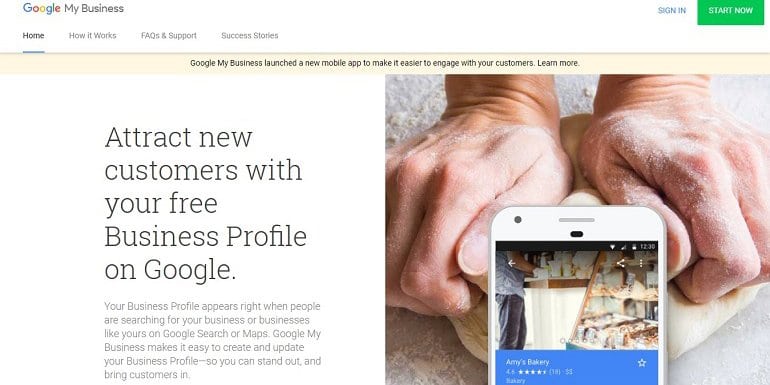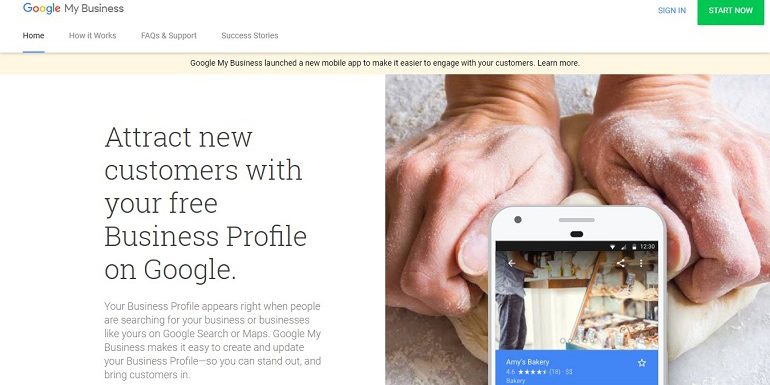 Only after one verifies a business listing in Google My Business, it becomes visible to the public, including in Google search results.
Google will show only the verified business in search results. By verifying a business, the owner proves & establishes the ownership of the business.
Google only wants the genuine business to be listed.
Benefits of Verifying a Listing in Google My Business
There are several benefits and resources the GMB tool opens up for a verified local business. A significant benefit is a local business listing ranking in Google search and Google Maps.
Without a formal verification, Google won't feature a business listing anywhere. Apart from ranking, there are additional benefits of verifying a business. Here's a list of a few of them. Take a look.
A verified local business listing can:
Create business posts
Get reviews from customers
Reply to customer reviews
Notify customer that you replied to their review
Get messages from customers
Respond to customer questions
Share business information
Quickly connect with others for free
View most popular business queries by unique users
Create a free and customizable website
Add multiple users and managers to manage a GMB listing
And a lot more…
In short, a verified business listing can create wonders for a local business. So it is essential to not only add a business to GMB but also to verify it
How to verify local business listing on Google?
Before starting the process, make sure all business information is accurate. Changing key details can mean one may need a re-verification.
Most local businesses verify by mail. However, for service providing businesses, there are other verification options like verification by email, phone, or Google search console.
Google offers five ways to verify a business listing. We will cover each one of them here.
1. Verification via mail (Physical Address)
A standard method to verify a business listing. Google will send a postcard with a verification code. Generally, it arrives within 12 to 14 days on the business address provided by the owner.
Before initiating a verification request, make sure the business address is correct.
Additionally, do not make any changes to the business name, address, category, or request a new code until the verification postcard arrives.
Follow the steps below to request verification code via postcard: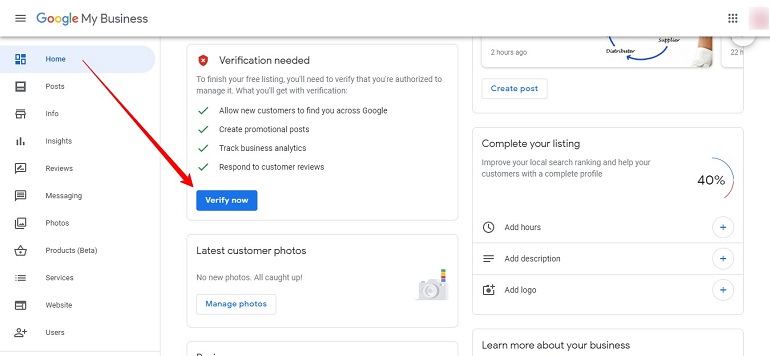 Sign in to Google My Business.
Choose the business pending for verification and click verify now.
A verification form will pop-up. Fill the correct business address in the form and submit.
Add an optional contact name to help Google deliver the postcard to you.
Click to send a postcard.
The standard turn around time is 12 to 14 days for a postcard to arrive. Till then, don't edit any details. If any details are changed, under those circumstances, it will delay the verification process.
Follow the steps below to enter the verification code: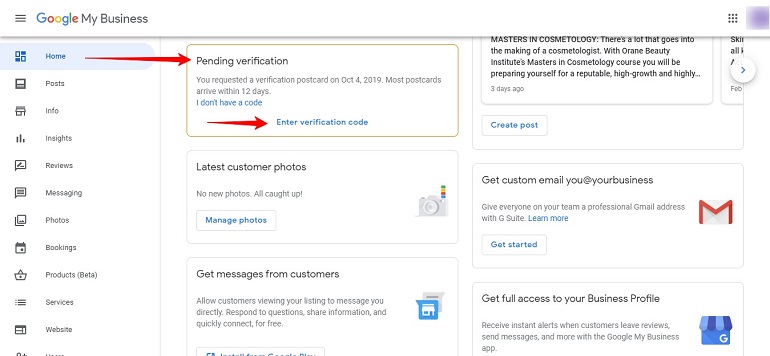 After receiving the postcard, sign in to your Google my business page.
On the home page, locate the pending verification card.
Click enter verification code.
In the code field, enter the 5-digit verification code from your postcard.
Click Submit. Now your business listing is verified.
2. Verification via Phone
Few business categories can verify using a phone. If a business is eligible for phone verification, the user will see Verify by phone option.
In this method, Google will text message a verification code on the business phone number. Enter the code and get your business verified instantly.
If you don't see the phone verification option, then use verification via mail.
3. Verification via Email
Just like phone verification, not all businesses can verify by email. Google allows every business category with a few verification options.
In this method, Google will send the verification code to a business email. After selecting the email verification option, check the inbox. Grab the code and verify the business listing easily.
However, if there is no verify by email option for a listing, opt for other verification methods.
Pro Tip: If you are using a @gmail domain email, it is not a wise decision to only use verify an email.
4. Verify via Google Search Console
Business verification via Google search console is a breeze. A verified business website in the search console helps verify the business in GMB.
As a result, it becomes fast & easy to verify the same website in Google my business tool. In this method, the owner needs to signup and sign in using the same email account used for Google Search Console.
However, this method is not available for every category of business.
5. Bulk verification
Applicable to those businesses that operate in multiple locations. Hence, if you own or manage ten or more locations of the same business, then your business listings are eligible for bulk verification.
The bulk verification process is done using an excel sheet. Download the excel spreadsheet and upload it with relevant details.
Final Thoughts
Additionally, Always keep the business listing in GMB updated, so customers get in touch with the business information as and when they need it.