How to Add Services to Google My Business Listing and Display them Under the Menu Tabs in Google Maps on Mobile Devices.
Adding Services offering for a business in  Google My Business (GMB) dashboard is simple. However, for some business categories, the services option isn't available. Before getting into the details of such business, let us look at how to add services for a Google My Business listing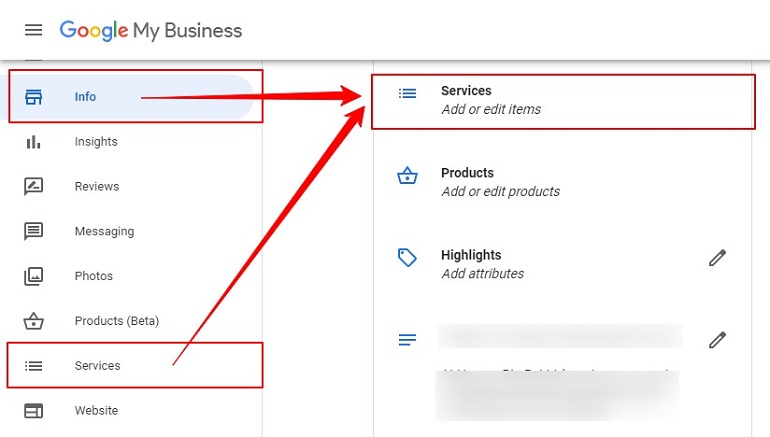 All in all, a user can add their services using two links. Both of them redirecting to a section – Add Services.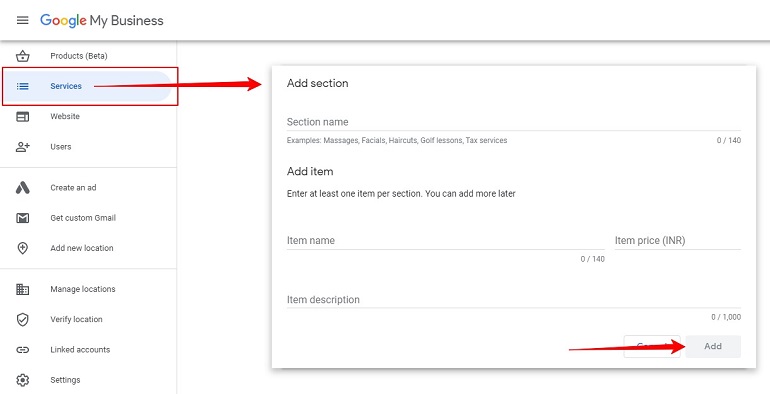 Before we proceed on how to add business services in a GMB listing, it's essential to know which business category has the services option.
Business Categories Eligible to add services in GMB
Long answer short, all service providers are eligible to add their business services. For example, plumbers, electricians, salon owners, marketing agencies, and a lot more. Surprisingly, some eCommerce sellers are also eligible to add services along with products to their GMB listing.
Listing business services in GMB is worth it when your business serves customers within a specific service area. This feature is for businesses who visit or deliver to local customers. With this in mind, I have categorized businesses into three categories.
Figure out which category your business falls into:
Category 1 – The business offering services at the customer's place. They don't offer services at their business address. For example, plumbers, cleaning services, packers, and movers, etc.
Category 2 – The business offering services to customers at their business address. They don't visit customers or deliver services to them personally — for example, multiplex and movie theatres.
Category 3 – Businesses in this category are flexible. They provide services at their business address as well as at the customer's place. For example, restaurants, fast food chains, and roadside eateries.
Also read:
How to add products in Google My Business to dominate the Google search engine rankings and rank higher in Google without doing any SEO.
The Purpose of Services in GMB
The services are for display in Google Maps search results on mobile devices. The core purpose is for users looking for such services on the go.
When a user clicks the menu tab in Google maps search results, all services show up with a price. Users can browse the list of services, images, and their price if any. Isn't it great?
This feature is best suitable for food business categories but not limited to it. A key point here is the word menu isn't limited to food business owners. Google has termed a cluster of services as a menu. It doesn't imply a specific category.
For example, I can list digital services using the add service feature. Even if I list digital services, the word menu remains.
In short, the menu is a label, and it has nothing to do with what kind of services a user is adding. Above all, it is not limited to an industry-specific category.
Example Services in Google Maps
The following image is of a famous south Indian food joint here in Surat – ShreeSainathSnacks. The menu tab shows the available services for the business.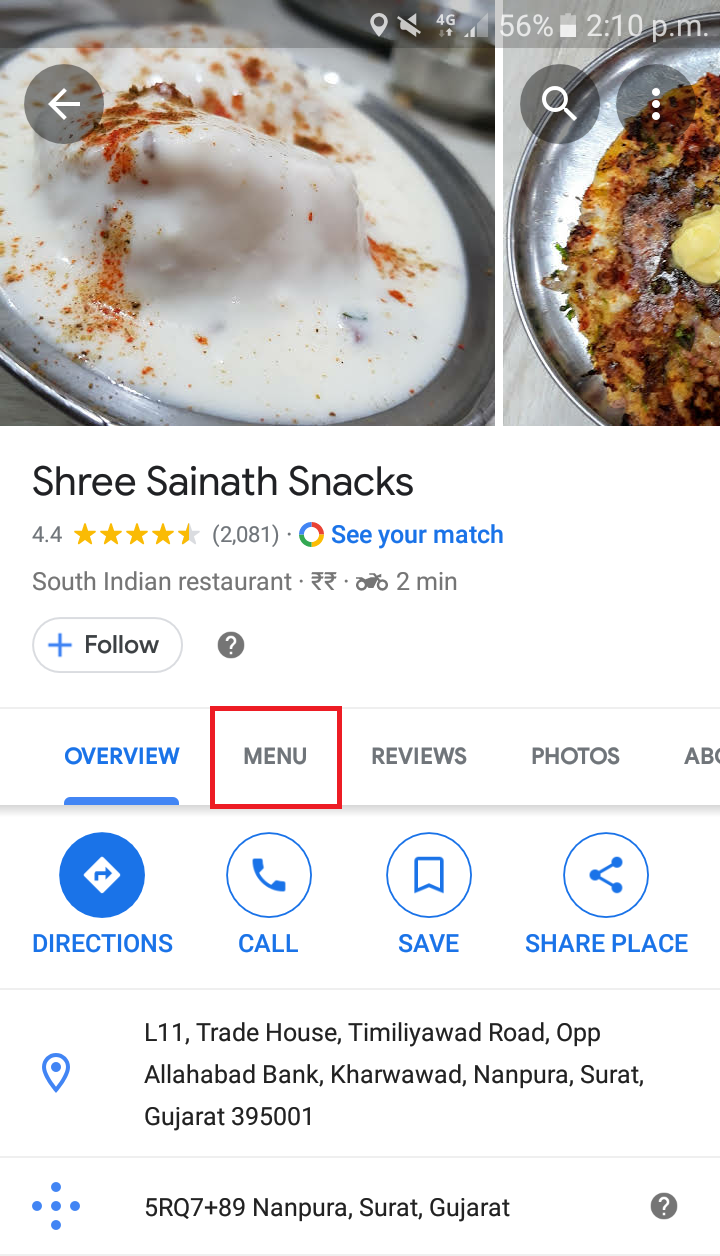 Upon further scrolling, I found an additional menu link. See the image below.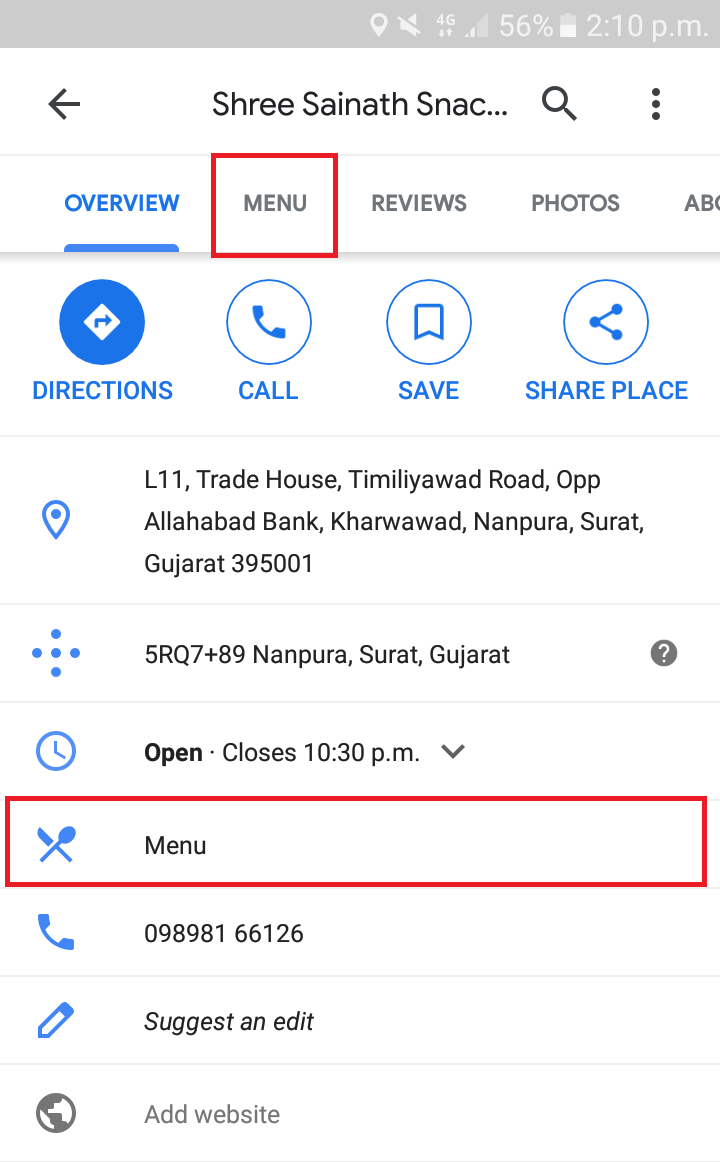 Finally, when I tap on the menu link, it reveals the food images. Those images are of food items served at their business address.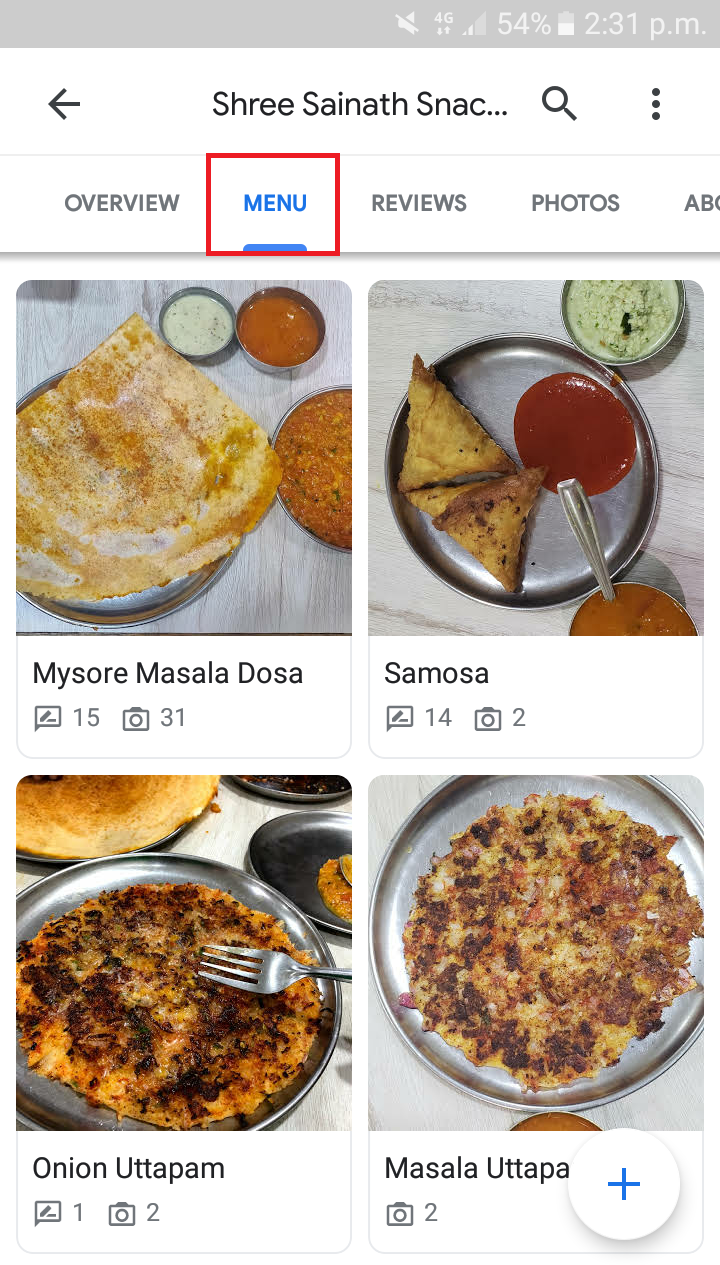 Below every image, there's a name, total number of reviews, and photos. Reviews and photos are by google users. A big blue plus sign indicates that anyone can contribute to the menu.
That's fantastic because it leverages organic communication, which Google likes more than anything. I guess you got one more reason to add services to your GMB listing.
Also read:
Setup a free business page using Google My Business local listing tool and get listed on Google Search and Google Maps local search.
How to Add Services in GMB
Log into Google My Business listing using a Gmail Account. Locate & click services on the dashboard left panel. The add section appears. See the image below.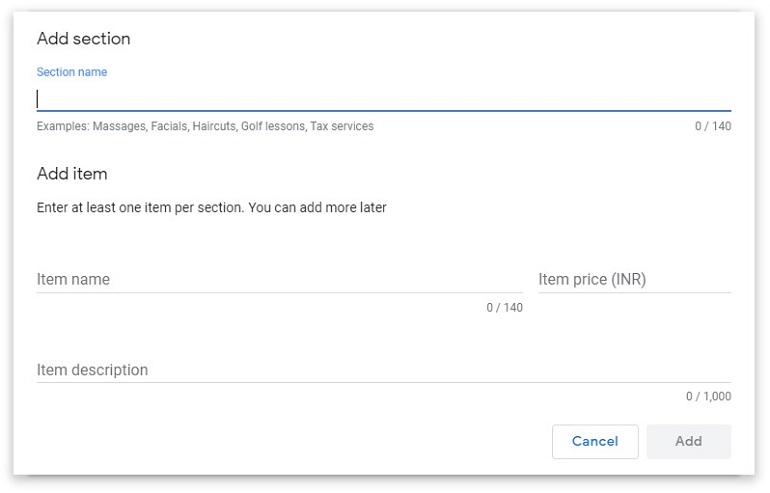 Fill in all the details. There's a character limit assigned to section name, item name, and item description. Hence, optimize all details correctly. When you are done with details, click the add button.
I have taken content writing as an example. Three blog writing services are visible in the image below with the title, description, and price.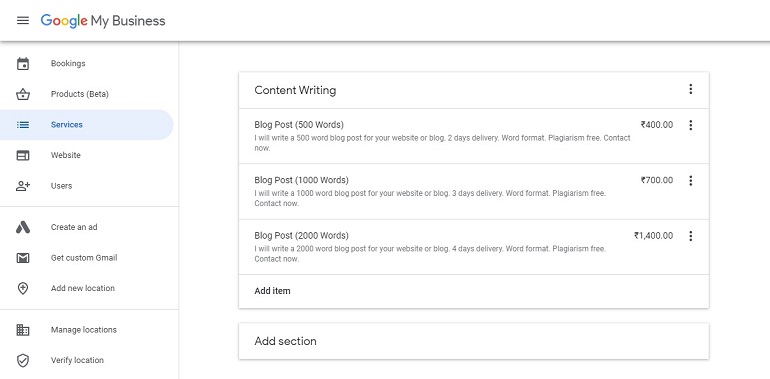 There's no special button to save and submit services. As soon as you click the add button, it gets submitted. After a couple of hours, they start rolling in the GMB listing under the label menu for the listing.
Also read:
How to verify a business listing in Google My Business. If the business is not verified, it won't show in Google Search Results.
How to Delete Business Services in GMB Listing?
There are two parts to the business services in Google my business:
Add section – This is the category of service a business is offering to its customers.
Add item – These are individual services offered to a customer.
A single section (category) can have unlimited items (services). If you delete the main section, all items in it will delete. To delete a section or individual items, click on the three dots. See the images below.
The item will show the delete item option, whereas the section will show the delete section and items. Be careful while deleting. Take a backup in a notepad before making any changes.
Conclusion
Google is continuously pushing new features within Google My Business listings. With every new feature, the user gets an opportunity to scale his/her online business.
Whether it's consumer products or services, the GMB tool has something unique to offer. Additionally, the tool deals directly with Google search.
It's not like creating a website and then doing SEO to rank in the Google search. The GMB local listing tool is way ahead and cuts down all the heavy lifting of SEO.