How to Add Photos and Videos to Google My Business Listing along with the type of ohotos that works the best in GMB to drive organic traffic.
Adding photos and videos to Google My Business listing is easy. The process guides us in every step. Before we start adding pictures or videos, it's essential to learn why every business listing must keep adding photos and videos in the first place.
Facts About Photos & Videos to GMB Listing?
Google My Business accepts images. Here are some facts I like to share
No restrictions to image size – Unlike other tools and platforms, the GMB has no restrictions on image size. One can add any size photos for a business listing. However, a video has a size limit on GMB.
Unlimited space – Another big reason to add photos & videos is the infinite space provided by Google. A user can upload unlimited numbers of pictures & videos. No specific storage limit. It's unlimited and free.
No creative limitations – There are no limitations to the creative presentation of product/service photos & videos.
No restriction on dimensions – Business owners can upload images without worrying about dimensions. Any and every dimension photos are welcome by the GMB tool. It cuts down the heavy use of photoshop tools and money spent behind it.
There's only one condition – all photos and videos must adhere to GMB policies.
Now that we know the supreme benefits of photos and videos let's see how to do it. The following section will guide through an easy process to add business photos & videos.
Pro Tip: Businesses with recent photos receive more clicks and organic traffic to their websites. Hence, consider adding fresh images every week or month. Make a habit of inserting at least one image per week.
Also read:
Setup a free business page using Google My Business local listing tool and get listed on Google Search and Google Maps local search.
How to Add Photos & Videos to Google My Business Listing?
Log into Google my business listing. Click the photos tab on the left-hand side of the dashboard. Then add photos and videos widget will open up similar to the image below.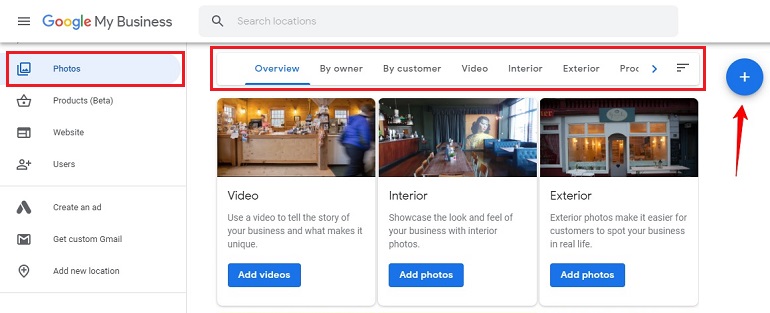 Click on the blue plus sign. A window will pop-up asking to upload videos and photos from the computer. If there are multiple photos and videos, select them all to add them in a single shot.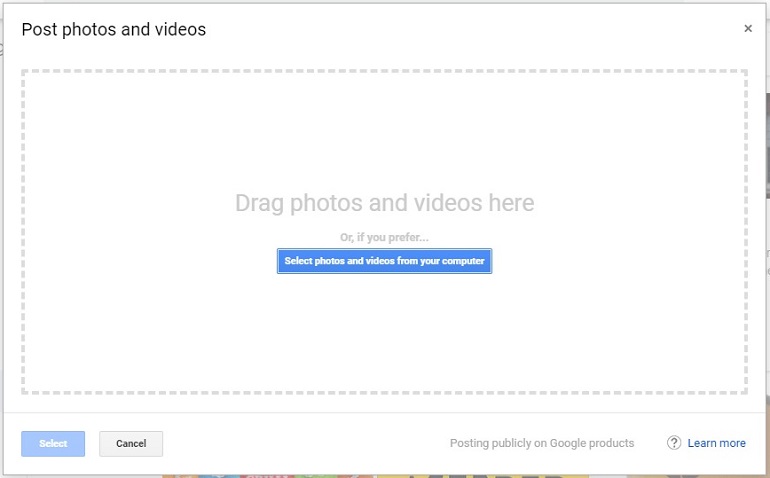 One can simply drag and drop all photos and videos instead of uploading one by one. Once all images and videos are in place, click the select button. All pictures and videos will display in an infinite scrolling pattern in the photos tab.
Hence, adding photos and videos is as easy as mentioned above. But, Google likes it neat and clean for its users. With this in mind, we can further segment photos into different sections. See what they are.
Also read:
The 7 Key benefits of getting your business listed with Google My Business listing and why I think every local business should consider it.
The Different Types of Photos in GMB Listing

There are certain things businesses must consider while uploading photos. Like every image must find its right place.
For example, if the photo is about the business office space, it must go under the interior option. If it's about the production facility, it must go under the exterior option and so on.
Let's see what each category holds.
Overview – It isn't a category. All images from every category show up in the overview section.
By owner – All images by the business owner will be in the by owner section.
By customer – Images uploaded by customers will show up here.
Video – Post product demo, installation, maintenance, repair, DIY, & business-related videos here.
Interior – Upload office space, branch images, product display images in this section.
Exterior – Factory, production facility, manufacturing house, equipment, machinery, etc. images here.
Product – All main product images will go in this section.
Main Category – Images related to your main category, which you selected during the GMB registration, will be posted here.
Team – Staff pics and team member images go here.
Identity – The identity section is related to business. Logo, profile pics, and cover image will reside here.
Pro Tip: Upload staff photos, product images, exterior, and interior images of the office, shop, or restaurant. This way, people can easily recognize your business when they visit in person. 
Also read:
Answering the question - How to add a second location or more than one location in Google My Business or GMB Local Listing?
Two Important Images to Add in GMB
Logo and cover images are two important images that need immediate attention. Once your business is verified, add both of them. However, one can add a logo and cover images even after the registration.
Both of them are essential as they are directly related to business identity.
Insights: Photo Views and Photo Quantity
As I said, Google My Business is a complete listing management tool. The tool provides valuable insights about photo views and quantity. The insights compare with other similar businesses operating online. Refer to the below image.
Photo Views Insights

It shows the number of times photos (posted by a particular business) is being viewed. Additionally, this section shows a comparative view of pictures from other businesses to your business.
Photo Quantity Insights
In the photo quantity insights, a business owner can see photos uploaded to his/her GMB listing. The insights are visible in colorful bars showing the number of pictures by other businesses and comparing them with your business.

Conclusion
Consistency is the key here. If you keep on posting fresh images, your GMB listing is more likely to retain heavy organic traffic. A picture or two won't do much good.