Quitting job is not as difficult as it seems. See how I managed to quit my high paying job in an MNC in the midst of 2008 financial crisis.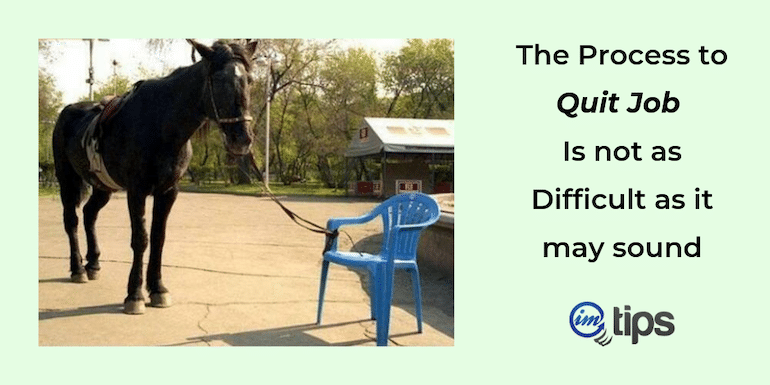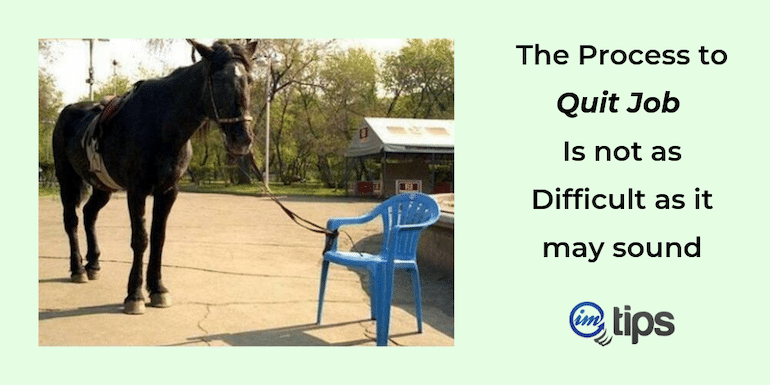 Blog readers, school friends as well as ex-colleague discuss with me about starting a business. More often, I can sense they are sitting on the job just because they are mentally not prepared for quitting the job.
The majority of my school friends and ex-colleagues are from Kolkata, and they have a different excuse for not being an entrepreneur.
Are you willing to be an entrepreneur or want to be one?
If you want to be, you may not be one, but if you have a willingness to be one, you will be. If you have an excuse for not quitting the job, what are you doing about that excuse?
Is this the Right Time To Quit Job?
There are two kinds of situations when people thrive.
When under all sorts of pressure and need a fast-approaching deadline to get things done. The house needs to be on fire to make the best out of them.
The other kind is when there isn't any pressure. Pressure makes things jittery, and if the house is on fire, they tend to panic instead of making the best out of the situation.
To answer the question lies in the choice of what kind of situation takes the best out of you.
Do you thrive under pressure or panic?
If you are the person where pressure takes the best out of you, right now is the right time to quit your job and try freelancing.
The situation will make the most out of you and help you perform at your best. I am not that kind of person and tend to panic. I prefer a more subtle approach.
So let me share with you how I managed to quit my job.
1. Make a Year-long Survival Plan
When I said no to a job, I was drawing more than 50k INR per month as a salary. It is not very easy to say no to that kind of income unless you are not only mentally prepared but also able to convince your family of what you want to be doing.
I started to analyze my expenses and started to find a number that will be enough for my family to survive for a year.
Remember, I am talking about survival, which includes only the necessary expense. I came down to Rs 300,000 or 3L with a monthly cost of Rs 25k per month.
So now, once I had a number I want to keep my family alive for one year, I reduced the needed corpus value I need to 2L as the final amount. The reason I did that is I knew; there is some contribution towards a provident fund which I can withdraw when I quit or switch a job.
I had done that earlier when I switched.
200k in savings looks pretty small when compared to my last salary of 50k per month. The fact is, it took me almost three years to make that amount as saving. The main reason is my previous salary was pretty high, but it was not that high in the earlier years.
2. Save Mercilessly – How I Opted to Save
Once I have my plan, I knew exactly what I needed to do. So I avoided loans and liabilities because if you have a loan too early in your job, things can go wrong very quickly for your switch to a freelancer or an entrepreneur.
On top of that, I kept my household expense under 20k. So I don't go over the 25k mark by any means.
Now I needed to save. So I had a separate bank account, which I kept solely for the sake of savings.
A hike in salary should not be a trigger point for a change in lifestyle, but it keeps the same lifestyle. Use the extra amount for savings.
I had seen my ex-colleagues took a hike in the job as a means to upgrade. Get the latest mobile phones or go for a fancy car (At times in advance of a hike as well). I always had an old phone, even when I was quite successful as an entrepreneur. Till 2015, I didn't own a car.
If you want to be an entrepreneur, take your job hikes as a way to save money for entrepreneurship ventures.
3. Avoid Non-Liquid Fancy Investment
As your savings grow, it can be tempting towards investment to boost savings.
Once you focus on investment, you tend to find ways to maximize your investments and can lose focus on your savings goal for survival.
Allowing your mind to focus on your job when you are in an office and then allowing it to focus on your entrepreneurship research is more important than an investment to make a few extra rupees.
I did lose track of my savings and moved towards investment. I did not opt for investments into bank deposits but jumped into equity investment. Soon I realized that it wasn't something I can focus on when I have a full-time job as well as working on building my forums and blog. So I opted out of those investments, and it was challenging to be doing that.
4. The Quit
I was given a good hike in March 2008 that allowed me to hit almost 50k mark in salary. I also had accumulated 120k+ as saving in my bank account.
Once I got the hike, I decided to continue my job for a few more months. Moreover, it was the financial crisis of 2008, which created more dilemmas in my mind. It is when I had to prepare myself actually to quit the job mentally.
Once my bank balance hit Rs 150k, I had to prepare myself to quit the job mentally. I knew my last salary and amount for paid leaves would make my bank balance hit my target of 200k.
It took me almost a fortnight to compose my resignation letter and submit it. I had a lot of mental barriers to overcome before I could send that magical email.
I remember not taking my bike to the office on the day I finally decided to send that email. There will be a lot of things that will be going in my mind when I will be returning home after that email is delivered – yet another mental barrier I had to overcome.
5. Always have a Plan B
The next morning as expected, my immediate manager had a meeting scheduled with me to know the reason for resignation. I did not give a real reason and told me that I want to pursue higher education. The main reason to leave the job was I want to prepare for the exams.
I always had an excellent relationship with my past managers, including this one.
Even when I left the job in less than a year in a company, I kept an excellent relationship. The relationship takes long-time to nurture, and just because you are moving on in your career doesn't mean it should end on a sour note. I wanted to make sure I keep the same this time as well. So if I have to return to a job, I can.
The option to get back to the job was not the only backup plan I had.
I also started working as a freelancer on projects from Elance.com (now Upwork) for at least 25K per month. As I was hitting the income level, I used to say no to more clients. The aim was to generate 25k per month, so I don't need to touch my buffer money of 300k. A mental block that helps me focus on my online communities.
Here are top freelancing sites for you to consider freelancing. And if you want to be a blogger, consider affiliate marketing. More so recurring affiliate programs.
6. Keep the Salary Mode ON
Once you have a salary of 12 months as advance lying in your bank account, it is easy to lose focus.
So I used the same salary account that I had from my employer to credit the amount each month from my alternate bank account where I had my corpus. Use only the amount from my salary account for the expenses.
All my earnings from my websites and freelancing were being deposited into my alternate bank savings account. I only took 25k into my salary account for expenses.
I started to add more money to my savings account. Instead of depleting the balance, it hit a magical figure of Rs 10L or 1 Million when I told myself job days are finally over.
In a job, it took me almost three years to get to a saving of 3L. On the contrary, in under a year of being a freelancer and entrepreneur, I managed to reach the 10L mark.
In next year or so, I was having a turnover of roughly 3L in all of my businesses combined.
Final Thoughts
The reason to share is, it is possible if you are willing to take the pain and work your way out of the job.
Write down all the excuses you have in your mind to quit the job. Now have a plan to overcome each one. Once you have plans for each excuse, you will be mentally ready to leave the job.
If you can prepare yourself for being an entrepreneur mentally, get a finite amount of money, you need to be able to try entrepreneurship for one year and go for it. You can always get back to a job if things don't work out, and you have nothing to lose. No one is taking away your experience and certifications for trying entrepreneurship.