A blog is a website that logs views and opinion shared by an individual and displays them in reverse chronological order (newer content appear first).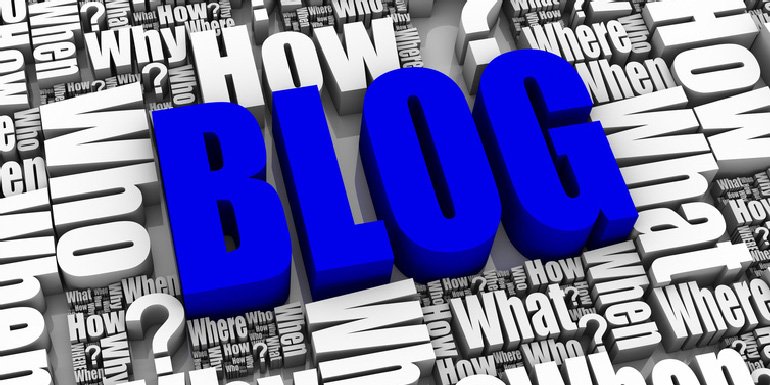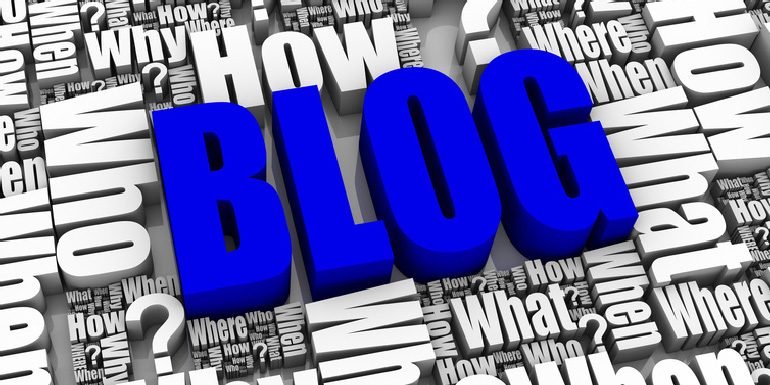 Often readers ask me about what is a blog, or what is blogging? Understanding these concepts can help you start a blog.
In the mid-90s blogging took on the Internet world. People started sharing their thoughts, ideas, and opinions online. Kind of log over the web. So it was called "Weblog" which finally become "Blog."
Due to the blog revolution, new tools and technology came into existence making it easy for users and bloggers to express themselves online.
What is a Blog?
According to Wikipedia,
A blog is a discussion or informational website published on the World Wide Web consisting of discrete, often informal diary-style text entries. Posts are typically displayed in reverse chronological order, so that the most recent post appears first, at the top of the web page.
According to Google.
A regularly updated website or web page, typically one run by an individual or small group, that is written in an informal or conversational style.
Or in simple terms, it is a personal website that logs views and opinion shared by an individual in a very engaging style. A blog is similar to a website with a collection of informative content called blog posts.
There were many online tools launched at the same time to help build an online blog. In 2003 Google acquired Blogger.com, and Matt Mullenweg began WordPress.
These tools not only helped bloggers to produce beautiful blogs but made it very easy even for the non-technical users to blog. Bloggers can update as often as they want, on a daily, weekly or monthly basis. Blogs can be private as well as available to everyone.
As time evolved, these tools made it super easy even to get other than textual content like images, videos, audio in the form of a podcast.
The Derivative of the Word Blog
Blogger – An individual who owns & maintains a blog by regularly posting informative content, news, case studies, personal thoughts and more.
Blog Post – An article, a writeup, collection of image or video content is a blog post. The content you are reading right now is itself a blog post on a topic 'What is Blog?"
Blogging – Writing a blog is blogging. It's an activity to pin down one's personal views, opinions and ideas in the form of a blog post published on a blog.
Blogger.com by Google lost its way in the middle and WordPress captured the blogging market.
History of WordPress
WordPress is a free tool for creating a blog or a website. It open source content management system (CMS) created in PHP & MySQL. The simplicity and ease of use of WordPress have given a new definition and dimension to building a website and a blog but it starts was quite a dramatic one.
The evolution of WordPress started from the B2/cafelog software which was released in 2001 by a French developer Michel Valdrighi. The software was getting the popularity, but suddenly the developer vanished. It created concern among the users moving forward. Matt Mullenweg who was a b2/cafelog user then took it on himself to create a new platform by integrating b2/cafelog.
Rest is history.
WordPress is the most popular CMS today. As per Wikipedia stats, WordPress hosts 60M+ websites including 33.6% of the top 10 million sites.
One can say, WordPress is a massive factory producing webpages using themes, plugins, templates & other features. It allows users to store their content to create and publish webpages requiring just a domain and a host.
Read 35+ Tweaks To Maximize SEO in WordPress Blog
Why People Blog?
Short answer – people blog to express their thoughts. Besides, it's a great tool to promote online business, product, or service. In short, one can sell via a blog or use it as a medium of progressive information.
Here's a list showing as to why people blog:
Express ideas, views, thoughts, opinion on a subject
Deliver valuable information to others online
Generate a passive income (make money from blogs)
For business promotion or personal branding
To share, connect & converse with others
To acquire or impart knowledge
Educate masses about life, skills & money
Sell products or service
Improve writing skills
Build a professional or personal network
And for everything else
Last but not least, they love to blog.
List of Blogs to Follow
To give more precise information about blog and blogging, here's a list of successful bloggers and their blogs. These blogs are milestones in its niche. Take a look:
For WordPress
If one has to start with WordPress, then there's nothing beyond WPBeginner by Syed Balkhi. It helps with easy to understand WordPress tutorials even for a non-techy user.
Copy Writing & Blogging
Content is crucial whether it's a blog or a website. Content Marketing Institute by Joe Pulizzi & Enchanting Marketing by Henneke. These blogs are useful to start with if one wants to learn & write engaging blog posts.
Marketing
The below mentioned are one of a kind blogs providing practical and applicable tips on how to market a blog and in-depth lessons on blogging.
Making Money
Smart Passive Income by Pat Flynn is almost a one-stop solution to learn to monetize a blog. On the other hand, one can follow I Will Teach You To Be Rich by Ramit Sethi to earn extra bucks.
Social Media
Social Media Examiner by Michael Stelzner is the bible of social media marketing. One can learn A to Z about blog marketing on social media free.
Few more names to add in the social media mentorship:
Entrepreneurship
For everything other than blog setup & marketing we have a different set of blogs to follow. The below list mentions top entrepreneurs and thinkers of modern times. Here's the list:
There are blogs perfectly crafted and consistently delivering valuable knowledge to their audience. And then you have HubSpot Blogs on the other hand. A total package to learn applied digital marketing to grow online.
Difference Between a Blog and Website
The fundamental difference between a blog and a website is – blogs share new content regularly which is displayed in the reverse chronological order whereas sites have static content.
A website can be from few pages like (home, about, contact, faq's privacy policy, terms) to hundreds of informative pages. An eCommerce website is also a kind of website which lists hundreds of products for sale online.
With WordPress, one can have a static website as well as a blog at the same time. The homepage can have static content and blog can be inside a sub-folder.
With a blog, the static website can create user engagement with comments.
Which is better – A blog or a Website?
Why not both. Even if you need to have a static website, one can always share content related to the industry and maintain a  blog.
BizTips seems more like a website, but as you scroll down, you will find the latest articles from the blog.
So the home page feels like a website followed by a blog with the latest content.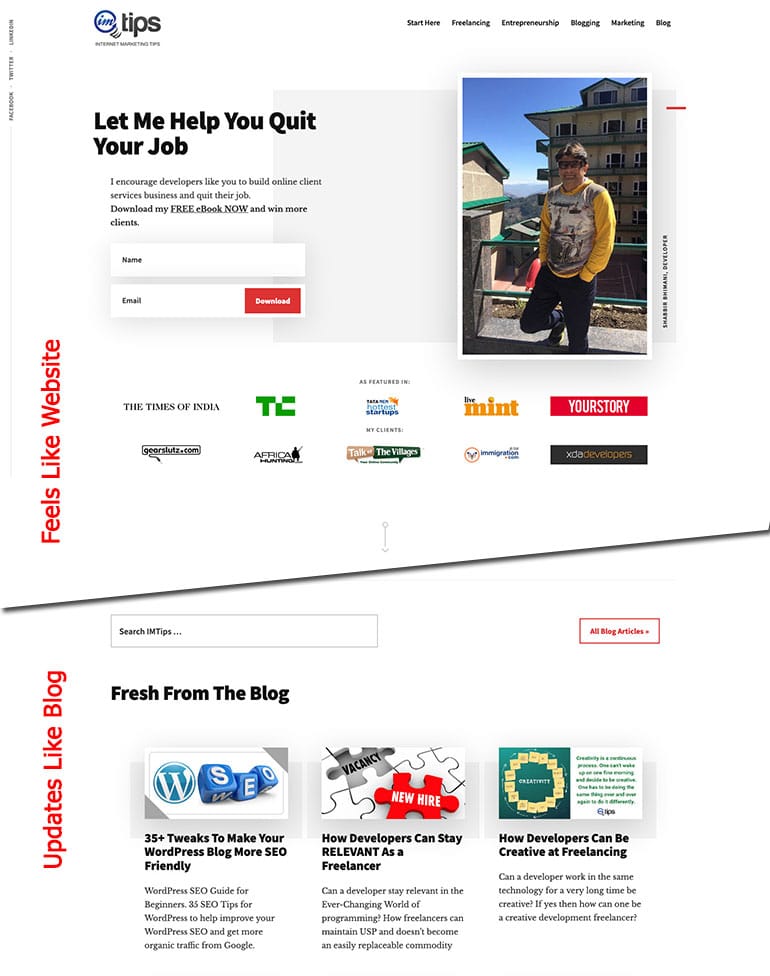 So which is better, the answer will be the site that is updated more frequently will have more chance of getting readers and will drive more traffic. Few page website will not drive traffic unless people specifically search for the name of the site or name of the business.
So I am of the view, a blog is always better, and even if you have a static website only, it makes sense to add a blog to it.
Do I Need a Blog?
If you have a website that needs traffic, the answer is yes; you need a blog. In the current market scenario where search engine and social media has taken online marketing to the next level, blogging becomes a vital strategy to drive traffic to the website.
The four most common reasons why every website needs a blog.
1. Increase overall Traffic
Relevant content drives quality traffic. A blog allows accumulating related content.
How many times can you share the same content links on your personal social media channel?
If you can't how do you expect to generate traffic?
If you have a blog, one can share related content and share it on social media platforms.
On top of that, as you build more content for the domain, it increases the domain authority of a website. With more content on the site, one can have better internal links.
Also, read Traffic Building Tips.
2. Improves Search Rankings of Landing Pages
Fresh content always ranks well in Google organic search. The blog helps provide more relevant content, topics, and categories.
As an example, if you wish to rank for the term "best web design company in YOUR LOCATION", your landing page crafted for the same may not rank right away but if you blog about web design and other relevant content and topics around it for YOUR LOCATION, it may start ranking because of the internal links the page has from related content.
Post unique research-based content regularly around the topic you want to be ranking for and drive internal links to your landing page which you wish to be ranking. Over time as the page garners links, it will gain search rankings.
3. Building Authority
Well-researched articles on a blog that resonates with the products or services one is offering can help in building the authority on the subject matter.
It reinstates the trust factor.
The more one share knowledge in blog articles, the more likely readers are tempted to connect to the blogger.
With a blog, it helps build authority.
4. Make more Sales
With a blog, one educates his/her customer about the product or services. The blogger isn't trying to sell. Instead, the decision to buy is left to the customer – to buy or not to buy.
The blogger is only sharing valuable content for the customer.
In this way, a blog deepens the customer's connection with the product or service without annoying them. Above all the blog reflects as a rich source of information.
It speaks all the pros & cons of the product and how it can help customer benefit.
Conclusion
A blog by an individual or a company sharing valuable information reaps many rewards. Blogs not only bring in authority and branding but also acts as a source to drive business.