Optinmonster Review – A smart lead generation tool that is well-integrated in your website, less offensive to users, and grabs user attention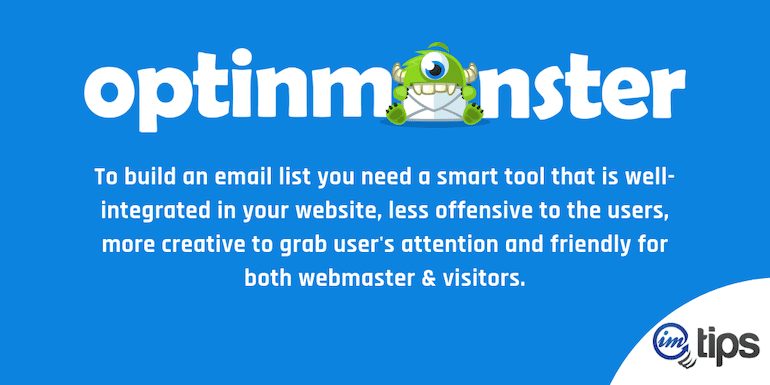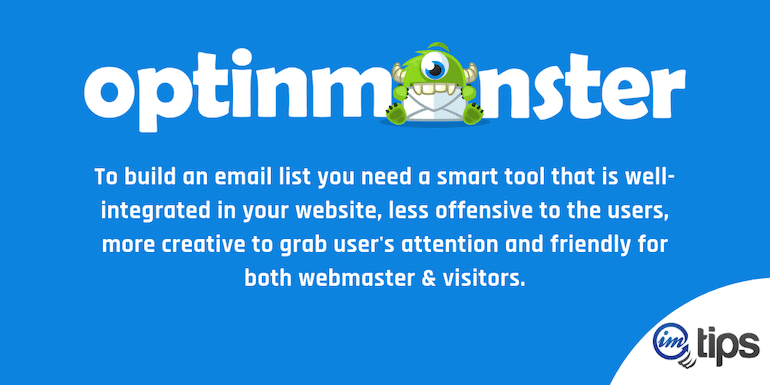 OptinMonster is one of the best lead generation tool ever, and I will share how it is better than any other tool in my Review. If you want to capture leads on your website for email marketing, you can't ignore OptinMonster.
Email marketing is still the most cost-effective method to reach out to potential customers and clients. But for that, one needs a list of email addresses of your clients who are interested in your products or services.
Unsolicited email to people is destructive not only for the business but also for the overall brand reputation.
Email list building has to be done with permission from the user, keeping in mind, they have a right to personal space.
Disclosure: Some links are affiliate links to OptinMonster where I get paid a commission if you sign up using it at no extra cost to you but has also provided a direct link just in case you don't want to use the affiliated url.
OptinMonster can come to the rescue to help generate forms that visitors can't resist and subscribe to.
I will share what makes OptinMonster the best lead generation tool.
Days are gone when adding a simple signup form in the footer used to do a lot. Nowadays, it will be almost be ignored.
To build an email list, you need a smart tool that is well-integrated in your website, less offensive to the users, more creative to grab user's attention and friendly for both webmasters & visitors. Optinonster fits in perfectly well in it.  Let's see how
OptinMonster Review: for Bloggers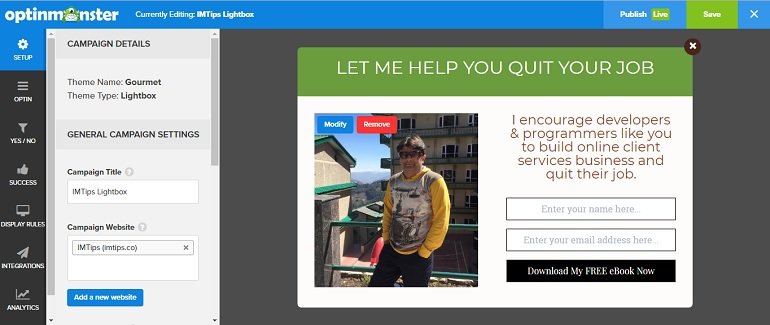 If you are a blogger, OptinMonster can help you build an email list fast from visitors that end up on your blog.
1. Growing Email Subscribers
No one can guarantee you that visitors who have already visited your blog will revisit it on their own in the future. This is where OptinMonster comes to your rescue. With customized campaigns and Optin forms, you can generate a clean email list and reconnect with your visitors to encourage them to visit your blogs daily. Create visually engaging subscription forms that attract visitors to fill in their details and submit them.
It has Behaviour Detection Technology, which enables you to show the exact form to the precise visitor at the exact time that will help you to convert the visitor into a subscriber. The technology can intelligently display the opt-in form on pages with the right message that can help turn the visitor to a subscriber.
OptinMonster also allows you to create pop-ups when the visitor is about to leave your blog.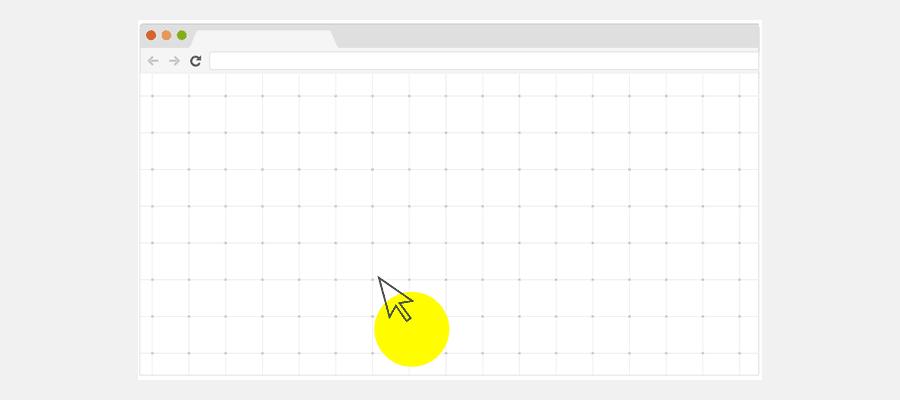 2. More Readership
There is so much more than a form-based user subscription with Optinmonster.
As and when your visitors read more of your content, they are more likely to subscribe. The biggest problem for any blogger is to get the right content in front of its visitors. Bloggers often have thousands of great posts buried deep under.
Let's assume a particular topic on your website gets more visits. You can even create a campaign in OptinMonster only for visitors visiting a page or a blog category.
Now, what you can do is display a custom message on that particular page for those visitors only. Instead of subscribing to them, you can even redirect them to a similar topic or even a product that is closely related to the topic. This way, you can convert your visitors into paying customers.
With OptinMonster, you can run targeted campaigns based on user behaviors, insights of blog pages, visitor's geo-location, gender, the device they use to view your blog, and so on.
3. Full Dashboard as WordPress Plugin
OptinMonster is a cloud-based SaaS tool, but it has an easy integration WordPress plugin where the complete OptinMonster dashboard can be inside your WordPress admin area. So to create campaigns or access to reports can be done inside the WordPress admin.
4. Social Media Cross Promotions

As I told you earlier, there is so much more than just form-based user subscriptions with Optinmonster.
You can let the visitors subscribe to your YouTube Channel, ask them to join your WhatsApp group, promote a Facebook page, Pinterest board, or Twitter – The options are limitless.
5. A/B Testing with Opt-in Forms
OptinMonster provides you with an integrated A/B testing tool so that you can test two or more different variants of opt-in forms against each other on the same page or a different set of pages.
With the help of such tests, you will be able to figure out what kind of opt-in forms works on which type of pages/category of posts and maximize conversions or sales.
Taking A/B testing to the next level, one can test various sets of opt-in forms integrating them with Dynamic Text Replacement and campaign triggers too.
6. Manage Multiple Blogs / Website
If you are operating multiple blogs just like me, then OptinMonster will make it a lot easy for you to manage them from one single account. You can manage all your blogs, edit & execute opt-in campaigns single-handedly using Optinmonster's dashboard.
OptinMonster Review: for eCommerce
Not only for a blog, but OptinMonster has everything an eCommerce webmaster needs too.
1. Decrease Cart Abandonment
Cart abandonment is the biggest problem for online sellers immaterial you sell on premium online platforms or through your e-commerce websites. Let's understand what OptinMonster can do to reduce your cart abandonment problems.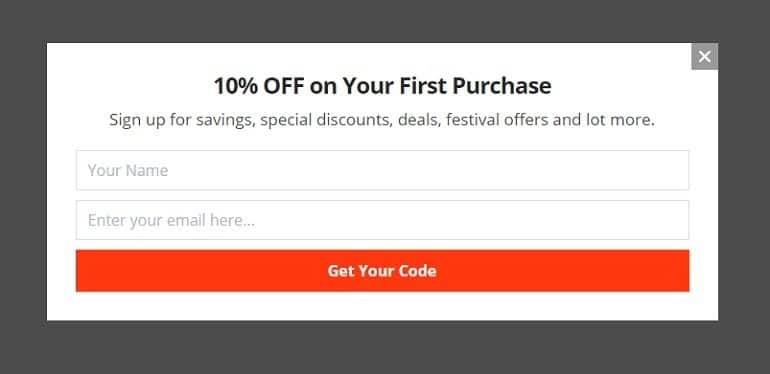 OptinMonster has exit-intent technology that detects user's mouse behaviors and shows them a targeted message when they are about to leave.
For example, you are selling mobile phones on your website. A visitor after scrolling a notable amount of pages on your site stops on – Let's say ABC mobile phone product page. Here also, after spending a considerable amount of time hustling with price, delivery, technical features, and finally, adding it to the cart leaves the purchase in the middle of nowhere and vanishes in thin air.
You lost a potential sale!
With Optinmonster's exit-intent technology, you can design a campaign for these kinds of buyers who will get a unique pop-up when they are about to leave the page. An enticing exit offer may get hold of a runway buyer's attention and may encourage a last-minute purchase too.
Ideas for the exit-intent pop-up for e-commerce website:
First-time purchase discount
100% free delivery on first purchase
Buy one get one free.
Free product as a launch offer discount
Get free samples of the main product
2. Sell More with an Email List
When you have an email list of ready-to-buy customers, you can always use it to grow your sales. Shoot your subscribers with new products, festival offers, free giveaways, and a lot more in your email.
Remind them about an ongoing great deal, or savings offer on your website. It can help you increase your daily sales count.
3. Onsite Retargeting
If you show the same campaign to an online buyer (who has already subscribed to you) repeatedly, then this is going to be the biggest turn-off for them. Instead, altering the campaign content can keep the interest of a buyer intact when he/she revisits you. Possible with Optinmonster.
Optinmonster's Onsite Retargeting is for repeat buyers. You can design a separate campaign (new promotions & offers) to target repeat users based on their previous purchase history/page visits or any other kind of interactions. It helps e-commerce sellers with onsite behavioral data to design custom marketing campaigns to boost sales & revenue.
4. Dynamic Text Replacement
This feature helps reduce cart abandonment.
When a buyer comes back to your website, you can show them a personalized message with their name in a pop-up using the Dynamic Text Replacement feature that includes the product name too, which they saw previously.
Dynamic Text Replacement also allows you to use the information of a buyer that you already have from your email marketing or lead management software to show targeted cross-sells and upsells item, which is selling good upfront.
Hence, a combination of Dynamic Text Replacement, Exit-intent Technology, User Behaviours, and custom campaigns can dramatically reduce cart abandonment and convert visitors into buyers.
OptinMonster Review: Easy-to-Use Forms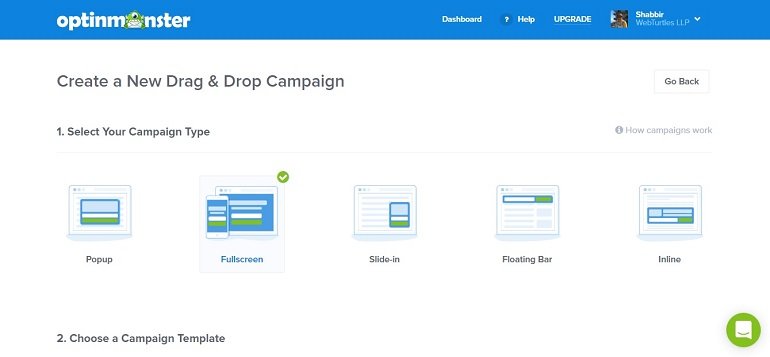 OptinMonster came with a total of 8 different variety and targeted opt-in forms that can be used to trigger subscriptions or sell a product on your website. They are:
Lightbox Popup
Fullscreen Welcome Mat
Slide-in Scroll Box
Floating Bar
Countdown Timer
Sidebar Forms
Inline Forms
Yes / No Forms
Content Locker
Yes / No Opt-in Form
Yes / No form is the most popular multi-step opt-in form because of its ability to provide visitors with two options, which significantly increases conversions. Users are worried about giving their visitors options, fearing that it will lower their conversion ratios. But the later one is wrong.

The yes/no forms work on behavioral psychology.
Visitors are more likely to connect when they are given a choice. It makes them feel that their own choice will make a difference. In this way, the yes/no forms guide the visitor to take the next important step in the process.
Moreover, the yes/ no form can be combined with advanced Page-Level Targeting, OnSite Follow Up Campaigns, Onsite Retargeting, Geo-Location Targeting, and more.
Drag and Drop Builder
The forms mentioned above can be customized with OptinMonster drag and drop builder. You can edit the color, fonts, image, and texts of the forms to match the layout or color theme of your website or blog.
Additionally, one can also add elements like dividers, buttons, videos, countdown timers, and more to any campaign to make it more creative and interactive to the user.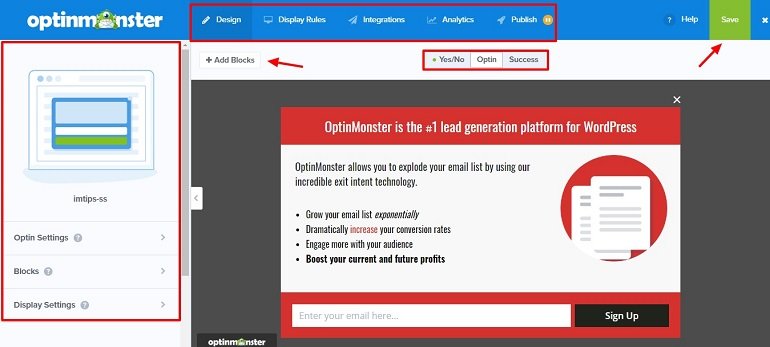 Since all the OptinMonster templates are mobile responsive, you don't need to customize it anymore for mobile screens and devices. They are 100% mobile friendly and loads on any screen size without any problem.
Exit-Intent Technology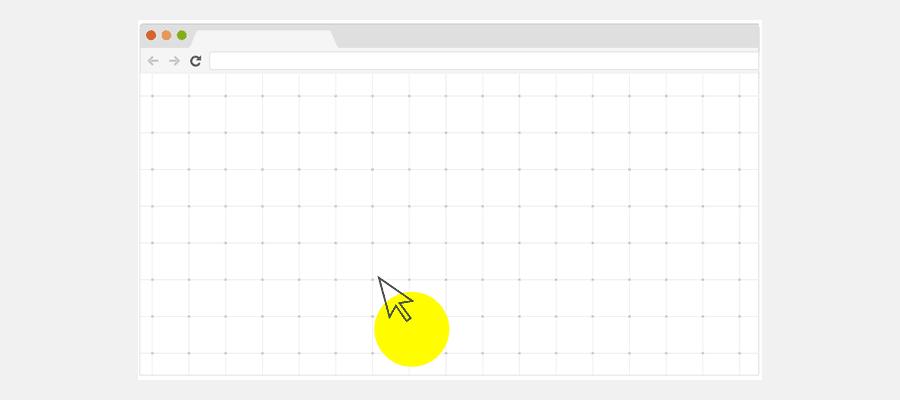 As discussed earlier, the exit-intent technology of OptinMonster is one of a kind that is used to detect when the visitor is about to leave your website or a particular page.
You can set up an exit-intent pop-up to make the user stay longer on the page, take another action, give an offer, supply a discount (reduce cart abandonment), and so on.
OptinMonster Features that Grows Conversions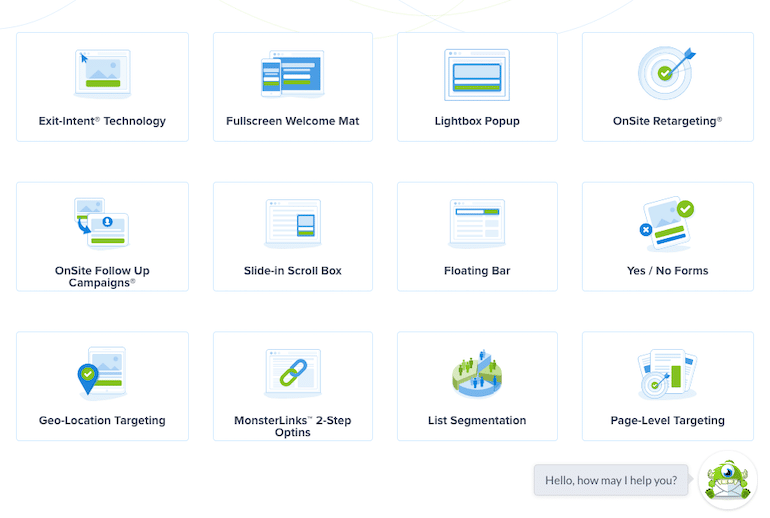 OptinMonster comes with real-time practical functions that help you convince and convert your visitors. Let's see what these features are.
Scroll Triggers  – This is a fascinating function. When a user scrolls down to the end of a page, show them a pop-up. This could be a discount offer if you are selling products to push sales, or it could be an email subscription request with a free e-book download.
Page-Level Targeting – This function allows you to create targeted opt-ins for selected pages. Helpful on cart pages. You can strategically put a discount pop-up when the buyer tries to close the cart page leaving the purchase process in the middle.
Easy A/B Testing – You can always do the A/B testing on two different pages or a single page with two separate messages. It will give you an idea of which one is performing the best.
Time Display Controls – Pop-ups can be annoying if not shown on right time. If you start hammering visitors with promotions before he/ she engages with the page content, then they are likely to run away. The time display control shows content at just the right time to the visitor during their visit without annoying them.
MonsterLinks 2-Step Opt-ins – This is the most effective signature type campaign of Optinmonster. MonsterLinks turns any image or link into a 2-step opt-in campaign when a visitor clicks on the same. In short, when visitors on a page will click on the image or link, a popup will unfold, asking them to subscribe or buy.
Inactivity sensor – Typically, like exit-intent technology, the inactivity sensor works on user behaviors. When a user stops all the activity on your website/blog, it usually means he/she is about to leave or say abandon your cart. The inactivity sensor tracks this lack of action and triggers a form or pop-up to reactivate the user.
Campaign Scheduling – Campaign scheduling is an advanced targeting technology to run time-sensitive campaigns at the right time and more effectively. This function detects the user's time zone so that you can show holiday or festival promotions during a stipulated time frame. You don't need to worry about when the promotion will end and which one will start. Everything can be scheduled and taken care of with it.
OptinMonster's Conversion Analytics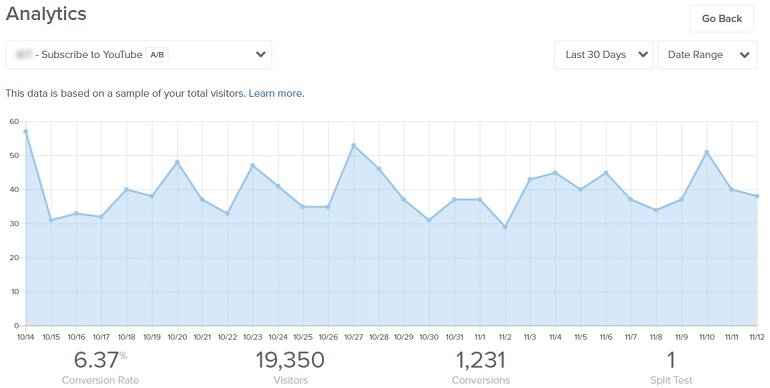 By integrating your opt-in campaigns with Google Analytics, OptinMonster gives you reliable data that will help you track and measure the success of your ongoing campaigns.
With conversion analytics, you can monitor the highest & lowest converting pages, the number of visitors, total leads generated out of them, campaigns for mobile devices, and specific browsers. If you are using the A/B testing feature, then you can get the split test data to analyze which one is leading. Refer to the image below.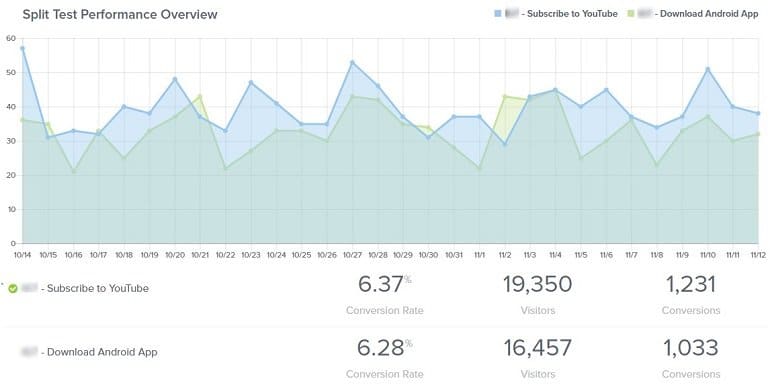 The above image is an example of a LIVE campaign of a Split Test between Youtube Channel Subscription v/s Android App Download. You can make out from the above image that Youtube Channel Subscription has generated more leads compared to the latter one.
Geo-Location Targeting
It may so happen that you are selling Product A in Location X at a comparatively low price, and you are offering a 20% discount if they visit your nearby store to increase the footfall. Everything's just superb unless someone in Location Y anonymously finds out about your offer (running for Location X), which is irrelevant to him or her.
Happens many times when visitors find certain offers online that are not related to them.
The point is how would you pitch an offer on your website for specific locations while baring users from seeing it who are in totally different locations.
Geo-location targeting does this for you. It shows campaigns to relevant users based on their location. It is more helpful if you are an e-commerce seller.
Shoppers mostly use smartphones, using Optinmonster's Geo-location feature an eCommerce seller can easily pop-up a coupon or make an offer to the buyer that can be redeemed at the nearest physical store. It means there are better chances for a seller to grab more sales with Geo-Location targeting.
OptinMonster's Compatibility
OptinMonster is compatible, and it seamlessly integrates with all websites, whether it is WordPress, Drupal, Joomla, or a static HTML website.
It also integrates with major eCommerce platforms including but not limited to Magento, Shopify, BigCommerce, WooCommerce, Volusion, and PrestaShop.
For email marketing, it has integrations with all the major email marketing service providers.
Conclusion
OptinMonster has all the necessary features that a lead generation tool must-have. Whether you are an eCommerce seller, a publisher, or an online marketing agency, OptinMonster can be of great help in growing your email list, reducing cart abandonment and increasing sales conversions.