If you have come across a funny meme and thought how to create such memes? Here are 11 of the best and yet free online meme generators.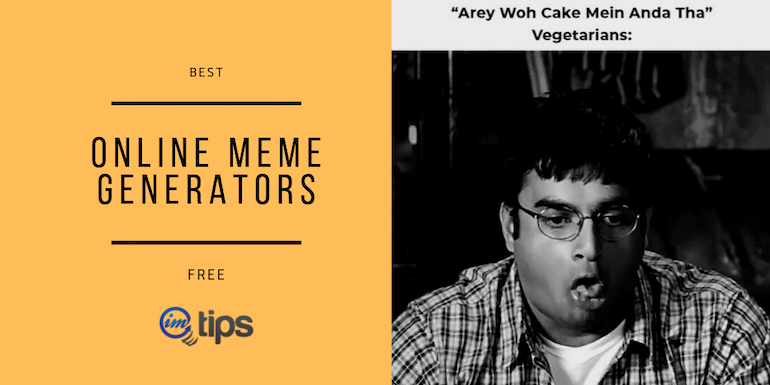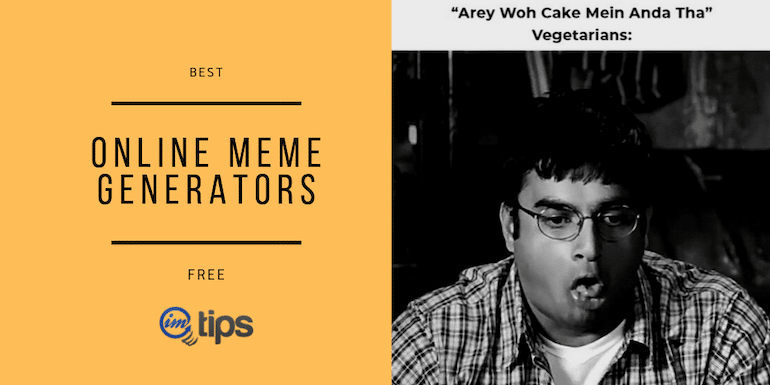 Social media is full of funny images or commonly termed as memes. So how can one create those memes? So let me share some of the best and free online meme generators.
But before, let us understand the memes from an online marketing point of view.
The Importance Of Memes In Online Marketing
The best meme makes you laugh hard, entice you to share, and make other people join your gang by just enjoying the memes together.
In the marketing world, memes play a role. It creates a happy and hilarious vibe to your brand.
When you want to set a brand in the online market, you need to find an ingredient that you can directly serve your customers apart from products or services.
For example, Bewakoof.com does a fantastic job of user engagement with memes. They sell graphic t-shirts, but to build a brand online, they post funny Bollywood memes to promote their brand and create sharable content among people.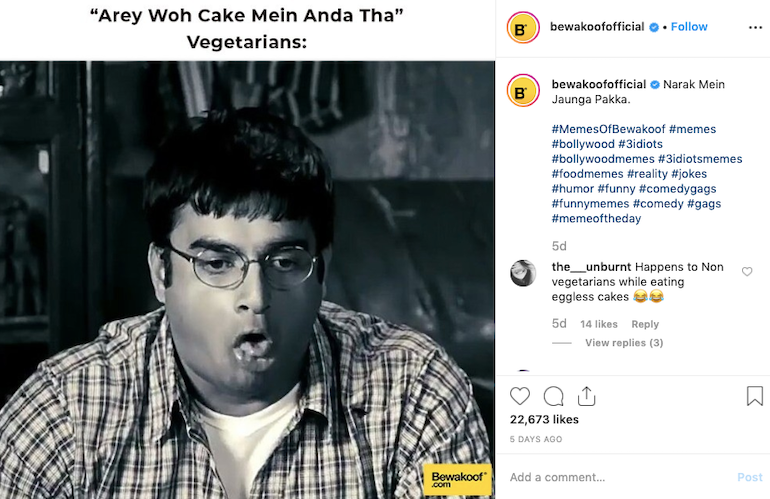 What Makes An Effective Meme?
A meme is an image added with text that spices the whole image and goes viral across the web. To create an effective meme, one has to combine three main ingredients to it.
The first is, a meme should be witty enough to get talking on social media. For example, the world record egg has created millions of likes through Instagram.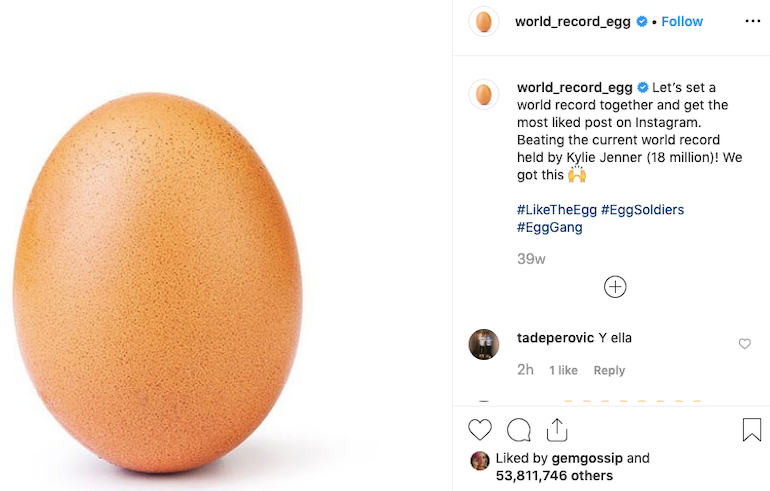 The second is, the meme must be related to your brand. Netflix India has an amazing sense of humor meme.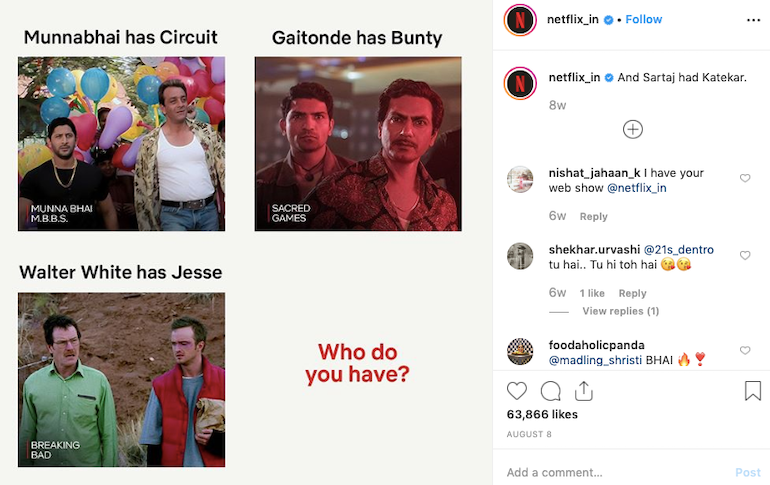 The third is, memes should be on the current events. Likewise, Amul does a brilliant job of creating brand-related memes that are very popular and have the best advertising.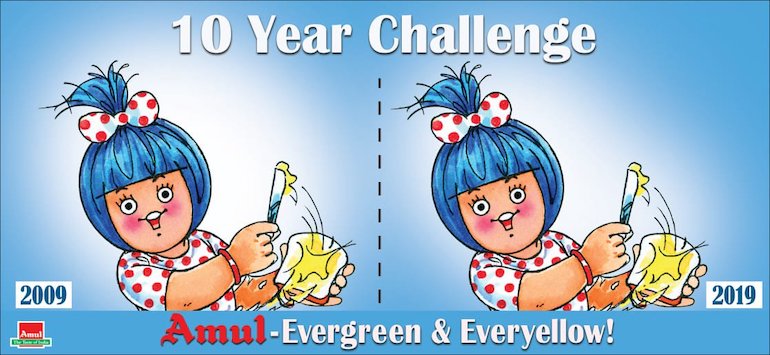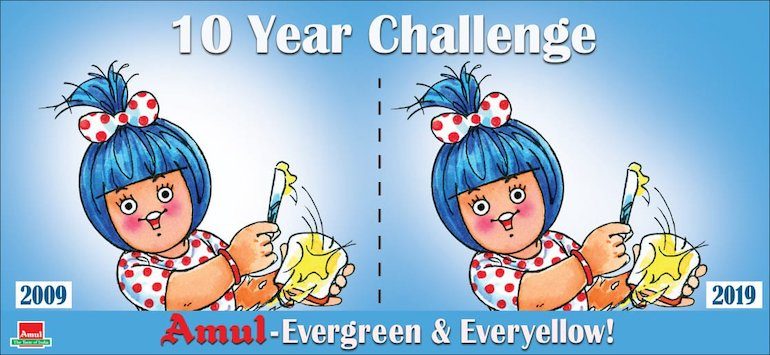 Also Read: Cool Facts About Online Marketing You Wanna Know
Best Online Meme Generators
So how a non-designer create awesome memes?
Here are some free online meme generators to make your task easier.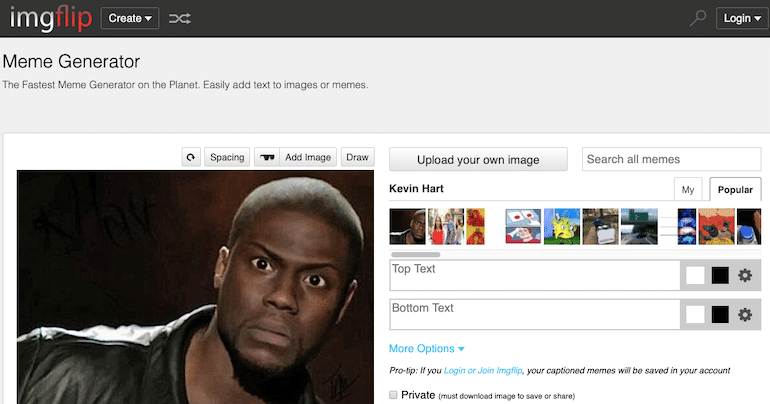 Imgflip is a web-based meme generator tool. Very easy to navigate on site. Select the image or upload the image you want and add customizable text. It's free to use an online meme generator.
Apart from that, you can resize the text, draw something on the image, put stickers, and add spacings. Also, it works on mobile, and you can create an instant meme and share it on social media.
Pros
Instant meme generator
Mobile friendly
Customizable text
Easy navigation
Upload own image
Social media plugins
Share meme instantly
Text customization is outstanding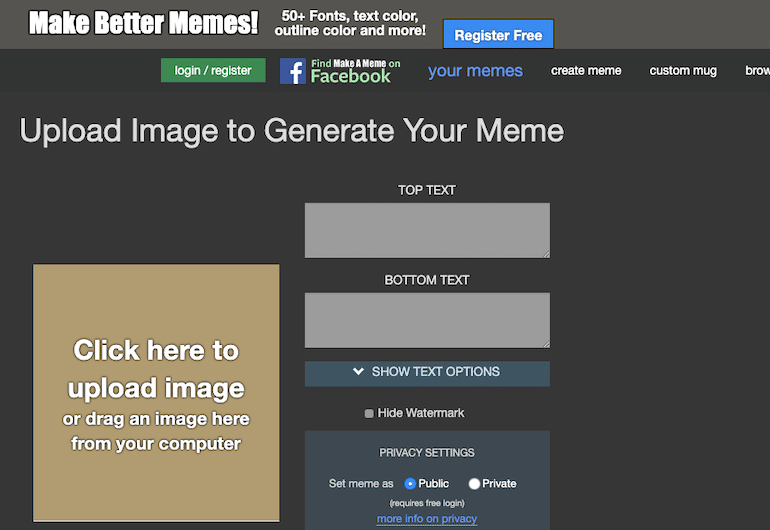 MakeaMeme.org is a web-based free meme generator. Available on iOS and android app. Simply upload an image or select from some famous pictures.
You can create a mug meme too and get your mug at nominal charges. Moreover, this site also provides different types of memes. There are readymade templates that you can use to create memes.
Pros
Numerous meme templates available
Facebook and Whatsapp sharing options
Quick meme generator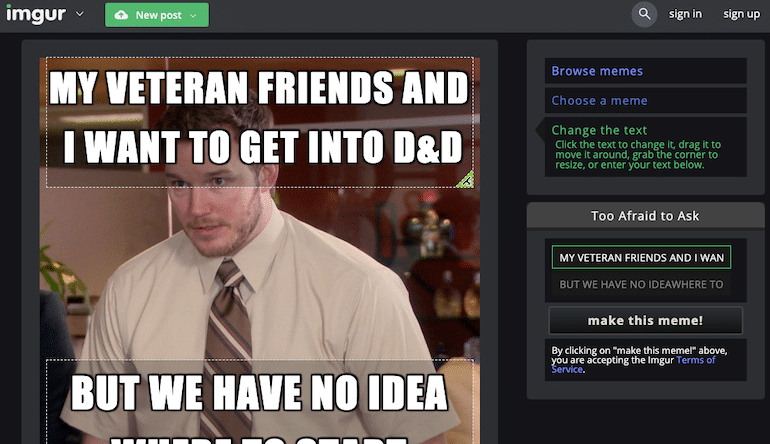 Imgur is a web-based free online meme generator. There are readymade memes available, and also, one can upload the image.
Add a caption to image and click on generate meme. There is a direct meme download option. The navigation is quite open and straightforward.
Pros
Make a meme in less than a minute
Direct meme download option
Also offers image hosting service
Cons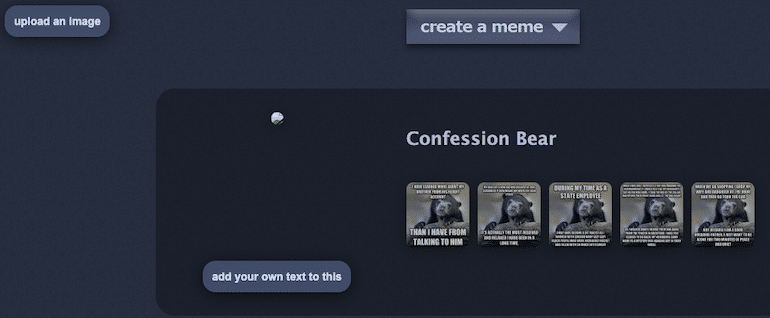 Live Meme is an online meme generator and very straightforward to use. When you visit the site, you see ready-made images with captions where you just have to add your text.
You can upload the image and add a caption on it too. Later on, you can download the image and also share it on social media.
Pros
Straightforward meme creation
Download option
Cons

Canva is a graphic design tool for those who are not from the designing field. It's free to use and has many customizations available. Uses a drag and drop format provide access to free images, vector graphics, and illustrations. You can read my review for Canva here as well as alternatives to Canva
Moreover, Canva also provides a meme generator for free, and you can do maximum customizations. Unlimited text style, text size customization, and unlimited stickers to make your meme sharable.
You can download in png format for better quality and directly share it on all social media platforms.
Pros
An extensive collection of stock images
Text customization
Fun to use and easy to operate
Run-on mobile phone
Add filters to your meme
Cons
No specific meme generator built-in
Readymade meme templates are not available

Iloveimg.com is an online web-based meme generator to create memes with ease. Use caption memes images or upload image option – the choice is yours.
Apart from meme generator, Iloveimg also provides other image editing options like resize the image, compress image, crop, convert, and add watermark.
To make a meme, you can add text outside the image or inside.
Pros
Easy meme creation
Text customization is good
Direct download option
Social media share options
Cons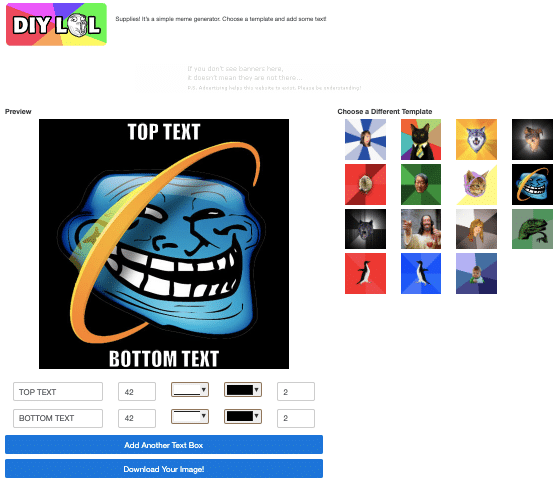 DIYLOL is an easy meme generator with preexisting photos. Add text and download your meme immediately.
Moreover, you can adjust the color and size of the text and share it on social media with your friends.
It's straightforward. Choose the template and add text.
Pros
Readymade meme templates
Text customization
Cons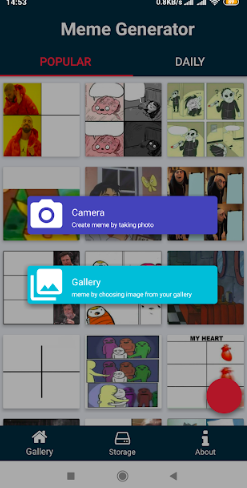 Meme Generator Pro is a popular and daily new blank meme generator available on android phones. You can add/Rotate text, change text size, add Stickers, emojis, or custom Layers, and draw a doodle.
It is a free meme generator, with an easy interface and a photo editor.
Pros
Browse daily blank memes
Make Tamil memes
Customizable text
Colorful and vivid graphics
Create meme by taking a picture in the camera
Cons
Only limited to android users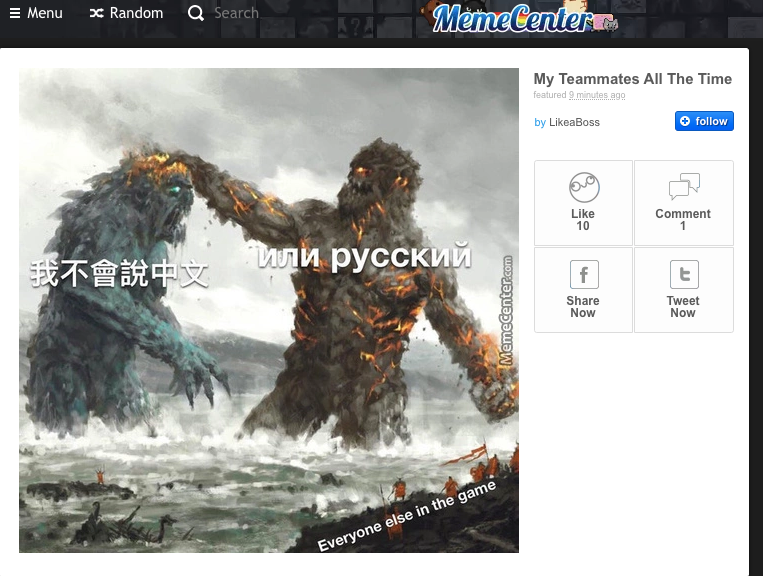 Meme Center offers four different modes; quick meme, meme builder, GIF maker, and uploader. It's the same as above meme generators but provides a broader area of meme templates like rage comics, and epic fails, and funny images.
The best part is you can make an animated meme generator as well — fun to make and easy navigation web-based tool.
Pros
Text customization
Many features under one roof
Advanced controls
Pre-existing templates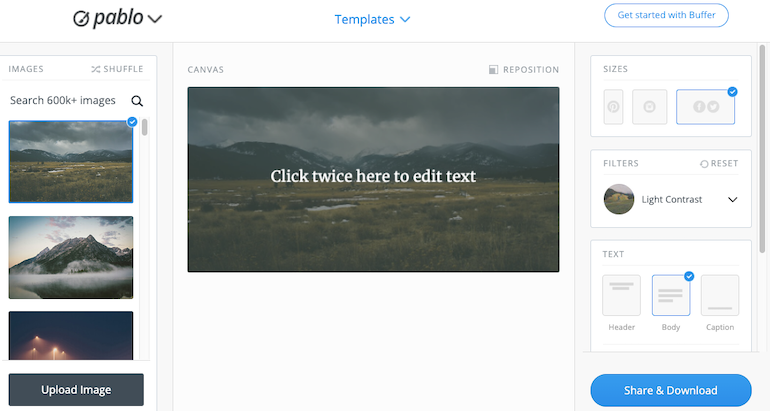 Pablo, by Buffer, is a quick and straightforward image-making tool. One can use it to make memes. It is a web-based tool for designing eye catchy images for social media.
Moreover, it has a straightforward online interface for designing images and provides multiple presets like crop size, free stock images, along with basic image editing options. There are no templates for memes, but one can upload any funny image and add text to it.
Pros
Make instant images in 30 sec
Ready sizes for Facebook, Pinterest, and Twitter
Add instant quotes
Free stock images
Text sizes and various filters
Cons
No memes templates
Not a direct meme maker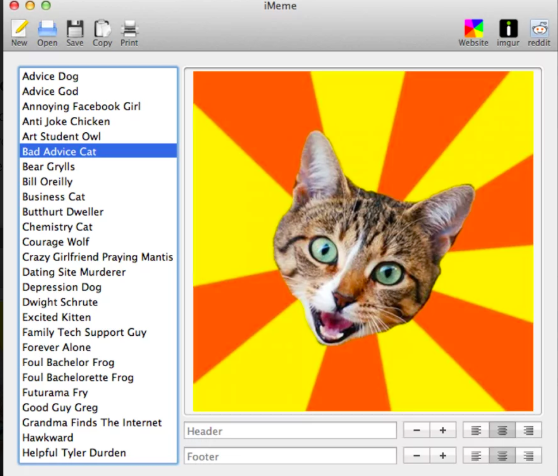 Imeme is not a web-based meme generator, but one has to download on PC and use it. It works on Mac Os X and Windows both.
The software comes with 100 different images and templates, as well as an image upload option. Moreover, a bunch of features you get like share options, customizable fonts, font size, font style, alignment, and more.
Apart from this, one thing is important here is the app is not updated since 2012.
Pros
A fun software
Good build-in features
Make great memes
Cons
So, here are the best 11 memes generator that you can start using right away. Make your social media a proud look and create the most engaging image for digital marketing.