9 smart ways for freelancers to achieve financial freedom. First, you have to believe it is possible and then work on these 9 ways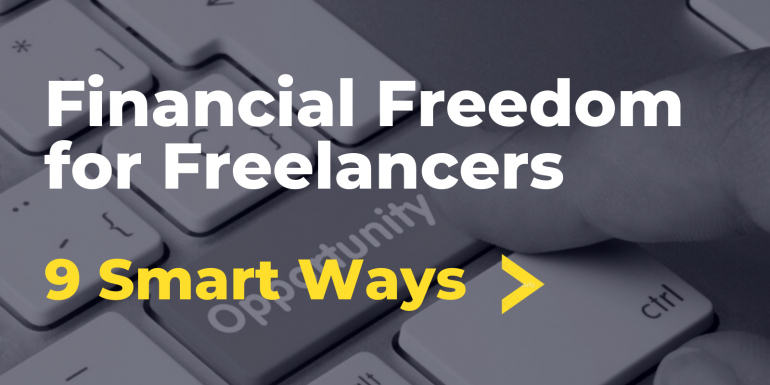 Financial freedom should be the goal of freelancers. It means having enough income and cash to afford a better lifestyle without working for money.
However, if a freelancer has debt or needs money for emergencies, it can cause a severe threat to achieving financial independence. 
As a Freelancer, first, let's understand what the heck is financial freedom.
What is Financial Freedom?
Financial freedom means you don't have to work for money to sustain your life or improve your lifestyle.
For example, if a person is doing a job, he has to sustain the family. However, with savings and other sources of income, one can keep living the same lifestyle but doesn't have to wait for the paycheck.
One important aspect to note is, achieving financial freedom doesn't mean you stop working. It only means you stop working for money.  So if the same person can continue doing the same job not for the sake of getting a salary in the end but for other reasons like:
To keep oneself busy.
Enjoys doing what he is doing.
Serve a bigger purpose in life.
In India, we assume financial freedom means retirement, but in the true sense, it means you do not work for money.
Is Financial Freedom Possible for Freelancers?
Financial freedom is possible when your passive income (money that comes in without effort) sustain your current lifestyle.
The amount that one needs to sustain the current lifestyle depends on you. Therefore, you know your monthly expenses as well as upcoming expenses.
Then one has to come up with a plan to generate monthly income from other sources.
Freelancing is an active income. You work and get paid for it.  So, as a freelancer, you have to consider other avenues for passive income that can help you achieve financial freedom.
Freelancers can't achieve financial freedom directly via freelancing. The same may also be valid for a job or even an entrepreneur. However, one has to generate alternate sources of passive income to achieve financial freedom.
So let's look at nine ways freelancers can achieve financial freedom.
1. Build a Self-Dependent Team
As a freelancer, the income is active. It means you get paid as long as you keep working for the clients. Much similar to a job where you get paid as long as you go and do your job.
Financial freedom is about not working for money.
In other words, freelancing perse can't help you achieve financial freedom. So, as a freelancer, has to develop a self-dependent team that can do the freelancing for you.
I know it is tough to develop such a team, but it is not a matter of days or weeks to achieve financial freedom. It is a long-term process, and you have to focus on building such a team for your freelancing business.
2. Long term Contracts with Clients for Residual Income
As a freelancer, I have some clients who want me to be in the team for anything derailing their business.
There is no ongoing work, but whenever they want me, I should be present. But, of course, if I am not available for any personal or family reason, I have to let them know in advance. I can't just say when they need me that I am on vacation.
So they pay me every week to remain in the long-term contract, and that way, I can generate some passive income without actively working for them.
I have been able to get such contracts with clients because of my active communication with them. For example, the clients had issues with the website, and I was available at midnight. Such a level of communication made me their choice for a 24-hour turnaround time.
3. Invest, Invest and Invest
The only way freelancers can achieve financial freedom is by making a target for investment each month.
Investing is important for everybody but more so for a freelancer. However, the point I want to emphasise is to allocate a fixed amount every month. The freelancer should consider the investment as a part of an expense. It is the key to taking the first step towards achieving financial freedom.
I have been investing in my portfolio the stipulated amount every month in the equity market since 2016. The crash in 2020 gave me a handsome opportunity, and my portfolio is doing well overall now. I could invest in the dip because I have been setting aside the amount every month religiously.
The inception of the idea of investing a fixed amount every month is a must for freelancers who want financial freedom. The process can take a decade or two, but one has to begin and religiously keep doing it for an extended period.
4. SIP in Mutual Funds for Dividend Income
As a freelancer, you know you have to invest, but the question is, how do you make it a rule to follow.
As a freelancer from India, I have the option to create a systematic investment plan or SIP in some of the best mutual funds available. The best part of such investment is that you can top up when you have an extra amount to invest and skip an investment when you are low on funds for a month or two.
There are many ways to consider investing in mutual funds. Let me share a few ideas.
As a freelancer, one can invest in mutual funds that have a higher dividend yield. However, it means you are paid out some portion of the profit as a dividend, a passive income.
One can invest with a goal that they want to accumulate a large corpus to buy a property for rental income.
Whatever is the goal, investment in mutual funds can help you generate a lot of passive income for sure.
5. Deal in Direct Stocks for Better Returns
If you can invest in the right stocks, you will make a lot more from the market when compared to a mutual fund.
I know this may sound a little contradictory where I am saying that a new investor like you and me can beat the pro mutual fund manager with years of experience in the market.
It is elementary to beat a mutual fund manager, and I will share how and why.
Every mutual fund that invests in the Indian equity market has specific guidelines to follow. Let me share the example of investing in the top Indian companies or a large-cap fund in the mutual fund terminology.
So let's say the fund has to invest in the top 50 Indian companies. If you want to beat the returns from the fund, all you have to do is find five companies out of those 50 that will underperform. If you invest on your own and skip those five companies and only invest in the 45 others, you will best the return from the mutual fund for sure.
Similarly, as a mutual fund, they have a restriction of remain invested. Therefore, if you know the market will correct, one can easily book out to minimise the losses.
So when I say it is easy for a small investor like you and me to beat a mutual fund manager, I mean it.
6. Rental Income (Commercial Vs Residential)
In India, rental income is considered one of the better choices of passive income. The fact is that it is a good choice of income where you don't have to do a lot to get a regular income every month.
There are brokers available, at least here in Surat, to rent out your property easily.
However, when you have a residential property, the rent amount for the investment is almost half that for the commercial property. So, commercial property is a better choice if you are looking for more rental income. However, the amount can vary in different cities or even in different areas.
So decide what will be a better choice for you depending.
7. Blogging Income
One of the few things a freelancer can do is to start a blog for passive income.
Blog is an excellent source of resource that can help you generate a lot of income passively. If you write evergreen content, your content will remain and rank well in Google for years, giving you a good amount of traffic and revenue.
However, one should also understand that if you don't write regularly, your passive income may not grow and take a nosedive because content may become outdated online very soon.
8. Build a YouTube Channel
Similar to blogging, a YouTube channel can be a good source of passive income. Keep sharing the solution to problems that you encounter as a freelancer on your YouTube channel. In addition, it can be a good resource for others.
People will keep searching for solutions and watch your videos to generate additional ad revenue for you. The income will be passive.
However, if you see a good amount of traffic and subscribers to your YouTube channel, you may have to keep adding more content for the channel to grow to a level that can help you generate significant income for you.
A YouTube channel can act as an alternate source of income or even an alternate source to get clients for you.
9. Referral Income
Last but by no means the least is the referral income from two sources.
Referring Clients to Other Freelancers
One of them is referring clients to other freelancers and asking them to pay you every time the clients pays them.
Again, the freelancers you refer to need to be brutally honest to pay you each time the client pays them. You may not find many such freelancers, but one or two trustworthy freelancers can help you generate a good referral income.
Referring Services to Clients
The other way to generate referral income is to recommend services that pay recurring affiliate commissions.
I recommend services like CloudWays and Moosend to my client for hosting and email marketing. Clients are happy using them, and I get paid a commission as long as they keep paying them for the service.
For me recommending AWeber and Moosend has been generating commission since 2009. If I look at the total amount they paid me for the referrals, it is a sizable amount without me doing anything significant to earn it.
Finally – Keep Working
Financial freedom is great for freelancers, but it doesn't mean you have to stop working. The idea is you don't need to work for money, and so you can do what you want to be doing.
So do not make the mistake that financial freedom means retirement. Retirement is boring where you are left with very little to do, but financial freedom is the freedom to do something else.