How to drive traffic from Google to the best and evergreen content. Here is how I drive traffic to the best content on my blog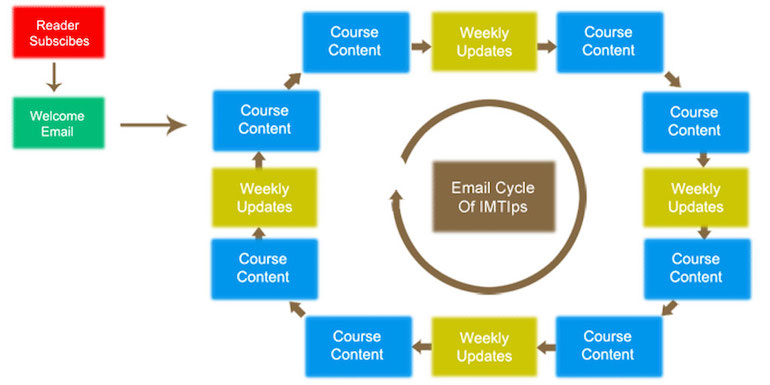 Are you aware that the majority of your visitors do not visit the best content on your blog? It is valid for any type of website or blog. So how to drive traffic to the best content of your website or blog?
As an example, let us say that you are looking for something. You visit Google. Type what you are searching for and end up on some other webpage, sounds familiar. That may not be the best content of that website, and it is the most relevant content for the query you searched in Google from the website or blog.
The above scenario is true for any website or blog.
Some bloggers deploy related content or popular content to let the visitors flow and reach the best content of the blog, but it isn't very effective. So how to drive traffic to the best content of your blog or website?
Also read:
Having issues building traffic to blogs? These 25 traffic building tips are all you need. I use them to generate millions of page views on my websites.
Drive Traffic to the Best Content of Blog
Today I will tell you how you can make each of your visitors who land upon some page of your site visit the best part of your website.
The first step to this is to identify the best piece of content from the website. It can be anything. For and e-commerce site it can be the best selling product or offers, for search engines this can be popular searches, for forums this can be most discussed threads, for blogs, this can be evergreen content, and the list continues.
Let us take an example of BizTips. I have written some of the best content on freelancing and the latest one being, how to start freelancing. A user when they are searching in Google about Upwork profile approval ends up on my blog but will never be able to see the article on starting as a freelancer.
So the best option is to use an email auto-responder like AWeber and set up a series of emails that help them discover your best content along with the latest content. A visual representation of how I drive traffic to the best content of my blog.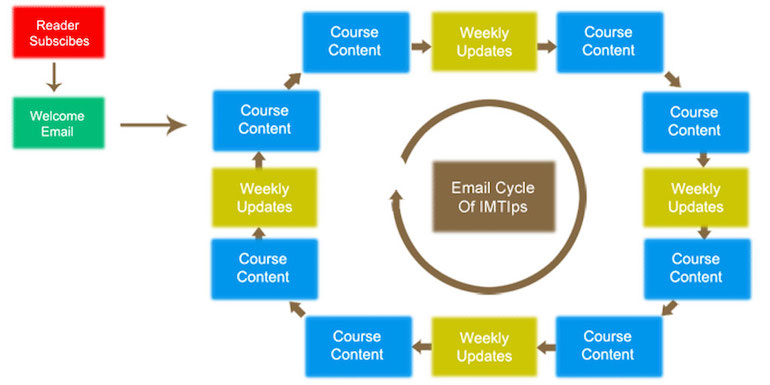 Now let me explain each part in detail.
The Subscription

Let us say you are searching for some terms where BizTips rank high in Google. You end up on some random article and like it.
The term you searched in Google and the landing page of BizTips is not that critical anymore. Out of hundreds of well-crafted content, you only land on any single post.
As per Google Analytics, there is hardly any visitor from Google Organic results who visits more than a couple of pages. So to make the visitors visit and read some of the best content from your blog, help them find it.
On every page of BizTips, you will see that visitors can subscribe in multiple ways and download my ebook. The eBook acts as a lead magnet.
I don't prefer to force users to subscribe. The option to subscribe is in front of them all the time. So if they wish, they can but not hit them in the face all the time to subscribe.
Welcome Email

The welcome email is the email that is sent immediately after the user confirms his subscription. It is the email with the link to download my ebook.
Moreover, I use welcome email as an opportunity to make them familiar with my blog, show him how things are organized, what to expect from the emails from me, how he can connect with me, or what to do if he or she has any further queries, etc.  Also, see How to Write Effective Welcome Email,
I also make sure the user's Whitelist my email address, so my future emails are delivered in the inbox.
Best Content

After 24 hours of receiving the welcome email, the user gets his first content from the best content from my blog. The main aim of this is to drive traffic to the blog's best content.
Readers love them because it is useful as well as very related. I share a significant part of the content in the email and let the user come to the blog for even more information.
The Frequency of these emails is every 24 hours so that the user can not only read the content but take the needed action as and when required.
Weekly Updates

Weekly updates make the user aware of the latest content I have on my blog. It is a way to drive traffic to the most recently created content.
Convert the RSS feed of the blog into an email and deliver it every Monday Morning at around 9 AM India time.
It is fully automatic for BizTips.