Steve Jobs's life is an inspiration. More so for a developer blogger. As a developer, here are the Blogging Lessons I learn from Steve Jobs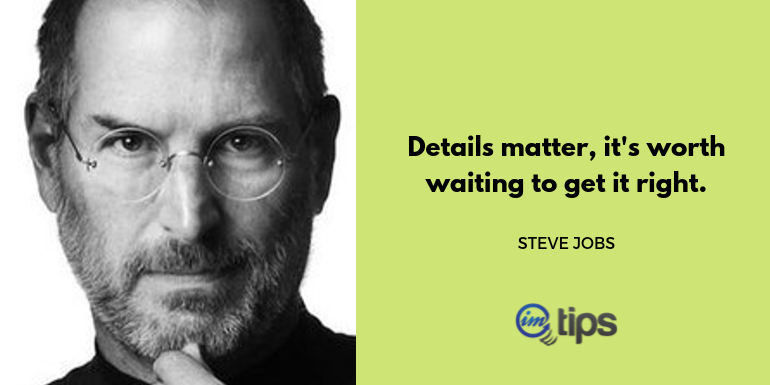 I am a fan of Steve Jobs. There is a lot one can learn from him and blogging is no different. Here are the blogging lessons I learned reading about Steve Jobs.
Steve Jobs was a college dropout. He started Apple in a garage but was kicked out of his own company. Later on, he came back to rewrite the fate of Apple.
A pioneer of the microcomputer revolution and the co-founder of Apple company has made us learn many things. His vision, hardship, and clear vision have made his career a legend life. His journey wasn't easy.
As a developer, blogger and freelancer, there is a lot one can learn from reading about him online or his autobiography.
The Initial Days of Apple
Steve Jobs a co-founder of Apple with a vision to create new age modern computers. He believed one needs to keep innovating to make customers' life easy is the key to success.
Although he was a college dropout but was one of the sharp minds to think differently.
Steve Jobs launched Apple Inc in 1976 with Steve Wozniak and released many successful products that need no mention. He was not only a good businessman, but had a very good taste of creative designs, and true technology inventor.
Steve Jobs Early Life
Steve Jobs was born in 1955 and was an adopted child. Brought up in San Fransico. His father Paul Jobs was a very crafty and creative mechanic in making furniture.
He had a passion for maths, science, and electronics. Jobs met Wozniak in high school who was an experienced, computer technician.
They started creating some fun gadgets together and their first product was "Blue Box" which allowed long-distance phone calls for free and sold his first 90 units at $150.
Jobs also experimented in counterculture and got indulged in LSD and meditation inspired by his trip to India.
He realized that creating great things is more important in life. So, coming back from India, Wozniak decided to make personal computers rather than those giant computers.
And that's how in 1976, Jobs and Wozniak founded Apple computers with only $1300 of capital. Wozniak and Jobs built the first 100 computers and that's how Apple was born.
Later on, he introduced Apple II in the market and sold out 6 million units.
However, Jobs still wasn't satisfied. He wanted to create a better computer than what was out there. So he started creating Macintosh.
His idea was to control the whole computer through a mouse. In 1984, the Macintosh was released and was a big move in the technology industry.
Getting Fired from Apple and Coming Back
At works, Jobs was rude and literally assault people verbally if the work did not meet his expectations. Later on, due to Jobs's bad behavior, in 1985, he was fired by Apple's board of directors.
Moving on from Apple, he designed the NeXT computers but couldn't make a dent in the market.
In 1988, he invested $50 million in Pixar. In 1988, Pixar released 'Tin Toy'- an aminated short movie which won an academy award for the best animated short film.
Later on, Pixar did a partnership with Disney and released Toy Story animated film in 1996, which became a top-grossing movie of the year.
Jobs held 80% of the share in the Pixar and when the company went public, the shares multiplied and Job's net worth to $1.2 billion.
In 1997, Apple acquired NeXT for its software. And Jobs became the advisor of Apple. Later on, he again became the CEO of Apple and also had a partnership with Microsoft Office for the Mac.
Steve Jobs discovered Jony Ive – a creative designer and most powerful person at Apple. He designed iMac shortly and launched it in 1998. It became the fastest-selling product in Apple's history.
In 2007, the iPhone was born and since then we know the history of the iPhone and still winning the billion hearts.
In 2011, Jobs died due to cancer. However, his inspiring story will always be remembered by people.
Blogging Lessons I Learned From Steve Jobs
In spite of the ups and downs in his life, he was a true legend but there is a lot one can even learn and apply to any field. I applied it to blogging. So let's dive in for some inspirational and life-changing lessons from Steve Jobs that I learned.
Give Your Best In Anything You Do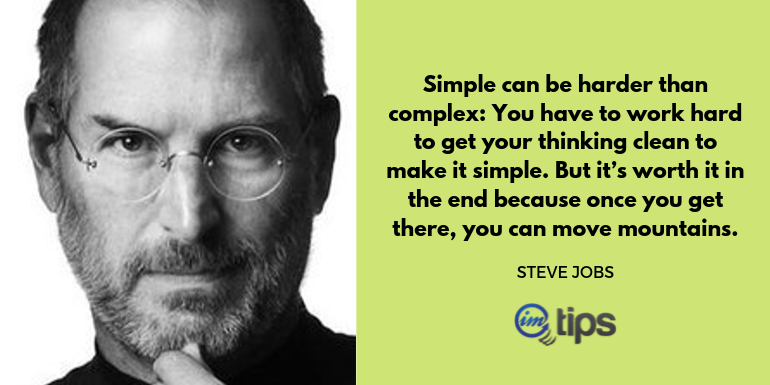 The life of Steve Jobs reminds of one basic thing: do your best. The difference between successful and very successful people is that very successful people do their best and not just good.
I have seen many freelancers are only interested in getting things done than to get it done as best as they can. Those who are doing for the sake of it are the ones who complain freelancing is competitive and it is a price war in marketplaces like Upwork.
Steve Jobs knew Macintosh can do more and be more amazing. iPhone created history. The iMac became better in design every time but what was happening internally was, it was making the easier life of the user.
And that's how you see the range of Apple products creating history in the world.
You have to consistently do your best each day.
Never Stop Dreaming Big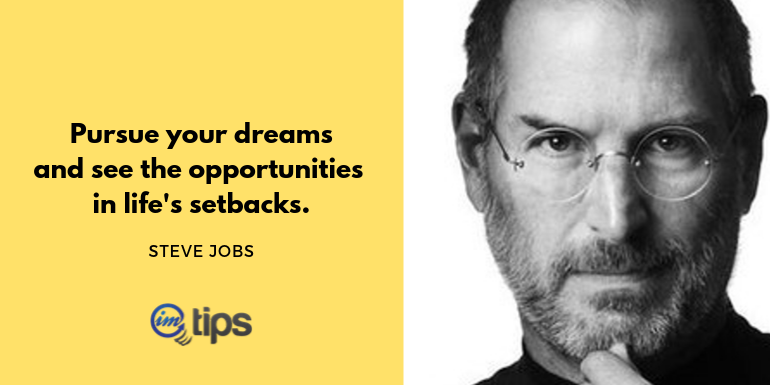 Jobs never stopped dreaming big. He wanted to grow every day than yesterday. He made us believe that your dreams are not just an eye shut visuals, they are real.
Whatever you dream in life, dream big.
As an author, I have the dream to be a best seller. Being a blogger, I dream to be the best blogger in the niche. As a freelancer, I dream to be the expert. When I invest, I prefer to make returns better than even Warren Buffett.
First, you have to believe it first that you will become.
Steve Jobs always believed that if today it was his last day, would he wants to do what he has been doing? And whenever he gets 'No' as an answer, he knew that something he has to change.
Also read:
The book "The Magic of Thinking Big" by David J Schwartz first published in the 1959 still holds true to this very day and is a must read book for everybody especially the entrepreneurs and freelancers.
Use Failures As a Step to Success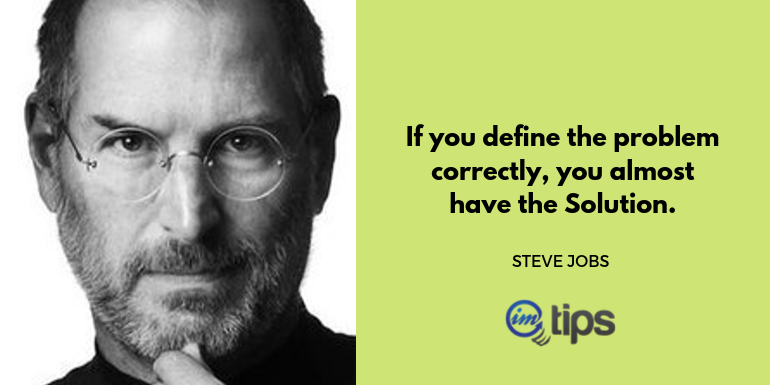 Failures are our biggest lessons in life. If you fail ever in business or anywhere else, consider it as a chance to get better at it. It is a way to know things than a person who never tried anything before.
Take inspiration from failures. If something doesn't work well, you need to change accordingly and make it work.
Being kicked out of his own company isn't one can digest that easily. Using it to your advantage is the key to think like Steve Jobs.
Your learning experiences come from failures and they are very important in life.
Also read:
Learn how to deal with failure in business from Walt Disney, Bill Gates, Abraham Lincoln, JK Rowling, Steve Jobs, and Michael Jordan.
Never Stop Being Curious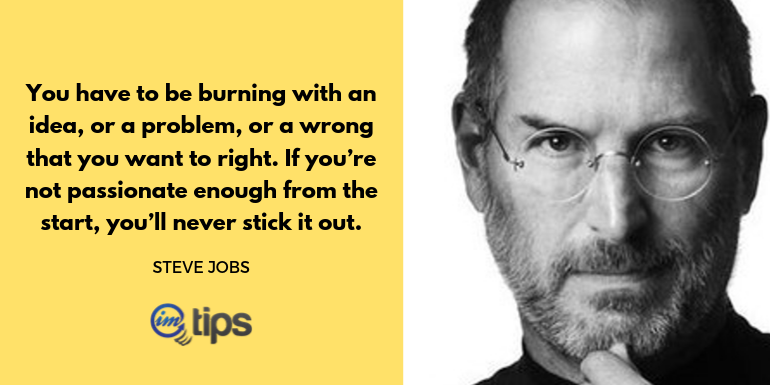 Curiosity is the biggest education in life. If you are not curious about something, you won't make progress.
A writer becomes best selling author when he/she is curious to know how and what will make my writing sell more with the audience.
Blogger makes an impact on the reader's life when he is curious to let his words on the Internet about things that bother.
Curiosity is the best teacher and every blogger and freelancer should have this trait.
Also read:
In the modern era of voice search and social media, what are the essential qualities an internet marketer must possess to be successful at Internet marketing?
Quality Matters The Most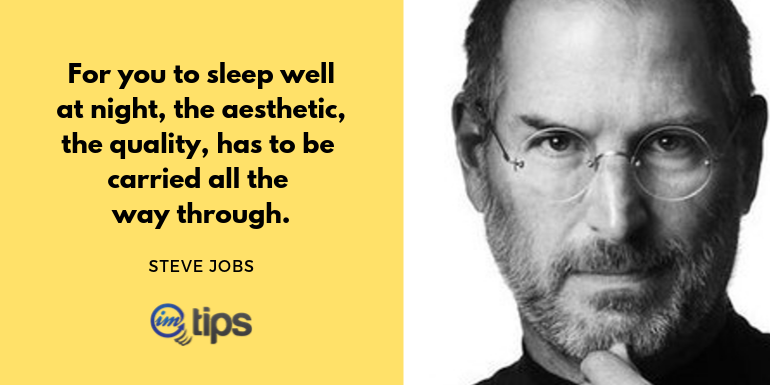 Jobs was always a man of quality. For him, the quality was the single factor if anybody wants to be successful. 
If you cannot bring quality out of work, it means you do not respect your work. To get high paid salaries and profits in business, one has to provide top-notch products or services to the world.
For instance, some bloggers are successful as a blogger whereas others fail to make a mark. Similarly, some freelancers have more work than they can handle at a price they prefer working whereas others find tough to find clients, Often, it is the quality of the work they deliver.
People think making it cheaper for customers or clients is the way to go and don't realize it is a good quality which makes the difference in the long-run. It can a tough start when pricing is higher but over time it is always the quality that wins.
Also read:
Understanding positioning from the failed project of Tata Motors aka Tata Nano and use it to position the freelancing services right
Marketing Is Critical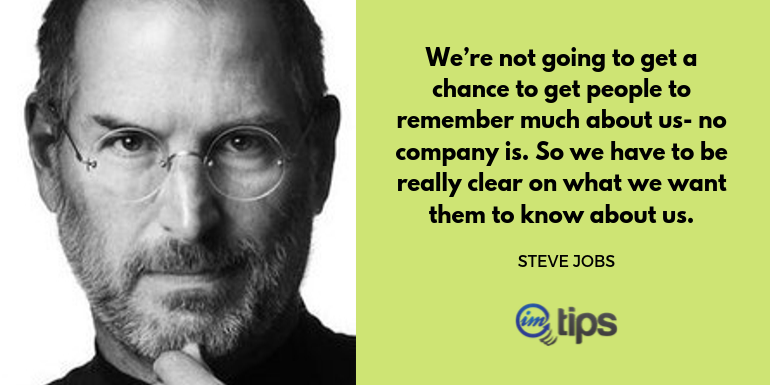 Steve Jobs believed any good product without marketing won't make a good business. People need to know what you are selling. Marketing is critical for customer awareness.
As a blogger, I always believe spending $1 per day can do wonders. If nothing happens, it teaches you a lot about social media marketing at least.
Marketing is constant work whether you are a freelancer, blogger, creative designer or developer.
Also read:
WooCommerce SEO Guide for Beginners. 35 SEO Tips for WordPress and WooCommerce to help improve your SEO for WooCommerce and get more organic traffic from Google.
Care For Minute Details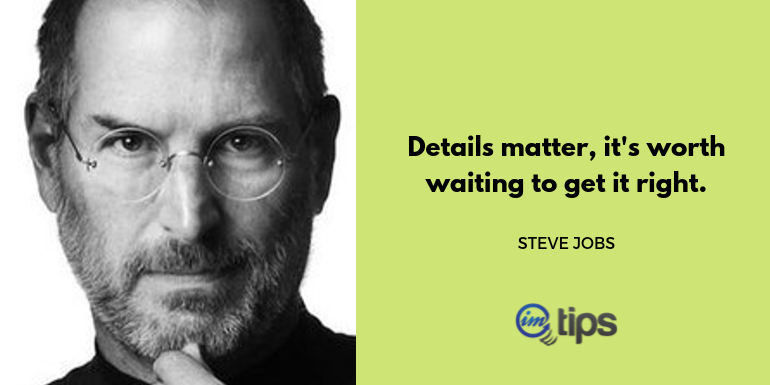 Caring about your work in detail is a crucial factor. I learned this from Steve Jobs. Whatever work I do, I make sure it is fully done and not left in between.
For example, I publish my articles only when I am fully convinced about the topic. Sometimes, I don't hit the publish button on topics I write but is not very convinced.
Similarly, if I am working for a client, if I am done with something and then find it can be done differently, I always work the extra mile to get it done. It is something that has helped me become a better developer.
Moreover, your deep care about your work will make you an expert in the field.
Qualification isn't Everything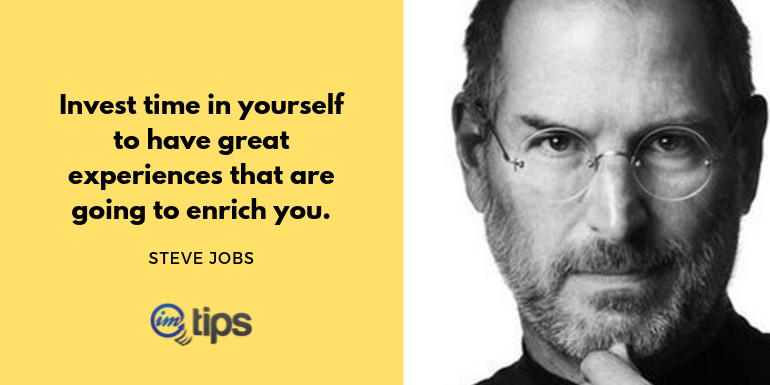 Jobs was a college drop out. He believed that what is more important to be a successful entrepreneur is pure perseverance.
For example, if you want to hire an experienced content writer then who would you choose – a certified writer who hasn't considered starting a blog or the one who has a blog but doesn't have a certification to what he writes?
I always emphasize on knowledge more than the degree.
Final Thoughts
Steve Jobs's life is an inspiration. It has something for everyone to take inspiration from.