A degree can help understand the difference between information and knowledge and grasp the knowledge in a much better way to apply it.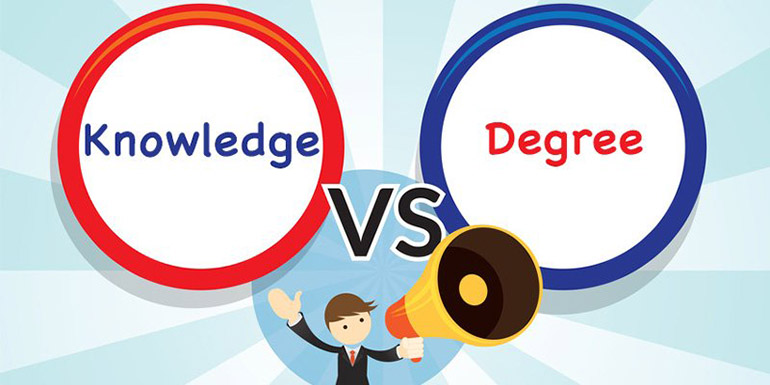 3 Idiots have made everyone in India at least run after knowledge over degree. I am of the view that both are very important in the 21st century. There is no either-or, and no one shouldn't focus on either one of them.
But if one has to choose either one of them, it will always be Knowledge of course. But if one has an option, it has to be both.
People can argue in favor of knowledge or degree, but the whole point depends on the quality of the arguers and nothing more.
Knowledge
If you argue in favor of knowledge, the counter-argument is being able to work in great companies. If you want to be rubbing your shoulders with the best minds to learn and gain the knowledge you need formal education and degree at least in India.
Again, some big companies like Google have been taking on people who don't have formal education as well, but that is still not the case majorly in India. In India, I still see companies have a requirement of a particular degree or equivalent to apply for specific vacancies, mainly to limit the number of applicants.
Let's say you are applying for a job. More than 1000 applications are doing the same, but the interviewer needs to shortlist 100 applicants only. The criteria to weed out people will be based on a degree or qualification.
Degree
Is knowledge the only thing one should focus on? Or a degree plays a vital role in getting hired in companies?
One can get interview opportunities with a degree, but it doesn't help you clear it. Moreover, if you argue in favor of a degree, you will have tons of people who have made it big without a degree and are dropouts. They have made it, and there will be hundreds or thousands of others who may have made it as well.
On the contrary, there can be hundreds of thousands of people who have not made it, and you will never read or know about them because they have not made it.
Apart from that, there are hundreds of entrepreneurs who have made it the traditional way, which is to get a degree, gain practical knowledge and work experience, and then become an entrepreneur.
Finally
So according to me, it is the degree that helps you understand the difference between information and knowledge and grasp the knowledge in a much better way to apply it. So go for a degree and get the knowledge in the process.
Go for the knowledge and keep the degree as the byproduct. Learning new skills is far more critical. Every company wants to hire the best-skilled employees with the right attitude, interpersonal, and communication skills. To be able to show your skills and get to the interview table, one may need a degree.
Knowledge gives you wisdom and an ability to differentiate the good vs. bad. So, it empowers you with the thought process, helps you in decision making and critical thinking.