Want to offer refer-a-friend to your WooCommerce Customers. Here are the best WooCommerce referral plugins that doesn't cost recurring fees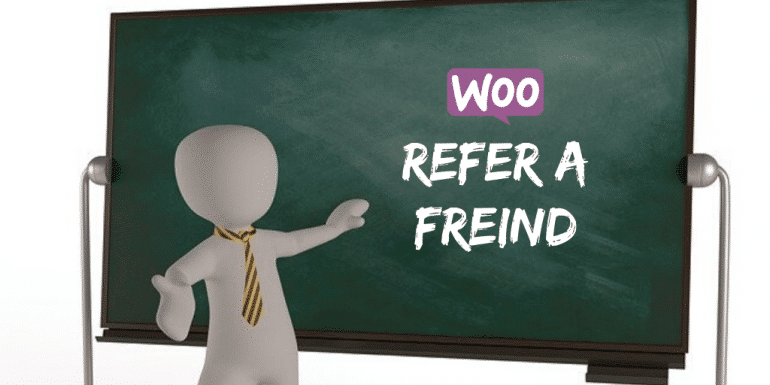 WooCommerce Affiliate and referral plugins can help an eCommerce business get sales without incurring too much cost upfront. it is a must-use marketing method for any new eCommerce business. There are a couple of major reasons for it:
Referral marketing is an essential promotion tool that can lift the sales for a new WooCommerce store without too much effort from the webmaster.
Every growing eCommerce business uses it including Amazon. Rest assured they are getting results.
But before we begin let's catch up with the basics of referral marketing.
Understanding Referral Marketing
According to Wikipedia,
Referral marketing is the method of promoting products or services to new customers through referrals, the usual word of mouth. Such referrals often happen spontaneously but businesses can influence this through appropriate strategies.
In simple words, Referral marketing is the art of promoting a product and/or services to new customers by word of mouth. However, webmasters can make the existing customers spread the word of mouth by making it really easy, quick and spontaneous. Moreover, it becomes more affordable for the store owner and produces results.
However, there are people who still don't believe in the concept of allowing affiliates for their products. I have listed some common reasons as to why people are still refraining themselves from such results-oriented marketing strategy.
It's an old school technique. Referral marketing is like reinventing the wheel.
They believe traditional and conservative marketing tools are better.
Some think that referral marketing targets only the millennial audience.
It's hard to control, track and analyze campaign data.
The return of investment is less compared to other marketing tools.
People believe that it's difficult to implement.
It takes a long time and huge efforts before one can see any results.
With the above reasons in mind, the question is:
Should I try referral marketing for my business?
I will say YES.
Referral Marketing Benefits
An online business owner who hasn't tried a referral program will never know if it works for you or not. Here are some of the common reasons why you should try the referral form of marketing.
Trusted more than conventional advertisements
Improved customer retention rate
Increased marketing reach
Referred customers hold a lifetime value
An easy referral tracking mechanism
A cost-effective way to advertise
An affordable way to gain new customers
Increased engagement & revenue
Easy to track and target most loyal customers
Increase brand awareness and reputation
Modern referral tools are user-friendly & easy to modify
Referral marketing is social media friendly
Now that you know what is referral marketing and its benefits. Why not start using it right away?
Also read:
WooCommerce SEO Guide for Beginners. 35 SEO Tips for WordPress and WooCommerce to help improve your SEO for WooCommerce and get more organic traffic from Google.
WooCommerce Affiliate and Referral Plugins
To help you start I have compiled a list of best WooCommerce WordPress referral plugins. See which one suits your business needs.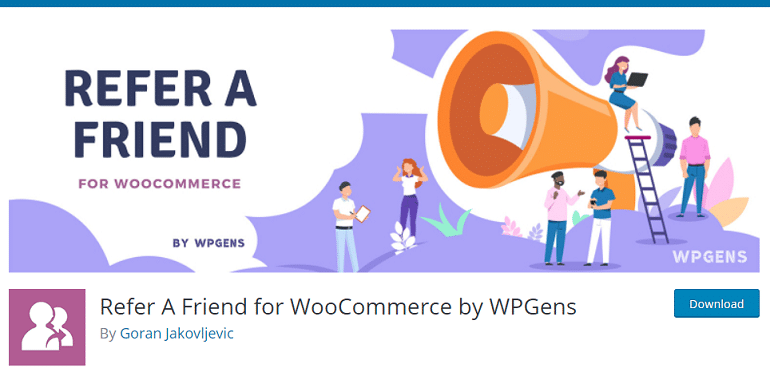 One of the best WooCommerce referral and affiliate plugin. It provides a trustworthy referral system to your site visitors. There are two major takeaways in using refer a friend plugin.
Key Takeaways
You can offer monetary (money) benefits to your referrals.
You can reward your referrals with free products or coupons apart from giving them money.
Your referrals can use coupons to get a discount while purchasing from your site. Moreover, one can offer multiple benefits to a referral using coupon settings in the back end.
An additional benefit of using the plugin is to reveal the coupon only after the transaction is complete.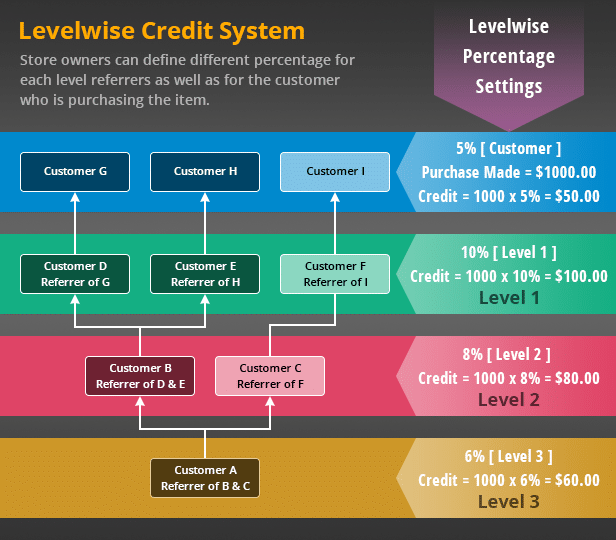 WooCommerce Multilevel Referral Affiliate Plugin can take your store to the next level. The plugin works on the level-based credit system. So, the store owner can define various percentages for each level referrers and customers who are purchasing it. Unlike other plugins, this one offers a multi-level referral.
Key Takeaways
Global level based credit settings
Manage & restrict the number of levels
Easy to configure and use
Referrers, sales, credits tracking
Monthly credit & redemption limit
Further, the plugin offers pre-designed promotional banners. These banners have a referral code and link to share it on social media. The plugin only has a one time cost.
Also read:
Shopify and WooCommerce are popular eCommerce platforms with their pros and cons. So which one (Shopify or WooCommerce) is the better choice for your store?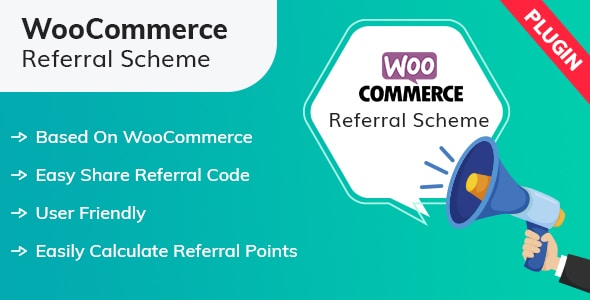 WooCommerce Referral scheme plugin works uniquely. Your referrer fills out a referral partner form. Further, he/she receives a referral code. When the referrer refers to the referral code to a friend they both earn points. Also, the referrer can share referral code on social media platforms, forums, online community or blast emails to earn more. In short, the WooCommerce Referral scheme plugin works on the point-based system.
Key Takeaways
Flexible and user friendly
Easy referral code sharing
Easy referral points calculations
Along with the above info, you must know that the plugin isn't free. User needs to purchase regular or extended license worth $13 and $65 simultaneously.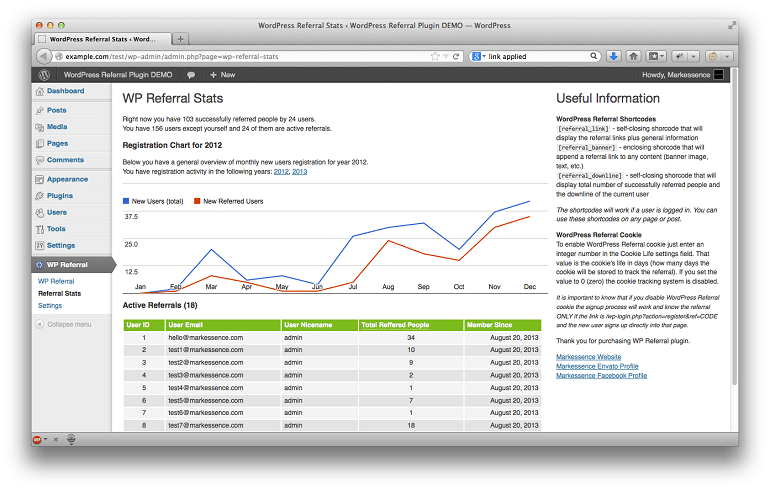 WordPress Affiliate & Referral plugin gives an edge to your WooCommerce site. The best part is you can integrate PayPal with the plugin so that payments can be made to the affiliates.
Key Takeaways
PayPal payment option for affiliates
Real-time email notifications for affiliates
Unlimited referrals, unlimited affiliates
Built-in shortcodes
Cookie enabled referral tracking
Needless to say, the WordPress Affiliate & Referral Plugin is paid. You need to purchase a license worth $21 for single use. WordPress Referral Plugin works with standalone WordPress, WooCommerce, WP e-Commerce or any other plugin that uses the default WordPress registration process.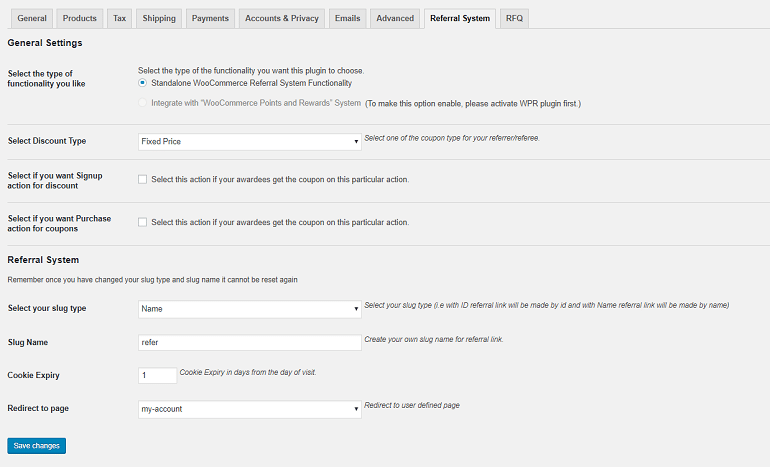 Referral System is a WooCommerce referral plugin developed by Codup.io. WooCommerce sellers can set up a refer-a-friend program using this plugin. In other words, you will reward an existing buyer for referring your online store to his/her friend or family member. Doing this you can attract more sales and referrals.
All you need to do is integrate exclusive discounts and vouchers in the referral scheme in your store. Then leverage referrers to share your products and services with others in return for an incentive.
Vital Features
It boosts sales
Lowers marketing budget
Improves customer retention & acquisition
Compatible with WooCommerce points & rewards plugin
Works best with existing loyalty programs
Key Takeaways
Fixed price or percentage-based referral payments
Reward function setup for both referrer and the referee
Sign up and purchase point setup
Custom message settings for coupon redemption
Action-based point earning system setup for referrals
Further, the referral system plugin for WooCommerce comes with a $29.00 subscription. Along with it, you get 1-year updates and support. Last but not the least, the plugin offers a 30-day money-back guarantee. It's a great deal I guess.
Also read:
Are you looking for a stable and reliable Shipping plugin for your WooCommerce Store in India? Here are 8 best WooCommerce shipping plugins
Wrapping Up
Undoubtedly, referral marketing is a quick strategy. It allows your customers to recommend your brand to their friends and family. If your product or service is referred by a peer then it holds a lot more value compared to traditional marketing tools.
Still, it's not the only one I recommend. Along with it, you must also practice other marketing and promotion strategies to elevate your business.