I work in a technology field. It isn't an outdated technology but doesn't have many openings of it in my city. Should I switch technology for a better pay?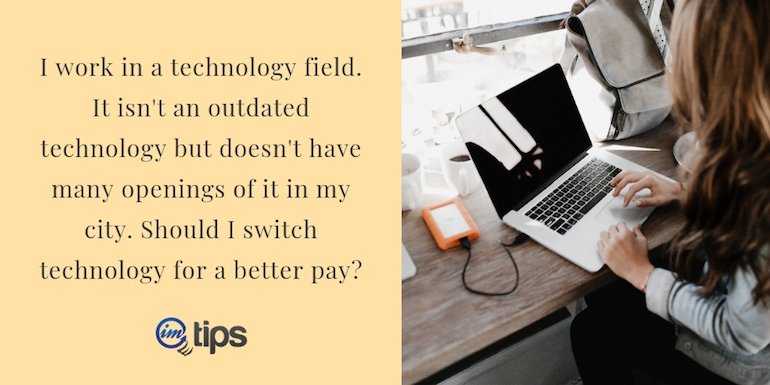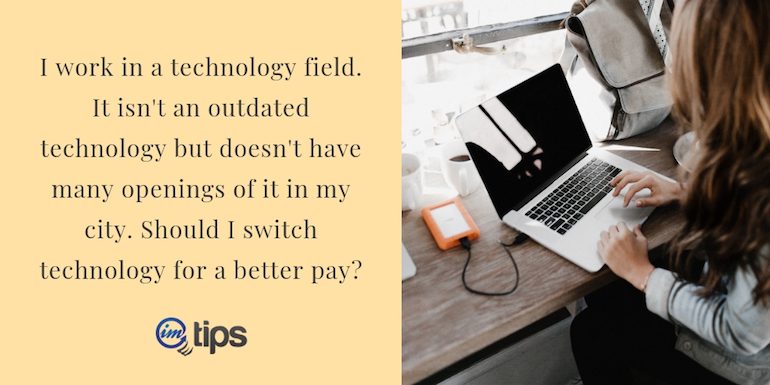 A reader asked me an essential question related to a choice of career as a developer. His question is, can he switch technologies for the sake of better pay from employers. Though his question is not entirely related to freelancing, still, I think it is a very relevant question. The question is:
I am working in the technology field. Although it is not an outdated technology, I don't see many opening for it in my city. I am not sure if I should switch technology only for a better pay? I love working in the current job in the current technology.
The short answer is YES. It is a must, especially for the developers or rather anyone in the technology space.
If you don't switch skills or at least update skills, you will be either forced to or will have to take early retirement.
What I mean is, if you are an employee, you will be forced to do the same work over and over again at the equal pay till you retire. Often technology jobs and especially software development are dead-end jobs after a few years of relevant experience.
If you are a freelancer, either you won't find enough work. However, if you do, you will be paid too low to remain afloat.
So switching skills isn't a choice but a must for developers and freelancers.
My Story of Job & Technology Switches
I think every developer should and must switch skills. The fact is, even when you love working in the given technology.
Let me share with you my story about switching skills.
As a fresher, my first job was in Visual Basic 6. I was never interested in working in Visual Basic 6 in 2004 because I knew it was outdated technology. So, even if Visual Basic did flourish, it won't be Visual Basic 6.
By the time I was doing the job, I had my Go4Expert website. So I decided to switch to a web-based job. The second job was as an SEO. I realized I enjoy being a developer. Not doing the SEO or instead of emailing other webmasters for link exchange (that is what SEO meant in that company).
So I moved over to a C++ job in the first 12 months of my career. Each time I switched technology—visual Basic 6 to SEO to C++.
If I wouldn't have switched, I may have been doing some Visual Basic 6 maintenance job somewhere even today at a pay very similar to my first salary.
When I quit the job to start as a freelancer, I moved over to PHP. It was from being a C++ and C# developer with more than three years of development experience.
As a freelancer, I have moved over from vBulletin to XenForo.
As of today, I mainly work XenForo, but there are many projects related to WordPress and other PHP Frameworks.
Switches That Didn't Work Out
It seems like everything worked out when I switched, but that isn't true.
There are many things that I did, which even didn't work out. Like for example, when moving away from vBulletin, I also tried working out with other forum software like Invision Power Board or IPB, but the switch didn't work out, and I only managed one or two clients here and there.
Similarly, there was a time when I even looked at ASP as an option because I had experience with C#. However, it didn't work out either. As my forums were in PHP, and I wanted to work on my website, the PHP became an obvious choice.
I even tried iOS and Swift 2., but it didn't work out because of my lack of time, but I may consider it anytime in the future if need be.
So there will be a time when you will have to take that call to learn something new and make a switch.
Even if it isn't for the pay, to remain relevant in the field of technology and development, you must focus on being ready for the next change that is coming.
Switch Technologies The Weekend Way
So now, the question comes, what is the best way to make a switch.
The way I like to do is allocate some time in the week to learn new technology. When I was doing a job, I was working to build my forums. Learning PHP either after the job or mainly on weekends to add functionality to my websites. The changes I wanted to be doing to my vBulletin forum meant I had to learn PHP.
Similarly, as a freelancer, I set aside weekends to be working on something that doesn't pay me, but I like doing it. One of them is an investment and blogging about it, which I often write on the weekends.
Or, if it is related to my financial investments, I am still learning, but I dedicate the time for it mainly on weekends.
So if you can dedicate a few hours of your weekend time to learning something new, it can help you take a long way.
I am not sure if this is the right way of doing it, but it works well for me. My weekend projects have taken me very far in my career.
The Other Option to Switch Technologies
When you are doing a job, the weekend option is a better way to work on new technology. However, as a freelancer working for clients, I have a choice where clients want me to be part of their other projects as well.
When clients ask me if I know something that can help me manage their other website, I always grab it with both hands.
The recent example is working in the Phalcon PHP framework. I had no idea about it before grabbing the client's work but I was ready to learn. I told the client, I know very little about it (from CakePHP) but can manage your site and get things done. The client was even ready to pay me for the time I spend on learning.
Final Thoughts
As an experienced developer and already working on something, I am sure you won't take a random decision to switch. The switch will be based on some research and understanding of the future.
And remember whatever be the outcome of learning something new is always worth trying.