Is social media marketing all about creating a social media account and increasing the follower count or anything more than that?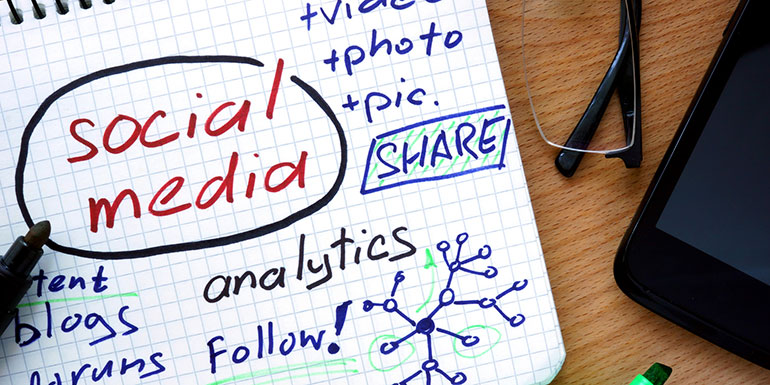 When it comes to Social Media Marketing, many think that it is mainly about getting traffic from large social Networking sites like Twitter / Facebook / LinkedIn. However, it is not the complete truth. You can use such sites to drive traffic to your website, but that is just a part of it.
Social Media Marketing can be as simple as having an "Email to friend" link on pages or even having a signature in your outgoing emails that links to your website.
According to Wikipedia:
Social media marketing is the use of social media platforms and websites to promote a product or service.
So let's try to define it in our terms.
Social Media Marketing can be defined as a method of marketing that is viral in nature that spreads through the web, email, word of mouth, or social networking sites.
A most important aspect of the above definition is "The term Viral."
Also read:
Social media marketing tips to help you with leads, clients, customers, reviews. More than anything, it is one of those social proof
Social Media Influencer
Social networking sites function in a way that you can see what your friends are doing. If you browse a website and submit the link on Facebook, all your friends can see the link. In a way, your friend can see your online activities. So you do not need to ask your friends to ask their friends to visit a particular site.
Remember Viral when you think about social media.
The next most important factor in social media marketing is the number of actual friends who are keeping an eye on your activity or following you. If you have a lot of friends who are keener to know what you do, you can be an influencer on social media.
When it comes to branding, virality, followers, likes, and share we think of social media marketing. Let me tell you why social media comes in mind when we talk about branding. Here are some interesting facts:
71% of all adults having internet access use social media.
The average user online has 7 different social media accounts.
Retail brands use more than 2 social channels.
Alone Facebook messenger handles 60+ billion messages per day.
Surprisingly, social media has a positive impact on teenagers.
Also read:
The complete list of 44 social media tools to manage your business profiles on the go. Let your marketing strategies scale new heights with these tools.
Social Media Business Statistics
Having said the facts above let's take a look at some social media business statistics. According to Brandwatch:
Social networks earned an estimated $8.3 billion from advertising back in 2015.
$90bn was spent on social network advertising in 2019 alone.
Only 20 Fortune 500 companies engage with their customers on Facebook.
83% of Fortune 500 companies are on Twitter.
People aged 55-64 are more than twice as likely to engage with branded content than those 28 or younger.
96% of the people that discuss brands online do not follow those brands' owned profiles.
78% of people who complain to a brand via Twitter expect a response within an hour.
Well, it's quite obvious that social media is the new edge of digital marketing. People hang out on these platforms like there's no tomorrow. And you need to reach where they are.
To do this you will have to understand the basics first. To help with that here are the basics of social media marketing.
The Basics of Social Media Marketing
Social media is in our daily life either personal or business. Not only this but it heavily impacts our decision. Hence, it becomes essential to look at the mammoth impact these platforms have on our audience.
Social media platforms are a 2-way match for you. How? When a customer engages with your business or brand, it helps you further connect with their connections too. This way you influence people to buy from you (without any cost) whom you barely know.
Social Media and Purchase Psychology
Referrals on social media incline people to buy with confidence. Your customer makes buying decisions based on personal references by friends or family members. When someone refers to your brand on social media others see it too. This way you automatically get the boost to make a sale.
Positive reviews are never out of fashion. The customer tends to believe others more than what you speak to them. This is the reason why conversions jump due to good reviews. Reviews on social media channels help convince customers to give your business a shot.
The ease of connection with businesses on social media makes the above possible. Customers can not only find out more about your business but also experience what others have to say about you.
Having said the above let's learn about some premium social media channels. Also, we will discuss how to get noticed on them.
Premium Social Media Platforms
Facebook
Twitter
Youtube
Pinterest
Instagram
LinkedIn
Snapchat
Others social sites
Facebook
We all know how popular Facebook is. People use Facebook to relax, enjoy, chit-chat, and talk about almost anything. It can be a hobby people talking about or a recent purchase made online.
Hence, it results in an easy-going and friendly atmosphere on Facebook. But that's what Facebook is for. Facebook has an astounding influence on people's life. This is why businesses advertise more on Facebook compared to their counterparts out there.
It is indeed an advertisement-friendly platform. For online businesses wanting to gain (the much needed) initial mileage – Facebook is the solution.
If you look closely Facebook offers an indigenous market for the B2C sector. Besides, several B2B brands have lately been attracted to it.
Do you know why B2B and B2C brands are on Facebook?
It is a visually-oriented social media platform. People play with images, videos, graphics, and a lot more to convey their messages. Due to this individuals are more prone to engage with what one is sharing here.
Oreo is a great example. They personalize their stories, images, and brand messages as an opportunity to make more connections.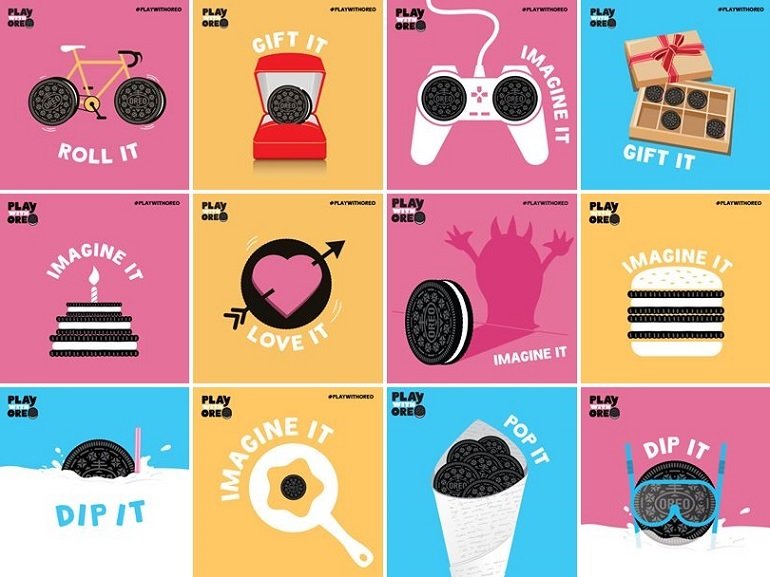 How to Get Noticed on Facebook?
Learning the basics of social media marketing will help you understand how to engage with your audience on Facebook. It is important to realize that engagement is not alone one needs to seek on Facebook. There are many activities one can do to successfully build an active following on Facebook.
Create an Invincible Presence
Creating a strong business page is vital. I have already discussed in one of my articles – how to do SEO of your LinkedIn profile. The magic lies in the details. Fill in all the information when creating a page on Facebook.
Use target keywords and draft a business summary targeted towards both users and search engines. Do not leave any details incomplete. Not even a small thing like a business's contact information.
Use the highest engagement periods. Users are most likely to be on Facebook from Thursday through Sunday, with the highest usage rates over the weekend. The most popular times appear to be around 9 am, 1 pm, and 3 pm. Posting in these windows can help increase engagement.
Frequency of Post
After creating a page on Facebook, it's time to keep it up and running. Share value-added and noteworthy posts on your Facebook page. However, it should align with your business category or product line. Refer to the above example of Oreo. Sharing once in a blue moon and expecting anything out of it doesn't work.
Remember, one single post once in a day, week or month will easily vanish on Facebook where millions of posts are traded each day. A best practice is to first make a post calendar. Thereafter, schedule posts and then to keep doing it daily.
What to Post on Facebook Page?
Sharing value-added posts on Facebook holds a deep meaning. It means sharing info with your audience they will like, share, comment, and finally follow your page. Technically speaking it's called engagement.
But how will you know which post will spark engagement? I would suggest doing 2 things to grasp the mood of your audience.
First, stick to your business or product category. Do not divert from it. You don't want to sound like a douchebag. Second, try hands on all kinds of post. In short, share images, videos, links, texts, graphics, GIFs, memes, audio files, PDFs, and more.
You never know what your audience would engage with. Unless you don't try all of them you won't know what is working for you and whatnot. Doing it for a consistent time will draw a road map for you.
Encourage to Engage
Inviting users to your page and encouraging them to engage both are different. You can bring people to your Facebook page using organic and paid tools. However, keeping them interested is a mammoth task.
Along with value-added posts, you can ask open-ended questions to your Facebook page followers. DM them the answers. Let your followers know you want to engage with them.
If you are looking for some inspiration then read 25 content ideas to create engagement with Facebook.
Share Facebook Page Links
To increase engagement and page followings share your Facebook page links with others. If you practice email marketing then embed FB page link in the newsletter.
Post FB page links on other social sites and lets people know that you are active on Facebook. If there's a dedicated website or blog then embedding FB link on the same can help people find your page easily.
All these activities can consistently grow your fan following on Facebook and help spread the message.
Twitter
Twitter is famous as a micro-social media platform. Users can tweet using limited character count which is not more than 280 characters. Unlike Facebook, users on twitter can't share lengthy texts.
Convey your thoughts and ideas in just 280 characters. That's it. Even though there are character limitations, Twitter is surprisingly dominating the social media realm.
Luckily, an image, gif, or video doesn't take away from the 280 character limit. Hence, you're free to write great captions for your visual media.
Using Twitter is easy. Follow individuals or organizations, build a genuine fan base, tweet, retweet, share, and message each other. That's how it works. See the example below of creative imagery to engage followers.
How to Get Noticed on Twitter?
Twitter provides good opportunities to connect with individuals online. A key point here is that Twitter moves very quickly compared to other social media platforms. It means if you tweet once or twice a day it can bring in some good results.
But you need to be consistent daily. I have said this before – Tweeting once in a month won't do anything well. Understanding the rate of posting is an important component of social media marketing.
Strong Online Presence
Whether it is Facebook or Twitter – a strong online presence is necessary. What does it take to establish a solid Twitter presence? Reach out to your audience and stay with them. You can do this by frequently posting good information for your audience. It will engage them making them feel like they are part of a bigger conversation.
When it comes to tweeting, share links, images, videos, and infographics frequently. Your content holds value. Sharing it just once won't make a difference. Share it periodically in different formats. Just because you've shared it earlier doesn't mean that everyone has read it or that they wouldn't read it again.
Reply to tweets, be open to suggestions, and express gratitude towards your followers' loyalty. It is the most compelling evidence that engagement and interaction always pay off positively.
Re-tweet is a Good Idea
Reusing tweets is a better idea to share information with your followers. Particularly those that have a high value for your organization. Retweet unique content shared by others that is relevant to your category.
It helps important information go in front of a greater percentage of your followers. Retweeting has a greater social aspect on Twitter. Reusing tweets relevant to your industry would benefit your audience and help you attract attention.
Besides, including people or businesses in your tweets by using the '@' sign. The @ sign acts as a shout out. This is the way to build a connection and draw engagement on Twitter.
Use #Hashtags
#Hashtags are kind of search terms on Twitter. They are trending and people frequently connect with the trend using the same. Including #hashtags makes your posts more searchable.
It helps others on Twitter find your brand when you use a #hashtag about topics that interest them. I would once again remind you that be consistent in your Twitter engagement. Post creative stuff on your Twitter handle to attract your followers' interest.
Using an already trending content on Twitter is always an option. But developing niche-specific content and sharing them increases your credibility as well.
Engage With Influencers
Influencers are dominating social media and Twitter isn't an exception. Generally, influencers are individuals or a group of people having a large fan base. They persuade their followers by the virtue of their authenticity and reach. They have the potential to create buzz and increase brand recognition.
Further, they can share your content and promote your business activities. When you engage with influencers, you expand your reach and increase the audience size. As a result, you increase the overall exposure of your business.
Search influencers relevant to your business or industry. Also, look at their fan base and whether or not they can convey your message. Additionally, an influencer must be active having an impressive reach and is trusted by his/her followers.
YouTube
After Google, YouTube is the 2nd largest search engine in the world. Imagine a topic and you will find a video on YouTube related to the topic. You just name it and they have it. The world is crazy about YouTube now and let me tell you it's the next big thing in the future.
How YouTube Can Help Scale Your Business?
For business purposes, YouTube is an excellent and visually glorified social media platform. But what makes YouTube unique from others? YouTube is specific when it comes to content format.
In other words, you can upload only videos and nothing else. Unlike Twitter and Facebook, YouTube content format is highly concentrated. It's like "think of videos, think of YouTube".
How to Get Noticed on YouTube?
We know video content continues to grow as a popular medium to speak with consumers. Popular video making tool companies have found that customers love demo videos of a product or service.
Moreover, customers would rather watch a video about a product than reading about it. With this mind let's talk about using the YouTube platforms to promote your business. Read further.
Build a Niche Channel
A niche specific quality channel is necessary. Focus on building a channel that talks about your products or services. However, you can even develop an individual YouTube channel on a topic that interests you.
For example, food, health, education, DIY, etc. In short, a YouTube channel is a must to publish quality content. Producing interesting and engaging videos builts a successful channel with thousands of followers.
Quality Video
After selecting a niche it's time to brainstorm the topics. What kind of videos you will make and publish? How will you attract viewership on your channel? That's the second important step.
This is the spot where majority channels fail. Thousands of YouTube channels start every day and eventually meet their premature deaths. Why? Because they lack quality content.
Create videos that offer value to your audience. Your videos should make a meaningful difference in the viewer's life. It can be news from your industry, product demos, tips, and tricks for using your products.
It can also be a behind-the-scenes video. People love to see the other side of the coin. Show them what they love and they will love you back.
Video Views
To build viewership, you will have to publish good videos. Forget about the YouTube algorithms, YouTube SEO, and everything else. Work towards topics and ideas, integrate them into valuable info and publish it frequently via your channel.
Share what you have with others. People will gradually fall in love with your content. That's how you build viewership and get into the radar of YouTube viewers.
YouTube SEO
How your video features in the YouTube search is thoughtful. Although, YouTube SEO is a complex mechanism but pretty much easy to understand. Title, description, channel summary, and tags are hotspots to insert search terms.
This promotes your video in the search and draws viewership. Also, YouTube monitors how a user responds to your video. The more people watch, the higher your ranking will rise.
I can go on and on writing useful tips on YouTube videos, starting and successfully running a channel, and a lot more. But the above ones are basic.
Pinterest
Ah! I love Pinterest.
If you ask me which one do I like – Facebook or Pinterest? I would certainly say Pinterest. The cozy look and the simple widget to create beautiful pins are the USPs of Pinterest. With 250M+ active users, Pinterest has established its authority. Users say the pins they find on Pinterest attracts them to buy without bothering about anything else.
What Makes Pinterest Amazing?
This social media platform is indeed enticing. If you are not using it then you are missing out something valuable. Surprisingly, Pinterest is heavily dominated by females across the globe.
If stats are to be believed then 60% of new sign-ups on this platform are women. A majority of them are under 40 in age. Another interesting fact is people now use Pinterest to find things they want to buy. That's amazing!
How to Get Noticed on Pinterest?
An individual or company can showcase anything and almost everything here. It could be a visual side of your business, such as a new product, a new design, or a new recipe. Whatever you have it on your mind just share it here with others.
In the middle of all this, a visual component is a must. However, one can do without it but pins having visuals can effectively portray a brand value. Let's see how you can be innovative in creatively presenting your business on Pinterest.
Optimize Pins for Search
Pinterest is an ocean of pins. How do you make it easy for users to find you among all those millions of pins? Optimizing pins for search is an available solution. Tools and features provided by Pinterest are enough to drag traffic to your account.
For example, while creating a pin the platform allows you to add title, description, link, and images. Use these spaces smartly to insert keyword-rich content so that people can find you. Use the alternate text for images while uploading the same to create a pin.
Even if you are directly saving an image from your website to make a pin make sure your images have an alt text. All these small things can create a bigger impact in the long run.
Visually Engaging Pins
This is a must. Like I said above visuals are an important medium to convey a message. A pin without a proper image is like a knife without an edge. Create visually engaging pins and share with others. Not only images, but Pinterest also allows users to upload and share videos that have become increasingly popular.
Assign Dedicated Boards
Pinterest provides the facility to arrange your pins on a virtual board. It looks neat and clean when pins are aligned in dedicated boards. People can easily browse their favorite boards and interact with what is there in it.
Doing this you can attract more attention and gradually more followers. A step further you can also share the entire board with others on the internet. Isn't it interesting?
Use the Pin Button
Install a Pinterest button extension in your browser. While surfing the internet if you come across interesting stuff just save it using the pin button. No social media platform other than Pinterest offers this feature. Facebook, Twitter, YouTube, and other channels require creating a post from scratch.
You can't save and share things then and there. On the other hand, Pinterest has made sharing content ridiculously easy with just a few clicks. You see an image, liked it, hover your mouse, click the pin button, save in desired board, and it's done.
Instagram
Similar to Pinterest, Instagram highly emphasis on visual content like images and videos. This social media platform is great for businesses that want to use creative visuals to showcase their brand. Use your creativity to help your posts shine here.
Show company culture, the team behind a product, designs, or people behind your business. Entice and engage your users. Interact with them via messages beneath the post. Include them in the conversation. Use Instagram to create a more personalized relationship with your followers.
Besides, a long-lasting relationship with a customer is what a business looking for on social media. Isn't it? Now that we know what is needed to create brand awareness let's see how it is done.
How to Get Noticed on Instagram?
Instagram is a highly-targeted visual social media marketing channel. It's an opportunity to build a loyal audience that grows with your business. More than 500 million users browse this beautiful app daily. You can imagine the power of this app making it home to some of the most engaged audiences globally.
Upload Short Videos
Short videos of 30 to 40 seconds could create a magical effect on your followers. Long videos tend to work less, they easily bore people. An individual can spend hours on social media.
But doesn't have the patience to watch a 5 or 10-minute video online. As a result, they instantly switch over elsewhere. That's what we call the attention span. Hence, to keep a user glued make videos short and simple.
Instagram Stories
Instagram stories are like a slideshow presentation appearing for 24 hours. Your followers get notified when you upload Instagram stories. This could be a collection of images or a series of videos or both.
Allow your followers to sneak peek into the latest updates. Nowadays, even Facebook and Whatsapp have initiated stories like Instagram.
Instagram #Hashtags
You have a 2-way goal. First, engage your current Instagram audience regularly. Second, growing the number of real followers. Posting interesting photos will engage your current audience.
To grow your fan base you need to use correct Instagram hashtags. Hashtagging is extremely important. It makes it easy for people to find you that are searching using specific terms.
Just like with Twitter and other social sites, users on Instagram use certain hashtags. For example, #love, #instagood, #photooftheday, #fashion, #beautiful, #happy, #cute, #like4like, #picoftheday, #follow.
Monitor Your Competitor
Monitoring a competitor's Instagram account is a way to find and attract new followers. Your competitor's followers have already shown a certain level of interest in the products similar to yours. The question is how will your competitors' followers?
It's straight forward. Engage with them. Now there are many ways to engage with a competitor's Instagram followers. The more effort you put in, the more followers and repeat engagement you'll get.
Began by simply following your competitors' followers. Not every one of them. Select a few to follow. Invest some time to like their photos. Lastly, like and comment on at least one photo from each follower's account.
Although there are many variables to this theory. But doing the above will likely bring out some positive results. Try it.
LinkedIn
LinkedIn is a networking center for professionals. Over time it has earned and established a strong reputation worldwide. Moreover, it has emerged as a one-stop solution for all business needs. Luckily, it's a platform dedicated to serving all your business requirements.
The platform has more than 300 million active monthly users. Plus it has daily visitors from 200 countries and territories globally. A key point about using LinkedIn is it provides an excellent opportunity for B2B companies.
How LinkedIn Benefits Your Business?
Businesses can connect with potential buyers, sellers, and employees. The platform allows users to provide valuable information in their profiles. This info further provides deep insights into businesses or professions. All in all, it makes it easy for users to thoughtfully interact with each other.
Not only B2B businesses, but B2C companies are also using LinkedIn wisely. LinkedIn offers opportunities for recruiting, finding influencers, or even performing market research.
How to Get Noticed on LinkedIn?
Not only brands and professionals, but LinkedIn has freelancers and other field experts too. Hence, you get to meet a diverse breed of intelligent people and entities online. It becomes your responsibility to be presentable and professional as well. But how do you do that? Doing what will make you look professional?
Updated Business Info
An updated business page or profile is the first thing you need to do. The incomplete page or profile signifies unprofessionalism. Customize summary and descriptions using relevant keywords. This will help your business boost their appearance in the LinkedIn search results.
Share Thoughtful Content
People use LinkedIn because they want to know about your business. This will give them a chance to explore what you are offering. To do this publish content that is of high-value, helpful, and engaging to a wide audience. Everyone on LinkedIn shares valuable info with their audience.
Research content ideas relevant to your business or niche. Generalized piece of content like work/life balance, leadership, or time management is appreciable.
Claim a Custom LinkedIn URL
Custom URLs can be a great help while doing LinkedIn SEO. You might have come across custom URLs on other social media channels. It's the same here on LinkedIn too.
Edit your profile and give it a suitable name that's easy to remember. The best practice is to use the full name in the URL. Share your custom LinkedIn URL on other social media platforms. Ask followers on other social sites to follow you on LinkedIn as well.
Spare the custom URL space from using keywords. Do not add the date of birth, qualification, or other details, making an URL look ugly.
Snapchat
Snapchat is an avid platform offering businesses to meet and greet the millennial generation. It's a universal fact that 90% of users on the platform are under the age of 35. Let me tell you how Snapchat works.
Using Snapchat you can send images aka 'snaps' and short videos to friends and followers. These images or videos are self-destructive. They have a life-span of only 10 seconds. A user can also create stories that last for up to 24 hours. It is similar to other social media platforms.
It might feel like a challenge to promote your business on Snapchat in the first place. But it isn't. Many brands have successfully promoted their business on Snapchat.
For example, you can create a flash sale, giveaways, and season offers to buy new products. Here are some helpful tips to help get started with Snapchat.
How to Get Noticed on Snapchat?
Including Snapchat into your social media marketing strategy can give amazing results. The catch is you might have created a Snapchat account but no one is following you. Needless to say, that's a common problem with every business owner. Refer to the actionable tips below to get followers on Snapchat.
Find Your Friends
Let's assume you have a long list of customers already active on Snapchat. It's just that you have joined late but your customers are already active on Snapchat. The question is how will you find them?
Unlike Facebook, finding someone on Snapchat is not straight-forward. Although one can use built-in Snapchat features. For example, you can find and add users on Snapchat using their Usernames. Moreover, you can also find people using a Snapcode or nearby option.
Ask your friends and customers their username. Search it in the search bar after tapping on the Add by Username option. Once you find them, follow them and ask them to follow you back. That's a great way to build a fan following.
Use the Nearby Option
Snapchat app has a location-based feature. Using this option you can customers near your location. Once you trace them send a follow back request by first following them. This is so far the best trick to find customers near your location who are interested in your business.
Ask Your Email Subscribers to Follow You
I assume you are collecting email addresses from your visitors since the beginning. And I also assume that you already have a few thousand email subscribers. Since you have email subscribers, you can ask them to follow your business on Snapchat.
What you can do is send your Snapchat profile in the next email campaign. Let your email subscribers know that you are on Snapchat. Tell them following your business account on Snapchat will keep them updated with the latest products and offers.
This is the quickest and easiest way to get thousands of Snapchat followers. The reason being your email subscribers already trust you and your business.
Cross-promote Your Snapchat Account
Cross-promotion is a classic cool to get followers on any social media platform. Ask your Facebook, Twitter, Instagram, Pinterest, and LinkedIn followers to follow you on Snapchat. You can do the same for all social media platforms.
Make it easy for followers on other social media platforms to find you on Snapchat. Provide your Snapchat username or snap code so that they can add you hassle-free.
Here's an example of Gary Vaynerchuk, a New York Times bestselling author and influencer.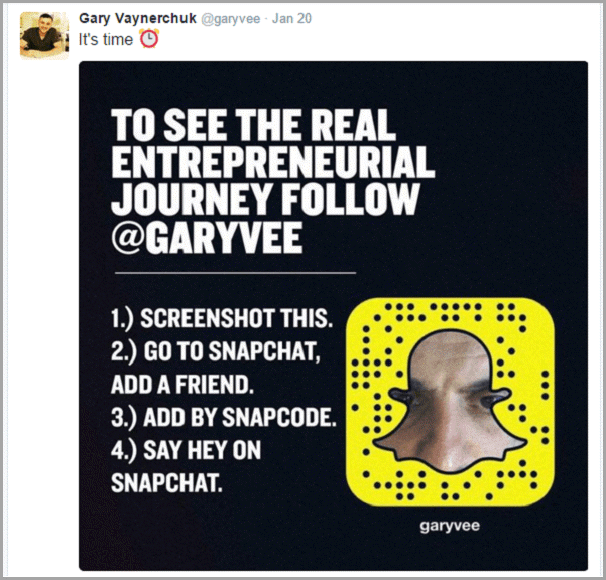 Other Social Media Platforms
We have covered major social media platforms in the list above. They are famous and loved by people of all age groups globally. Apart from the list above, there are several other social media sites.
The only catch is these social sites are niche-specific. If you have a business that falls into a highly specific niche, then these social channels could be helpful.
For instance, the music.ly app. It's for music lovers. Those in the music business may find music.ly app an interesting platform to engage with prospects. Similarly, there are other category-specific social media sites one can try. Here's the list:
Conclusion
Social media sites offer an opportunity to showcase your personality to your followers. Kind of another side of your business. With this, you can let people know the real human face behind the brand they love. Don't just try to sell them your products or services.
Listen to their problem and devise a solution. Start a meaningful conversation. Be consistent and be available for your followers on your chosen social sites. Let your followers know that they are interacting with real humans and not AI bots.
Human touch is the key to success on social media platforms.