Is your eCommerce business having issues for logistics? Here are the best logistics service providers in India for an online store.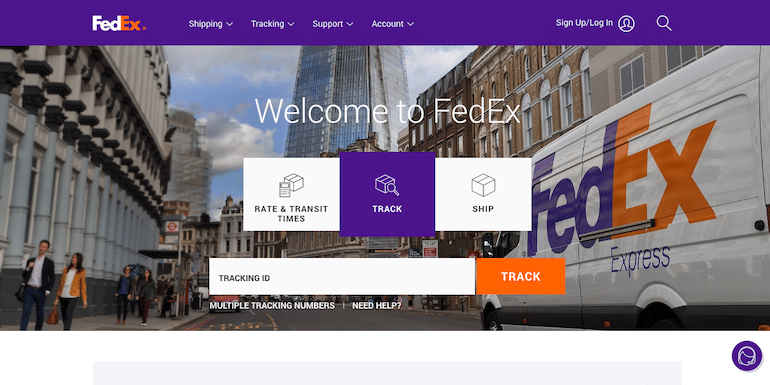 The eCommerce in India is surging. Likewise, there's an increase in the number of logistics service providers in India.
Initially, it was only India Post delivering parcels across the country. Now we have many private companies providing courier services to eCommerce sellers.
Meanwhile, every eCommerce seller is looking for an affordable delivery partner. Time-bound delivery is the lifeline of an eCommerce business. However, with so many options, it is hard to pick a reasonable one, has maximum reach, and has a high success rate.
Best Logistics Service Providers For eCommerce in India
The choice of an Indian logistics service company is made with eCommerce in mind. These companies have their delivery network PAN India. The logistics can become the bottleneck for an online business. So we have chosen the companies that have a track record of timely delivery, tracking, return, cash on delivery, pay on delivery, etc.
Take a look at each one of them to see which fits well with your business requirements.
Also read:
Are you looking for a stable and reliable Shipping plugin for your WooCommerce Store in India? Here are 8 best WooCommerce shipping plugins
1. India Post

Indian Postal services may be a surprise entry in this list. Besides, it is one of the most reliable eCommerce delivery services to date. I have enough reasons to support my statement.
First, it is run by the central government of India. Second, it has the highest coverage and maximum reach inside untravelled regions of India. Places, where private courier service can't reach the Indian Post department, delivers easily. Third, you can calculate your postage in real-time and see how much cost it incurs.
If I have to rate India Post in terms of reach, rate, delivery, return, and other parameters, then no private courier service could stand a chance. Their pick up costs are nil for consignments that are below 35 kg.
One point to note is if you are selling through Amazon India, Indian postal service is a good alternative to Amazon's Easy Ship option.
2. DHL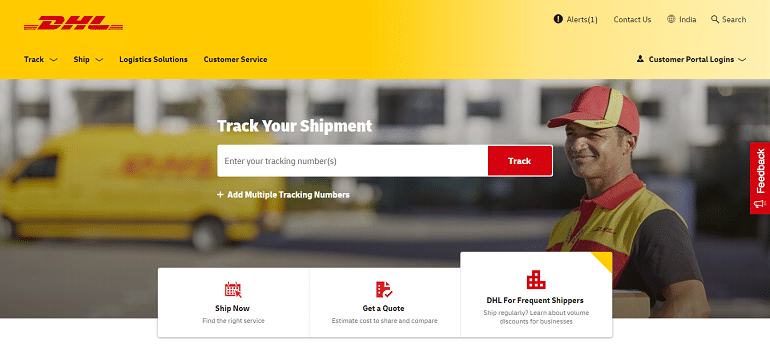 Pioneered in 1969, DHL is pretty much a big shark in terms of shipping and logistics. DHL has a dedicated eCommerce solution to serve online sellers when it comes to global e-commerce services. The DHL eCommerce services integrate timely domestic deliveries, reliable cross border shipments, and end-to-end fulfillment services.
Not only this, but plugins, extensions, and other ready to go integration help you connect with your preferred E-commerce channels. DHL is the front runner in this list.
Also read:
How to configure shipping settings for a Shopify store? Set pickup locations, fulfillment priorities, shipping zones, packages, print packing slips, etc
3. FedEx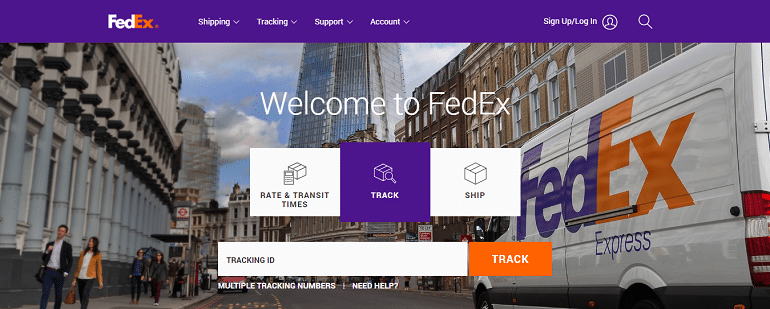 FedEx provides shipping services globally. With an excellent delivery network and competitive rates, FedEx ranks high in the charts of top courier service providers in India. However, the coverage area of FedEx here in India is less compared to domestic courier service providers.
No doubt, it has a robust delivery network. Still, it doesn't reach out to the bottom level of the Indian audience. Hence, FedEx should not be the only carrier in your basket while planning a PAN India delivery network. The best part about using FedEx is you can use a single account both for domestic and international shipments.
4. DTDC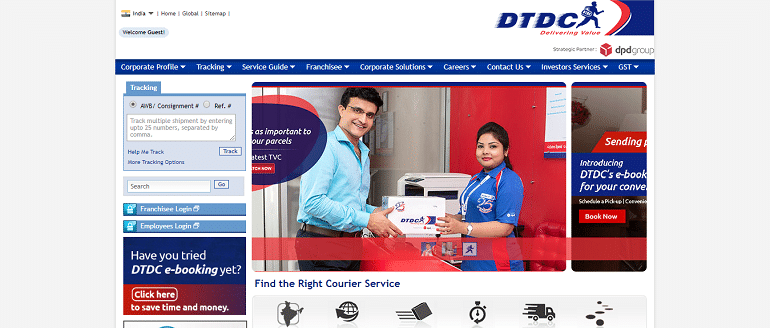 DTDC is functional since 1990. It is one of the oldest pick-up and delivery service here in India. Currently, they serve around 10000+ Indian pin codes. DTDC has a wide delivery network similar to FedEx but on a domestic level.
In other words, you can say DTDC is our Indian FedEx. Not only domestic, but DTDC also serves internationally. They deliver shipments to almost 240+ countries across the globe, along with Indian cities.
With all said above, DTDC has some serious drawbacks. If we take their delivery charges into account, small businesses may not be able to afford their services. Additionally, their untimely deliveries and loss of shipments have made them an unreliable logistics partner.
5. Blue Dart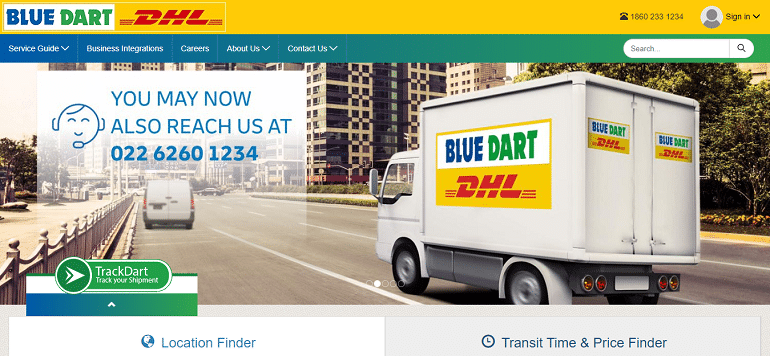 Blue Dart is India's premier shipping and logistics company. They provide integrated logistics services for your eCommerce consignments that are secure and reliable. Similar to DTDC, Blue Dart serves more than 35000 locations across India to deliver your eCommerce consignments.
If you look closely, the company offers an entire spectrum of distribution services like air express, freight forwarding, supply chain solutions, and customs clearance. Here's a list of additional services Blue Dart offers:
State-of-the-art track and trace technology
Time-definite morning deliveries through night freighter flight operations
Bonded warehouses at 85 locations across the country
E-commerce B2B and B2C initiatives
Partnering with premium logistics portals for the swift delivery
6. Delhivery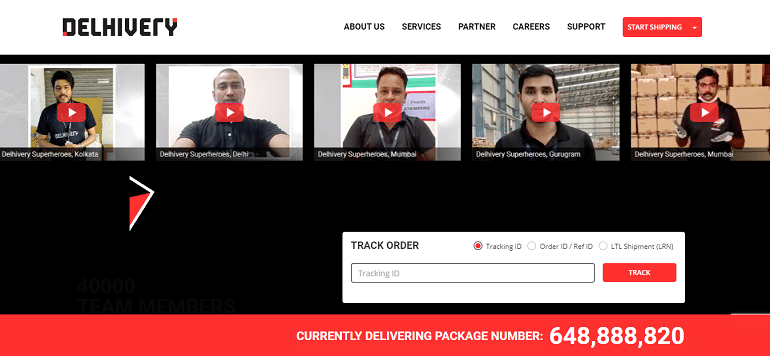 Since its inception in 2011, Delhivery has become India's leading logistics and supply chain services company. Delhivery offers a combination of world-class infrastructure, high-quality logistics operations, and cutting-edge engineering and technology capabilities. Take a look at the assets this company has accumulated to date:
24 automated sort centers
75 fulfillment centers
2500+ direct delivery centers
8000+ partner centers
14000+ delivery vehicles
40000+ team members
7. eCOM Express

eCOM Express is a comparatively new player in the delivery and logistics market. Yet, they have not only maintained the industry standards but have succeeded in acquiring a handsome market share.
For instance, Ecom Express has a strong presence with over 2500+ delivery branches located in 2400+ towns/cities in India. They collectively offer end-to-end logistics solutions covering more than 25000+ Indian pin codes. Take a look at some more features below:
Order delivery via strategically positioned hubs
Dedicated-GPS enabled fleet
Integrated transportation network
150 long-haul and 480 short-haul runs
Fully automated order processing
First mile pick-ups through "SRUTi"
Weight dimensions through "SRi"
Parcel automation through "SHACTi"
Last-mile delivery through "SATHi"
8. Shiprocket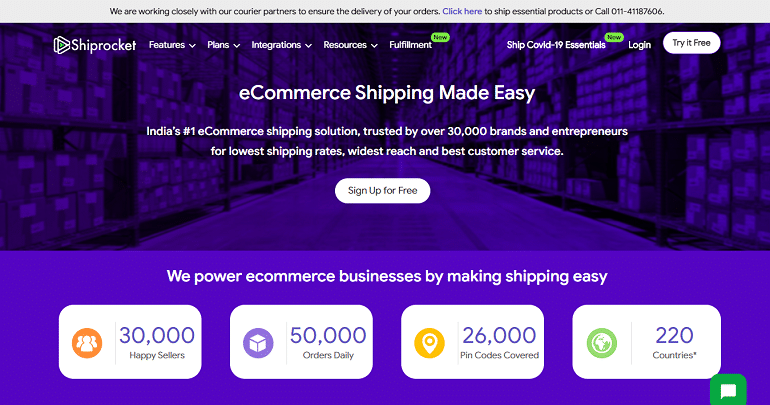 Picking up the best courier partner or logistics service provider would be a matter of big concern for new online sellers. Under this situation, you need an automated solution that integrates all logistics services under one roof for you.
Shiprocket is your answer then. It is an avid logistics service provider in India for eCommerce sellers. It is hard for newbie sellers to convince courier companies to partner due to non-compliance with the minimum shipment threshold. This is where Shiprocket comes into the picture.
The company has partnered with several courier companies to ensure maximum pin code coverage across India. Moreover, the tool provides cash on delivery, which is the ultimate need of the hour.
ShipRocket also offers a great WooCommerce Integration Plugin.
9. Gati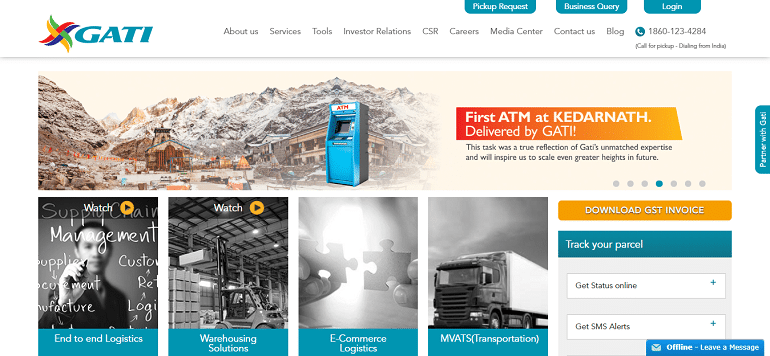 Gati couriers is a household name in PAN India. To facilitate eCommerce sellers, the company has come up with a dedicated tool called Gati E-connect. It's an eCommerce logistic solution for Gati. It has an extensive reach of more than 99% of districts in India.
Gati's e-connect is the perfect logistics solution for small and medium-sized businesses, B2B, B2C, and C2C. These features make Gati an excellent choice for your eCommerce shipments
Also, Gati has introduced a new array of services for small courier and parcel needs. Now one can courier lightweight shipments on an urgent basis. Shipments from 5-20 Kg will be accepted under this special service package, and that too at a highly competitive price.
10. Shadowfax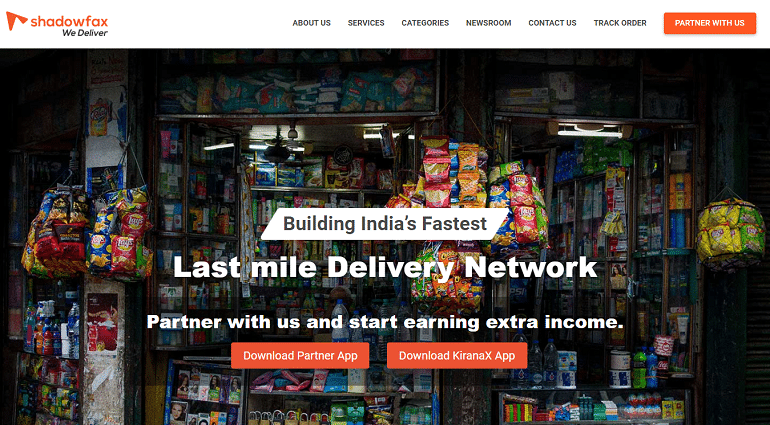 Shadowfax is a leading eCommerce shipping provider in the industry. However, with a wide reach across 150+ countries, they claim to compete with Amazon Prime. The good thing about Shadowfax is their reverse logistics services.
Not only this, but they also guarantee a seamless order fulfillment operation for your eCommerce store.
Moreover, Shadowfax has a full-fledge integration with Shiprocket. Along with Shiprocket, you get a fully functional dashboard, daily insights, and other features for processing your orders.
11. Aramex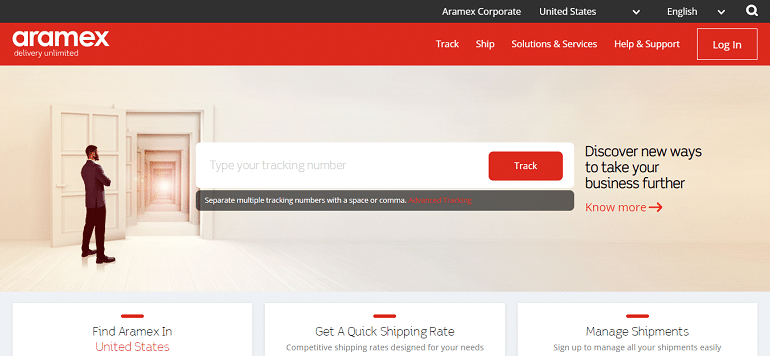 Aramex has been a fierce player in the eCommerce shipment and logistics landscape for a long time now. They provide unmatched courier service to eCommerce businesses by shipping to more than 220 countries and allowing them to offer COD, tracking, etc. Experienced fleet, global outreach, cheaper rates, order tracking, are a few advantages of shipping with Aramex. Here's a list of other features:
Orders import from Amazon and eBay (US/UK)
Multiple choice of carriers
Pick-up from multiple locations in India
Hassle-free order tracking
12. Maruti Courier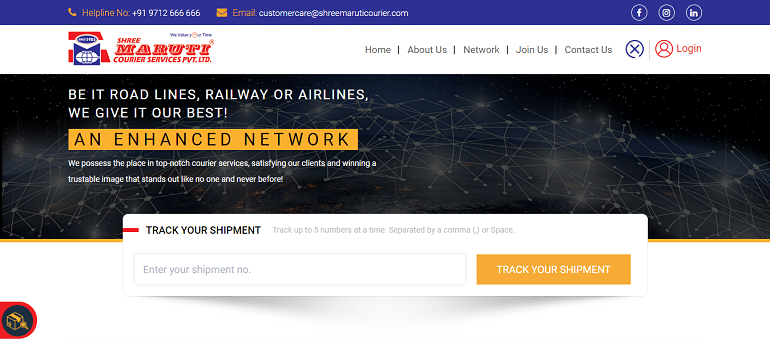 Maruti Courier is an integrated express logistics service provider in India. The array of services Shri Maruti courier offers are highly reliable and satisfactory. They offer the most extensive domestic network covering over 1500+ locations. This way, local pick-up and delivery can be swiftly managed with them.
Local, regional, and national rates are similar to Shri Anjani Courier services per 100 gms. Hence, the Maruti courier could be a good option if you are dealing with the Indian subcontinent.