If a client offers a position but less pay for the first few months because of my lack of experience in a technology should I accept the offer?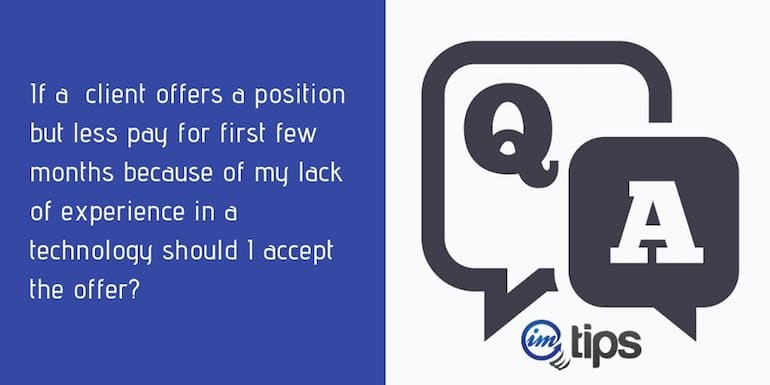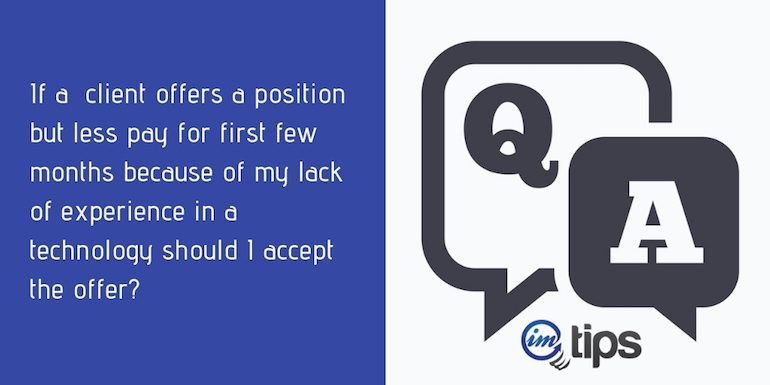 One of my blog readers asked a very relevant question of what he should do about being paid less for a project but will get industry exposure.
My client is offering me a position but he wants me to work 3 to 6 months on a very low pay as I am not very fluent in the technology he is offering me the position. Is it normal and should I accept the offer?
Without knowing any specific details about the technology or your overall experience, the short answer is yes, it is entirely reasonable to work for slightly less amount for gaining knowledge or have an industry exposure.
There are other aspects to consider. So let me also share them to help you make the decision.
What stage of the career are you in?
Can you get the basics of life moving with the reduction in pay?
If your answer is yes, you should go for it.
Can't you do it all Alone?
What I mean is, can you continue doing what you are doing and still learn the new technology for the client?
As an example, if you are a WordPress developer and want to consider WooCommerce and need some industry exposure.
If you aren't getting better pay, then how about going for the less work as a WordPress developer and use the extra time to learn WooCommerce.
Once you have some experience, you can go for full pay instead of being paid less to get industry exposure.
It is how I do it, and it is a constructive way of moving to the new technology. I start working less on one technology and move to the other technology for my sites. It helps me get my websites moved over to the new technology as well as get some industry exposure.
It the meantime, I work on contributing to the open-source by working out some plugins I may need that aren't readily available. As I share them for free, I can use them as a reference to prove my expertise.
Read: College students can Make Money Programming Remotely.
How Important is the Industry Exposure?
The next important thing one should consider is, how significant is the hands-on industry experience is, Is it worth the less pay?
As a freelance web developer, there isn't too much concern about industry exposure, but in other areas of development, industry exposure can be critical.
Will the industry exposure help you demand better salary or better freelancing rates as you move higher on the experience ladder as you gain more experience in the new technology when compared to what you are already working on?
Other miscellaneous questions?
Apart from everything else, some questions can help you answer the original question.
How much do you love the new technology when compared to the one you are already working on? Are you moving to the latest technology because you enjoy working in it, or is it only as a career choice?
Can it also help you become an entrepreneur or freelancer in the long run? For example, if you plan to move from C++ or Java to PHP.
Are you moving to things you love, or you want to love what you do? Focus on doing something you love more than loving things you do.
Anything that can justify less pay for industry exposure.
Finally
If learning something new isn't going to make things tough for you, it is always an excellent choice to make a move. In the long run, if the technology doesn't pay you many times over, the experience surely will.