7 key points to convert an average written product review to awesome review that your readers want to read and buy the product you recommend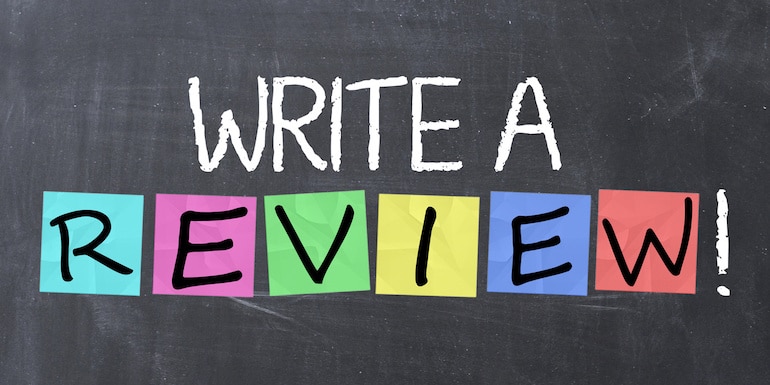 Product review is a great way to share information about an item and earn an affiliate commission for sales. On the other hand, writing a useful product review is a skill.
There's a big reason behind why I am telling this. Reviewing product works to sell items through your blog or website. It also works to elevate your affiliate marketing sales.
But there's a catch into it. Product reviews work if they are genuine. To understand it, let me break that for you into three levels.
3 Types of Product Reviews
Since I am myself an affiliate marketer, I have the personal distinction to categorize product reviews. Let me write them for you here.
Genuine Reviews
These are highly sorted well-research and honest reviews of products. An individual or a team of experts try and test an item and then share a review. They use different parameters to derive a conclusion.  They document the whole process in textual and video formats – the way for the reader to see or read the entire grilling of the product.
The best suitable example is the New York Times Wirecutter. They dig deep into a product and write amazing details about it. Here is one such example of a review of each knife to conclude the best.
The purpose is to educate buyers thoroughly about a product. There are long term benefits of such elaborated product reviews as well. Detailed product reviews build trust and by helping buyers.
They can save, bookmark, and refer the review as and when needed. In short, an honest product review is like a gem, that is rare, not like stones found everywhere.
Paid Reviews
It's all in the name. A paid product review has a less rogue attitude. They are no different than any other item review. It's just that it has got a tag paid—brands contact influencers, bloggers, marketers to endorse their products. In return, they pay money for writing or speaking all the good stuff.
I get regular emails from digital product developers for endorsements. They offer me lucrative deals to endorse a product. However, I follow a policy of not recommending a product if I don't use and like it.
Coming back to the point, paid reviews are purchased ones. They can be honest and biased at the same time. It depends on the product and credibility of the reviewer who's reviewing it.
Fake Reviews
Fake reviews are a mixed bag of ideas and opinions. Now it's essential to understand the term fake here. The reviewer fakes the whole process of using a product.
He/she reviews products that they haven't used in the first place. There are numerous disputes and plummeted opinions available online for the product. Sometimes they even exaggerate about the product to lure buyers.
It's kinda contradictory. However, product quality may be right, but one can't trust the reviewer.
2 Ways to Write Reviews
A review is not only about selling something to a buyer. It's like talking to a friend and sharing valuable information. This value-added info could be an eternal experience of using a quality item.
Before that, let me introduce the two distinct methods of writing a (product) review.
Collect and Compile Information
A classic style of writing product reviews for ages. The timeline of writing a product review using method 1 is as follows:
Select a product
Do online research
Read similar product reviews
Accumulate writing resources
Reword and rejuvenate existing content
Publish
Although the above method sounds simple, yet it is time-consuming. It is because you can't simply copy and paste someone else's hard work. Secondly, you need to brainstorm and rephrase the meaning of the content. Pretty frustrating, huh!
Thorough Product Use and Research
The second method resonates with writing genuine product reviews. You take up an item and grind it till it screams. Then you conclude. That's how you write a plagiarism-free organic content. Check out the timeline.
Select a product
Buy or rent it
Study the product
Do research online
Use the product
Test the product in extreme conditions
Take other users' opinion
Listen to what real users have to say
Document the entire process
Click images and shoot product usage videos
Conclude and compile an article
Insert media in the article
Publish
The above method is time-consuming as well. A reviewer needs to get into the shoes of a buyer, experience the pain points, and bring out the pros and cons of the product.
It's a way you will have a unique product experience to share with others. Also, you will readily compile an article. And that way you will be able to put in a lot of honest info in it. Above all, it will be much easier to write compared to just rewording other content.
The process and techniques mentioned above apply to any product review. It's time now, to begin with, the process of writing a product review. So, let's hear it out.
How to Write Product Reviews?
We now know the best review is a genuine review based on the use and research.
Still, there are many approaches to the review.  A useful product review leads the buyer one step at a time. Here are some essential pointers to help you write a fantastic product review.
#1 Identify the Pain Points of the Readers
Your review must inevitably address the problematic areas of a buyer. A buyer is searching for a solution via a product. Give 'em what they need. Think about the single most problem your buyer faces daily. If that's not the problem, what you think is then find out what it is.
Once you have painted the problem, think about how a particular product might solve it. Foresee how a product (that you offer) would suffice a need or fulfill a buyer's desire. Is it life-changing? Will that product further improves or enhance the life of a buyer?
If you have answers to the above question, then you have cracked the code.
#2 What Products Are Best for Customers?
Answers to questions in point 1 will help you find your ideal product. Once you know the pressing problem of your buyer, the product selection is natural. The question is whether you should offer your product or recommend others and earn an affiliate commission.
Offer a product that best solves a buyer's problem. It must fulfill the needs and desires of the buyer. Also, brainstorm the uniqueness of the product. Will a unique feature make your buyer happy? Will the product improve his/her life after using it?
In short, you will need to ask the same questions but in different contexts. First, it was the buyer; then, it will be you. The whole idea is to think creatively.
#3 Infuse Emotions in the Review
Do not write reviews for search engines. Writing for the sake of getting at the top of SERPs doesn't work anymore. Write for real buyers. The best way to target them is to inject emotions into the review. And that can be done using accurate words and phrases. Find the right words to use in your product review.
Why?
Because people buy emotionally. Feel + Emotion = Sales.
You will have to convince a buyer that you understand their pain. A review section of a website is the best place to find how buyers react to certain products. Refer to Amazon product reviews. Examine the kind of language they use while recounting their problems.
Now, if you (as a reviewer) use the same language, the buyer will instantly connect. This way, the product review is more likely to resonate with a buyer. The question is, how will a product reviewer do this.
It's easy. Learn to write in the same language as your audience speaks. Cultivate rapport and credibility. Including specific words, a buyer uses to identify their pain points.
Not only the review sections of a site but also visit places wherever potential buyers hang out. Examine carefully how buyers in your niche describe their problems. Study how they let out their needs and desires.
Focus on exact words used repeatedly by buyers to describe a problem. More importantly, see how they'd feel if their issues were resolved? What kinds of solutions are they looking for? Make a note and refer to them while compiling a product review.
However, this may not be a full-proof method, although it will help you uncover the right language and emotions to charge your product review.
#4 Don't Try to Manipulate
Charging product reviews with emotions can sound manipulative at times. Hence, as a reviewer, you will need to maintain a decorum of high quality. To do this, reassess what you think about the product. Till here, it's okay. It's not manipulation. I would instead call it – serving your buyers.
Having said that, if you are selling unwanted products by manipulating things, then I would advise not to do it. Hiding details, facts, figures, regenerating pros, and cons and altering benefits are part of the manipulation. Hence, don't do this for a short term gain.
The second most crucial point is telling buyers how a product can change their life. There's nothing wrong with it. If a product is meant to do that, then the buyer must know it. But adding dramatic sequences and elusive details is what one must avoid doing.
Deceive is the word I will use here to point out such practices. Speaking of a product that will dramatically change a buyer's life overnight is a brutal lie. Instead, a reviewer must instate a sense of trust. Remember, you are dealing with smart buyers. Hence, exaggeration won't work. What works is being honest and talking to the point.
#5 Discuss Benefits Instead of Features
What product offers are features. What customers get are benefits.
So if you are selling a reviewing a machine, it can have many salient features. As a reviewer, don't rephrase those features again. Convert them into benefits.
As an example, in mobile phones, the N megapixel camera is a feature. The benefit is it takes stunning photos.
Every product has a feature to offer that is a benefit to the customer. As a reviewer, you put into the shoes of the customer. Not in the shoes of the maker. They see the camera from the megapixel point of view.
#6. Unbiased Review
Always try to review with only one thing in mind that is to help the reader and not make your views biased. Everything positive about a product means there is something fishy about your review. Either the writer is paid to write all good things about it or is related to the product.
Show screenshots of you using the product to let the readers know that you are reviewing products only for them. Not for making a quick buck out of it for commission.
Moreover, share the not so good aspect of the product as well. It helps readers understand what they are getting into.
#7 Answer Common FAQs
Last but the most critical aspect of any review is to help the readers get the answers to the common questions they may have for the product.
Find what users are asking about the product in forums, Quora, or Reddit about the product. Try to answer each such question in the review and help the readers.
Moreover, organize the questions with rich snippets, and Google will show your items in the search results itself.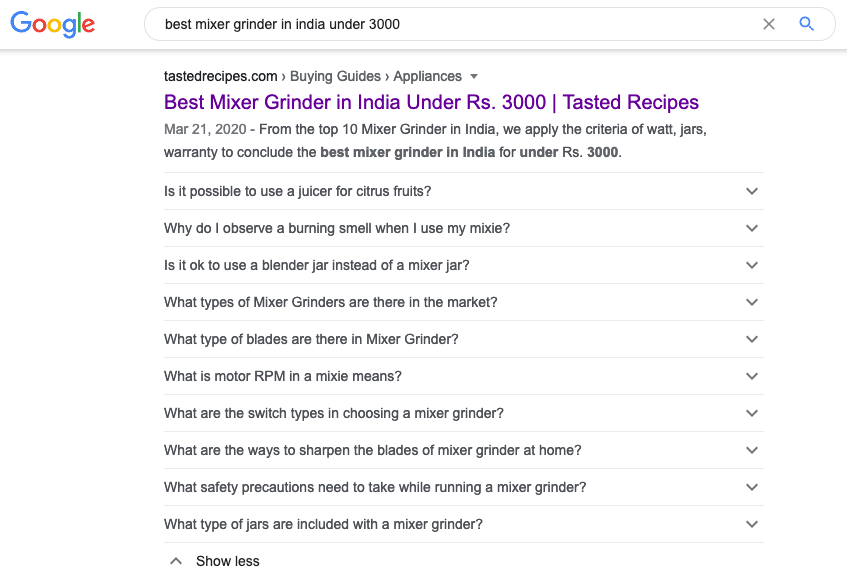 It helps the readers get instant answers to all the questions they may have before buying the product.
Conclusion
Excellent product reviews bring in good sales. But the story doesn't end there. You need to test whether or not it is unique. Share your reviews with your colleagues, family, and friends.
Distribute it on your social media channels and ask for feedback. Send it out through newsletters to the blog readers and subscribers. Follow up on the same to grab their point of view.
The central idea is to know what others genuinely think of your product reviews. Next comes the consistency. Draw a schedule to publish new reviews weekly or monthly. Stick to the plan. Writing product reviews and making a sizeable income out of it is a marathon and not a sprint.
Hence, have patience and keep doing it.