Most practical and handy book for any blogger, online advertisers, podcasters, YouTubers, entrepreneurs, digital product sellers or even for freelancers.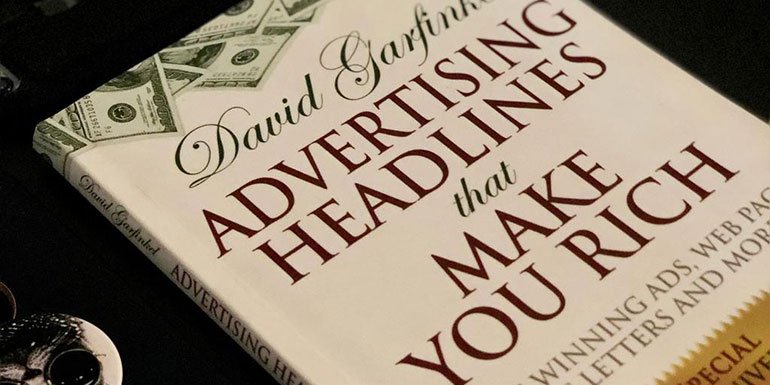 I always keep it next to my Macbook and refer to it as and when I am about to write a title for my articles. It has helped me a lot in creating headlines and titles for my blogs and social media posts. I have used this book to mix and match title ideas several times in a day and saves me a lot of time creating titles for my blog articles from scratch.
The easiest way to use this book is to read it, take ideas, blend it in your own way and then reuse it for your purpose. Again reading this book isn't going to take you long because each chapter explains how and when to use the given headline.
Because, in a print ad, 75 percent of the buying decisions are made at the headline alone – David Garfinkel
This book is a must-read for bloggers, online advertisers, podcasters, YouTubers, entrepreneurs, digital product sellers and all those who are associated with digital media and marketing. I always recommend freelancers should blog but even if you aren't blogging, it is a book to be used when writing their proposals.
Let's see, What the book holds for us:
Part I – 297 Killer headlines: Proven headlines with Ready-to-use Variations For Specific Businesses
Chapter 1 Get Rid of Your Money Problems Once and For All
Chapter 2 Who Else Wants to Look Like a Movie Star?
Chapter 3 Thousand Now Play Who Never Thought They Could
Chapter 4 Build a Body You Can Be Proud Of
Chapter 5 Give Me Five Days________And I'll Give You The Secret Of Learning Any Subject!
Chapter 6 The Lazy Man's Way to Riches
Chapter 7 Do You Make These Mistakes In English?
Chapter 8 Speak Spanish Like a Diplomat
Chapter 9 If You're Out of the Market Now, You'll Hate Yourself Later
Chapter 10 Do You Recognize the 7 Early Warning Signs of High Blood Pressure?
Chapter 11 The Most Comfortable Shoes You've Ever Worn, Or Your Money Back
Chapter 12 See How Easily You Can Learn to Dance This Way
Chapter 13 You Don't Have to Be Rich to Retire on a Guaranteed Income for Life
Chapter 14 What's New In Summer Sandwiches?
Chapter 15 10 Ways to Beat the High Cost of Living
Chapter 16 New Concept in Weight Control
Chapter 17 The Secret of Making People Like You
Chapter 18 How to Win Friends and Influence People
Chapter 19 Why Some People Almost Always Make Money in the Stock Market
Chapter 20 Five Familiar Skin Troubles_________Which Do You Want to Overcome?
Bonus #1 50 More Killer Headlines You Can Adapt For Your Business
Bonus #2 How To Develop A "Headline Consciousness" That Can Make You Millions
Part II – The Magical Power Of Headlines
Chapter 1 The Importance Of A Powerful Headline
Chapter 2 Types of Advertising Headlines That Work on the Web
Chapter 3 Where Most People Go Wrong With Headlines
Chapter 4 How Do You Know What Kind of Headline to Write?
Chapter 5 What Do Winning Headlines Look Like?
Chapter 6 Real World Examples: Headlines from Internet Marketing
Chapter 7 10 Golden Rules for Writing Powerful Headlines
Conclusion Your Next Step
Basically, the chapters in this book are the proven headlines that are explained in variations keeping in mind specific businesses and how to apply the same headline to any niche of your choice.
For example, if we take a proven headline say – "Get Rid of Your Money Problems Once and For All" then variations for specific businesses would be like:
Financial Planners – Get Rid of Your Retirement Worries Once and For All
Dentist – Get Rid of That Toothache Once and For All
Health Clubs – Get Rid of That Sluggish Feeling Once and For All
Caterers – Get Rid of Party Planning Woes Once and For All
Web Designers – Get Rid of Your Web Site Problems Once and For All
Beauty Salons – Get Rid of That Ugly Haircut Once and For All
Anti- Smoking Programs – Get Rid of That Nasty Habit Once and For All
Dry Cleaners – Get Rid of Those Stains Once and For All
Computer Instructor – Get Rid of Computer Phobia Once and For All
So, the bold phrases are business specific idea whereas the beginning and the end text remains the same in every headline. Now, this continues throughout the book giving the reader tons of ideas for framing a working title.
Apart from those headlines, there are many modified version of the best headlines like:
The Secret of Making People Like You
Modified Version – The Secret of Sleeping Well Without Drugs
Are You Ever Tongue-Tied At A Party?
Modified Version – Do You Ever "Trip OVer Your Own Tongue" During A Sales Presentation?
How To Win Friends And Influence People
Modified Version – How To Create A Website And Make Money While You Sleep
Who Else Wants A Screen Star Figure?
Modified Version – Who Else Wants "Killer Abs" With No Hard Work?
Here's A Quick Way To Break Up A Cold
Modified Version – Here's A Quick Way To Get Your Website Up And Running
Conclusion
I have changed the titles of many articles after getting the ideas from the book. As an example the Upwork 101 page you will see many titles and headings are from the book. I have also changed the subject lines of many of my email autoresponders and the open rate for each of those emails has gone up considerably.