Website ranking going down and you are not sure if it is a recent Google algorithm update? Here are some quick SEO fixes to save you.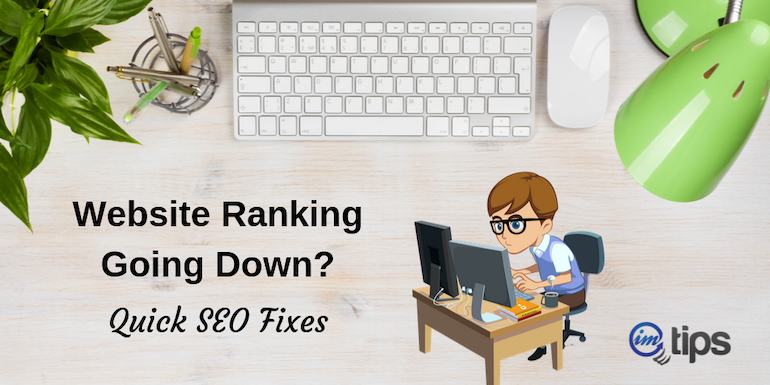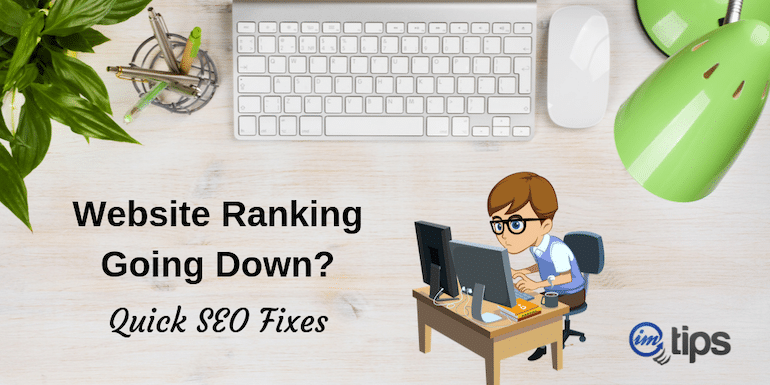 Traffic is the lifeline of an online business. Website traffic or ranking going down can be terrifying because less traffic can mean a loss of revenue. It is true for a blog or a website. So what are some of the standard quick fixes for SEO?
Let's diagnose.
Increase in Competition for Targeted Keywords
To put it differently, you are outranked by the competition.
There can be various reasons for an increase in competition, including the target for more generic keywords. So, the site may be ranking below or don't show up at all in the SERPs.
I have seen it as one of the most common reasons why any site loses a significant amount of traffic from Google.
As an example, I had an article on BizTips in 2012 for getting free Google Adwords Coupons. It ranked well, but over time, I lost the ranking because of the increase in competition. My article wasn't updated to the new process. I then removed the article as well because BizTips isn't a coupon blog.
There are numerous such keywords where I have seen good quality content, and an increase in competition leads to ranking going down.
So if your website traffic is down, the first thing to look for is who has replaced your ranking.
If they have much better content than what you are offering for the user query, it is time to update the content.
Is the competitor better at generating external links, it is time to relook at link building strategies.
If the sites are outranking you good at internal links, it may be the time to write related content to the topic and link the outranked article.
Broken Links
Broken links can damage a site/blog in two ways:
Bad user experience – A user clicks on a link and lands on an error page to never return.
Degrade SEO efforts – Broken links cut down the flow of link juice across webpages. It severely impacts your site ranking.
If you are removing some content, make sure it redirects correctly. Leaving it as not found can mean the internal links need an edit. Moreover, external links will still result in a not found page.
There are free and paid tools available to find broken links. Google search console will report errors on not found. Periodically check for broken links across webpages and redirect them. You can even take the help of Google Analytics to find broken links.
Moreover, check whether or not XML sitemaps, canonical links, and are up to date and doesn't include broken links.
Broken Redirects
A proper 301 permanent redirect from an old url to a new url will help pass on the SEO benefits of the old to the new url.
Redirect with permanent 302 temporary redirects will redirect the users from old to new URLs but will not pass on the SEO and Google benefits. Here is a redirect checker to identify redirect is 301 or 302.
Using 301 redirects, you are telling search engines that a webpage or the entire site has moved. 302 is saying the search engine it is not a content that has moved, but only users are to be redirected.
Google Search Console Errors
A sudden drop in web traffic is a strong signal of search rank going down. The reason could be fatal index & crawl errors.
Google search console is the first place to look for any increase in errors.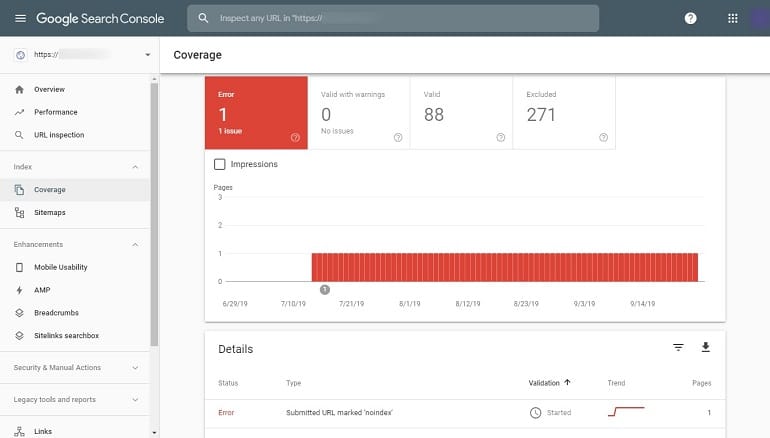 Check for any critical warnings or not. Besides, check if all the webpages are mobile-friendly, amp-friendly, etc.
See which pages Google can or can't index from your site, and why. There will be a bunch of pages that couldn't be indexed for some reason.
Fix every error. Additionally, also check if any manual actions are preventing your site from appearing in Google Search.
Changes in Google Search Algorithms
Google search algorithm is an ever-changing phenomenon. So site ranking going down is a common phenomenon. An ideal solution is to devise an effective marketing and traffic strategy around Google but not entirely on Google search traffic.
If Google is driving maximum traffic to a site, it makes sense to align content inline with Google algorithm changes. However, one should also include social media platforms to drive traffic.
Page Speed Impact
Page speed is not only an important ranking factor, but it also measures user experience. How fast a webpage load is directly related to the overall user experience.
It's a bad idea to keep a visitor waiting till a page fully loads. So, how do you fix page speed?
First, check page speed using Google's page speed insight. The tool will rank your pages on the scale of fast, slow, and medium.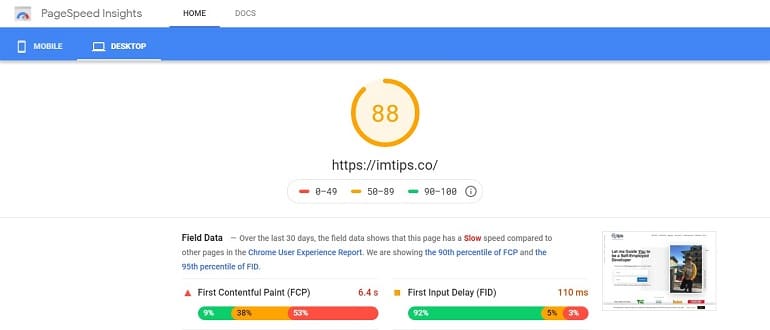 There are other tools like GTMetrix or WebPageTest.org.
One point to note about page speed analysis is, it's not always about the speed of the home page but also about the pages of the inner pages that are ranking in Google. So from time to time, analyze the internal pages and optimize them.
And if need be, add Cloudflare and CloudFront as CDN to the site to increase the site's speed.
Lost Some Links
A webmaster doing a cleanup of their site may have removed your link, which can be one a reason for website ranking going down in Google.
If it is the case, it is the right time to relook at getting more links to the site.
Technical Glitches or Server Issues
If a website ranking goes down, one common issue I encounter is a server glitch that impacts the site's ranking on Google.
The server may be down, the network where the server is can be down. Making Google see the site as not available, and ranking goes down.
There is nothing much needed to be done, but if you are experiencing hosting issues frequently, it is time to relook to move on to a better host.
Moreover, also check if you have edited robots.txt recently, which can block certain sections of the site unknowingly.
As an example, when I was Checking on-Page SEO for a client, I saw warnings about design not responsive. Everything was fine when I checked things in a browser, but Google kept reporting the issue. After digging into the matter found that they blocked the wp-includes folder of the site via robots.txt, which prevented the loading of a CSS file that was taking care of making some elements resize. Browsers were loading the CSS fine, but Google wasn't loading the CSS file because it was blocked for Google in robots.txt
Caching Issues
Every site needs caching, but it can be evil as well. As a regular browser of your website does mean elements are cached.
What if some elements are cleaned up and deleted from the server?
Because they are cached for you, you won't see them as deleted. So whenever doing a cleanup, always check the site in a private window.  It will make sure you aren't seeing images or loading JavaScript files that are deleted.
Design Changes
Website design changes are inevitable as you grow. But doing it can have an impact on the ranking and bring down the traffic. Whenever you are doing any design changes, one should always test all the essential sections of the site to see they are working as expected.
In 2014, I moved all my blogs from Thesis to Genesis. I did check all my post pages, the home page, category pages as well as search results.
What I missed is posts pages with code embeds. They were flagged in Google console, and this is when I realized some issues in them.
Here is a screenshot from my article on vBulletin optimization that had excellent traffic from Google but had an impact on mobile because the page wasn't mobile-friendly.

Once the issues were fixed, the usual traffic level resumed. But when you are making design changes, be prepared to miss something that can hit badly.
Increase in Real Bounce Rate or Increase in Bad User Experience
The real bounce rate is an indication of user experience.
Factors like unrelated content, unresponsive page, slow load time, annoying pop-ups, and pushing visitors to buy something they are not interested in can add to negative user experience and ultimately results in a high bounce rate.
Everything can add to the site's bounce rate.
And because of the high bounce rate, your website ranking goes down in SERPs.
In the situation, one needs to work on decreasing the bounce rate, and it can be as simple as removing an annoying popup.
Navigational Changes
Significant navigational changes can be potential reasons for a sudden drop in web traffic. For example, your website had a page that was ranking in search results bringing in organic traffic. Still, it also drove users to find your other category pages via a navigational link, which is now removed.
Another way to look at it is, because of the navigational link present on all pages, Google bot crawled inner pages faster and ranked them higher because of internal linking structure.
Avoid such navigational changes or if they need to be done, use the proper tracking if it is a reason for drop for the traffic.
Internal Links Removal
Search engines evaluate site pages based on how well they are linked with each other. It is a way to pass the importance of the other link.
As a result, the page may get the much-needed boost in search ranks giving organic traffic.
When the website ranking has gone down, see if there is any mishap in the internal links.
Removal of internal link can impacts ranking.
Meta Description / Keywords Changes
Did you change the meta description or meta tags of any pages recently? I know it doesn't have a significant impact on the site's ranking, but what it may impact is the snippet Google shows.
The earlier description may not be SEO friendly, but it may be enticing the user to click the result, but the current one may be more optimized, but it doesn't result in a click anymore from users.
At BizTips, I removed tags entirely because I thought they don't help readers. They are mainly for search engines to add meta keywords. So I removed them, but I kept a keen eye on the search engine traffic. As expected, there was no impact on traffic.
So ideally, meta description and keyword should not have an impact directly, but still, if the website ranking is going down, it may be worth reverting as well.
Duplicate Content
You had a content ranking but created a new content that is similar to the one ranking. So, now both compete, and neither of them ranks.
As the site grows, it is quite likely you will have a lot of content which can be similar. So one has to make sure one keeps merging such content and does a 301 permanent redirect.
As an example, I had an article on WordPress Usability Tweaks (https://biztips.co/wordpress-usability-tweaks.html), but when I upgraded my WordPress SEO Checklist article, I redirected the usability tweaks to the SEO article.