LinkedIn profiles are search engine friendly but to get the most out of a LinkedIn profile one can SEO a little more for Google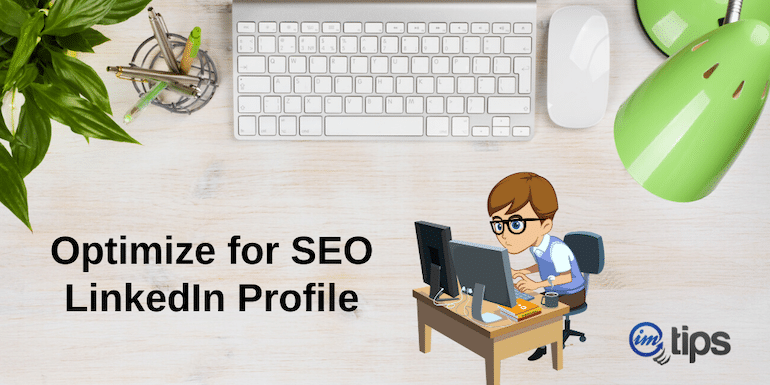 As a freelancer, when you share a proposal on Upwork, clients often search to know more about you. Optimizing the LinkedIn profile for Google and SEO for your name can help clients know more about you.
Why Should Freelancers Optimize LinkedIn for Google SEO?
If you don't have a personal blog or only has a company website, the not so formal sites like Facebook and twitter can outrank the LinkedIn profile.
The popularity of LinkedIn lies in the fact that its profile can act as a CV. People can endorse your skills, and that can help clients get to know more about you and your expertise. One can't say the same thing about Facebook or Twitter.
Even when I have the blogs, the LinkedIn profile ranks just after the blog and images.
So, when clients are looking for me online after I send them a proposal on Upwork, they can know about my experience, education, skills, and other details from LinkedIn as well.
Moreover, when they can see all the details about me like:
Education
Skills
Endorsements
Work Experience
Recommendations
Accomplishments
It automatically builds the extra level of trust factor about my experience and expertise.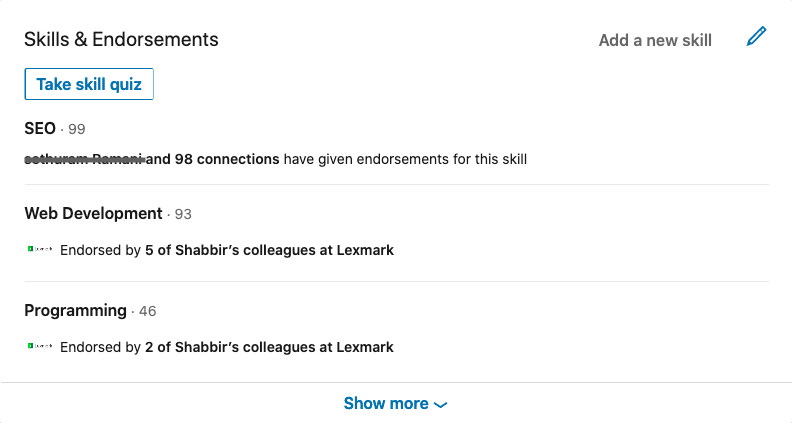 LinkedIn is a social media platform with a focus on business and job profile. That's the reason behind the popularity of LinkedIn.
Surprisingly, more than 90% of recruiters use LinkedIn to hire potential candidates. The LinkedIn trust factor is unmatched. On the other hand, 60% of candidates use LinkedIn as their source of job search compared to other job-hunting sites.
Also read:
WordPress SEO Checklist for Beginners. 35 SEO Tips for WordPress to help improve your WordPress SEO and get more organic traffic from Google.
How to SEO a LinkedIn Profile
The question is, how do you get on top of all these search results? Here are some proven SEO tips to show up your LinkedIn profile in Google SERPs.
1. Complete the Profile
Incomplete and unfurnished information will take you nowhere. Hence, filling out every single detail in your profile must be a priority. Using your full name without initials as the relevant keywords.
This way, people will easily land on your page when they trigger desired search terms. Besides, make sure you don't stuff additional search terms in the pursuit of ranking higher at once.
That's not how LinkedIn or any other platform works. Not only keywords, but also make sure you don't stuff irrelevant info in your profile. Uninteresting details are major setbacks and will tempt people to avoid you when online.
2. Claim a Custom LinkedIn URL
Custom URLs can be a great help while doing LinkedIn SEO. You might have come across custom URLs on other social media channels. It's the same here on LinkedIn too.
Edit your profile and give it a suitable name that's easy to remember. The best practice is to use the full name in the URL. Share your custom LinkedIn URL on job sites and professional resume.
Spare the custom URL space from using keywords. Do not add the date of birth, qualification, or other details, making an URL look ugly.
3. Use Relevant Job Titles
Job titles play an important role as they are part of the page title, especially the current job.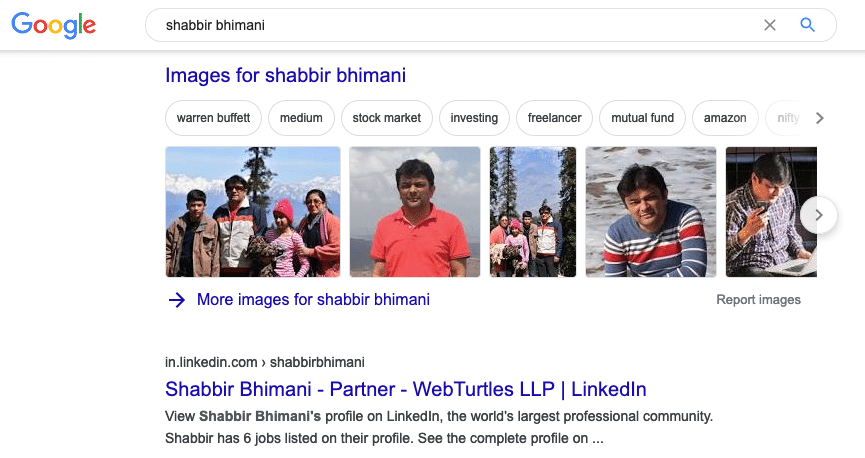 As you can see after my name in Google search, my current position, which is "Partner" and the current company, which is WebTurtles LLP, are all part of the title.
BTW if you are not sure what should be your job title in your own company, refer to my article here.
Having the right job title can help the client as it becomes the first point of interaction.
Moreover, there is an option for the headline, which one can optimize as well. However, I have it the same as my current position for better optimization of my LinkedIn profile for my name along with my company name like "Shabbir Bhimani from WebTurtles" etc.
4. Expand Your Network
Unlike Facebook, LinkedIn is rich in connections. In other words, your LinkedIn friend network is way more sensible than your FB friend list.
The word network means friends, colleagues, and business contacts.
The LinkedIn profile shows your connections. It means widening your contacts will help you find more people and their connections as well.
The bottom line is to connect with more people aggressively. After all, it's a social networking site.
5. Join Relevant Groups
Being a part of online groups helps an individual at large. LinkedIn shows a list of groups an individual is a part of. It speaks a lot about you.
LinkedIn groups are full of experts and professionals in distinct subjects. They help others and take an active part in group interactions. All you have to do is take active participation in such groups.
Genuinely offer solutions to others and spark intellectual conversations. Keep your point in front of others, show subject expertise, answer their questions, share your experience and knowledge.
6. Upload A Professional Headshot
Give your online presence a visual identity. Upload an image and let others know whom they are interacting with. Like I said above, do not leave profile details unfurnished, and profile pic is one of them.
Have a consistent headshot in your LinkedIn profile not for boosting in Google SEO, but to make sure the client searching for you can recognize it is the profile of the same person.
Avoid using glamor images unless your category permits you to do so. A picture of hanging out with friends is a big NO-NO. LinkedIn is a professional platform. Clients are looking for candidates and not party animals. Hence, upload a professional photograph.
However, having the same profile picture on LinkedIn and Upwork is recommended.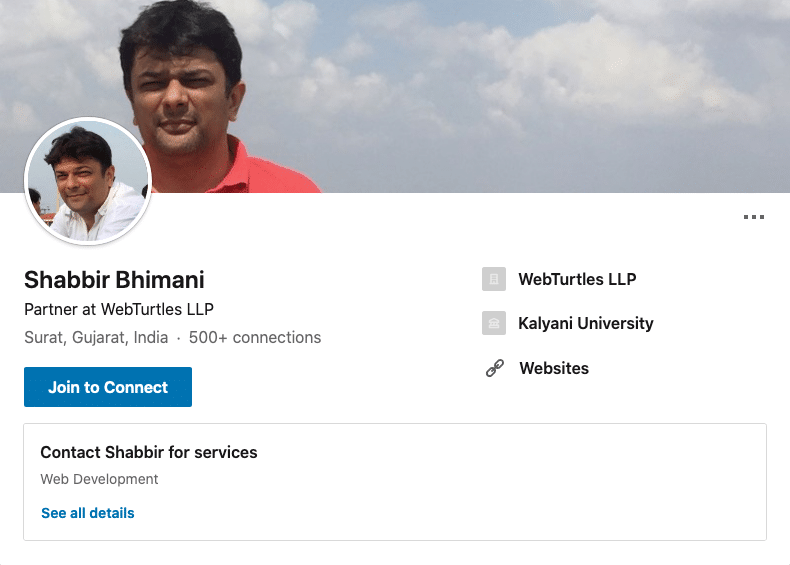 If you don't have the same, at least have the one that looks of the same person. What I mean is, upload a recent picture and not an old one in the tie just to make it look professional.
Usually, profiles with recent images are much better off. A best practice is to use a clear picture without fancy backgrounds, where people can see your face.
Moreover, on LinkedIn, you also have an option for the cover photo. Ideally, I like to keep it a personal picture to build a brand and avoid images from Facebook.
7. Add Job Details
Job details are the next opportunity to fine-tune within the LinkedIn profile to not only better SEO but help clients build confidence to hire you.
Take the job details seriously and fill in the most accurate information.
Clients going through your job history won't read everything. They will scan the essential details first. If these details attract them, they will read further.
Use bullet points to highlight your role as and when you can. At least they are better than a long boring thousand words paragraph. Also, cut the crap, write short paragraphs having 3 to 5 sentences max.
Once you craft the job details, do a merciless revision, and be brave to delete extra fluff.
8. LinkedIn Recommendations & Endorsements
LinkedIn recommendations and endorsements speak with people about your expertise in particular subjects. Kind of certification, but a social certification where people have endorsed what you know.
Our friends, colleagues, and business contacts can recommend you for specific projects. Additionally, those who have worked with you can endorse your skills required for the project.
LinkedIn profile with better recommendations and endorsements are likely to rank higher in LinkedIn search results as well. I like this LinkedIn feature.
9. Share and Interact on LinkedIn
As a blogger, I come across a lot of content related to blogging. So my activity has to be related to what I do.
Similarly, a PHP developer will have activity related to his line of work.

Sharing your content on Linked with your connections has immense benefits. It not only drives users to your profile but also establishes you as an authoritative figure in your niche. Sharing content builds credibility amongst your connections and help better your LinkedIn profile for SEO and otherwise.
10. Link Your LinkedIn Profile From Everywhere
Ruthlessly self-promote the LinkedIn profile URL everywhere. Place it on your business card, website, resume, and email signature.
In short, put it everywhere and promote it shamelessly. Be confident while sharing it without any doubts.
However, the best is to have it on your website as that will help build links to your LinkedIn profile and ultimately help with SEO.
Even use other social media channels to promote your LinkedIn URL.