Do you wonder how to make money with PHP programming? Here are 8 creative ways for a PHP developer to make decent amount of money programming in PHP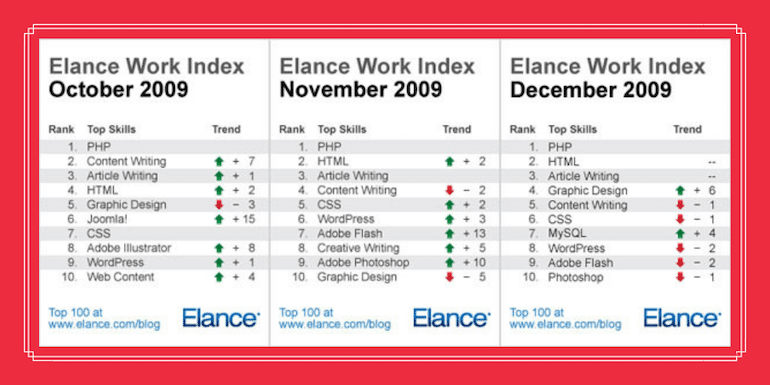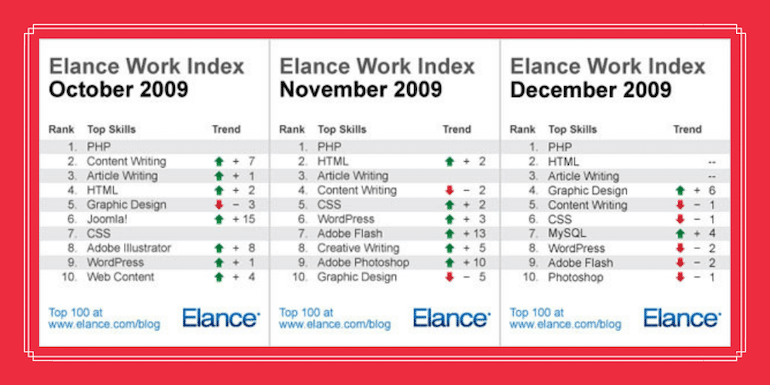 PHP, if not the best, is one of the best career options for developers to consider and make a lot of money along the way as well. Search top job sites, and you will find more PHP openings than any other competing technologies.
The results are the same on freelancing sites as well. Even after so many new upcoming fast-growing web technologies, there is no slowdown in the growth of PHP.
PHP was the hottest skill in 2009 on Elance Work Index.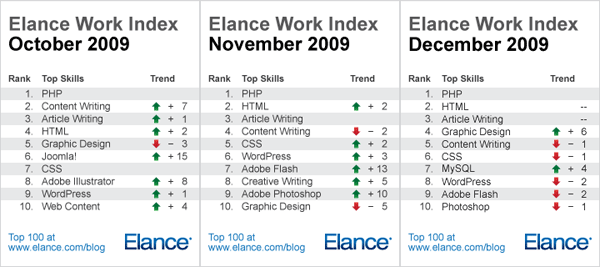 And it continues to dominate and grow in the competitive landscape of the web programming world even after a decade.
So here are some of the key ways to make money with PHP programming.
1. Get a Job in PHP
WordPress recently crossed the mark of powering 33% of the top websites. It increased from 30% a few years back. Only one CMS powering 33% of all sites is too much.
WordPress is in PHP. So PHP is also increasing its foothold on the web along with WordPress.
As a developer, one shouldn't ignore PHP.
If you are into any other programming language, there is scope to be a PHP developer.
Try working your way into the basics of PHP on weekends and work out a plan to get into a job in PHP. Again the salary may take a step backward when you move from being experienced in some technology to a fresher in PHP, but it will be a good step in your career for sure.
2. Develop CMS Plugins (Or Themes)
There are many great CMS in PHP. Needless to say, WordPress.
But there is life beyond WordPress as well. CMSes like Drupal, Joomla, XenForo, OpenCart, etc. choose one and add some extra functionality into the CMS with a plugin.
One can directly sell these plugins or offer as freemium where a limited functionally is free and pay for more. One can also provide the complete plugin as free to demonstrate the expertise and create a sample for the client's works.
If you aren't into development but a designer, develop themes for the CMS. Offer it as premium or offer them as free and charge for customization. The option to provide a free version as a sample for freelancing client work is also open.
3. Develop Functionalities in PHP Framework
PHP is not only limited to CMSes, but there are many great PHP frameworks as well.
Choose any PHP framework and build some scripts for it. Depending on its usability, offer it as free, freemium, or premium.
4. Blog about PHP
If you are working in PHP, or even trying to learn PHP, I am sure many others will wish to embark with you on the journey of learning PHP.
Share your journey of being a PHP developer on a blog or share your experience in PHP.
I know there are already many PHP blogs available, but there isn't anyone like you. Find your unique way of letting people follow what you are learning.
Here is my step by step guide to starting a programming blog in WordPress.
5. Teaching PHP (Offline or Online)
If you like to interact with students, consider teaching PHP.,
One can start a local coaching institute or even shooting the complete course and sell it on Udemy.
If you aren't sure about selling a course as yet, release a few short videos on YouTube to see how they perform.
I know there are tutorials available, but the Internet will always welcome your style of teaching your student.
6. Freelancing in PHP
Working on online freelancing sites like Upwork can help you make money working in PHP.
In a strict sense, I have been doing PHP development, but then I generally work in CMSes like vBulletin, XenForo, and WordPress only and not directly in Raw PHP or PHP Frameworks.
One can consider going via a PHP CMS, PHP Framework, or direct raw PHP. There is scope for everybody. Just remember the more niche you choose to be, the lesser competitive it will be. Everyone can be a PHP developer, but there are few XenForo or OpenCart Expert.
Here is my complete guide for you to get started on Upwork or finding clients and getting paid better.
7. Build a Website
Options are limitless for developers. One can develop a unique kind of website in PHP.
Just for the sake of giving examples, here are some of them.
Classifieds for your locality.
Job sites for employers.
Auction Marketplace
Niche Search Engine
Forex trading sites
Gaming sites
Anything that you find useful and not already available is an excellent point to start.
8. Participate in PHP Contests
Last but by no means the least is to participate in code contest to win a cash prize.
Yes, it is tough to find contests regularly, but if you win a contest, it can help you in many ways in your job, as a freelancer, as a blog.
Look for PHP Contests on Google, and I am sure you will find some contest worth participating. Apart from online competition, consider being a member of the local PHP developer groups in your locality.
Participate in Google Summer of Code. It is still open, and one can do it from the comfort of your home.