The book shares 6 weapons of influence aka Reciprocation, Commitment and Consistency, Social Proof, Liking, Authority, Scarcity and how it is impossible for anybody to reject an offer when under any one of such influence.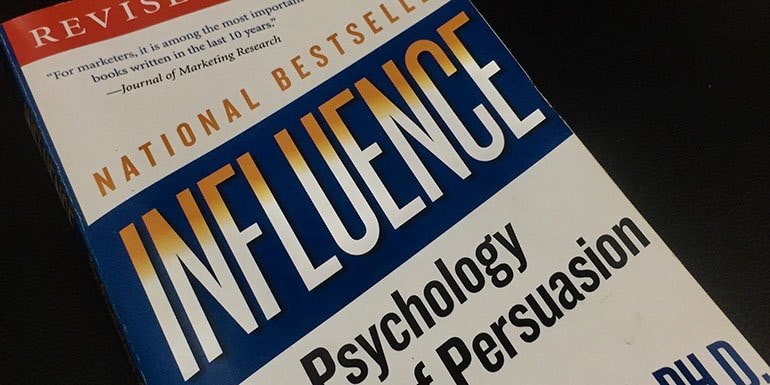 Rober B Cialdini, the author of the book has described the six weapons of influence each as a chapter in the book.
They are such a powerful tool for influence; it is not difficult but rather impossible for anybody to say no to an offer. Bloggers and freelancers can use each such weapon of influence as a success mantra.
The author has shared numerous examples for each of the six weapons of influence, and I will try to share an excerpt from each of the chapters.
1. Reciprocation: The Old Give and Take … and Take
The process of giving is such a powerful tool of reciprocation that it enforces the receiver in an uninvited debt and one can trigger rather unfair exchanges.
The author shares many examples of reciprocation and how just giving a flower before asking a favor yielded great results.
2. Commitment and Consistency: Hobgoblins of the Mind
I will try to explain one technique by the author in slightly more detail. It is called the foot-in-the-door method, and I have been a victim of it in the past.
First, make a little request which is more natural to adhere and then gain final agreement with the more significant request.
Let me share an example from the book to understand it better.
Jonathan Freedman and Scott Fraser published a set of data. They reported the result of an experiment in which a researcher acting as a volunteer goes door to door in a residential neighbourhood making a request to the home owners. The homeowners were asked to allow a public service billboard to be installed on their front lawns. To get an idea of how the billboard will look, they share a photograph depicting an attractive house, the view of which was almost completely obscured by a very large and poortly lettered sign "DRIVE CAREFULLY".

As expected majority of the people rejected the offer but one small group of people accepted the offer. The prime reason for acceptance of the offer has to what happended to them about two weeks earlier. They had made a small commitment to driver safety. A different volunteer worker had come to their doors and asked them to accept and display a little three-inch-square sign that read "BE A SAFE DRIVER". It was a small request so every one agreed but this small request brought enormous results for the larger request.
I was a victim of one such small commitment. In 2012ish I wanted to buy an office space. I had 25% of the total amount needed to purchase the office and rest I was looking for a loan. I finalized the office space from a reputed builder with a clear intention known to the reseller, the builder as well as the broker, I will be going for a loan.
For some reason, the approval for the loan didn't come through for issues with some paperwork for the property and builder was at fault. I could have backed off from the deal, but as I had committed, I purchased the office without the loan and adjusting the amount by selling off my other property.
The initial commitment was so powerful I could back off.
Further Reading: Importance of Consistency in Blogging – How to be Consistent?
3. Social Proof: Truths Are Us
Every one of us believes "An action is correct if I am not the only one doing it."  Social proof makes us believe it works.
The author shares a very astonishing and disturbing example. A murderer kills a lady openly on the road, and many families witnessed it. No one took the pain to pick up the phone and call the police.
Everyone thought someone else would do it and in the interim no one did it. If someone would have seen others doing it, they may have followed but not otherwise. The author terms it as "pluralistic ignorance."
There were many such experiments to conclude in emergency people tend to behave in much the same way.
4. Liking: The Friendly Thief
Physical appearance is part of being likable, and this is one of the reasons why we have good looking models in car ads. The car looks attractive because of a sexy model standing around it.
We like things which are similar to us. We want people using things that we use or even who dress as we do.
There are numerous other ways to be likable, and one of them is compliments. People like compliments and those who share compliments are more likable than those who don't. One of the reasons why my Upwork proposal template works can be, it starts with a compliment and a thank note.
5. Authority: Directed Defence
We all listen to authority. Words from authoritative people are so influential that people are ready to go far beyond limits.
The author shares many examples, but one of them about doctors is worth sharing here.
We consider doctors as expert and authoritative in their profession. Those who don't follow any health advice will seldom neglect a recommendation from a doctor. It is one of the reasons we see doctors in ads of toothpaste. Though we know for sure, he is not a real doctor but only an actor still we consider the statements in such ads from an authority.
6. Scarcity: The Rule of the Few
Everyone like to own things they think may not be available shortly. So we often see terms like "LIMITED STOCK" or "OFFER VALID TILL STOCK LASTS" so usually in mega stores or online stores.
Scarcity clubbed with social proof of being sold out in the past can also mean others are using it. So it has to be a good offer or the right product.
Even the best in the business can make a wrong decision when they are in an auction. It is one such place where the auction of products can become scarce if there are too many takers for it. It can be a product people "wanted it" but now more people "want to have it."
Final Thoughts
It is one book that I have already read it twice. A must-read book for everyone especially for freelancers and bloggers.
Bloggers reciprocate with a lot of valuable content, be likable by its readers and build an authority aura with social proof, etc.
Similarly for freelancer reciprocity to clients by over delivering, be likable, so the client enjoys working with you. Have the expertise to be authoritative in making suggestions.