No matter where you are on this planet, entrepreneurship always has challenges but today I will share how they differ in India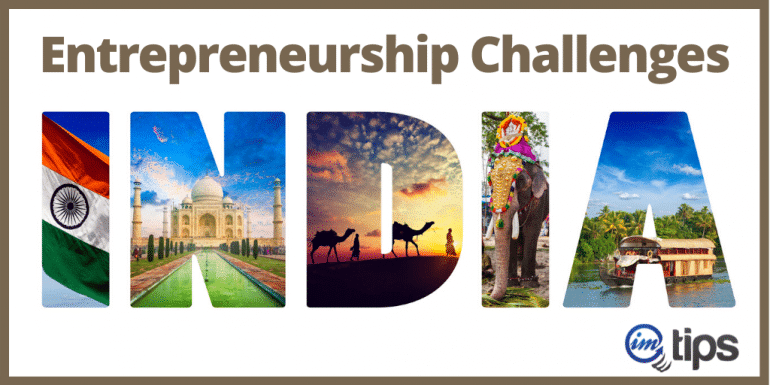 No matter where you are on this planet, entrepreneurship is always challenging. However, today I will be sharing the challenges for entrepreneurship, and they are different in India.
1. Family Challenges
Being in Kolkata (West Bengal) for 18 years, I know that Bengali people, in general, are more focused on doing a job compared to entrepreneurship.
When I talk to them about entrepreneurship at the time, they take me lightly because they think – being from non-Bengali and especially from the Gujarat family means entrepreneurship and business are in my genes.
At times I also get an answer that it is much easier to be an entrepreneur with my background. It may sound true from outside, but believe me, it is even tougher for a businessman's son to convince his Dad he wants to do something on his own instead of joining Dad's business.
In other words, it is much more challenging to become an entrepreneur with the business culture around.
For Bengali's, the challenge is convincing your parents – why you are not willing to do a job and go for entrepreneurship. However, for Gujarati's and Marwari's family, it is not only difficult to convince to opt for entrepreneurship but then very much more difficult. Moreover, it is not a one-time convincing job but an overgoing comparison.
Convincing to opt for business over a job is easy for Gujarati's, but then for the business you love is very, very difficult. The first thing they will compare is – Will you make more money in the business of your choice or as a successor in the family business. The point of discussion is you can generate more cash with your passion than doing what your Dad is doing.
The challenges are different, but there are challenges. We aren't born with a silver spoon or rather an entrepreneurship spoon in our mouth.
2. Social Challenges
Family challenges are always at the top because that is what matters the most. However, often the social problems even precede family challenges.
Let us say you and your friend graduated at the same time. You opted for entrepreneurship, and your friend opted for a job. He now has a flat, car, and what not because he could quickly get those with a bank loan. You still have nothing much to show off.
Believe me; this is the toughest challenge to overcome.
You should understand is that your friend opted for Udhar Ki Zindagi i.e., life on loan.
Moreover, marriage is the next big thing in India, and it is one of the most challenging challenges for entrepreneurs and entrepreneurship.
The person doing a job is much better off for marriage in India. However, it is changing now at a slow pace.
3. Technological Challenges
Indian education system lags too much from the industry for the job as a whole. However, it lags, even more when it comes to online entrepreneurship, which is one of the significant challenges in India.
I am yet to see a course in India which talks about Search Engine Marketing, Email Marketing, Affiliate marketing, or even how to start a blog. However, some curriculums to have digital marketing courses. However, they only deal with how to create an FB page and invite friends. Nothing much beyond that point.
I remember when I went to give a digital marketing industrial training in an engineering college, every student had one question, which is can you show us how to host a website. Imagine a computer science engineer with four years of engineering education who doesn't know how to host a website.
What this does is makes entrepreneurs life that much more difficult on the technology front – What technology will be ideal and how to use the technology effectively?
So for those who want to opt for entrepreneurship in India, they are on their own to learn everything and then implement.
4. Financial Challenges
Financial challenges are a lot different in India, especially for online entrepreneurs.
When you start as an entrepreneur, you don't opt for venture funding but try to go with financing from small to medium business people. Many such nontechnical business people don't understand the online business models as a whole. So getting an initial business funding from them becomes challenging.
Like for example, if you wish to start a YouTube channel, they don't understand the revenue from ads or brand deals. If you don't sell anything, they don't consider it as a business.
The other option you can think of is a loan. However, it is not at all an option in India for new online entrepreneurs. The reason I say that is because for software and online business unless you are into business for five years, you cannot apply for a bank loan.
5. Policy Challenges
The government is always at the forefront for more legal and paperwork. It makes like for Small and Medium Businesses tough.
I don't know why Indian Govt is taking so many significant steps against small businesses. It looks like Govt doesn't believe that small businesses can change the face of the Indian economy on a large scale, which is not at all true.
As an example, PayPal balance can't be used for online payment. I am not sure why, but we have such a policy in India. What it means is making a PayPal payment is now 10% to 15% costlier. It makes the life of an online entrepreneur so much more challenging.
So when you are receiving a payment, you pay the fees. Then the amount is withdrawn to the bank at lower forex rates. Then when trying to send payment, you have to use a credit card. So we pay credit card fees, higher forex rates.
Also read:
Limitations of PayPal India are: can't accept personal payments, can't use PayPal balance, can't send payment to other Indian PayPal account
6. Team-ing Challenges
Indian's and especially people in Kolkata are more inclined towards jobs in big companies than towards working in small start-ups.
You can have the hardest time finding the right team of people to get yourself moving. I always had (and have) this problem to find the right balance of people to work with me.
However, as I moved over to Surat, it is more accessible to team-up. ExcelDataPro is one such example where I have teamed up with my school friend Fahim, and we are doing good.
7. Motivation and dedication
Self Motivation is one of the biggest entrepreneurship challenges, irrespective of being in India. However, I think I should include it in my list of problems, which is to keep yourself motivated for what you enjoy doing.
At times we judge entrepreneurs by the amount of money they make. If they don't make piles of cash, people tend to look at them as losers or insanely mad. People don't understand, or instead, they don't want to realize that there are phases in entrepreneurship. It is the toughest part in India to let people understand that though the business is not generating cash, but is doing good.
So in such times, it is tough to get the motivation and dedication going.
When I left my job a couple of years ago, I opted for my earnings to go down by almost five times. 40k to 8k. Now I make more than some of my colleagues who are still very close to what they were making.
You should be ready to take one step back to leap forward. Everything should not be judged by its capacity to generate cash.