Can a developer work in the same technology for a very long time be creative? If yes then how can one be a creative development freelancer?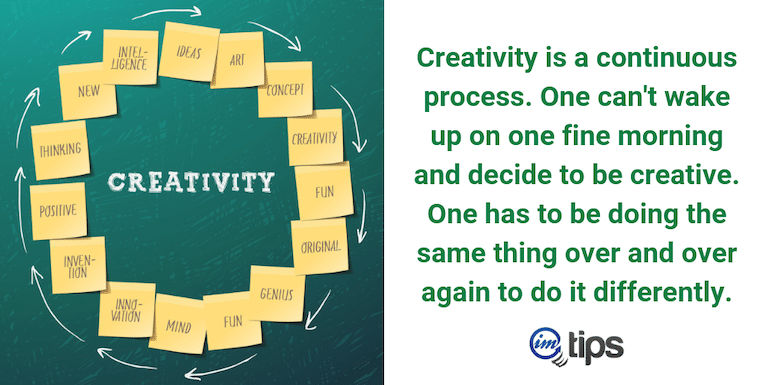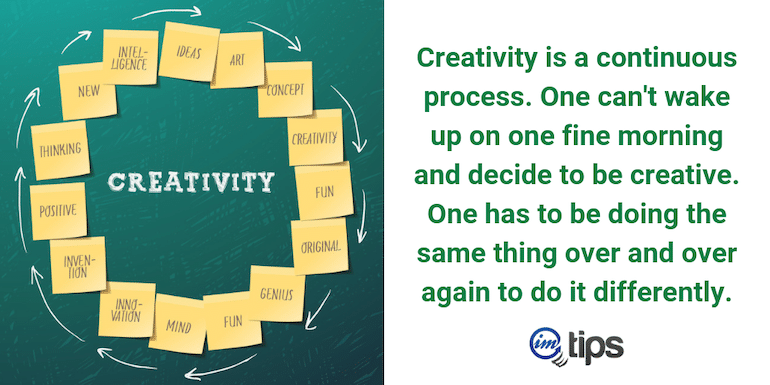 It is a common myth that freelancers can't be creative in freelancing as they do the same thing the same way as he/she has always been doing earlier.
The myth arises because it is the wrong concept of creativity in the first place.
The Concept of Creativity
Creativity doesn't mean doing the same thing differently or doing different things altogether.
The concept of creativity includes intelligence, intense interest, knowledge, original ideas, creative instinct, and persistence.
A freelancer can manifest creativity in distinct areas of life and work at the same time. Doing so one can come across and develop "everyday creativity" to a greater extent.
As an example, if a man goes for a morning walk daily – can he be creative in it?
The answer is yes.
He has an option to be creative at:
Time of the walk as well as the amount of time.
The path he takes while walking.
Walking and running a combination that suits his body.
Walk indoor or outdoor.
So on and so forth.
As he continuously does the same thing, he learns a lot more ways to walk and be more creative in it.
So creativity doesn't only mean to re-invent the way people walk in the morning.
Similarly, to excel in everyday creativity, a freelancer needs to level up to a degree of originality in routine work. This regular work could be anything between writing, designing, coding, or else.
Working as a freelancer, determination and highly distracting environment play a significant role. And in the middle of all these one has to achieve everyday creativity.
Among different definitions of creativity, I have a few words to say about it.
So What is Creativity?
Creativity is a continuous phenomenon of forming something new and valuable. The created item can be a vague idea, a programming code, a musical composition, or even a joke.
Altogether it can be a physical object like a new invention or a painting.
Now there are a couple of things:
Being creative in daily routine as a freelancer
Application of creative resources
The former one can be done using consistent self-training and learning process. For example, fostering creativity in everyday work is to acknowledge the fact it can be done differently and creatively.
While the next one is done to improve the effectiveness of the work. Using innovative tools, techniques and tricks to get the same thing done differently is the application of creative resources.
Also read:
How to start freelancing right now - The steps I followed amid the 2008 financial crisis to quit my high paying MNC job as a developer
Ways to be Creative in Freelancing?
Here are a few steps to be a creative freelancer at work:
1. Approach Differently
To be creative in freelancing, one needs to remember that every single job is being done can be done in a better way.
Everything gets replaced with something better over time. The key is to remind yourself the way you are doing a specific task is temporary, and you can always find a better way to do it.
For example, Music. Back in the old times, we used to listen to music only in a live performance. Then on records, cassettes followed by music. Nowadays we hear it on our smartphones using music apps.
We fostered music in modern times using creative applications and technology. In short, every single job or task you do, be it a blog post, a piece of code, logo. It can be crafted differently. All you have to be doing is be open to accepting new.
2. Open to Brainstorming
When I write a blog post for imtips, I hustle up many variations for the blog title. Without any set format, I pen down every possible title without overthinking and caring how stupid it is.
It happens that I start with an X title and change it to Y in the mid and drawdown to Z when I finish. It doesn't end here.
I don't hamper the process. The above-mentioned is a resourceful technique to generate a lot of title variations. In this process, the final result will be a better one than the original one.
As such for this blog, in particular, the original title was What is creativity, then it boiled down to How to be creative at freelance work? Then How to be a creative freelancer? But as I completed the article, it was all more relevant to developers.
Continuous brainstorming can lead to better ideas.
3. Accept the Process of Creative Thinking
A thoughtful solo thinking session or doing it with a team can produce great ideas. It possibly holds one to look at things differently often knows as out-of-box.
For example, you created a new code that has increased the efficiency of the client's site.
As of yesterday one of my client's sites was hit significantly by Google update. He wasn't sure what he wants, but he wanted the page speed score to be in the green for mobile and desktop.
It is the same process of optimizing the JavaScript's, CSS and images but this is when I realized if you add a @import statement in a CSS file, it is bad for the speed. Copying the CSS from the import file and Google page speed improves the score.
Creative thinking process for a developer freelancer involves:
Analysis: Before thinking about creativity one needs to understand what it means. To do this one has to examine carefully. It could be a piece of content, a set of data, an equation or a marketing plan.
Open-minded: One has to think about doing things in a way no one has ever considered doing it. To do this, you need to set aside all the assumptions and look at it with an entirely new perspective.
Problem-solving: A freelancer won't get hired because he/she is creative. A client needs someone who can solve their problems or an important work-related issue.
Being organized: Things turn out to be a bit messy while brainstorming a new idea. But still, all those ideas need to hold in a way someone can understand and follow through.
Effective communication: Creative thoughts can be wired only through effective communication. Being a freelancer, the client will appreciate the creative solution only when you present effectively.
So being a creative freelancer is very important, but it also means, you can't just be doing the creativity all the time. You have to be doing the basic as well. Like in my case, I had to do the basic stuff done to realize @import statements are bad for site speed.
Read Top 10 Qualities Of Highly Successful Development Freelancers.
4. Continuous Research
What other freelancers do in the same niche to tackle challenges that you are facing? How do they do in coding, marketing or SEO industry? What do freelancers like you do in Germany, Shanghai or different parts of the world?
Freelancing is remote. It makes one feel cut off from the rest of the world. For example, you are coding in X language and meanwhile, Y has taken up the world. How do you come to know? A simple way is to be in constant touch with industry news and advances.
Do continuous research and read. I came across a Ted talk where the speaker said If you want to make money investing read books on investment. If you want to be rich, read books about how to make money. The same principle applies here.
Read, research and implement ideas to apply them in a freelancing career.
5. Understand the Problem to Provide Creative Solution
Sometimes you need to dig deeper to find out what your customers need.
Before concluding a creative solution, a freelancer must understand the issue. Get to the core and then devise an out-of-box solution. Let's understand it with a story.
A man walks into a hardware store to buy a hammer. To his luck, they were sold out. The shopkeeper asked, Why do you need the hammer?
The man looked at him in awe. He replied, of course, to hammer in some nails. What else am I supposed to do with the hammer?
The shopkeeper pushed the young man with another question. What exactly are you trying to fix by hammering nails?
The man replied, a bookshelf.
That's great said the shopkeeper. After a little pause, he replied, I have something that can help you. Take a look. The solution was nail-free wall glue and hanging bookshelves.
Either one could be useful! The point is the shopkeeper first understood the problem and devised a better solution instead of merely letting the young man walk away.
Read 7 Key Non-Technical Skills Needed For A Developer Freelancer.
6. Don't Do What Romans Did
To lead a creative path we must lose our the fear of being wrong.
Fear and anxiety can kill creativity.
It will usually end up making only the necessary minimum. Because doing something creative is too dangerous then.
In this way, we trap ourselves into boundaries. We limit ourselves from taking the other way around.
So What Did Romans Do?
For centuries, Romans were the mightiest warriors. They were the finest navigators since the Greeks. Neither land nor water, not even the gods could inspire fear in the Romans. Their empire spread from Britain, all across Europe to Jerusalem.
Although all of Britain was under their control, the land of Hibernia (now Ireland) was out of their reach. This fertile land was sure of great interest to the Roman empire. But no Roman ever set foot on that land.
They never conquered Ireland because they thought the world was flat. The Romans believed that Ireland is on the edge of the world. And they would fall off the edge. Pretty amazing!
Moreover, the creativity of putting sea monsters, dragons and serpents in their maps by their cartographers reinstated the deepest fear to not voyage between Ireland & England.
Fear of never returning, falling from the edge, and imaginary creatures bared them from conquering Ireland. Succumbing to one's fear will lead to failure.
Read How to Overcome The Fear of Getting Started As Freelancer?
Final Thoughts
I have come across freelancers who frighten to try new things. The truth is we desperately need creative thinking in life & workplaces both. Start with you!