Read how to resolve queries, create tickets, track progress & reopen resolved tickets if unsatisfied using Flipkart seller support.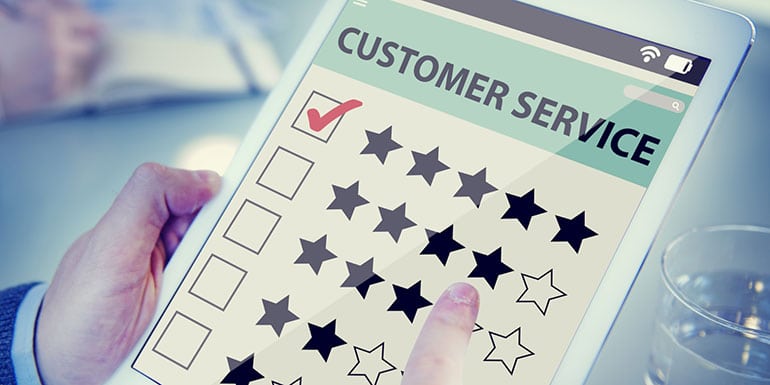 Flipkart seller support is where sellers can ask for technical assistance from experts. A seller is likely to contact the support team to resolve issues quickly.
But how do you contact the Flipkart support team when you need it? What questions should you ask to resolve the query? And how will you make sure the problem doesn't happen again?
Flipkart has integrated a robust support platform to solve seller's queries efficiently. However, there are no contact details visible on the Flipkart seller dashboard. Additionally, there's no facility to speak directly with the seller support executive. It works the other way round.
Flipkart marketplace uses the callback system to get in touch with the seller or the one who raised the query.
So, let's look into it.
Also read:
Easy to follow step by step guide on Flipkart seller registration process to get Flipkart's seller account from onboarding to verified.
Flipkart Seller Support: Things Seller Needs to know
Log into your Flipkart seller account. On the top right corner click those three dots and thereafter click contact seller support link. Besides, you can access the support panel using the help sign next to the chat option.

As a result, you will be redirected to the ask for assistance page. This will bring down you to the basic seller support interface. Here, a seller can get in touch with the support team.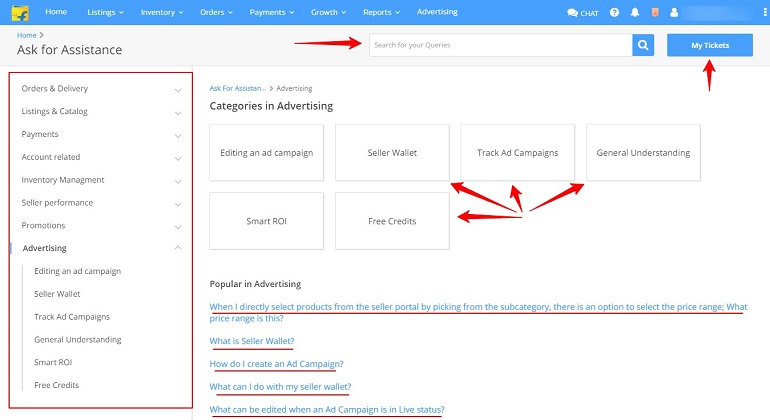 Basic lingos of the Flipkart seller support system
Issues raised by sellers are stored in the form of a ticket. They can be accessed under my tickets option. On the left-hand side, there's a category panel. These categories further hold sub-categories with popular topics.
In addition, you can search for topics closely related to your problems in the search bar. Likewise, the mid-region has topics displayed in the form of links. Kinda a card system. You click the card and it takes you to the relevant topic page.
This way the system can track the path of the query. More importantly, the category and sub-category tier system help a seller connect with the exact department or expert.
Apart from the hierarchical card system, there are questions related to the topics on every page. These are FAQs. You click them and get quick solutions. See the below image.

In general, these answers are very brief and sometimes they may not even address the problems correctly. In that case, you will have to create a seller support ticket.
How to create a seller support ticket?
Creating a seller support ticket is a breeze in Flipkart. Click the Create a ticket button as shown in the above image, fill-up the form and submit. Wait for the support team to process your ticket and call you back. The only issue is the callback time.
For example, issues related to orders and returns get an immediate response. On the other hand, catalog & listing tickets may delay for a few hours or a day. Sooner or later sellers queries are addressed by the support team.
An example image of a ticket form
Here's an example of a sample form to generate a ticket. The red boxes show category and sub-category paths. Fields marked with a red star are mandatory. Hence, don't skip them.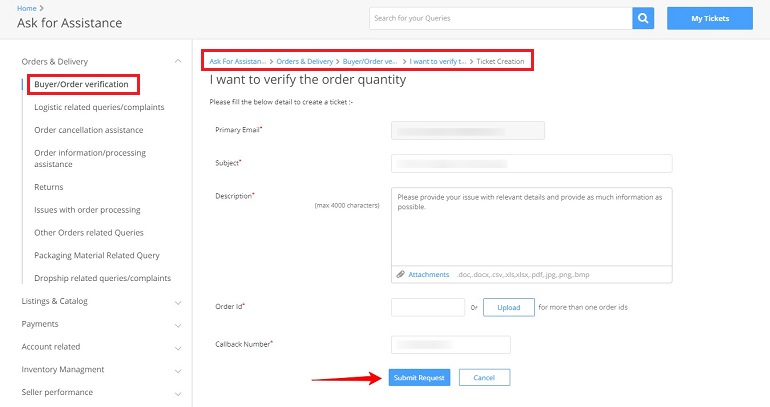 Provide a brief description and upload an attachment to support your query. Take screenshots of the problem area. This way the support team will be able to resolve your issues fast. The primary email, subject, and callback number are prefilled. Don't change the subject.
A key point here is the order ID. This field is dynamic. It keeps changing depending on the subject. Once again refer to the image above. Here it's about order quantity hence the system is demanding an order id. The same way if the ticket is about product image the system will ask for some other information.
Also read:
The steps to create a bulk product listing on Flipkart. Why QC passed products doesn't accept pricing information and how to make it happen.
Tracking Progress of Support Tickets in Flipkart
To track tickets, the marketplace has a dedicated ticket dashboard. Here you can view the progress, reply back or re-open tickets that are closed. See the image below.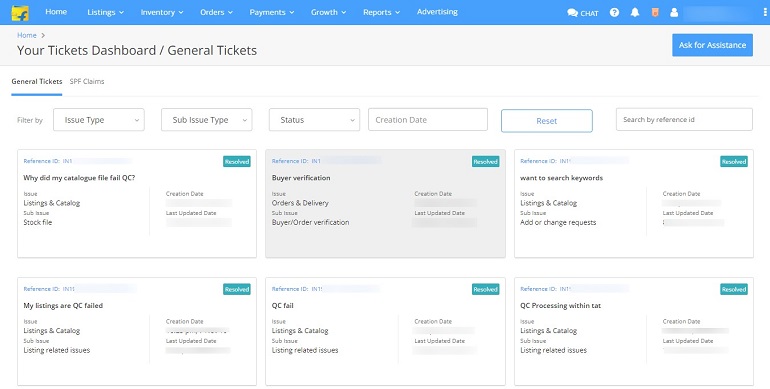 Click on the ticket card to display the progress information. Doing this will take you to the view support ticket page. It looks exactly like the image below.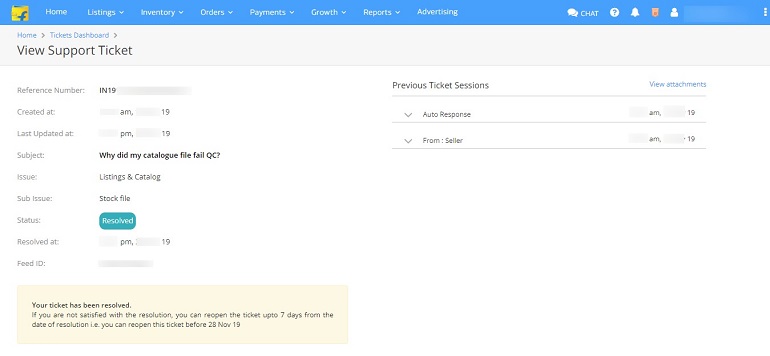 The view support ticket page stores historic communication between the seller and the support team. Take a look at the image above. Like I said you can reopen a resolved ticket but it has a time limit. If the seller is not happy with the solution he/she can reapply using the same ticket within 7 days of resolution.
For everything else, you will have to create a new ticket.
How to re-open a solved ticket?
If you are looking for a button to re-open a resolved ticket in the ticket dashboard then let me tell you there's no such button. And you are not the only one searching for it. Unfortunately, the marketplace has no provision to reopen a ticket in the ticket dashboard. That's totally weird!
When you create a ticket, Flipkart sends a notification email on your registered email ID. This way you can track the progress of a ticket in both Flipkart and the email account.
To reopen a resolved ticket – simply reply to the last email from your registered email address account. Not only reopen but you can also start a new conversation using Flipkart's seller support email ID – ss@flipkart.com.
Also read:
Setup an Indian Shopify store with my step by step guide with screenshot. Help you launch your own professional looking ecommerce Shopify store in minutes
What to do when you get a callback from Flipkart?
Verification is the first thing the support executive will do when you are on call. It's mandatory and without verifying your seller credentials the executive won't help you.
Registered email ID and phone number are what they ask to verify you as the owner. There's no chance for partial verification. Additionally, any other account info other than email ID and phone number won't work. Hence remember them or save it in a notepad file. You can also create a sticky note and paste it where it is clearly visible.
Second important thing is to note down the SKU ID. Whenever you are communicating with the support executive always supply them exact SKU ID of the product. This way you will save a lot of time and the support team will resolve the issues quickly.
Last but not least – always take a screenshot of the problematic area and share it with the support executive. You can share a screenshot both while raising a ticket or during a live phone call.
Conclusion
Flipkart seller support is meant to help sellers and resolve their queries. But active involvement of a seller is much needed. Incorrect information in a ticket will waste your time. Eventually, you will get trapped creating tickets and replying to them instead of selling. Be accurate.