There are numerous Bulk Email Validation Tools but I have selected the 10 best among all Bulk Email Verification Service providers to clean up an email list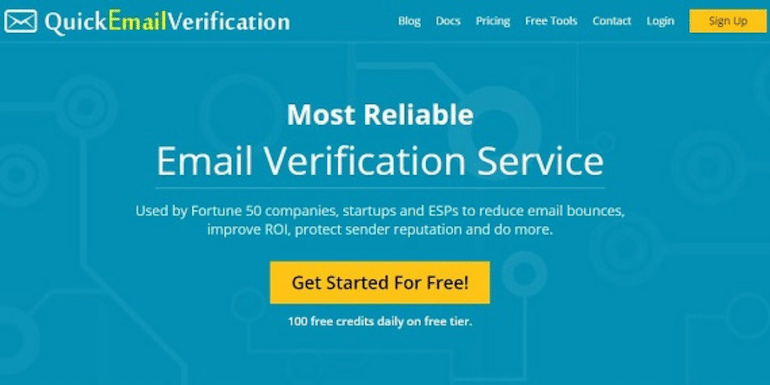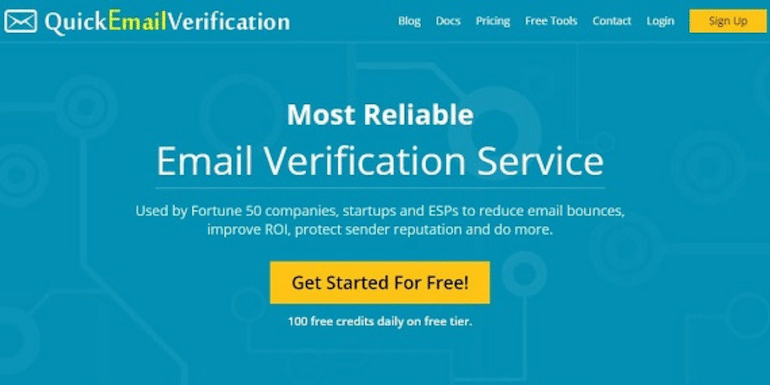 Bulk email validation tools can help clean up invalid and bad email addresses. These email validator tools check if the email addresses are active, valid, and deliverable.
Why do we Need Bulk Email Validators?
Bulk email validation tools are needed if website users have remained stale for an elongated period of time. So if you own a website where users register and confirm their email address. Still, if you haven't sent them emails for a very long time, there are chances many emails are invalid or not active anymore.
As an example, the Go4Expert forum has members registered since 2004. I did use AWeber for newsletter back then but haven't sent them regular emails for a long time now. So most of the emails may have become invalid now.
If I want to start a newsletter service using Moosend, first, I have to get the emails cleaned. I can't just send emails and see which ones deliver. It will ruin my reputation as a sender as the majority of my emails will bounce.
Further, a high bounce-back ratio severely impacts a mail server's reputation. So even if you use a third-party service like Amazon SES, they can block your account for sending emails that have a very high bounce rate. If you use your hosting server to send, the IP address or the domain name may get blacklisted by email service providers like Gmail, Yahoo, and Hotmail.
So, if you aren't sending regular emails to your subscribers or registered members, the emails can become invalid in a concise period. If you want to start sending the emails again, you will need bulk email validation services.
How Do Bulk Email Validations Tools Work?
You can't send emails and tests.
The validity of an email address is measured using various validation checkpoints. The success ratio highly depends on the algorithms of the tool uses for the process. They use a combination of techniques to filter out invalid email addresses and gives a clean and sorted list of emails.
Email Address Syntax Check – Removal of email addresses not according to the standard email address format.
Domain/MX Records Check – The DNS entries of the email address are verified using the domain or MX records. If a domain is invalid or the MX entry is missing, the email address is marked invalid.
Role-Based Email Addresses – Email addresses such as info@, sales@, admin@, user@, etc. are flagged as inappropriate.
Disposable Email Address (DEA) Detection – Email addresses for temporary sign up domains. In addition, these email addresses are self destructible after a certain time period. Such junk temporary email addresses are flagged as invalid.
Spam Detection – A list of top spammers (email addresses or domains) is matched with a potential list. This way, spam seeds, bots, blocked, banned or blacklisted email addresses from the list can be filtered.
DNSBL Spam Database and Blacklist Check – In this method, the tool checks email and IP addresses against known spammers in the DNSBL spam database. The DNSBL is a DNS-based block list information/database.
SMTP Verification – The tool tries to establish an SMTP connection with the mail server to check the validity of each email address. Port 25 needs to be open for this verification step.
In short, the email validation tools can validate a list of emails without sending emails. The process isn't foolproof, but if the spammer list is updated, it is quite a clean list.
Best Bulk Email Validation Service Provider
So here are the best bulk email validators in no particular order.

ZeroBounce is a fit for all email verification service provider.
They guarantee accuracy of 98.8%. The basic plan starts with $16 for 2000 email credits (1 email credit = 1 email verification). The turn around time of processing 100,000 email addresses is 1 hour. ZeroBounce also offers a free trial with 100 email credits.

QuickEmailVerification is an enterprise-grade solution to verify the email list. It offers bulk email verification using real-time or batch processing.
There are a few reasons why one should opt for this tool. For example, encrypted data storage, best-priced services, daily 100 free credits, and GDPR compliant. Alongside this, it has a 99% accuracy score with super-fast result delivery.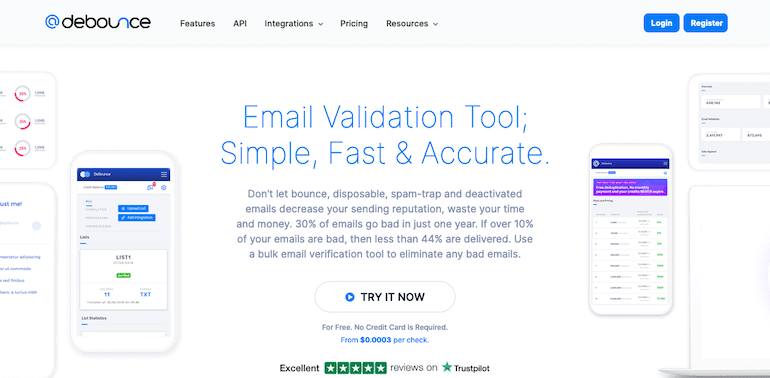 DeBounce is a fast, simple, and accurate email validation and verification platform providing a 97.5 percent delivery guarantee. As per their website, they have verified more than one billion email addresses and received a 5-star rating on TrustPilot with more than 420 unique reviews.
DeBounce can also validate some of the popular accept-all and hard-to-validate email servers like QQ, GMX, Web.de, etc.
The pricing for DeBounce.io is $0.0003 per check. However, they offer tier-based pricing.
5K Verifications: 10 USD
50K Verifications: 50 USD
100K Verifications: 90 USD
500K Verifications: 300 USD
1M Verifications: 500 USD
5M Verifications: 1,500 USD
Moreover, you receive 100 free email verifications within the free trial.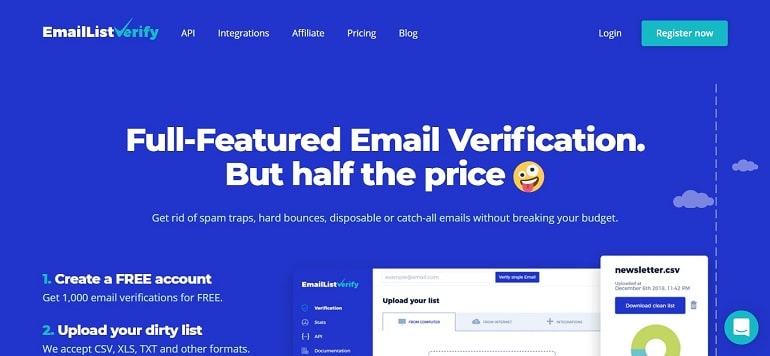 EmailListVerify offers a super-fast email verification service. It boasts as much as eight advance processes to verify an email list. With this tool, one can be assured of a 10x reduction in bounce rate.
The clean and simple interface is the USP of EmailListVerify. Once an email list is cleaned, the user gets a detailed report to download the clean list. Moreover, there's a free trial wherein you can process 100 emails daily for the next ten days.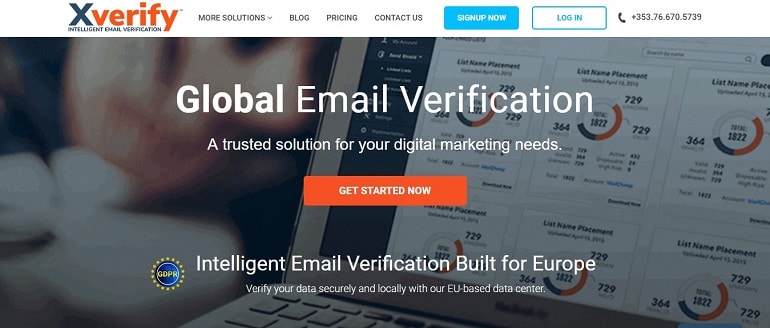 Xverify is a leading bulk email verification service provider. It's a must for both B2C and B2B sectors. In addition, Xverify is cost-effective in all sense. They charge $0.01 for each email validation. It may take ten minutes to clean a list of 10000 emails.
The tool checks for habitual complainers, bad domains, spam keywords, role-based accounts, and disposable email addresses. The best part about using this Xverify is their customer support. Users can call and speak directly to support staff.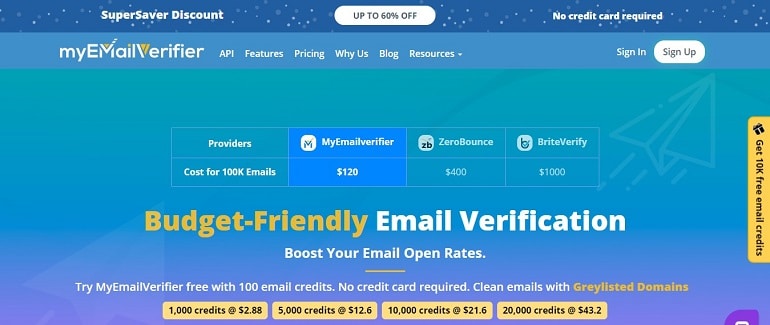 MyEmailVerifier helps lower down email bounce rate, and boost leads generation. This way, users can focus on developing new business. Additionally, email marketers can increase conversions using improved deliverability. The processing time is around 45 minutes for 1000 email addresses.
The basic plans give 500 email verification credits at $1.44. Whereas, other plans offer 1000 verifications for $2.88, 5000 for $12.60, 10000 for $21.60 and 50000 for $72.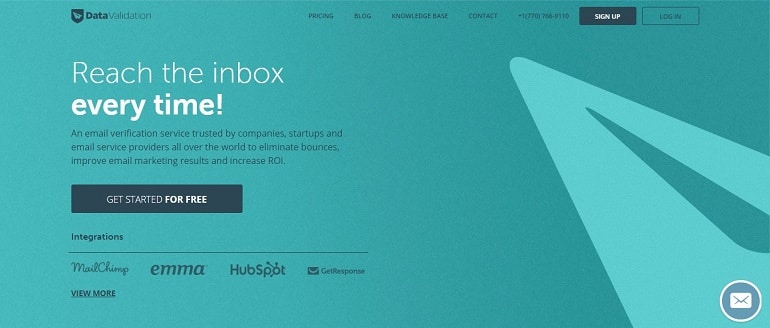 DataValidation is an industry leader when it comes to bulk email verification. It's a leading solution provider for corporates and individual email marketers. The tool supports ESP integrations or batches verification APIs to verify the email list.
User doesn't need to worry about their data security. Because Datavalidation works directly with ESPs. DataValidation easily integrates with third-party email service providers. A few to name are MailChimp, AWeber, MailGun, SendGrid, etc.

EmailMarker is the best email list cleaning software. Their software is automated and self-service. It means users can clean their email lists using the web application on auto mode.
The basic plan of EmailMarker costs $3 for 1000 email verifications. At the same time, 100000 email validation will cost $161.
A step ahead, Emailmarker identifies and merges duplicate email addresses as well. Above all, there's an active mail check feature. This feature verifies whether an email will bounce or deliver. Moreover, it is MailChimp compatible, so users can import and export email lists.

MillionVerifier is an email list validation tool that suits any budget. It checks email syntax, domain existence, blacklisting, deep level SMTP verification, role-based accounts, disposable email accounts, and lot more.
They offer an unbelievable price – $0.000398 per email. On the higher side, $199 USD for 500,000 email addresses. The fastest turn around time is 100000 email addresses under 1 hour. However, if you want to give it a try, start with 200 free email credits.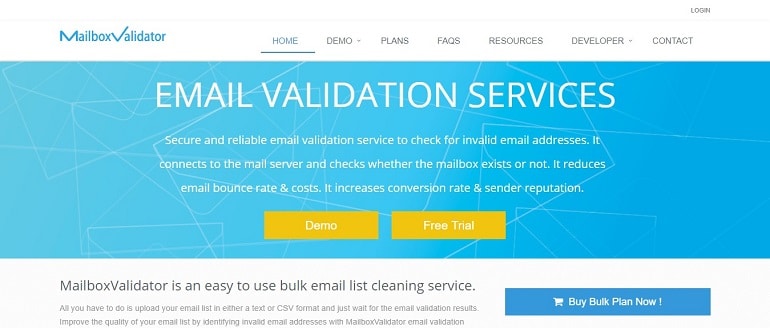 MailboxValidator can dramatically increase your email open and click rates. It's an easy-to-use email list cleaning service. Users can highly rely on this tool because it lowers the bounce rate and boosts sender reputation.
MailChimp, Zapier, AWeber, Mailgun, Campaign Monitor, SendGrid, and SparkPost are major third-party integration. The cost of email validation is $0.0007 per email. Besides, the said cost is applicable only for a bulk list. MailboxValidator offers the least rate ( $0.0009/email) for large email lists.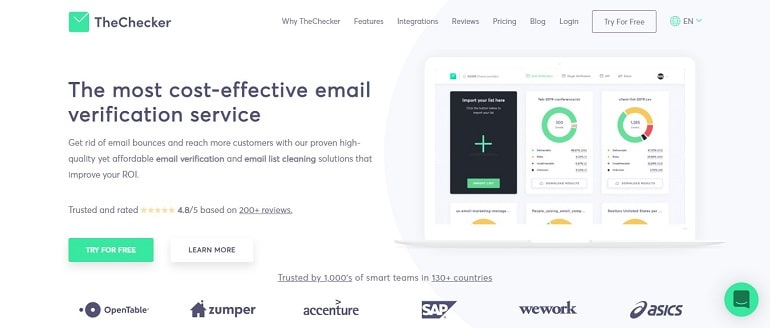 TheChecker is affordable for every business size using email marketing. It cuts down the inbox delivery issues and protects the sender's reputation.
Following are some features that distinguish TheChecker from rest:
99% validation accuracy
$3 for 1000 email verifications
100000 validations under 1 hour
Free 100 email credits to try
Single and bulk verification through API
30% lifetime affiliate commission
GDPR compliant
Multilanguage customer support
In addition, it offers anti-greylisting technology for the most accurate results.
More …
A few more email validators are EmailListValidation, EmailHippo, NeverBounce, Kickbox, BriteVerify, Hunter, MailFloss, and ListWise.