Read the benefits of referral marketing along with examples of companies using it and how to get the most out referral marketing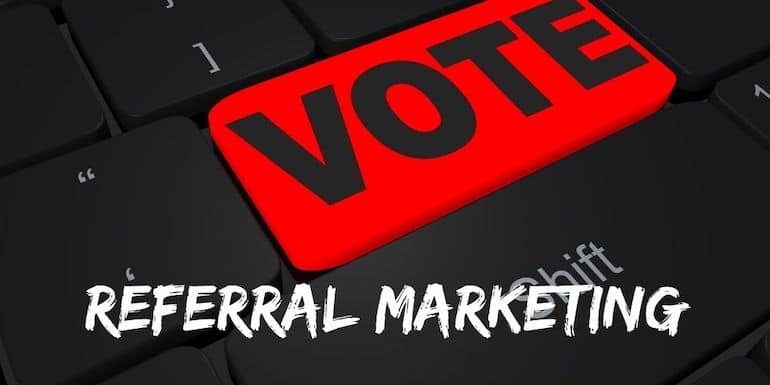 The benefits of referral marketing are countless when compared with traditional marketing. I will talk about them in a bit, but before that, let's understand the fundamentals of referral marketing.
What is Referral Marketing?
Referral marketing means spreading the word about a product or service via existing customers.
In other words, you tell an existing customer to share your product or service with their friend or family members. In return, you promise the existing customer a monetary reward or discounts on the next purchase.
Referral marketing allows customers to become the voice of the product and promote them. They speak to others on behalf of your company.
Benefits of Referral Marketing
Now let's look at the benefits for businesses doing referral marketing.
Customers Trust Referrals
I guess this is the most compelling evidence of referral marketing. Referrers are looked upon as a trusted source by customers. In the digital world, people believe recommendations and reviews more than traditional advertisements.
Surprisingly, people buy products when referred by a friend or family member instantly. In this way, referrers bridge the gap between customers and sellers.
Improved Customer Retention Rate
First thing first, customers who participate in referral programs haven't come through advertisements. It's not like a celebrity has endorsed a product, and it provoked the customer to buy. No, they didn't come to you via traditional celeb ads.
They purchased the product or service after satisfactorily inquiring about it. Others have bought your product or service because a close ally has referred it based on their excellent experience.
These types of customers are much more likely to stay with your company. As a result, retaining existing customers is easy compared to engaging new ones. Additionally, engaging new consumers is expensive as well. Hence, retaining current customers is among the top benefits of referral marketing.
Increased Customer Outreach
It won't be an overstatement if I tell you that there's virtually no limit on speaking about the right product or service to a friend, a colleague, or a family member.
Further, when it becomes limitless, one can undoubtedly increase outreach to a diverse audience. Referral marketing does this.
It helps you to elevate your outreach by allowing referrers to share products/services with others in exchange for benefits. This way, more contacts will surface once products/services circulate among peers.
Referred Customers are more Valuable.
Customers referred by referrals stay long and are a valuable asset to the company. It is because they already have a favorable opinion about your products or services. These customers have been referred by a peer whom they trust.
Moreover, a seller doesn't need to spend a fortune to maintain this customer group unless your product or services become sub-standard overtime.
Hence, it is true that customers that have been referred by a friend, family member, or colleague hold a lifetime value.
Personalization
Customers love the personalized experience. By tracking and monitoring their digital referral footprints and engagement, you can give your customers the benefit of personalization.
Not only this, but you will grab a good idea of market trends in your product or services. Doing this will ultimately help your company become better at satisfying customer needs.
Great ROI value
Referral marketing is an affordable marketing tool to reach target customers. And I have no doubt tell this to you. Despite, discounts and gifts under referral schemes or campaigns may incur a cost to your company.
Although this is true that referral marketing is cost-effective compared to other modes of advertisement, let me explain why I am telling this.
For instance, let's assume that you are running a referral marketing reward system. Now convert the same into a loyalty reward program, a non-monetary one. It will allow you to offer redeemable points instead of cash, gist, or discounts. In that case, you will save more.
Automation
Nowadays, everything is pretty much automated. We have dedicated tools, plugins, software, and open source services to begin referral marketing. A seller can employ any one of them, set up a good referral marketing campaign, and enjoy the benefits.
However, setting up a referral program could be a lengthy job in the beginning. You will need to take care of several things while setting up your first program. After the initial set up, everything else is pretty much on auto mode.
I have compiled a list of referral marketing plugins. Go through the list and help yourself select one for your product or service.
Increased Engagement
Customer engagement strengthens your online presence. Additionally, it increases the chances of potential revenue. Not to mention revenue is a bi-product; you need to emphasis on participation.
A customer and his/her referrers are likely to visit your store for various reasons. They would visit you to either claim rewards or further refer to a product or service to others—kind of never-ending loop of referrals.
Luckily, the more customers visit your site, the more items they tend to purchase.
Spread Brand Awareness
Referral marketing benefits in branding. A large part of consumers believes that their friends and family are their top sources of brand awareness.
The more your referrers talk about your products and services, the more you reach out to a broader audience. Facebook is the best example that fits here. When you share a product or service as a Facebook post, people share them on their timeline.
This way, they unknowingly refer your product or services to their friends and close allies online.
High Number of Satisfied Customer
When a satisfied referral refers to your products or services to others, they are more likely to try because of the trust factor. Here the probability of testing your product and services increases compared to your competitors. Thus, referral marketing is a method to aggregate prospective customers.
A group of highly satisfied referrers sells your products and services to others using referral marketing. The cyclical addition of happy customers goes on, which gradually increases your database of loyal customers.
Lower Sales Expenditure
Marketing strategies are employed to increase sales, and referral marketing is no different. This strategy thrives on mutual trust factors of satisfied customers to elevate sales. It's not you who is selling; it is the referral who is making sales for you. It leads to a decline in the overall sales expenses of the company.
For example, a company can approach uninterested customers via referrals. A step further, they can stop cold calling people and instead take a referral marketing approach. In the end, referral marketing will not only lower your sales expenses but also built a large swath of satisfied clientele.
Referral Marketing in Action
It's interesting to see real-time examples of companies making use of referral techniques.
Companies like Ola, Uber, Swiggy, Zomato, have widely integrated referrals marketing as a new sales strategy. They use app which generates unique referral codes for individual customers. These customers get monetary benefits when they refer others to use the service.
For example, Uber gives its customers a free ride up to a specific limit to the new as well as the existing customer for using their referral code. It ensures the loyalty of an existing customer along with the one who becomes a customer. Moreover, the new customer also starts referring to his or her friend, making it a chain.
A customer can share referral codes with other users via distinct social media platforms. E-mail, Facebook messaging, WhatsApp, Twitter, are a few to name. As a result, the app makes the overall experience of a customer hassle-free.
A referral marketing plugin can help you implement a seamless referral campaign inside WooCommerce. Take a look at the list of best WooCommerce referral plugins.
Final Thoughts
Without a proper channel, a referral program won't be rewarding. Above all, it must be a win-win situation for everyone who is involved in the task. One should reward the referrer and his/her friends adequately.