How to identify client will be difficult to work well in advance and 5 common mistakes freelancers make when dealing with tough clients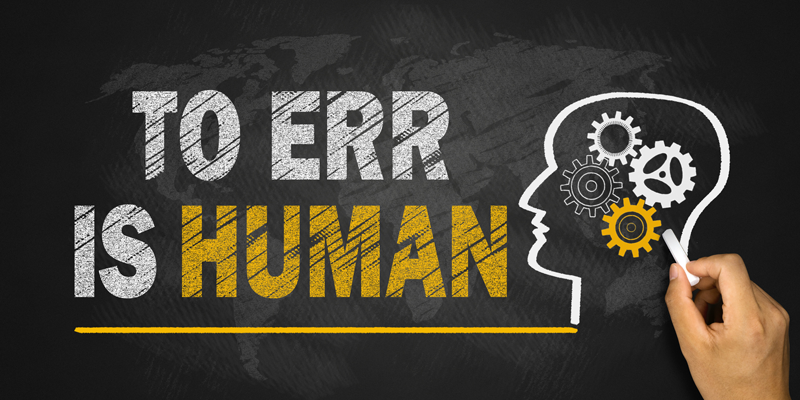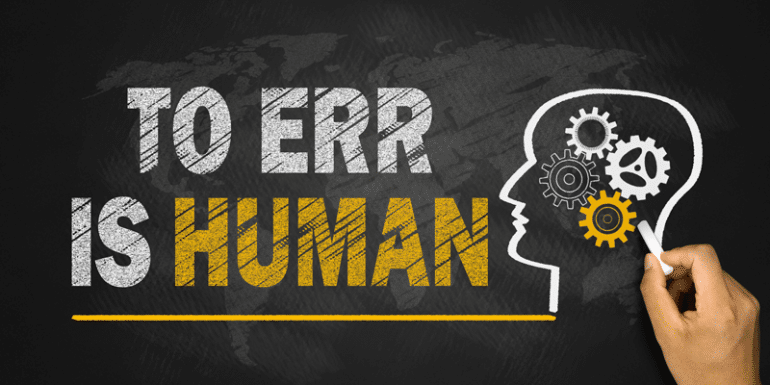 As a freelancer, you choose your clients. So you don't have to deal with difficult clients by choice.
Often, you will realize a client is a tough nut to crack when you start working for them. However, there are some signs I will share to help you understand if the client will be a difficult one to work or not.
However, first, let me share the common mistakes that freelancers make when dealing with such tough clients. Once you have such clients, make sure you don't make these mistakes and try to end the project as gracefully as humanly possible.
Dealing with Difficult Clients
Let me share some of the common mistakes that freelancers make when dealing with difficult clients.
1. Don't ignore Them
Every once in a while, you will have one of those clients who will have tons of criticism but nothing as far as positive criticism goes. You have to deal with such clients but not with ignorance.
If you ignore them, they will come more hard at you. The situation can go out of control. It is the opposite of ignorance that can help you come out of the situation faster.
Over-communication is the best solution for such clients.  Reduce the cost of the project or even reduce the requirements and the price. Try to make it a small project and then ask the client to go big later. However, if you don't communicate about it, things can get out of hand soon.
2. Don't Show Anger
Anger is never a solution to any problem and can ruin any personal or professional relationship.
Even if you are angry, it should not reflect in the call or email. Anger can also be shown in emails. So don't try to compose an email or write a reply when you have an angry mood.
The best is to avoid interaction at that very particular moment. Avoid doesn't mean ignoring, but taking an hour or two off or even replying the next day may help you to avoid the angry tone in emails.
3. Accept Your Mistake
You can be wrong, and there is no harm in accepting it. Let your ego be put to the trash and stick your neck out and apologize.
Here is one of my clients, where I had a quote that made the client go bizarre.
Immediately in my response, you will see I apologized and explained to him everything. He is now one of my regular clients.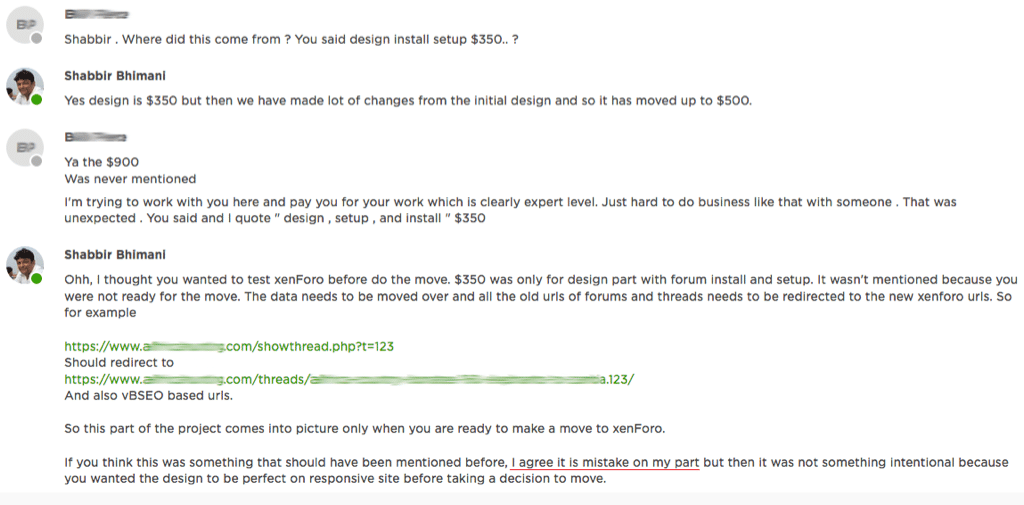 You can read a similar story about Jennifer Winter at themuse.com. Accepting your mistake and then compensating the client for your mistake always help.
4. Don't be Emotional
Clients will move on, and so should you. There are some clients where you will have done everything good about it to keep them as long-term clients.
However, there will be a situation when the client may not need what you have to offer.
Avoid being emotionally attached to them.
Being a friend is excellent, and I am friends of some of my clients with whom I have not worked for a few years. However, it doesn't mean I take their decision of not working with me emotionally.
Even clients who remember me in their dire situations only and I am fine helping them out for a much higher price.
5. Never say Never
Finally, understand that clients aren't difficult, but situations are. It's ok to say no to clients but avoid using the word never.
I will never work for you, or I don't like working with you. Use an excuse like busy with other projects or is not taking new work currently.
Even when clients have payment issues, don't use statements like "You never make payments on time" but use a polite language like "You consistently fail to make payments on time".
The approach I prefer is a very high quote for the task for the next work. Higher means almost double or even triple the price I usually would quote.
How to Identify Difficult Clients in Advance?
When you have a problematic client, one should be careful to handle them, but with experience, I have learned that difficult clients are straightforward to identify well in advance.
It helps me not to deal with difficult clients.
Let me share some common phrases they use, which help me identify them.
1. Client Knows it All
When you have a client who knows it all but doesn't have the time to do, it is one of the most difficult clients to handle.
Very recently, I had a discussion with one of the clients about their vBulletin four forums. His forum is online for a very long-time, and it is one of the busiest forums in the niche. He was keen to update, and I shared my article Vbulletin 5 Vs. XenForo 2.
Over the phone, when I told him no major forum is on vB5, his reaction was – it doesn't matter. He doesn't want to check who all uses vB5. At that point, I knew, it is better to avoid this client.
Over the conversation, there were many other such phrases the client told that confirmed he would be a tough client to work with.
2. Everything is Working Fine
As a developer, with over a decade of experience dealing with clients, those words are golden for me to fire the client right at that point.
When everything is working fine, why are they hiring me? You don't need to hire a developer to work on something that is working fine.
3. It is a Simple Job (When it comes to Pay)
You don't hire experts for simple jobs.
One of the requirements of the client was to integrate search for vBulletin forums along with 2 to 3 WordPress installs.
It was a straightforward job for the client. As a developer, I know it is almost an impossible job.
Fetch search results from each WP install along with vBulletin forums and then display them to users and sort them based on the search query. To add to the complexity, each WP may be using its database.
When I offered them to use Google Custom Search, the reason was Google results are not very reliable.
Google search results not being reliable …
The client has no idea of the definition of a simple and not so simple job. I previously had a similar client where he wanted to have typo suggestions when users were searching—a simple task for the client that is not that simple to develop.
4. Unreasonable Demand
Some clients will always ping you on Skype when you aren't available. Ping is fine, but then they want you to be available as well should ring the bells for you. If they don't respect your timezone or even want you to be available when they ping, you can be tough.
Moreover, some clients suddenly out of the blue want things done now, and don't take that you can be busy, and working for others is a case for me to avoid working for such clients as well.
Unreasonable can vary from person to person, but if a client always needs me to be available for a meeting at midnight and cannot manage things early is unreasonable. He will be fired even before the first meeting.
5. Slow To Pay
There had been many incidents where clients have been either very slow to pay or take too long to respond. I fire them at the first possible chance.
Here is one client where I completed everything well ahead of time but was not able to review it because he said he was traveling.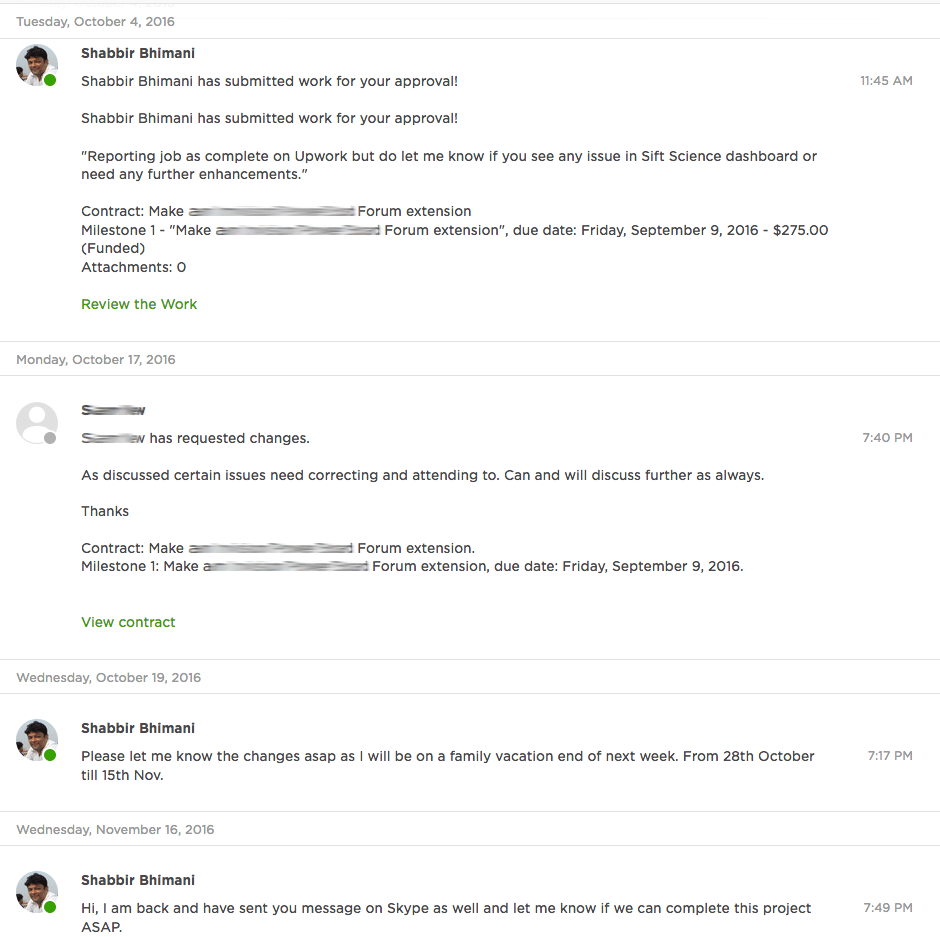 Traveling is fine, but three months and not able to find an hour or two to review the project is not justifiable. I refunded the escrow and asked to keep the extension as a gift from me.
Final Thoughts
Don't be afraid to fire clients those difficult clients. It is the best way to deal with those difficult clients. There is nothing wrong with it. Be ready to do less because less is the new more.
All clients are not equal. Some are high-paying clients, and many are low-paying, some will be long-term clients and many short-term clients.
Ideally, you should be working for high-paying long-term clients and avoid these low-paying short-term clients, low-paying long-term clients, and also high-paying short-term clients.
So fire all your clients who aren't high-paying and long-term. If you think that will be crazy, fire all low paying clients (long-term or short-term) and focus on those who are willing to pay you well.
If you even think firing clients will be crazy, try increasing your rates for low paying clients to see if they value your increase in price. Those who hire your services for a price will be gone, and those who value your services will stick.
A few of my long-term clients are working with me for a decade and take the increase in my price very well. The reason is simple. They value my fast turn around time and speed of getting things done, whereas other long-term clients did not take an increase in my hourly price acceptable and are now gone.
Those clients don't deserve you.