An answer to reader's question: How important it is for anyone who is willing to be a PHP freelancer in India to have an engineering degree?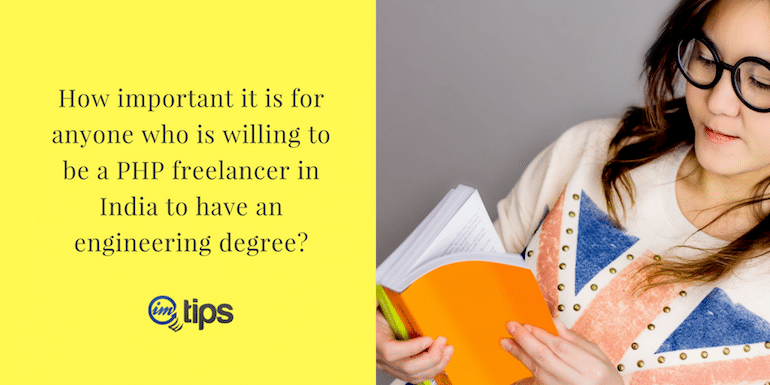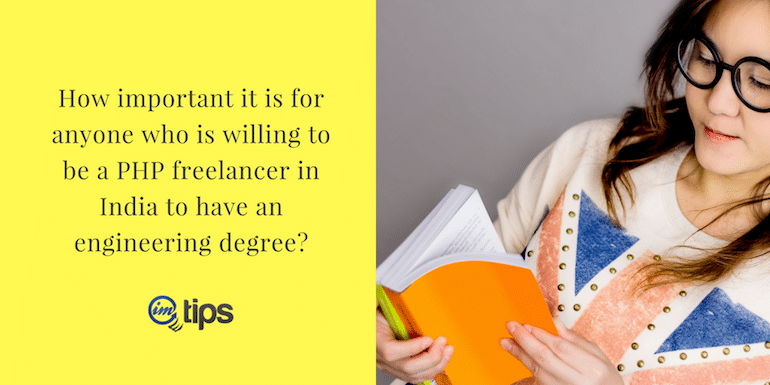 Reader Question:
How important it is for anyone who is willing to be a PHP freelancer in India to have an engineering degree?
Thanks for asking this wonderful question. I will try to answer this question from a general development point of view and not specific to PHP.
The short answer is, an engineering degree isn't a must for a freelancer. In fact, the knowledge and skills are far more important than an engineering degree to be a freelancer.
I know many freelancers who haven't manage to pass the college but are doing well as web design or web developer. Degrees are for the sake of giving a title to an individual – B.Tech in XYZ. They don't speak about the knowledge levels of skills which is the most important aspect for a freelancer.
It doesn't mean one can't neglect the importance of a degree either.
So though an engineering degree isn't a must to start as a freelancer but to consider freelancing as a business, it is important to do a job and understand the industry.
Formal education can make it easier for an individual to get a job. It helps develop technical skills (programming, database administration, etc) but more towards developing team management and project management skills. They are a must for a programming and development based freelancing services business to keep growing.
What Engineering Degree to Choose?
If one has an option to choose a degree course, it has to be the orthodox engineering courses at least in India. The likes of B.Tech  or B.E degree courses in Information Technology or Computer Science. Electrical and electronics engineering is going to make your life a lot more difficult.
Avoid the BCA degree course as it doesn't add much value.
B.Sc in a computer-related stream can be ok but still, it may not be enough for a job.
From a practical standpoint, a B.Tech or B.E. degree from a private engineering college may be much more beneficial from a job aspect than a B.Sc or BCA degree even from a good college.
Apart from computer-related degree courses, some colleges and universities are offering undergraduate programs in entrepreneurship. It may be a better choice than BCA for sure.
The important aspect is to get the right education and not the right degree.
Online Degree & Courses
Many universities offer complete online education and degree courses now where a freelancer can get a reputable degree online. At Coursera, many universities are offering completely online degree courses. As an example:

The University of London offers a Bachelor of Science in Computer Science degree where one can take the complete courses online and appear for a written exam at the exam centers located in the major Indian cities. Arizona State University offers a completely online course and exam for it's Master degree in Computer Science.