What is cost per click (CPC), How Google calculates the cost for each click? Manual vs Enhanced CPC and the right bidding strategy to use for your campaign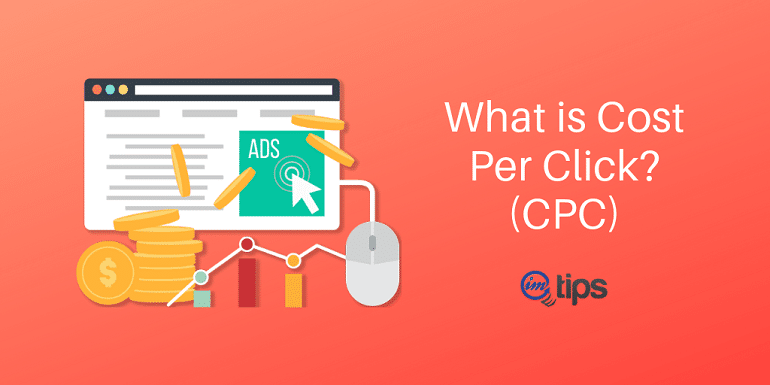 CPC or Cost per click is the amount an advertiser is willing to pay for each click on his advertisements. It is also known as Pay Per Click (PPC). CPC helps in determining the total advertising cost of ads.
In CPC ad model, the advertiser pays when someone clicks the ad. There are no charges on ad impressions.
For example, your CPC is $2.00, and your ad is shown 1000 times but no clicks. In this scenario, you pay nothing.
Now let's assume you got 20 clicks on your ad. So if your CPC is $2.00 then you pay $2.00X20 = $40.00 for those 20 clicks.
A click (not a view) on your ads denote an action or interaction with the ad. With every click, an advertiser gets close to the user who is willing to buy the product or service.
Here, the action or interaction varies depending upon the need of an advertiser.
For example, an advertiser would want maximum clicks, and others would eye for sale. Now, based on individual needs, it is decided how much an advertiser will pay.
How is Cost Per Click Calculated?
Let's understand with an example.
The first advertiser is willing to pay ₹7 per click or $0.10. The second advertiser is paying ₹3.5 per click or $0.05.
Now for the bidding, the amount to raise for each is 70 paise or $0.01.
Assume the first advertiser who is willing to pay higher, has a view and gets a click. The charge they will pay is ₹3.5+₹0.70 = ₹4.2 or $0.05+$0.01. It is one cent higher than the competition for the keyword.
Of course, with the assumptions that all the other factors of the ad (Ad Copy, Quality Score, Relevance, etc.) for the keyword remains the same.
It is possible to reduce the cost per click in Google search ads.
So now if I search in Google "web hosting" from India, I see four ads.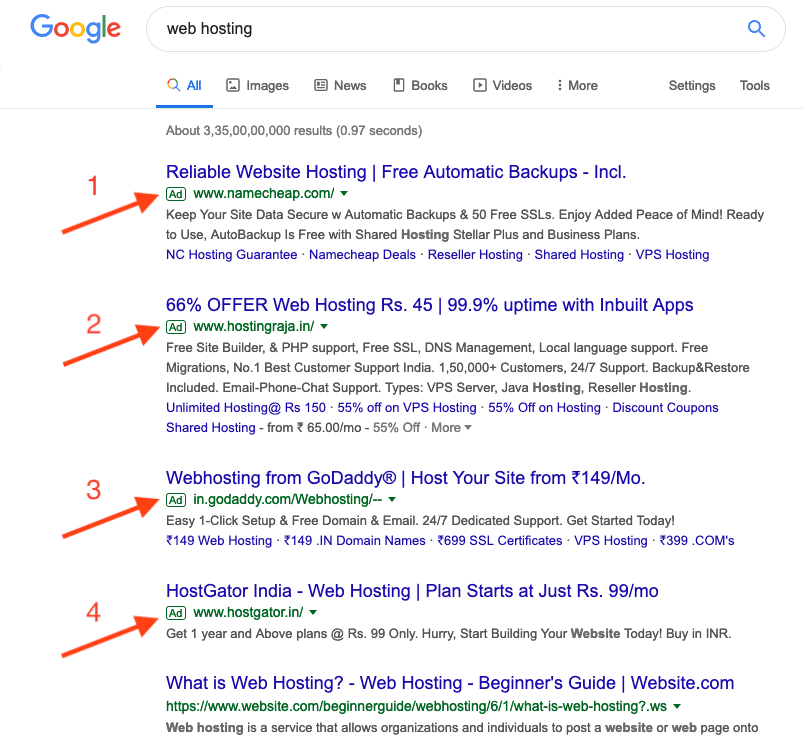 Assuming all the advertisers have a top quality score, ad relevance for the keyword, ad and landing page, we still see some advertiser ranking above others.
Assuming all the bids are manual CPC based just for the sake of understanding CPC as well as consider the CPC of the top advertiser is ₹8, followed by ₹6 and then ₹4 and the last one is ready to pay ₹2.
In the above example, we had $0.01 or 70Paise as the step for each bid.
Now if the user searching finds the second link as exciting and clicks on it.
The advertiser was willing to pay ₹6 per click, but his actual cost will be one bid step above the next advertiser which as ₹4 per click. So his actual cost of the click will be ₹4.70
CPC VS CPM
CPM is "Cost Per Mille." Mille is a french word for thousand. So it costs advertisers pay per thousand impressions of an ad. CPM is termed as effective CPM or eCPM.
As an example, ten thousand impressions at $1 eCPM equals to $100 as the total cost.
Many believe CPC is more favorable than CPM, but that's not true.
If an advertiser can generate lot more clicks per impressions because of the ad elements (image/copy), he should be more than willing to pay per impression than per click to reduce the overall cost per click.
Let me explain this with an example.
So in our above example, ten thousand impressions at $1 eCPM equal to $100 as the total cost.
Now if the cost per click is 25Cents. And CTR of Ad is 8% (Which is quite reasonable in Google Ads)
For 10k impressions, he pays $100 for CPM ads irrespective of the number of clicks.
For the same, in CPC, he will get 800 Clicks at 8% CTR and 25 cents per click, the cost is $200.
So eCPM becomes cost-effective when your ads have a high CTR.
Note CPM ads only work in Google display network and not in Google search.
In situations where an advertiser only wants to build brand awareness and wants the messages to reach a maximum number of people without worrying about any meaningful action on the ad, advertiser prefers CPM ads.
How does Google deal With Invalid Clicks?
An advertiser in the CPC model is at a high risk of click frauds.
There are possibilities where your competitor may click ads to drain the daily ad budget. The ad campaign can lose effectiveness over time.
On top of that, some people are more inclined to double click instead of a single click. It can also record more clicks.
Google and other ad platforms have developed sophisticated algorithms to protect the advertiser's interests, which in-turn protects the abuse of their platform.
The automated systems take care of invalid clicks or click frauds.
If an advertiser incurs clicks which are flagged as invalid by the algorithm, the amount is reimbursed back.

My Google ads account where each month I see amount credits for invalid clicks.
The CPC Bidding Strategies in Google Ads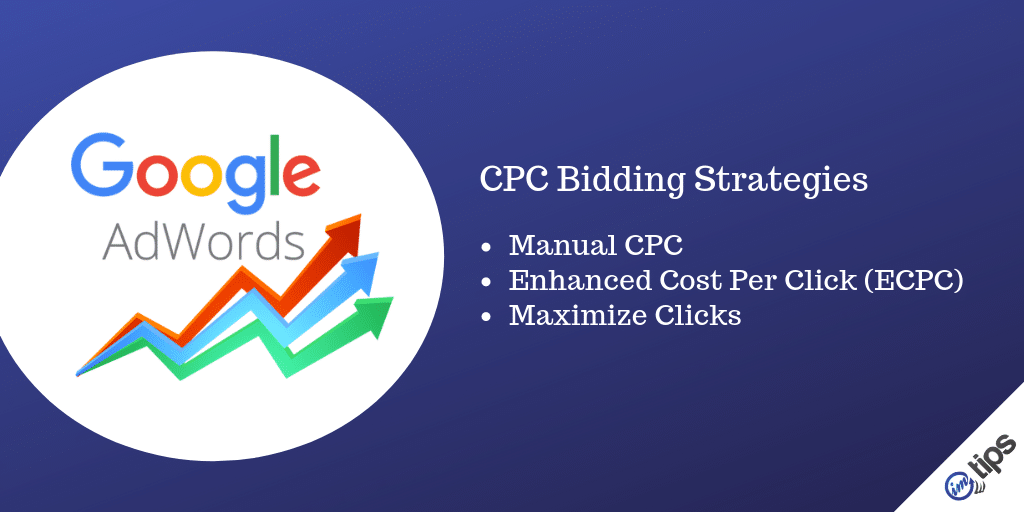 There are three essential bidding strategies in Google ads. They are:
Manual CPC Bidding
Enhanced Cost Per Click (ECPC)
Maximize Clicks
Further, we will also compare them mutually to find out which one is more beneficial. This way, you will be able to boil down at a point of using the most effective bidding strategy based on your advertising goal.
What is Manual CPC?
In manual CPC bidding, an advertiser sets a maximum price for a click on an ad. This bidding method is favorite among seasoned advertisers because they pay a specific amount for a click on the ad.
In a CPC bidding campaign, an advertiser will set max CPC that he/she is willing to pay for a click on the ad.
As seen in the example above, the cost per click will be one step higher than the next competing ad. So if you set $0.25 as Max CPC for each click under manual CPC, you will be charged $0.01 more than the competitive bid. If all other advertisers have $0.10 as the cost of each click, your max CPC will be $0.11.
So if you get 100 clicks, your total cost will be $11 under manual CPC.
What is Enhanced Cost Per Click (eCPC)?
In manual CPC, the actual CPC is always lower than the value set for each click.
As in the above example, we set the Max CPC is $0.25, but the actual CPC is $0.11.
In case of enhanced Cost Per Click or eCPC, the CPC is similar to manual CPC in most cases, but when the overall CPC of competition is higher, Google increases the CPC of the ads for that particular keyword at that instance but keeps the total average cost per click close to the eCPC value.
As an example, you set the CPC is $0.10. Google displays the ad at second or third position, and you are incurring a cost per click close to $0.07 based on the competition. At some point, if Google predicts a chance of higher conversion, it will increase the bid to a higher value to jump your ad higher, still keeping the average cost per click below $0.10.
So it increases the bid for an ad to enhance conversions which are known as bid adjustments.
Enabling ECPC in the will increase conversions, but it also means you have to set up conversion tracking in Google Ads first.
What is Maximize Clicks?
It is an automated bidding strategy to get as many clicks as possible within a budget. The reason why it is called Maximize clicks.
As a general note, I have seen setting a lower manual CPC will generate more clicks than using the maximize clicks option. I never recommend it.
Manual CPC v/s Enhanced CPC (ECPC)
ECPC makes the job easy because Google will be doing all the heavy lifting of increasing the bidding for more conversion. In ECPC, advertisers allow Google to toggle bids for maximum sales and customers.
Let us understand using the same "Web Hosting" example above.
Assuming ₹8, followed by ₹6 and then ₹4 and the last one is ready to pay ₹2 as CPC for each advertiser. Every advertiser has manual CPC but for the sake of understanding the second advertiser is on the Enhanced CPC model.
So when I am searching for the term "web hosting," I see the second advertiser in the second position. Now, someone who is more likely to buy hosting, when they search, they see the second advertisers ad at the top with CPC as high as ₹10.
The reason the CPC has increased and is above the highest advertiser is that they are on an enhanced CPC bidding strategy.
For some marketers, manual CPC can be beneficial, and for others ECPC. There are no set rules. The best way to find out an ideal bid technique is to do experiments. This way, an advertiser can find out what's working and what's not for his/her brand.