11 free blog title suggestion and generation tools to write catchy and clickable headlines that will catch the readers' eyeballs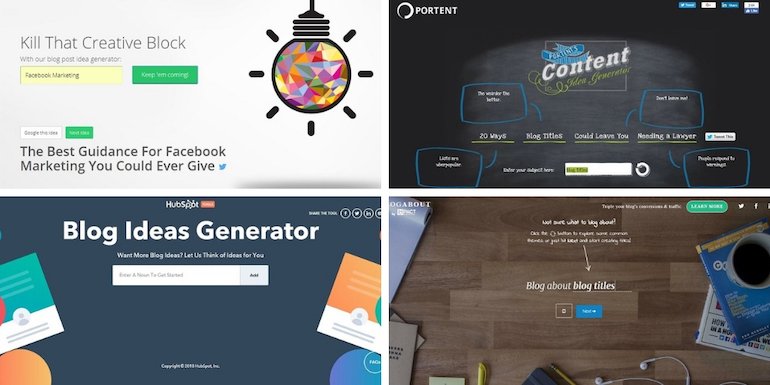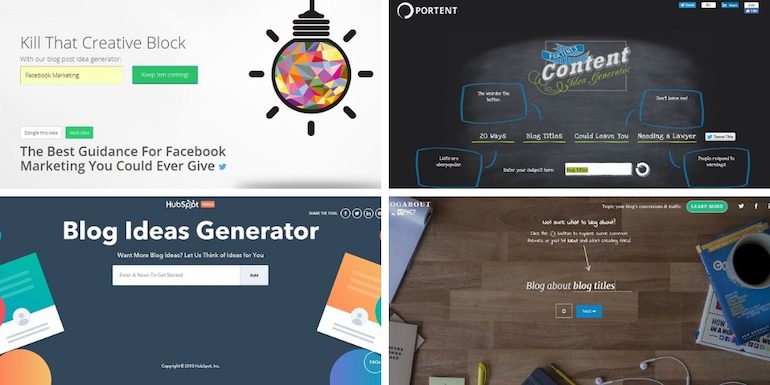 Do you find yourself brainstorming about what should be the title of the blog you have just written? Here are 11 free blog title suggestion tools to help you write that great blog title.
If you ask me how do I create my blog titles, then it would be surprising for you to know that I never write my blog titles first. I always do that in the end.
First, I spit out all the ideas about a topic that I would be writing about, which is wrestling my mind.
I do remember one instance when I wrote a blog and saved it as a draft (of course without title) because I couldn't figure out a sensible title and went for my lunch. At home, while taking lunch, my mind was still figuring out the title in the background. I always remember how I just gulped my lunch and rushed to my MacBook to title the blog with the idea that struck me in the middle of having my food.
Titles will give you that first impression to the reader's mind whether to continue reading or just leave it. It doesn't matter how great the content is if the title is not tempting. But that's again normal.
I mean, even the most successful bloggers hustle with blog titles before they got the perfect one. So give these tools a try:
Also read:
Most practical and handy book for any blogger, online advertisers, podcasters, YouTubers, entrepreneurs, digital product sellers or even for freelancers.
Portent is one of the best blog title suggestion tools that every blogger should consider when he has run out of blog title ideas.
Seed Keyword: Blogging
Sample titles generated using portent:
Ten ways blogging can make you rich
The evolution of blogging
16 ways blogging is entirely overrated
How blogging can keep you out of trouble
How to stay popular in the blogging world
Folk remedies for improving your life using only blogging
How blogging could get you on omg! Insider
You can keep on clicking the refresh button, and you will have a new title each time.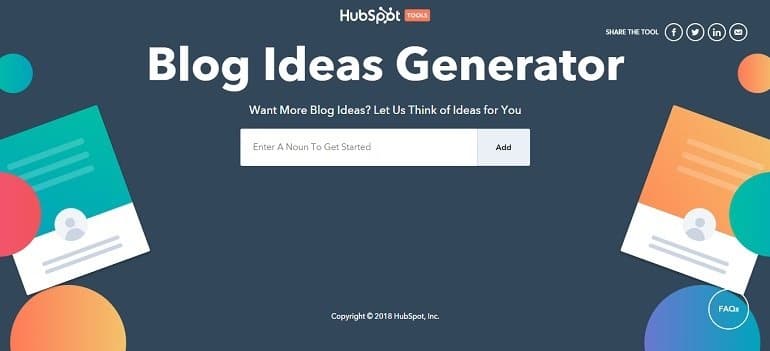 Seed Keyword: SEO
Sample titles generated by Hubspot's blog traffic generator:
SEO: Expectations vs. Reality
Will SEO ever rule the world
The next big thing in SEO
SEO explained in fewer than 140 characters
This week's top stories about SEO
This tool of HubSpot gives you 250 more blog title ideas on a given subject in an excel spreadsheet when you start a free trial.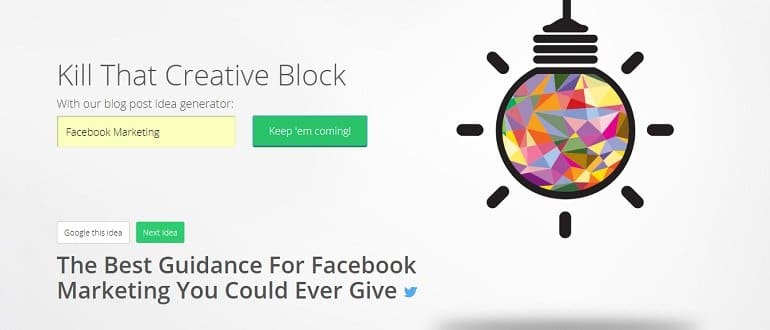 Seed Keyword: Facebook Marketing
Following is the list of sample blog title created by webpage FX:
The best guidance for facebook marketing you could ever give
Common problems facebook marketing solves
Worst Facebook marketing mistakes and how to fix them
Want to be amazing at Facebook marketing? Here's how
The myth of Facebook marketing
What Lebron James would say about Facebook marketing
What Homer Simpson would say about Facebook marketing
How Facebook marketing has changed
The modern rules of Facebook marketing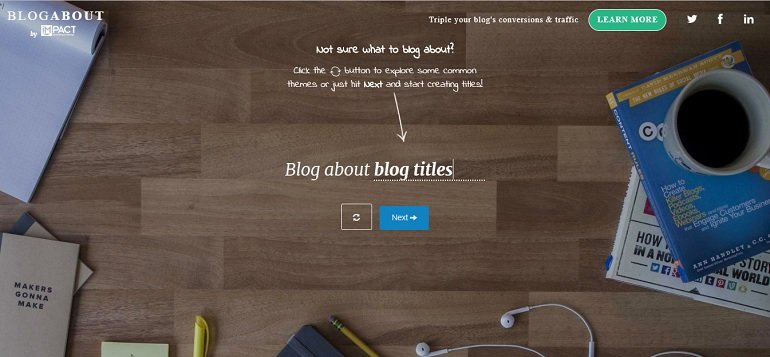 Seed Keyword: Internet Marketing
Refer the below sample blog titles done with the blog about:
How to learn internet marketing in just a few hours?
Three unusual ways to do internet marketing
When it pays to do internet marketing
Five reasons why your business should focus on internet marketing
Five ways to boost internet marketing without money
The internet marketing survival guide to beginners
Why internet marketing is right for your blog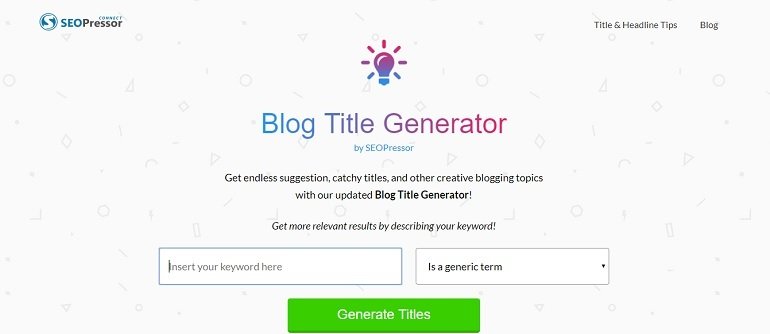 Seed Keyword: Freelancing
SEOpressor generated approx 1168 titles for freelancing, out of which some samples are given below. You can try your keywords.
The ten secrets that you shouldn't know about freelancing.
Five unbelievable facts about freelancing.
Ten factors that affect freelancing's longevity.
How to get people to like freelancing.
The ultimate revelation of the freelancing industry.
The shocking revelation of freelancing.
The worst advice we've heard for freelancing.
How awesome.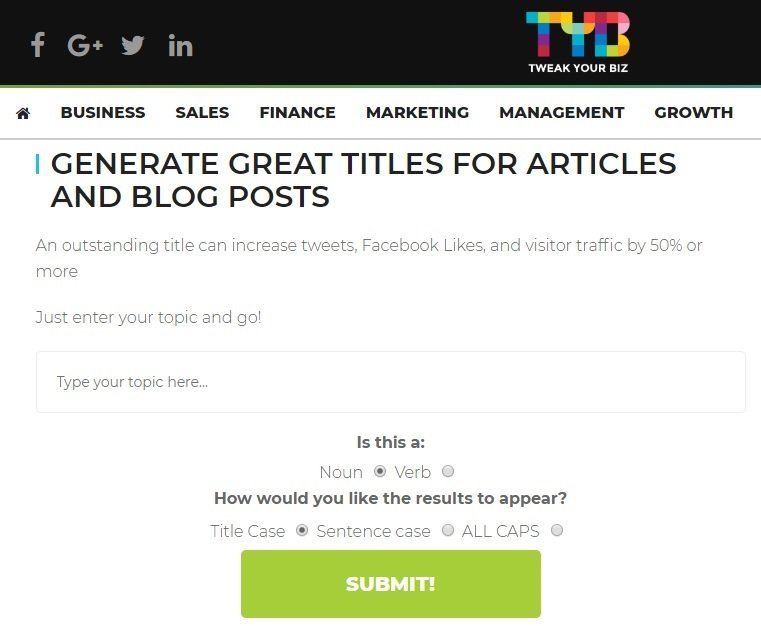 Seed Keyword: Sell on Amazon
TweakYourBiz is a perfect blog title suggestion tool that helps generates titles with a lot of variety. Question form, how to form, then they mix your seed keyword with names of celebrities to build an out of box title and lot more. See the list below:
Here are six ways to sell on Amazon faster
Can you sell on amazon like a real champ? These six tips will help you get the most out of it
Here's how to sell on Amazon like a professional
How not to sell on Amazon
How to sell on Amazon in 3 easy steps
The Brad Pitt approach to learning to sell on Amazon
Sell on Amazon better than Guy Kawasaki himself
Amateurs sell on Amazon but overlook these simple things
Groundbreaking Tips to sell on Amazon
How to improve the way you sell on Amazon before Christmas
How to sell on Amazon and live to tell about it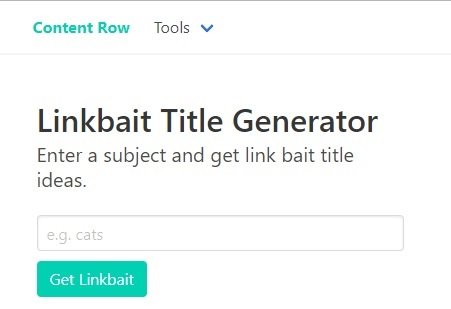 Seed Keyword: Online Marketing and Share Market
With Linkbait, I managed to create good working titles out of two crucial seed keywords, which I love writing about.
Ten ways online marketing can suck the life out of you
13 amazing facts about online marketing
Eight things the internet hasn't told you about online marketing
Why online marketing suck/s
Eight unbelievable things you never knew about the share market
11 ways investing in the share market can make you a millionaire
Ten ways share market can help you live to 100
Nine reasons you can blame the recession on the share market
13 amazing facts about the share market
A good blog title suggestions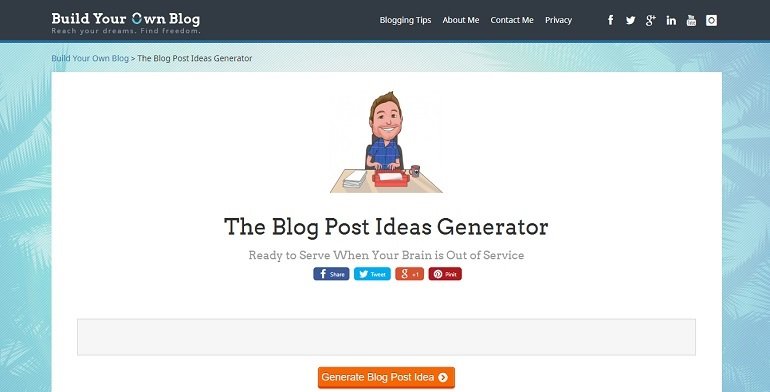 The blog post ideas generator works differently compared to its counterparts. Instead of generating titles using seed keywords, it gives you ready to use phrases with open and closed ends. You can use any seed keywords to mix and match the phrases or sentences. Take a look at how I did this. The one in bold is my text.
Why am I a huge fan of investing in the share market?
Something nobody will believe is what inspired me to quit my job.
Something nobody will believe is what inspired me to become a full-time freelance.
What will blogging be like in 100 years?
How to solve the biggest problem you had with programming?
The reason I started writing this blog is to earn smart with less hard-work
The one thing you need to know about how to quit the job and become self-employed
The Cheater's Guide to investment in Indian share bazaar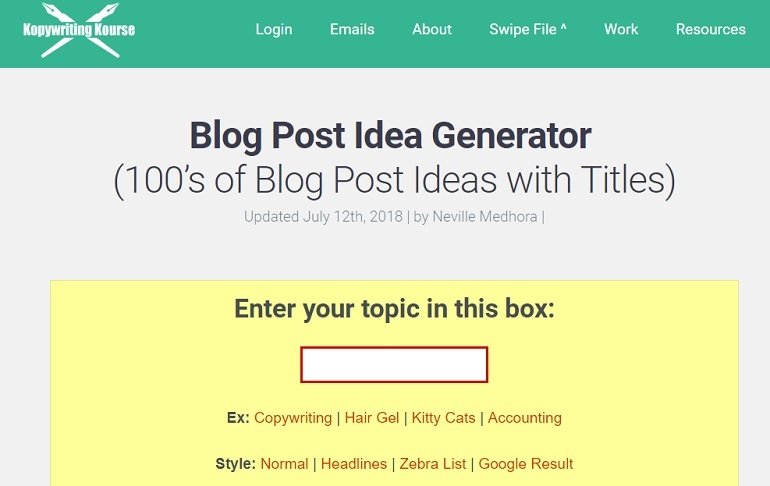 Seed Keyword: Entrepreneurship
KopywritingKourse produces a variety of titles and is possibly the best Blog Title Suggestion Tool. It has a set of readymade phrases and sentences which are integrated into the seed keyword. It can be tried using different words to get some title ideas.
The penultimate guide to learning entrepreneurship
The only guide to learning entrepreneurship you ever need
Seven dumb entrepreneurship mistakes people make (and how to avoid them)
It's much easier to learn entrepreneurship with these seven helpful tips
Entrepreneurship is a fantastic skill to learn, here's why
Here's how I learned entrepreneurship (exact outline and plan)
Want to learn entrepreneurship? Look no further.
After learning entrepreneurship, I made more income within three months
More clarity and focus means more success. That's what entrepreneurship did for me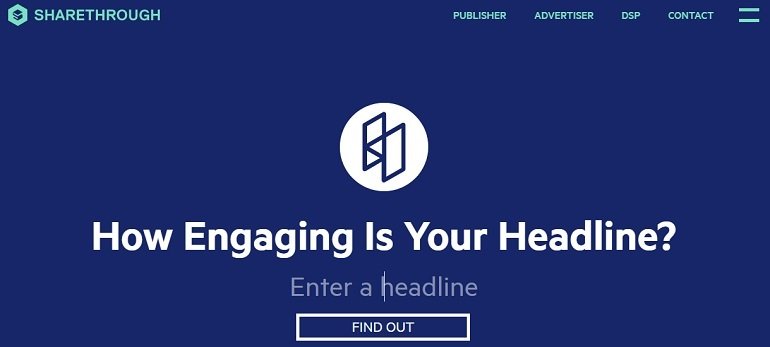 Sharethrough is not a title generator, its a headline/title analyzer tool. It tells you the strength of your title and gives you suggestions based on it. Additionally, it also calculates the engagement and impression scores of the claims.
So, here's the deal, you make titles using the free title generator tools and then check them using Sharethrough for better performance and results.
To give it a try, I used the tools mentioned above to create some sample titles for this post. Here are some of the samples:
11 tools to generate a successful blog title
The list of 11 tools that help generate blog titles
11 creative tools to craft blog titles
See how easily you can generate blog titles with these 11 tools
Here are 11 tools to write blog titles
Why mom was right about these 11 blog title tools
11 fun blog title tools to make your hair stand on end
11 tools about creating blog title you would regret knowing late
How these 11 tools will change the way you write blog titles
11 tools to help you create blog title like a pro
11 tools that are going to change the way you write blog titles