Amazon India and Flipkart feature by feature (registration, onboarding, support, advertising) comparison from a Seller's point of view.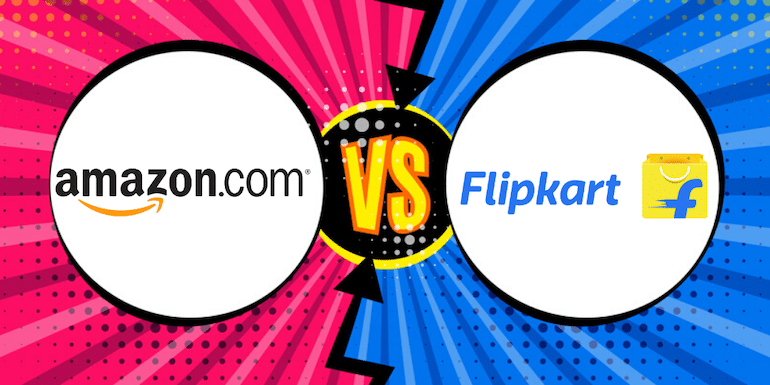 As an eCommerce seller, let us do a feature by feature comparison of Amazon and Flipkart and see why Amazon India is the choice of most of the sellers online in India.
Registration
Seller onboarding aka registration must be hassle-free. It must include minimal documentation. Moreover, the process should be self-explanatory. All this is true but do our contenders justifies it or not. Let's find out.
Amazon India
The seller registration with Amazon India is a breeze. In fact, anyone can start selling on Amazon in less than 24 hours. The marketplace requires limited but essential documents to help sellers get on board fast. For instance, you will need the following business info to start with:
Email address & mobile number
Company details
GSTIN & PAN number
Bank account details
As soon as Amazon approves the business details a seller gets access to a world-class selling interface. All this in just a single day. That's the thing I like most about Amazon.
Flipkart
The Flipkart seller registration process is similar to Amazon India – Superfast & Easy. A step further Flipkart demands only 3 business details to get started. They are as follows:
GSTIN number
Bank account details
Products to sell
However, the marketplace later requires more business details to activate a seller's account. But to start with the above 3 details are enough. Everything's fine till here expect a physical audit by Flipkart.
The marketplace schedules physical verification of pickup location by sending a team member. The auditor visits and submits a report to Flipkart. In short, it's the report that decides whether a seller is allowed to sell or not. If the seller fails the audit Flipkart will terminate the registration. Hence, failing is not an option here.
Additionally, the audit takes time and it may stretch to even 10 to 15 days altogether. Above all, until the audit is due the account will show the pending status. It means no selling.
So technically speaking the seller registration with Flipkart is lengthy.
Conclusion
Registration must be a simple process and both the marketplace have aced this art. The only twist is the physical verification by Flipkart which is mandatory for all. Now, this can be taken as a positive approach.
By imposing stringent registration policy Flipkart assures honest sellers and quality products. But this can backfire because Amazon India swiftly approves a new seller account.
Not only approves an account but enables a seller to list & sell products ASAP. Although Flipkart trolls due to physical audit still both win the seller registration dilemma. Needless to say selling on both the marketplace is free. There's no upfront investment to start a product selling business on either of them.
Winner: Tie
Seller Central Dashboard, Tools & Features
Selling online is fun if you have adequate tools to reach target buyers. After registration, a seller is exposed to a variety of tools and features both on Amazon India & Flipkart.
In this section, we will find out who helps the seller most when it comes to making the first or next sales.
Amazon India Seller Central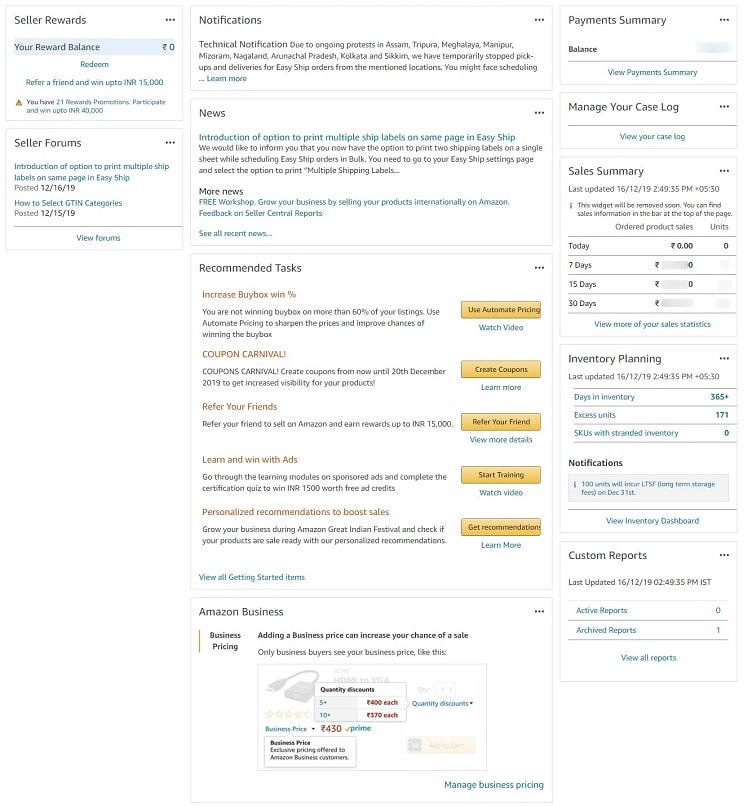 Needless to say, Amazon India provides a robust platform to sellers of all kinds. The seller central dashboard has interactive widgets. These widgets give quick information to a seller without having to visit that section. Your orders, payment summary, sales summary, notifications, and recommended tasks are few to name.
What could be more interesting than looking at today's order, past 7 days sales, and customer feedback when you log into the seller account. Take a look below.
Interactive Tools & Links

The navigational links in the main menu have everything a seller could desire. Whether it is catalog, inventory, pricing, orders or advertising a seller has easy access to all of them. Further, each menu item acts as a dedicated tool to improve a seller's performance.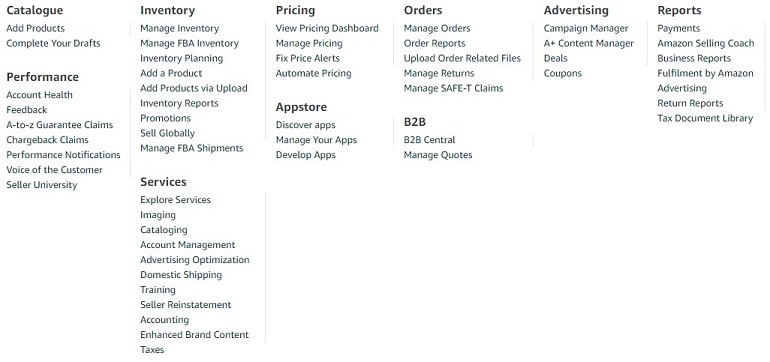 In addition, the marketplace has designed the seller dashboard footer impressively. The footer holds dedicated links to individual tools. In other words, Amazon India gives ample opportunities for sellers to increase their daily sales & overall business.
Amazon India App Store
The Amazon India seller central has two unmatched features viz Appstore and B2B. The app store feature takes you to the Amazon app marketplace. Here you will find custom apps available both from external Developers and Amazon.
Not only this but the apps are further categorized based on seller requirements. In short, a seller can use third-party apps for listing, pricing, inventory, shipping, and a lot more.
B2B (Business to Business) Program
The Amazon Inda B2B is a stand-alone business seller program. This new area of seller central helps sellers track and grow their B2B sales. It means more focus on wholesale order along with retail.
Flipkart Seller Central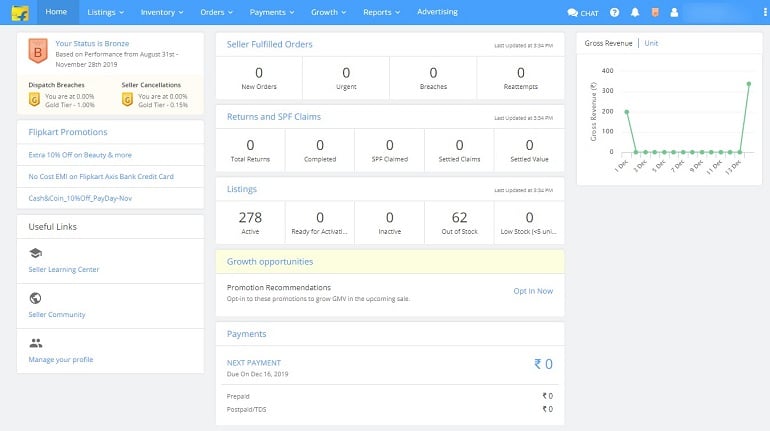 Flipkart's seller dashboard has all the necessary functions needed to smoothly operate an online business. Features like listing, inventory, orders, payment, reports, and advertising are regular. It doesn't take long for a seller to get acquainted with the Flipkart ecosystem. The dashboard has short widgets similar to Amazon India.
Essential links & tools like chat, help, promotions, and growth opportunities are clearly visible and accessible on the seller central home page. Hence, a seller need not dig deep to find them. It's a single-page interface without a footer.
Also read:
How to correctly process sales orders in Flipkart? Print shipping labels, download manifests and mark orders with ready-to-dispatch
Flipkart Growth Capital
The Flipkart growth capital under Flipkart growth services is a unique innovation. A seller can avail funds for their business in this scheme. These funds are called growth capital.
The marketplace uses a network of trusted partners. These partners lend capital to sellers at competitive rates. Additionally, it requires zero collateral and quick turnaround time. It's similar to investing in an offline business for growth purposes.
All in all the Flipkart's seller dashboard is designed on a minimalist theme. A seller has access to all the primary tools and functions that are a bare minimum.
Conclusion
Flipkart's minimal design interface gives a feel & look as if it's our personal eCommerce site. But that doesn't guarantee sales. Secondly, sales tools are limited. A seller has minimum control over product listing and other features.
On the other hand, Amazon gives a free-hand to sellers. Whether it is listing, pricing, shipping, advertising or bulk selling, Amazon clearly wins the race. For example, B2B services and app store marketplace are missing on Flipkart. In the same fashion, there are lots of features that the Flipkart marketplace is missing.
Winner: Amazon India
Product Listing
Listing products online is the main pain of a seller. Unprofessional tools make it even worse and a tardy process. I have been listing products on Amazon India and Flipkart both for a long time. Let's rate Amazon and Flipkart on product listing metrics from a seller's point of view.
Amazon India's Product Listing Tool
Sellers can add single product listings or list products in bulk using an excel template. Both methods are easy. Product attributes are simplified. They are quite understandable even for a new seller.
The best part is each and every product detail filled by a seller is reflected on the buyer's page. This way a seller can attract more eyeballs on his/her product.
Creative Liberty in Product Images
Above all Amazon India provides creative liberty to sellers when it comes to product images. A seller can upload digitally enhanced beautiful product images. The system allows sellers to insert texts, CTAs, weight, ingredients, product features, etc. in an image. Refer to the image below: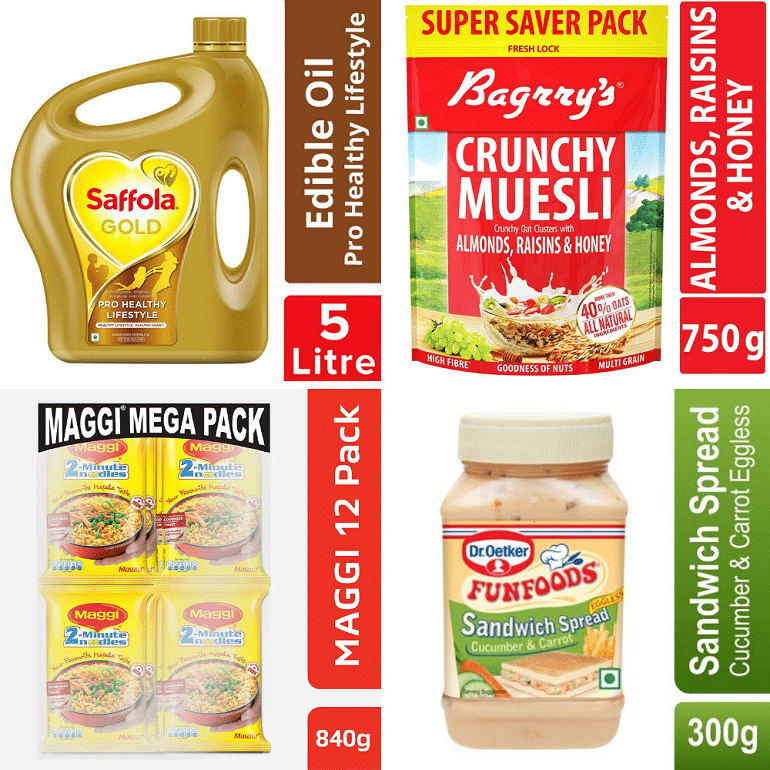 Total Control Over Product Details
The system is designed such that sellers can make unlimited changes to product details. Moreover, the changes reflect within 15 minutes on the detail page. This way sellers can track changes in real-time without waiting long.
HTML Product Description
Yes, sellers can insert a set of HTML codes in the product description to make it attractive & readable. These HTML codes are pre-defined by the Amazon India marketplace.
Bulk Listing
Adding products in bulk is super-fast. Just download an excel template, fill details, and upload the file. Within 4 to 6 hours all products will start showcasing in the inventory. The system helps you find potential errors in the excel file. Not only find but the system also tells you how to rectify those errors.
Hence, using the intelligent bulk listing system a seller can add a ton of products in one shot.
Flipkart's Product Listing Tool
Similar to Amazon India, a seller can effortlessly add products one by one or in bulk both on Flipkart. The product attributes are straightforward and no-brainer. Every single field in the catalog form holds a significant value.
Slight Confusing Interface
The Flipkart listing interface is absolute. There's a big reason why am I telling this. I have listed products on ShopClues, SnapDeal, & PayTm. And believe me, Flipkart is much better than all 3 of them collectively. For instance, the product listing form loads instantly. The submission, quality check, and other processes are quick in real-time.
Catalog Status & Process
The bulk product listing in Flipkart requires a seller to download & upload excel files with important product details. The system procures the excel sheet from sellers to process it under 4 different headers. In short, the four-layer file processing system ensures there's no error in the product.
Stringent Image Guidelines
The Flipkart marketplace has stringent guidelines for product images. The system will immediately reject images with color backgrounds or text written on it. However, I have seen big brands being granted creative liberty in product images. In addition, the system only accepts CMYK image colors. Digital image prints aren't allowed.
Product Edit Request
If there are any changes in the listing or catalog a seller has to make add or change requests to the support team. The request shall be created using the seller support ticket dashboard.
For example, changing product images. Here the seller needs to download the sample image change template. Provide details in the same format and upload it again. It means a seller has less control over what goes in front of the buyer. Additionally, a seller cannot make emergency changes in the listing if anything goes wrong.
Conclusion
There are many flaws in the product listing system when it comes to Flipkart. I have personally experienced them. The system is way more sensitive towards error detection. At a point in time, you will feel like the system is obsessed with detecting errors in your listings.
The excel file quality check process is unnecessarily lengthy. Instead of making it a one-stop solution the system has configured a 4 layer error detection mechanism. That's simply not needed. Amazon India does it all in one shot.
This is true even with the product change request. For every minor change, a seller will have to ride at the mercy of the support team. With this kind of listing tool in Flipkart, a seller will get stuck in finding & resolving errors instead of selling. In my opinion, Flipkart needs to ease the process and make it more user-friendly.
Winner: Amazon India
Category Approval
Category approval is basically requesting permission from the marketplace to list (upload) and sell products. Immaterial of a seller's product the category approval is an essential thing every seller has to procure. The same is with Amazon India and Flipkart. Let's see whether category approval is a tough nut to crack with them or not.
Amazon India
Category approval in Amazon India is a breeze if you know what documents are needed. The reason is each and every category demands a different set of documents for approval. Here's a list of common documents necessary to initiate the category approval process.
Purchase Invoice (at least 1)
Government license (depending on products)
Product images
Email address
Contact number
A seller needs to furnish the above documents before submitting them to the Amazon India support team. Read how to prepare documents for category approval in Amazon India here How to get approval for a category on Amazon India?
The standard turn around time for approval is 7 to 10 working days. But it's not officially confirmed by the Amazon marketplace. The time of approval can vary depending on the category. Either contact the Amazon seller support or track your approval request in the seller central.
All in all the category approval procedure demands minimal documents and takes around 7 to 10 working days.
Flipkart
Category approval is a part of the Flipkart seller registration process. Just like Amazon India, Flipkart also requires specific documents to process a seller's approval request. The following documents are standard for every seller.
Brand name & logo
Product images with MRP
Front, back, side & bottom images of products
Trademark certificate
Brand authorization letter (from the brand owner)
Invoice copy (Purchase bill) (for retailers)
Category-specific govt license copy (E.g., FSSAI)
Raw material purchase bill (for a manufacturer)
Mandatory Physical Audit
The brand approval request follows up with a mandatory physical audit by Flipkart. The audit will decide whether or not a seller is permitted to sell in the requested category. The physical audit depends on the nature of the category.
The document verification takes 5 to 7 working days whereas the physical audit takes another 7 to 10 working days. Besides if there's an error in the documents or if the physical verification fails the process may take long enough. Sometimes it may even take a month-long time to approve a seller's category request.
Conclusion
I don't see anything wrong with the approval process both with Amazon India and Flipkart. The process is universal and the time taken for approval is the default. 7 to 10 working days are fine. Anything beyond that would simply be a nightmare for any seller.
The key here is the physical audit. One wrong move and it's over. If the audit fails, first understand why did this happen. Second, rectify the mistake and reapply. Again wait for the auditor to visit your business place and submit a report which should be hopefully positive.
All this together takes a lot of time. A seller gets trapped in the backwaters of approval, denial, and reapplication. The process must be easy and quick. Moreover, the seller support team plays an important role.
If a seller, by all means, doesn't understand what exactly the marketplace requires to process an approval, it is the seller support that comes to the rescue.
Flipkart lacks in providing robust seller support services. Under those circumstances, my vote goes to the almighty Amazon India.
Winner: Amazon India
Advertising
Product advertising is what a seller does to grab sales. To do this both Amazon and Flipkart have set in-house marketing platforms in the seller central itself. Let's see what kind of functions a seller has access to.
Product Advertising on Amazon India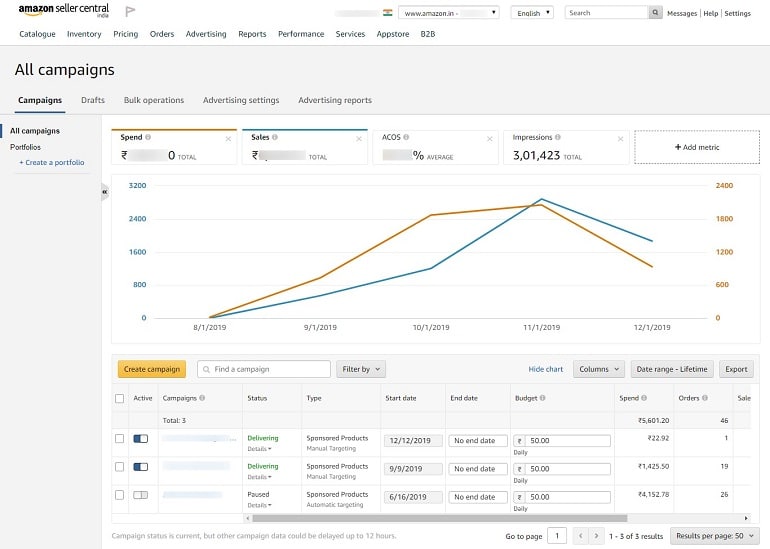 Amazon's advertising interface reminds me of Google Adwords. It is based on cost-per-click. Both of them are more or less identical. Here again, the marketplace has given total control to the seller.
With CPC based advertising, sellers can manage multiple ad campaigns. Additionally, they can monitor & measure daily spendings, ad clicks, target keywords, and the impact of paid ad campaigns. Further, sellers can adjust budget and bids any time to see what's working for them and what's not.
Campaign Types in Amazon Advertising
Basically, Amazon offers sellers to create 2 types of campaigns viz Sponsored Products and Sponsored Brands.
Sponsored Products – In this ad campaign sellers can promote individual products on Amazon. You choose which products to advertise, assign keywords or product attributes to target, and enter a cost-per-click amount.
Sponsored Brands – This campaign type helps sellers increase awareness of their products by promoting ad creatives. The ad creative includes a headline, logo, and product images. Moreover, sellers have control over what the potential buyer will see. For example, one can specify whether buyers will go to the Amazon Store or land on a single product listing.
Features of Amazon India Advertising Model
Automatic and manual ad campaigns
Keyword and product targeting
Negative keyword targeting
Campaigns, ad groups, ads, keywords, and creatives structure
Daily & lifetime budget options
Ad moderation facility
Free ad credits to new sellers worth INR 2000
Product Advertising on Flipkart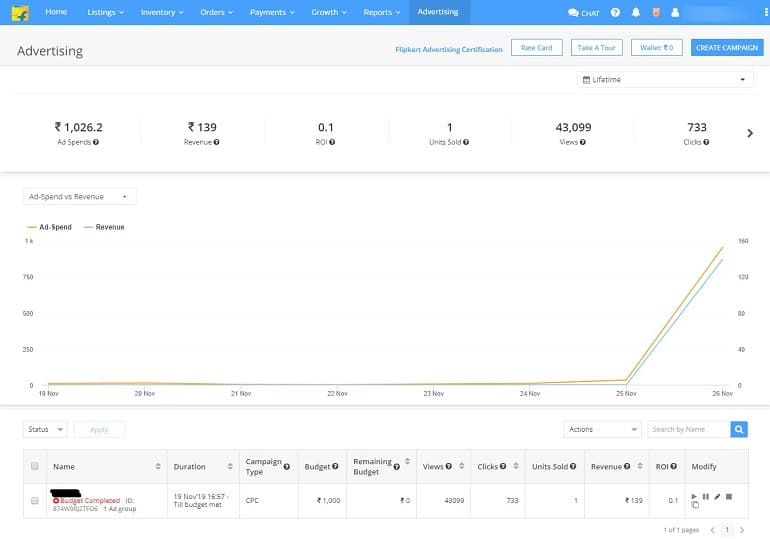 The product advertising on Flipkart runs on two distinct models – CPC & SmartROI. The CPC ad model helps sellers bid on each ad group and grab more visibility. Whereas The SmartROI campaign allows a seller to set individual ROI for each group. This was the system optimizes each ad group based on the target ROI.
Campaign Types in Flipkart Advertising
CPC Campaigns – Here sellers can ad budget which will be distributed among each group. At each ad group level, there's a range of winning CPC values. These values help the seller to set an intelligent CPC bid to grab more sales.
SmartROI – As the name suggest the SmartROI campaign is indeed smart. Here seller can set an ROI that he/she wants an ad group to achieve. Now while setting up the ROI, the system will show historical values from minimum to maximum achieved for an ad group during the last 3 months. It is similar to that of CTA in Google AdWords.
Features of Flipkart Advertising Model
Sellers can control & measure cost-per-click
Negative keyword exclusion advantage
Target ROI will auto-optimize the ad groups for better performance
Free ad credits to new sellers worth INR 1000
Conclusion
There are lots of verticals where Flipkart trolls. For example, in Flipkart, a seller can't set individual bids on keywords. In addition, there's no option to advertise products using creative stuff like banners. Event the ad moderation facilities are zero to a minimum.
The only difference is the SmartROI campaign type which is not available in Amazon India. Besides, there are lots of other tools in the Amazon ad platform to grab maximum visibility and sales on a daily basis. Hence, looking from that perspective Amazon India clearly wins in this section.
Winner: Amazon India
Order Processing & Delivery
Processing orders on eCommerce marketplaces is the next big thing. It must be absolutely user-friendly because this is the single most page to be browsed thousands of times on a daily basis. Let's see what Amazon India and Flipkart has to offer in this section.
Order Processing on Amazon India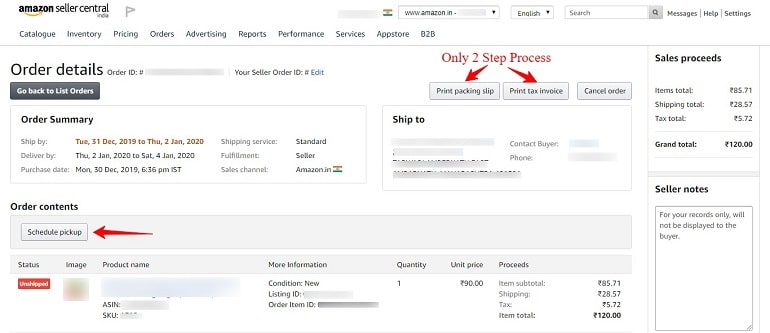 Processing an order on Amazon India is indeed a piece of cake if you ask me. The order interface is the utmost user-friendly. Basically, it's a 2 step process to process an order on Amazon India. First, print the packing slip and tax invoice. Thereafter schedule the pickup with just one click.
While scheduling the pick the marketplace specifically asks to select a convenient pick-up time. This way the seller can estimate the exact timing of the order pick-up.
Features on the Manage Order Page
The manage orders page provides a customizable view of all orders. Sellers can view orders within a given date range using the regular search or advanced search filters. However, this is not it. You can refine search results by date, shipping service, payment method, shipment status, and customer type.
Further, sellers can also view FBA orders. FBA is a robust pick, pack & delivery network of Amazon.
SAFE-T Policy
SAFE-T stands for Seller Assurance for Ecommerce Transactions. It enables sellers to claim reimbursement from Amazon for losses incurred on product orders.
Sellers can raise claims only for Easy Ship and MFN Gold orders. MGN Gold is the return policy for heavy & bulky products. Major appliances & sports categories are served under the Amazon India MFN Gold program.
In short, sellers can claim a return shipping fee from Amazon India if they receive products in bad condition.
Order Processing on Flipkart

Order processing on Flipkart includes 3 basic steps. First, generate shipping labels, mark orders as RTD, and finally download the manifest. The design is minimalistic. The system has integrated options that are essential to a seller to process an order.
However, order reporting is diverse but that's not our story here. A seller can customize the order page using various filters. For example, order tags, shipment type, urgency, and dispatch type with compact & comfortable display preference.
Warehouse Selection
The idea to dispatch from a designated warehouse is a stand-alone facility in Flipkart. That's not even in Amazon India. But – How's it beneficial to a seller?
This feature is useful for sellers with multiple products and multi-storage facilities. It becomes, even more, intuitive when a seller has warehouses in different Indian states. Not only the seller but also the pickup services benefit from it. How?
Processing orders from a selected warehouse tells the pickup services exactly from where the order is to be picked up. This way the marketplace reduces potential errors in pickup making the order delivery fast and easy.
Conclusion
Although Flipkart offers an intelligent order processing interface, still it lacks certain features. For example, Amazon India offers a seller to select a pick time slot (10 AM to 1 PM and 1 PM to 4 PM). This way sellers can efficiently manage to process orders keep in mind the availability of products.
Whereas the pickup time slot in Flipkart is flat. They will simply show 10 AM to 6 PM once the order is processed. It matters the most when you have orders in bulk. As per my experience, sometimes the pick-up service does not even show up at your location.
All in all, Flipkart needs to work a lot on its entire seller central experience to make it more user-friendly.
Winner: Amazon India
Seller Support
I run Google Paid Ads for all my digital properties (blogs & websites). And I must tell that I'm a big fan of Google Ads support center. The reason is I get my query solved in a minimum time whenever I call them.
In this section, we will be looking at how competent these marketplaces are when it comes to solving a seller's problem.
Amazon India Seller Support
The seller support at Amazon India uses the inbound calling method. Let me explain what it is. Amazon has devised an easy way to contact support executives right from the seller account. All you need to do is click the help option and thereafter contact us link at the bottom.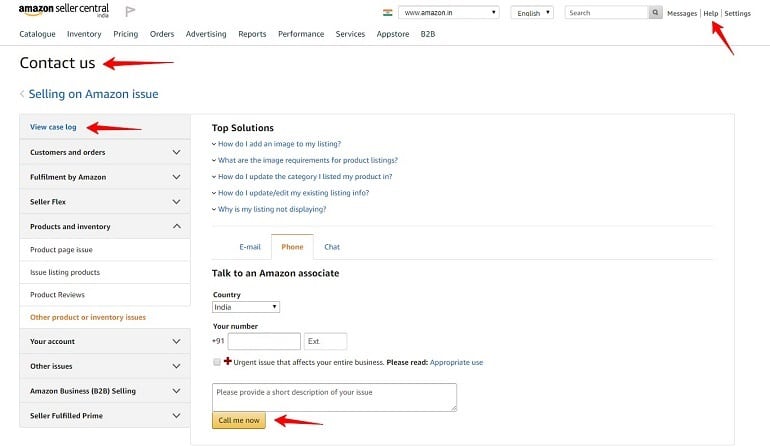 Further, the issues are classified into distinct categories. It helps sellers resolve their queries fast. A step further there's a top solution section. Here sellers can find solutions to common questions without contacting the seller support.
The solutions are provided in textual and video formats.
Email, Phone & Chat
A seller can get in touch with Amazon's support executive in 3 ways. If it's urgent use the inbound call me now feature. If the issues are not urgent then you can go with email or chat. The maximum turn around time to resolve a query is 24 hours. But within 6 to 12 hours your problem is resolved as per my experience.
The only issue is a seller cannot share his/her screen with the support executive. This is possible in with Google paid ad customer support. Anyway, the point here is how fast a query is resolved and how long a seller has to wait for the solution. Both of them are insanely quick when it comes to Amazon.
Self-Help Topics
Amazon India takes the seller support experience to a whole new level. Let's say by all means if I am unable to contact the support group at Amazon. Still, I have the facility to help my self by reading their self-help material. This is standard practice. Amazon has procured self-explanatory and easy reading materials in the help section.
Moreover, self-help material on each topic is in-depth. The efforts of the support team are upfront visible looking at the way the material is compiled. This way one can save a huge amount of time behind long email, chat or phone call with the seller support.
Flipkart Seller Support
Contacting Flipkart seller support is easy but there's a glitch in it. The seller support at Flipkart works the other way. Unlike Amazon, in Flipkart, a seller is at the mercy of the support team. A seller creates a ticket to raise an issue and wait for the support executive to call.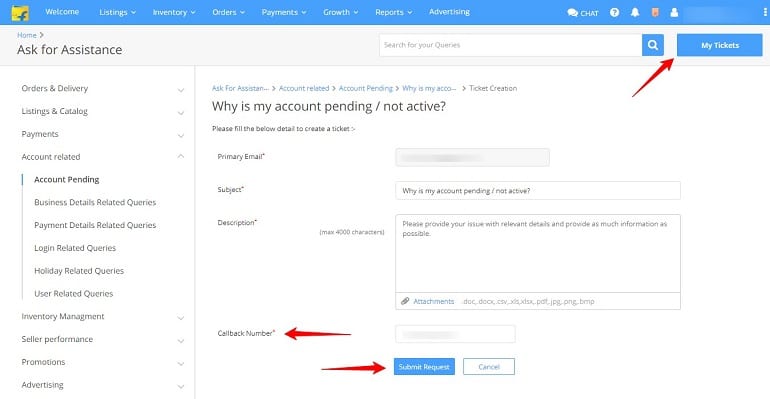 Call back requests or issues raised for pending orders are treated on an urgent basis. The support executive will take things on priority and help sellers resolve the issue ASAP. If it's not urgent they will reply & resolve the problem via email.
Hence, the solution depends on the intensity and nature of the problem. However, you can always expect a return reply in 12 to 24 hours.
Email & Chat
Flipkart allows the seller to contact the support team either via email or chat. There's no hardcore inbound call option. In short, there's no way a seller can call and get in touch with the executive. All you have to do is raise a ticket and wait for the system to act.
Self-Help Topics
The ideology of Flipkart is minimalism and it is highly evident in the help topics. Similar to Amazon, Flipkart has procured self-help topics and smart reading material in a compact format. It is more of an FAQ-style instead of long articles.
Each category in the support dashboard has relevant questions with short answers. That's interesting!
But let me tell you when issues are big short answers don't help. Additionally, please contact seller support for assistance with this issue is the standard reply to many important questions. Now, this doesn't seem to help anyone beyond a certain extent.
Conclusion
To conclude the best seller support metrics like call, email or chat options are insufficient. The real-time metric is how frequently the seller support is available. And how long it takes to resolve critical issues of a seller.
In my opinion, both the marketplace qualifies in giving out world-class seller support. But Amazon India is continuously making an impact and redefining the meaning of seller support. Flipkart needs to employ the inbound calling method. Keeping sellers waiting is not a good idea.
Winner: Amazon India
More Tools & Features
Apart from traditional features, there's something more a seller needs to boost sales. Needless to say, both Amazon and Flipkart have devised seller-friendly tools. Let's investigate what they have at a seller's exposure.
Amazon India Misc Tools & Features
Promotions
Sellers can offer free shipping, money off, and free items on existing products. All these are a part of promotions. In addition, there's a dedicated section under the inventory tab to create promotions. Refer to the image below.

Automatic Pricing
The automated pricing tool allows a seller to quickly update product price across the entire catalog. The pricing mechanism works on a pre-defined rule. You need to create customized rules for each product or entier catalog.
This way a seller can create a dynamic environment that will change product prices. The idea behind auto pricing is to scrap the manual labor required to stay competitive in a buy box offer.
Lightning Deal
Sellers are offered to create lightning deals. These are flash sales. Here a product is featured for certain hours on Amazon India's deal page. It is one of the most visited pages on Amazon India.
Voice of the Customer
Amazon India helps the seller to identify product issues highlighted by buyers via review feedbacks. Using it sellers can identify product and listing issues affecting customers.
Other tools & features
Managing and planning FBA inventory, selling globally on Amazon international markets, high product price alerts, and A+ content manager are additional tools offered by the marketplace. Using them sellers can scale their business and sales performance.
Flipkart Seller Misc Tools & Features
Pricing Suggestions
Product price is an important element and it needs priority attention. Flipkart does it the other way. The marketplace determines products based on various pricing strategies, This helps the seller to stay competitive on Flipkart.
Sellers have seen an average sales growth of 86% after updating product prices based on system recommendations. See the image below.

My Freebie
Similar to Amazon India the Flipkart my freebie feature allows the seller to offer free shipping or free items on the existing products. However, there's no discrete method to individual assign products to a specific offer. We can understand it this way that Flipkart has given sellers a free hand to formulate their own promotions.
Conclusion
It is evident from the above discussion that Amazon India offers a number of tools and features to a seller. Additionally, Amazon India has an exclusive system built around operating the seller tools and features. This makes the life of a seller and online selling easy.
Winner: Amazon India
Final Thoughts
Flipkart has a long journey to travel. Let me explain why am I telling you this.
The most compelling evidence is the above discussion as to why Amazon India is the market leader. The second most intriguing thing is the amazing seller experience. And it is evident from the quality of the seller dashboard itself. You know what I am trying to say of you are selling both on Amazon & Flipkart. It's a complete no brainer.
The third most important thing is the quality of tools available on these platforms. I strongly believe that modern tools and technology make your life easy. The same applies to Amazon India. The Amazon India marketplace not only makes selling easy but allows us to configure sales on almost auto mode.
In other words, list products, create a campaign, add coupons, give free shipping or items, and get sales. Now even if you don't change this setup you will still get sales.
What else do you need now?
Share your experience with me if you have been selling both on Amazon India and Flipkart.