Do you agree that Indian Bloggers have an added advantage? If you don't this article will definitely change your perspective. If you do see what advantages Indians have.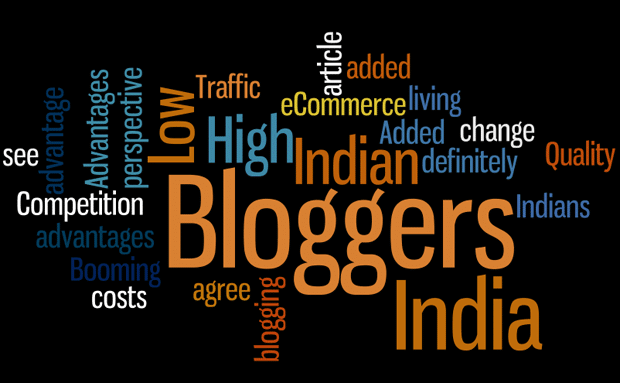 Do you agree on the fact that Indian Bloggers have any added advantage? I think they have lot of added advantages over their peer International Bloggers and let me share what I think are the top three five added advantages for Indian bloggers.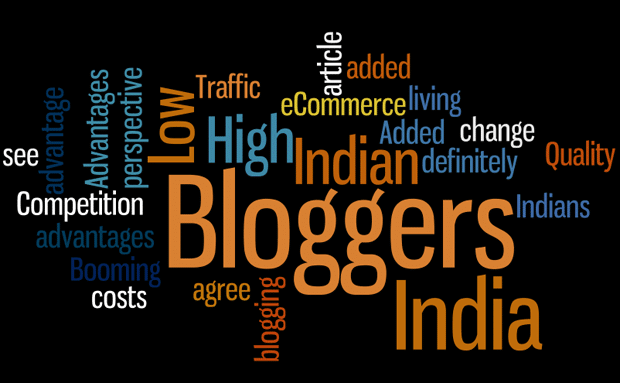 1. Low costs of living in India
Cost of living in India is quite low compared to other developed countries and this becomes the best advantage any Indian blogger can have to get started with blogging.
I have been on the other side of the interview table for quite sometime now for many small start-ups in Kolkata including WebSpades Technologies and have interviewed quite a few fresher engineers and graduates, I can tell you for sure that and an average engineering student that passes out here in India (Or May be in Kolkata at least) have an expected salary in range 4 digit figures to lower 5 digit figures. This means that if he can make roughly 200 to 300 USD online, it is as good as his salary.
Earning 200 USD from an online blog is very easily achievable provided he is willing to build his blog and provide value to his readers in the starting days? The dilemma is Indians try blogging to be millionaires overnight and for a job they are fine getting a degree after few years of education. Try giving few years to blogging and I am sure it can achieve lot more than what you would get in any job financially as well as mentally.
2,3,4. Few High Quality Bloggers, Low Competition & High Traffic
In November 2012 The Telegraph published an article about Top Indian Bloggers and though the article misses some of the better Indian bloggers I personally know like Deepak Raj of BikeAdvice or Manish Chauhan of JagoInvestor and many others who definitely make more than $1000 for sure from their blog, the point I am trying to make here is there are very few bloggers who even make what International bloggers like Darren Rowse, Pat Flynn or Brian Clark makes from their not so popular sites. So if you have interest in any particular topic, you can always create a blog from an Indian perspective in a similar niche of what international bloggers blog about and still be successful.
Take the case of BizTips – I would say it is pretty much similar scenario of copying international bloggers and adapting to Indian perspective. I am (and was) also follower of top bloggers (Top Bloggers I Follow) like Problogger, CopyBlogger and many others as well as was an active member of many other forums like SitePoint, DigitalPoint and HighRankings. I used to get emails from my own forum (Go4Expert / MBAGuys) as well as other forums about building forums, monetizing forums and other Internet Marketing Opportunities in India.
I was tired of answering those questions in emails and so finally decided to put those answers online. I was least interested in creating yet another Make Money Online Blog and so I just dumped those articles on one of my existing dead blog CodeItWell.com because I thought it would just help me reply to such emails with just a link. I could never imagine that even TechCrunch and others would pick up my content and link to it. The response was so awesome that I had to create BizTips because now I was tired of explaining that CodeItWell.com is not about coding but it is about Internet marketing. The main focus of BizTips is not to make a living for me and so I am not focusing on monetizing it as of now but may think about it in the future. That does not mean I don't make anything from BizTips. I review and recommend lot of resources and products that I use for my online business and some of them earn me a commission when purchased.
Talking about competition, it may be really tough (read impossible) to find a niche that is less competitive and yet can have a fairly large audience globally but if you add Indian GEO to the niche, it automatically becomes less of a competition. When you blog on anything from an Indian perspective it automatically becomes less competitive and is still targets a very large audience. Remember Indian population, clearly a big advantage as an Indian.
5. Booming eCommerce in India
According to WikiPedia India has close to 10 million online shoppers and is growing at an estimated rate of 30% per annum. Indian retail market is estimated at $470 billion in 2011 and is expected to grow to $675 Bn by 2016 and $850 Bn by 2020. I don't give a damn to those numbers apart from that fact that it reveals one thing, which is eCommerce is growing in India at a sparkling rate.
Coming back from eCommerce to blogging, if you try to say the same thing as what an established blogger have said, it becomes useless but then if you try to speak from a perspective of users related to India, readers can very easily connect with you. This is one of the prime reason I prefer using the domain as shabbir.in to shabbirbhimani.com for my technical analysis blog.
When I first launched my Do It Yourself Technical Analysis eBook in Jan 2011 for Indian audience I was skeptical if it would be accepted or not. Will Indians prefer an eBook or they would prefer a conventional hard cover paper book. I was ready to test things out and so launched the eBook shabbirbook.com and found that people are really interested in buying an eBook from me.
Of course having an eBook as well as paper book would tap a larger audience but then just the eBook is also not a bad choice. Though not many people in India prefer paying with a credit card, they give me a call to know other payment options like bank fund transfer (or NEFT as we commonly know) or even Cash on Delivery. I have those payment option as well but then more than 50% of my sales are through ClickBank. If you prefer to start selling with ClickBank here is a step by step guide to get you started selling with ClickBank.
On top of that if your target audience are Indians, you can adapt to India's unique selling propositions like Cash on Delivery Payment option or NEFT Bank Transfer Payment option or may be even ECS Payment for recurring payments. Clearly an added advantage for Indian Bloggers.
Final Thoughts
Do you now agree on the fact that Indian Bloggers have some serious advantages? If you agree why not just get started blogging? If you have any further questions, sound off in comments.