VibrantMedia invited me to their ad network and after being a publisher for 4 months let me review VibrantMedia and compare it with Kontera and infolinks.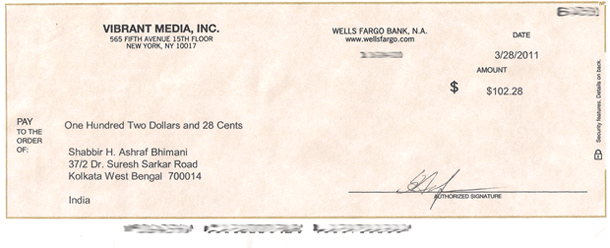 In December 2010 when I reviewed Infolinks, VibrantMedia invited me to their network and after 4 months I had my first VibrantMedia Check in my hand.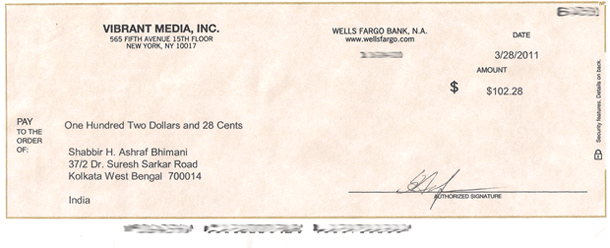 So let me review VibrantMedia and compare it with Kontera with respect to InText Advertising (VibrantMedia even offers banner advertising). The benefit of using InText over other Ad methods always remains the same for both the networks.
Reporting
VibrantMedia lacks advance reporting. It just does not have any reporting information for impressions but only shows the aggregate clicks and revenue where as Infolinks have very detailed reporting of impressions clicks and Kontera reporting is one more step further. It even shows the keywords as well as URL's of your site that drives maximum revenue.

Earnings
Though I could not compare VibrantMedia and Kontera based on CTR or eCPM I can assure that I am making 5 to 7 times more money from VibrantMedia than I was making for Kontera at the same traffic level and this data is not for a month or two but is based on 5 months data. Earnings for the month of April is 5.6 times more than for December I made with Kontera and my traffic level is higher by roughly 20% as per Google Analytics.
To add to it, Kontera had very unstable earnings like you can see below. One day it is up, next day it is almost zero.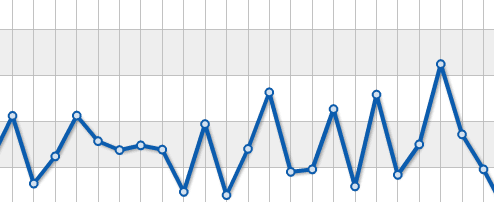 Payments
I had a misconception earlier that VibrantMedia does not accept Non-US publishers but they not only accept international publishers but also supports PayPal as the payment method. They need to verify your address and so the first payment is in the form of a check. I also received second payment from VibrantMedia in PayPal.

Publisher Referral
As per the official Kontera blog for every publisher you refer to Kontera, you'll get a referral bonus of 10% of their monthly net revenue. My Kontera Review is online since December 2009 and is ranked high in Google as well but I am yet to refer a single publisher. Sound's very strange to me. Cannot say for sure if there has been any conversion but it is very unlikely that after thousands of clicks I have not referred a single publisher or advertiser.
Now for VibrantMedia they have a very lucrative referral program.
| Site Traffic (PVs per month) | Referral Award |
| --- | --- |
| 250K – 500K | $100 |
| 500K – 1M | $500 |
| 1M – 5M | $1,000 |
| 5M – 10M | $2,000 |
| 10M + | $3,000 |
In How did you hear about us: add biztips.co when you Signup at VibrantMedia
Ad Control
With Kontera you have to manually add a <div class="KonaBody"> if you want to restrict Kontera to stop showing ads on some areas of your page like Navigation and other non-content area. Same goes to Infolinks as well but Vibrantmedia automatically detects content area of a page and display the ads only in content and not in the Navigational areas and other areas where you don't want the ads to appear.
Final Thoughts
Your first choice should be VibrantMedia or Infolinks but definitely not Kontera.