I don't dare Reviewing Linchpin. I will share my view about the book and why I think it is a must read the book for every developer and freelancer once.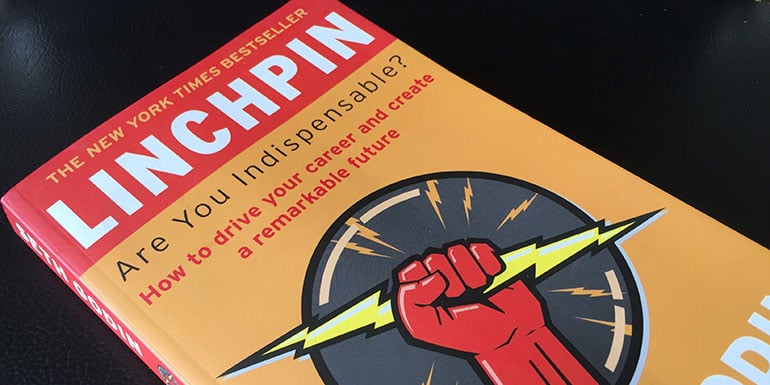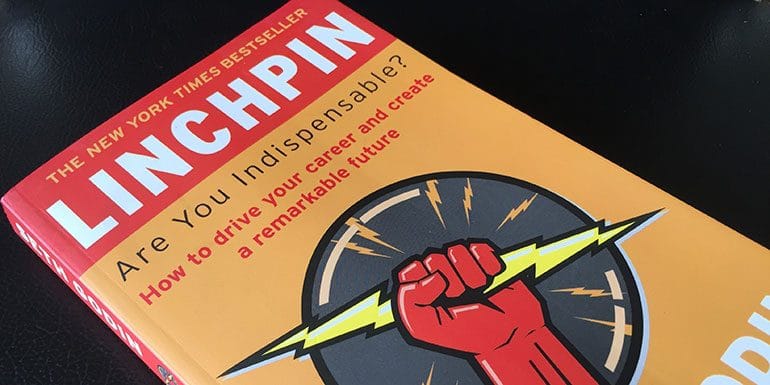 I don't think I will share a review of the book Linchpin. The fact of the matter is, I won't be able to justify a review.
So, I will share my views about the book and why every freelancer should read this book at least once.
My View of Linchpin
From time to time, some book can change the way you think, and LinchPin is one of them for me.
Linchpin perfectly describes a person who is doing a job and the one who is working.
The job is what you do when you are told what to do. Someone can always do your job a little better or faster or cheaper than you can. – Seth Godin
Linchpins are the people who go above and beyond and doing what they do. They care enough to make the life of a customer better.
A situation where you have a few employees, or you are one of the employees.
Everyone does what they are told to do, but one does something beyond.
In crisis time, which is the one is more likely to be fired?
An Artist
Humans are taught to fit in and become a commodity.
As a developer, have you ever thought what you do is different from the person sitting in the next cubicle?
I never had such thought when I was working but being a blogger I have a view Software Development is a Dead-End Job After 40.
Do you think when you leave the company, it will create a vacuum?
The answer is NO.
Because you are replaceable!
The point of Linchpin is to be – not easily replaceable.
The question is – Are you one of them who is easily replaceable?
As a developer, designer, though you feel you are creative, the answer is YES you are replaceable.
You find designing is to be creative, but in reality, you may be doing as you are told to using a manual.
But as a freelancer, you aren't as easily replaceable as a developer.
But …
As an employee, there are scenario's where people aren't easily replaceable. Seth Godin shares examples of many such employees, including Marissa Mayer.
So be such an employee/freelancer/blogger/artist …
The Musicians
One of the examples that struck me quite well is that of musicians.
There are hundreds of musicians who form an orchestra.
And then there is one head musician. We know him by name and takes a payment far higher than others. He gets all, Name, Fame and everything.
So what does he do differently than each of the member of the band or orchestra?
From the outside, everyone plays the same instrument.
Each member follows and plays as per the note. They follow the manual.
The lead gets all the name, and fame creates the music. The originator. The Creative person.
Once the music is composed, the manual is ready. All one needs to do is follow the notes.
The people who are following are better at being synched with each other, knows a lot more about being in playing the instruments in sync.
Being a Developer
When you are following the instructions, you become a commodity.
As a commodity, it is all about getting pay for being in the band, or else someone else will fit in.
Similar situations apply to every other aspect and more so on the Internet and digital world.
A cook is not an artist. A cook follows a recipe, and he's a good cook if he follows the recipe correctly. A chef is an artist. She's an artist when she invents a new way of cooking or a new type of dish that creates surprise or joy or pleasure for the person she created it for. – Seth Godin
Once you can foresee something, you are visionary. As it gets done, all you need is to copy.
Once again, copying in the Digital world can be different than music.
You don't need to be a pioneer like in case of music, but if you can make things ten times better and reduce customer friction and solve their problems, it is worth it.
Google isn't the first search engine; Facebook isn't the first social networking site. So on and so forth.
As a Freelancer
I do freelancing, and Linchpin recommends against it.
You should not be trading time for money.
I do agree on it but not entirely.
I can say I am more of a blogger than a freelancer now, but still, I enjoy working as a freelance developer for clients.
Quotes of Wisdom from the Book
You don't become indispensable merely because you are different. But the only way to be indispensable is to be different. That's because if you're the same, so are plenty of other people.
Learn something different from the experience
Successful people learn from failure, but the lesson they learn is a different one. They don't learn that they shouldn't have tried in the first place, and they don't learn that they are always right and the world is wrong and they don't learn that they are losers. They learn that the tactics they used didn't work or the person they used them on didn't respond.
On being too comfortable.
The road to comfort is crowded and it rarely gets you there. Ironically it's those who seek out discomfort that is able to make a difference and find their footing.
Final Thoughts
We are so focusing on getting; we forget the world needs us. Linchpin will change the view to giving than on getting.
It is the only way to be indispensable.