Are you confused if you want to go for a free or a premium WordPress theme? Let me help you make that right choice for your blog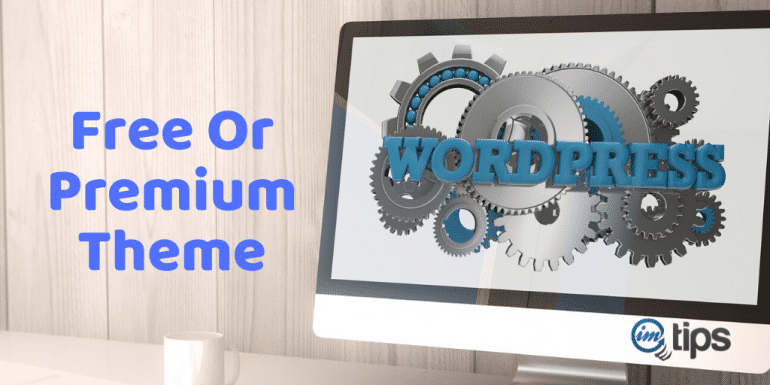 There are unlimited choices for a WordPress theme when planning to start a blog or a website. Moreover, there are tons of free as well as premium WordPress themes to choose from. So what should one opt for? A Free theme or a premium one?
However, free WordPress themes are the first option of any beginner who is getting started. The reasons are obvious – they are free.
Let me help you make the right choice by sharing the pros and cons of each.
Free or Premium Theme to start with?
At first, to get an answer to the question for anyone who is starting a blog is to put aside the price factor. Choose the one that suits your designs buds along with the vision you have for the blog.
Pick 5 to 7 good designs and let them be your choice for the blog. Ideally, sleepover them and let the mind decide one.
Make sure you have chosen the future as well.  Ask these questions to yourself:
Do you need WooCommerce?
Will, your readers like the design?
Is your target audience design-savvy?
Are there features you like from the blog you have inspiration from?
Is the design specific to my blog niche?
Along with the above questions, one needs to learn above the pros and cons of WordPress themes. So have the answer to these questions ready in your mind and let me the pros and cons of free and paid WordPress theme.
But before that let me answer a widespread question that any new blogger may have and it is
Can I Switch from Free to Premium Theme?
The short answer is YES. You can switch themes and that too, from a free theme to a premium theme. Only one point one should remember is one should not add functionality into the functions.php of the theme file. If you do so, then the upgrade of the theme means you lose all those functionalities.
However, one can copy those codes to the new theme's functions.php. As an example, when I moved from Thesis to Genesis, I moved all the functionality over. Though both were premium themes, the point I am trying to make is, one can switch themes. Moreover, one can even code the same functionality over to the new theme as well.
So even if you decide to use a free theme, one can always move over to a premium theme later. So with that in mind, let us now dig deep into the pros and cons of the free and premium WordPress theme.
Free WordPress Themes Pros
An individual or group of freelancers generally develops free themes. They either offer limited or no support. A prominent reason is these themes are free.
Free of Cost
The fact that these WordPress themes are free is an upfront advantage. Additionally, this could be the biggest takeaway for beginners who are tight on budget for blogging.
The problem lies with the word free attached to a WordPress theme. You may think why would anyone give away a theme free of cost where others are charging money for the same.
Now that's a different topic which we won't be discussing here. As of now, we will consider themes available free as the most significant advantage.
Freemium Option
Web development agencies, companies, freelancers, and marketplaces offer a free version of the paid theme with limited functionalities. Although you get a handful of features, they can still enrich your online visitor's browsing experience.
There's always a scope to upgrade the freemium version to a paid one. The free version could be enough based on your initial requirements. And you may never need to update to the premium one.
However, most of the free themes aren't freemium. So pick a theme, which is a free version of the premium theme.
Strict Review Process
Free WordPress themes undergo a stringent quality check by WordPress before they allow it to be listed in the official WordPress theme directory. Following are the quality standards these free WordPress themes are tested on:
Code
Theme support
Quality HTML & CSS
Security features
Future updates (if any)
Privacy and others.
Here, I am talking about the free themes in the WordPress directory and not on third-party sites or marketplaces.
Also read:
WordPress SEO Checklist for Beginners. 35 SEO Tips for WordPress to help improve your WordPress SEO and get more organic traffic from Google.
Free WordPress Themes Cons
The disadvantages of free WordPress themes are subjective. They vary from user to user depending on their requirements. It may happen that a disadvantage for others would not affect you.
With this in mind, let's counter some common disadvantages of using a free WordPress theme:
Limited Support
When themes are provided free of cost, they have everything you may want to get started, but developers may not be very active to answer every query.
As a result, customer support is weak or mainly absent in a free WordPress theme. However, the community around the free theme may help you out on prevalent issues.
Limited Features
Everything's not meant for free distribution. Although free themes comply with standard WordPress features, they can lack some essential functions.
As an example, you won't find custom buttons CSS built into the free theme for use. You may end up patching the theme to get such elements added.
Free Themes aren't Unique.
A free theme doesn't offer a unique style for your blog. These themes will provide a common design for your blog. Moreover, every free theme available is on offer for every other blogger who prefers to be using it.
No Warranty and Updates
Whether you install a free theme from WordPress directory, third=party site, or marketplace, they all come without warranty. Moreover, there are very few free themes that update often enough.
However, there is very little that goes wrong with a theme in WordPress. Still, because there aren't updates, things can go wrong in the long run.
If anything goes wrong, under those circumstances, you are pretty much on your own to update the theme or make a switch.
Premium WordPress Themes Pros
Freelance developers, agencies, and digital marketplaces offer next level paid WordPress themes. Read why you must opt-in for a premium WordPress theme:
A ton of Features and Customization
One of the main reasons why premium themes are in-demand is customization options out of the box.
Paid themes offer a high level of customization options with unlimited features. Theme makers compete with each other to attract users. They offer niche-based features and functions catering to their specific needs. In the end, it is the user who benefits from this competition.
Regular Updates
The next best reason to opt for a premium theme over a free WordPress theme is regular updates of the theme.
Updates are essential because, over time, some codes can become a target for the hacker and so if the theme doesn't have an update for a very long-time, it can be vulnerable.
Feature Extension With Child Theme
Premium themes offer a subtle way to extend the functionality with child themes.
Many free themes also offer the same, but then the way the free theme offers the child theme functionality is to copy the parent theme code into a child theme and extend it. Not as good as premium themes.
Low Price
You don't need to spend a fortune or take a bank loan to purchase a premium theme.
There's fierce competition among premium themes to attract users. Hence, they offer a ton of features at a low price. Surprisingly, the low price can get as low as $30 to $40 and can go up to $70 to $110.
Premium Support
Paid themes offer exclusive customer support to the user. They resolve queries, mostly using email or chat services. Moreover, the turn around time is concise for paid customers. There's an entire support team working 24×7 to help users.
A step further, the premium theme provides installation and setup services to customers. Again there's no big money involved here, and it hardly costs $10 or $20.
Free Plugin Bundles
It has become a trend now. Marketplaces and web development companies tend to offer other premium plugin bundled with the paid theme. Hence, you don't need to spend extra bucks on those plugins.
For example, with the eCommerce theme, you get paid shipping and price table plugin or a free invoice plugin to print barcode enabled invoices for orders.
Premium WordPress Themes Cons
Everything isn't all good about premium themes. So let me also share some not so good things about paid themes.
Impact on Loading Speed
Premium themes offer many features out of the box.
However, a theme packed with too many features often hinders your site or blog load time.
As an example, if your theme offers a premium slider, it may end up adding the slider codes to the output irrespective of a slider being used on all pages of the site or not.
Similarly, a user may not even use all the features but still end up adding a lot of HTML, CSS, and JS code in the final version of the page. In short, you are supplied with unnecessary things that you may not even require in the first place.
Discontinue of Products
There's always a possibility that the company behind the theme will discontinue developing it. Moreover, there are high chances the company developing is acquired by another company that takes a different route to the current vision of the company.
WP Engine now acquires the Genesis theme, but thankfully it is going in the same direction as initially envisioned by StudioPress.
Final Thoughts
Confusion is natural. One theme is free of cost. Hence, you think you're saving money. On the other hand, you may be overlooking features that a premium theme can offer.
Opt for a premium WordPress theme over a free one if you can. I believe the benefits of using a premium WordPress theme outweigh those of a free theme. Still, if you want to give things a try, going with a free theme is not a wrong choice to start.