Use existing custom top-level domain registered at the third-party registrar to connect to Shopify India store instead of myshopify subdomain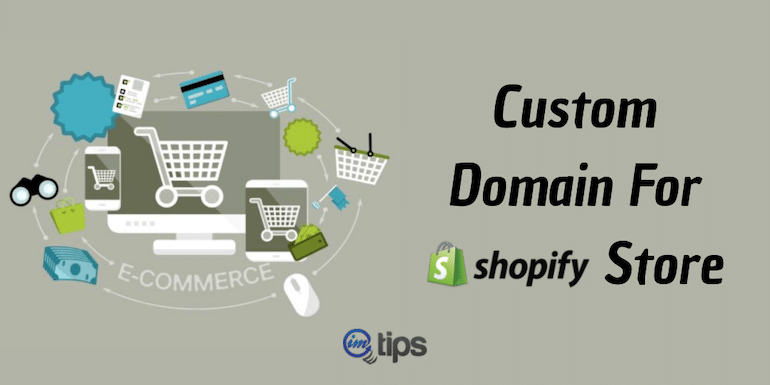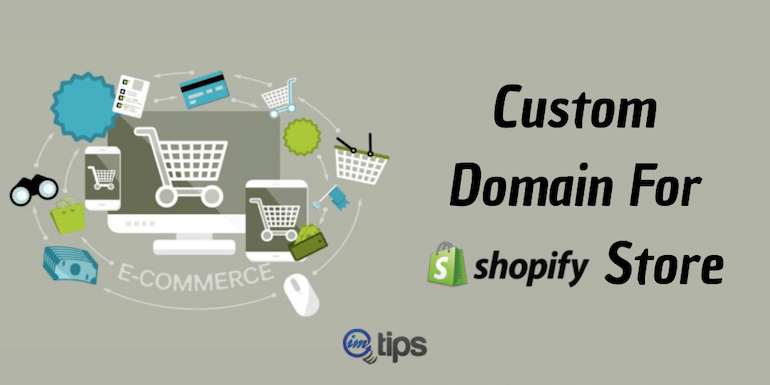 In the previous article, we did the setup of our Shopify store. Now it is time to connect our Shopify India store to a custom top-level domain name instead of using it as a Shopify subdomain.
The Shopify dashboard allows the seller to manage domain settings using the dashboard domain controls.
To manage domains, go to the online store and click domains option underneath.

Here is my temporarily store URL: imtips.myshopify.com. There are three ways to connect to the custom domain for your Shopify store.
Buy a new domain from Shopify. (Yes Shopify offers domain registration services)
Transfer an existing domain from other registrars to Shopify and use it for your store.
Use a third-party domain registrar and add the needed configuration for the domain.
Buying a New Domain from Shopify
Custom domains from Shopify costs around $11.00 per year. The price is pretty the same as any other domain registrar.
Shopify helps webmasters buy a domain name and use it for a store.
Click the buy domain button from the image above. It will redirect the user to the buying page.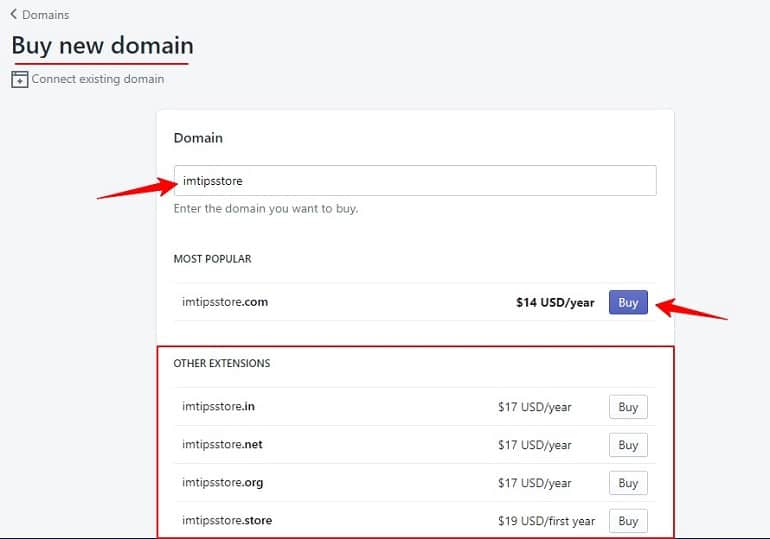 Choose a domain name, click buy, make the payment, and bang. All done.
Every domain registrar offers an option to transfer the domain. Shopify also provides an alternative to move an already existing domain over to Shopify.
Transfer an Existing Domain from other Registrars to Shopify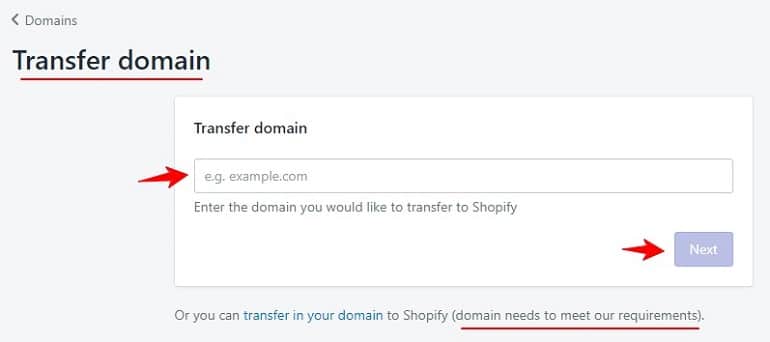 When a seller transfers a domain, the domain management moves to Shopify. In other words, the domain DNS settings, payments, renewals all done from the Shopify admin interface.
To transfer a domain from other registrars to Shopify it must be
Registered for 60 days
The seller must have access to the original domain provider account
The process to transfer a domain in and out of Shopify is same for any other domain name registrar.
Unlock Domain in Current Registrar
Get Authorization Key or Code
Initiate the Transfer from other Registrar
Accept Domain Transfer Request
You can check out my articles on domain transfer to help you out
One key point to note is, before initiating a transfer request, check if the email associated with the domain is up-to-date.
All transfer requests and approvals happen to the domain contact information. As an example, email confirmation to approve the transfer process.
I always keep my domains in one place. It helps me with renewals as well as help me safeguard my domains if I move my hosts.
So Shopify also offers the same. A seller can use an already purchased domain from a third-party domain registrar.
So, let's see how a seller can set up a third-party domain.
Using a Third-Party Domain Registrar To Configure Shopify Store
It's not mandatory to purchase a domain from or transfer a domain to Shopify. One can configure a domain already registered at a third-party domain registrar like NameCheap or GoDaddy.
Let's use an existing domain registered at the third-party domain registrar.
On the admin, screen click connects existing domain.
Before proceeding further, make sure you have set the correct domain DNS settings for the domain.
Change your domain's A record to point to Shopify's IP address, which is 23.227.38.32
Change WWW's CNAME record to point to shops.myshopify.com.
Note, we don't need to change the domain's name server or NS records. Only A record is enough.
If you are not sure how to do this, search in Google "your domain registrar name change A record." So if your domain is with NameCheap, search "NameCheap change A record." You will find a detailed step by step guide to assist you.
Now once the A record is updated, head on to Shopify.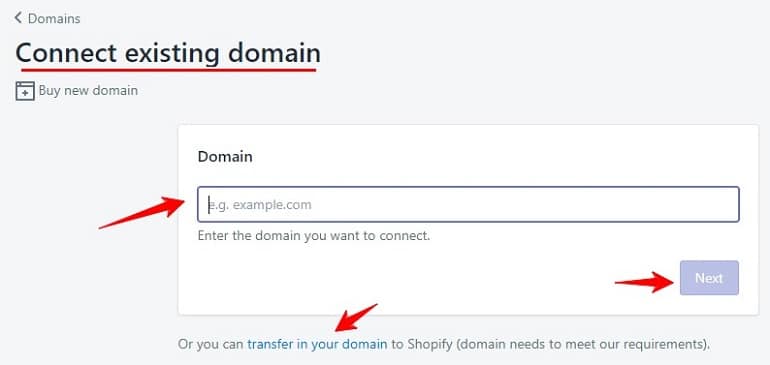 Enter the domain name and hit the next button. The connection should take place when the domain points to Shopify.
In case you don't want to be using Shopify for your primary domain name but only sub-domain, create the CName record for the sub-domain and point it to shops.myshopify.com.
So if you wish to create shop.biztips.co all you need to do is create a CName record for shop and point it to shops.myshopify.com.