Content Management System (CMS) when installed on a web server helps manage and create content for a website in an easy to use web interface.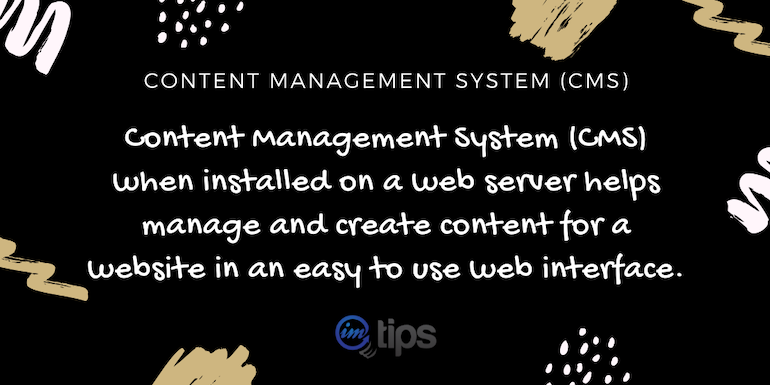 CMS is an acronym for Content management systems. CMS has a general application for managing digital content.  So any application that can help manage a certain type of content is a CMS.
The definition of Content Management System or CMS From Wikipedia is
A web application which when installed on the webserver helps manage and create content for a website in an easy to use interface.
There are many types of CMS available over the web.
CMS Examples
WordPress is undoubtedly the most preferred and used CMS on the web. It allows webmasters to publish and manage content for many types of websites and blogging is one such type.  WordPress is perceived as a blogging CMS, but the overall application and capabilities of WordPress are far beyond just to create a blog.
Similarly, there are other kinds of sites that can be created with different CMSes. One such example is XenForo. It is a CMS to allow webmasters to create forum (or community) websites. As with the case in WordPress, XenForo can also be extended to creating membership sites or closed communities online.
More and more CMSes are coming up on a daily basis. WordPress and XenForo are based in PHP. One more opensource platform is Discourse which is also an upcoming CMS for creating forum sites. It is created with Ruby on Rails as the backbone instead of PHP programming.
Similarly, there are other CMSes available to create a certain type of website (Dating, Directories, eCommerce, Social Media, QnA …).
In the digital era, there are CMSes available to create any kind of sites